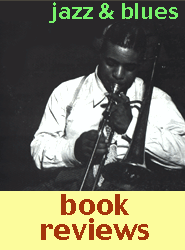 ---


Welcome to this quick look at some of the best Blues Music reference works out there today... There are many, many other blues books out there, but these are some that I've found useful & I think you might as well. Here are some related topics also included in the Slipcue website:





---
General Reference Works
---
"The All-Music Guide To The Blues"
Ed. by Cub Coda, Michael Erlewine, et al
(Miller Freeman Books, 1996)

The blues have gotten such a bad reputation in the last decade or so, under a cloud of bland "beer-ad" bands, that it's nice to see a book like this which takes in all the hi-tech drek along with the roots music, from A to Z. Dozens of blues mavens contribute reviews and essays, including appendices on regional scenes, piano blues, jug band blues, women in the blues, and a handy bibliography for those of us who still want more reading material, even after such a smorgasbord as this. Highly recommended to hardcore fans and the idly curious alike.
"MusicHound Blues: The Essential Album Guide"
ed. Leland Rucker
(Visible Ink Press, 1998)

Heavy on the beer-ad blues side of things, with sidebars that talk about "monster solos," and a CD sampler that comes from the infamous House of Blues. You see where this is leading, right? Nonetheless, this also includes admirable entries on artists such as Sammy Price, Victoria Spivey and Buddy Johnson, who might otherwise languish outside of the canon. Appendices include listings of blues festivals, labels and artist web sites, which may be useful to the up-an-coming blues hound. Readers may also want to check out MusicHound's R&B guide, which is listed below.
"MusicHound R&B: The Essential Album Guide"
ed. Gary Graff, Josh Freedom du Lac, and Jim McFarlin
(Visible Ink Press, 1998)

This includes a disproportionately hefty dose of hip-hop and rap albums, which makes sense, considering the intense recent cross-pollination of hip hop with cheesy quiet storm "soul" (which is also heavily emphasized in this volume). However, the emphasis is clearly more contemporary than historical -- for example, the reference sidebars are entitled "Word Up!", which seems tacky as well as rather dated. Modern artists such as Bobby Brown, Sheena Easton, and Toni Braxton get equal -- if not superior -- billing with soul music touchstones such as Otis Redding, Sam Cooke, and the Stax/Volt and Motown crowds. Very few pre-rock artists are included -- Cab Calloway and Big Joe Turner make it in, for example, but not Buddy Johnson or Floyd Dixon, and several classic 60s soul stars such as Garnett Mimms are also omitted. Finally, while most of the big-name blues shouters such as Wynonie Harris, Amos Milburn and Louis Jordan have entries, practically none of their great gospel counterparts are included. This really is a disgrace, as well as a short-sighted, culturally revisionist nod to contemporary tastes (which do not embrace the preachin' and shoutin' religious side of African-American music). Rest assured that without Bessie Griffin, Clara Ward, the Soul Stirrers, or Rev. James Cleveland, there would never have been a BeBe Winans, Mariah Carey or Aretha Franklin -- much less a Parliament, Lauryn Hill or KRS-1. As with other MusicHound books, this also provides useful appendices, including fan sites, etc., and the companion CD is a nice (if stingy) sampler of some of gems from the Mercury Records catalog. But if Wu Tang or Billy Oceans are not your "R&B" thing, you may wish to be wary of this tome.
"Rollin' And Tumblin' - The Postwar Blues Guitarists"
Ed. by Jas Obrecht
(Miller Freeman Books, 2000)

By "postwar blues", we mean the upbeat, amplified, often aggressive material that many popologists see simply as the roots of rock'n'roll. But for blues fans, the muscular power and driving passion of the bluesmen is enough by itself, and this collection of articles and interviews profiling many of the genre's greatest players, is manna from heaven for the folks who could care less what happened after Elvis shook his little heinie on the Ed Sullivan show. This is a classicist's view of the blues -- standardbearers such as Otis Rush, Muddy Waters and BB King get multiple entries, wild West Coast and Texas bluesmen like T-Bone Walker and Clarence Gatemouth Brown also get their propers, and while the main emphasis is on the dudes who plugged in, acoustic players such as Fred McDowell also get a nod or two. The book draws on a variety of writers, and reflects a variety of interviewing and narrative styles -- most of the material originally appeared in Guitar Player magazine, but while some technical points are investigated, the book is an even better source of information about the players themselves -- their personalities, their stories, their world view. A true blues fan should enjoy this book quite a bit!
"Children Of The Blues - 49 Musicians Shaping A New Blues Tradition"
By Art Tipaldi
(Backbeat Books, 2002)

The canon of old-school blues masters is pretty well set: Muddy Waters, Howlin' Wolf, etc., etc. Here's a look at a few dozen "younger" artists -- some of who are actually pretty long in the tooth by now (Charlie Musselwhite, Taj Mahal, Kim Wilson and John Hammond, Jr.) and some who really are fairly new on the scene, such as Kelly Joe Phelps and Keb' Mo'... Tipaldi is ay his best in longer interview pieces when he gets someone genuinely talkative, such as Marcia Ball, and can let them carry the show... For anyone keen on keeping up with the newer generation(s) of blues players, this may be a nice book to check out. Sure are a lot of artists profiled here!
"Honkers And Shouters: The Golden Years Of Rhythm & Blues"
By Arnold Shaw
(Collier Books, 1978)

A groundbreaking work documenting the careers of some of the greatest R&B artists, as well as the labels that brought their music to the jukeboxes and turntables of America. Rhythm & Blues's reputation has suffered mightily in recent years -- that they call the soft-soul pop of the post-disco generation "R&B" is a joke of tremendous historical proportions, but looking back to the real glory days of Ray Charles, Louis Jordan, Ike Turner, Clyde McPhatter and the like, there's no denying that "golden years" is the right term to use. This book is admirably inclusive, tracking the adaptations of bluesmen and early rock'n'rollers to the new, sleeker sounds that came out of Motown, Philly and Mussell Shoals... The profiles of various labels and A&R men are particularly welcome, since this book largely documents the day when success in the music business still depended on having "an ear" and the magic that happened when guys could still spot real talent. A good read -- definitely worth tracking down a copy.
---
Biographies
---
---


Other Book Reviews
Slipcue Main Index




---
Copyright 1998-2006 Slipcue.Com. All Rights Reserved.
Unauthorized use, reproduction or translation is prohibited.
---