<! MP3 01/20/11 > <! update 00/00/00 > <! pix 01/20/11- still need Carmen Miranda, fix BClassics & Nara > <! icons 01/20/11 >

---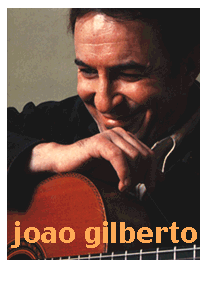 By semi-popular demand, I've finally created a list of Brazilian records that I would recommend above all others. It's a difficult, reductionist task, and one that I've resisted for years, since I feel that Brazilian music has such beautiful variety that it demands a more extensive consideration. Also, many of its best artists can be fairly hit and miss, and many spectacular performances will be missed in a list that, of necessity, singles out only the most magical records. I selected these discs both for their personal meaning, and to give a fair amount of historical and stylistic variety. There are many, many records I've left out of an equal calibre, and I strongly urge you to check out the artist discographies and other album reviews in the rest of my Brazilian Music Guide.
---
O Melhor
---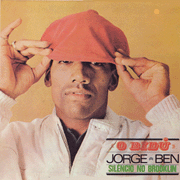 Jorge Ben "O Bidu: Silencio No Brooklyn" (1967)


Rio's soul-samba pioneer Jorge Ben was a key innovator of early '60s post-bossa pop... Ironically, this gorgeous, wildly creative record -- which mixes '60s psych, blues and sleek, Herb Alpert-style pop with killer Afro-Brasilian percussion and slinky samba rhythms -- was made during a lull in his career, when his music was out of fashion with the bossa-obsessed elite. Still, it's one of Ben's best, most creative and catchiest albums, and worth looking hard for. (Unfortunately, the fidelity on this CD reissue is a bit thin, sadly, though, it's the only version available as far as I know.)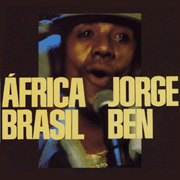 Jorge Ben "Africa Brasil" (Philips-Brasil, 1976)


Jorge Ben "Africa Brasil" (Philips-Japan, 1998)


In a word -- WOW. Probably the best funk album ever recorded in Brazil, and certainly a high point in Ben's career. Features the often-anthologized "Umbabarauma" and the super-funky "Xica da Silva," along with a slew of other great tracks, such as the James Brown/Sly Stone inspired "Hermes Trismegisto Escriveu" and other groove-heavy wonders. A few songs are too shrill -- less disco flirtations than just plain old pop-funk gone awry. One such track is an unfortunate remake of "Taj Mahal," the song from which Rod Stewart swiped the melody to "If You Think I'm Sexy"... Nevertheless, this is a masterpiece, one of the best Brazilian albums of the '70s. Absolutely essential, required listening.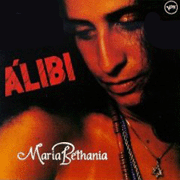 Maria Bethania "Alibi" (Verve, 1978)



Maria Bethania "Mel" (Verve, 1979)



Alibi is pop diva Maria Bethania's great masterpiece, and the album that made her a superstar. One of her most successful releases -- both aesthetically and commercially. Produced by bossa legend Roberto Menescal, this features soft, romantic jazz-pop balladry with tasteful and effectively understated keyboard-and-string arrangements throughout -- it's slick, but in a very good way. This is as good as her torch song style gets, and the album still holds up very well. Features a haunting version of Chico Buarque's "Calice," as well as the transcendently sweet duet with Gal Costa, "Sonho Meu." 1979's follow-up, Mel is very much of a piece with Alibi... another highwater mark for the '70s MPB scene.

Sylvio Caldas "Serie Bis - Cantores Do Radio" (EMI-Brasil, 2000)



Old stuff. Although Caldas' career extended well into the 1950s and '60s, this set is a delight because it sticks strictly to his recordings of the 1930s, during the Depression-era golden years of Brazil's so-called "radio singers." A genteel, relaxed vocalist with the smoothness of Russ Columbo (but not the stylized panache of Bing Crosby), Caldas has a pleasant, calm delivery and all these antique-sounding classic samba cancao arrangements frame first-rate material. This is one of the gems of this series -- highly recommended!

Gal Costa "Gal A Todo Vapor" (Polygram, 1971)


This is probably my favorite Gal Costa album. A supple, gorgeous live performance, and one of the finest records of its era that I've heard. The first half features Costa's youthful, sparrowlike voice is at its softest and most subtle, accompanied only by an acoustic guitar and the applause of her entranced audience. Midway through the album, a lively -- and slightly comedic -- Cream-like heavy rock/jazz accompaniment kicks in, while Costa keeps crooning. Features an excellent selection of early tropicalia and plaintive ballads -- altogether, a canny study in the stylistic range of MPB.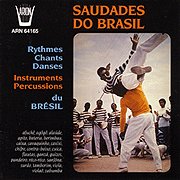 Amaro Da Souza & Haraldo De Oliveira "Saudades Do Brasil" (Arion, 1975)



The perfect introduction to numerous older Brazilian musical styles. Half scholarly, ethno-musicological exposition, half butt-shakin' block party, this is a fab collection that run the gamut of pre-bossa styles, from thumping bass-heavy batucadas and slinky capoeira to sambas and proto-sambas like the maxixe, baiao and choro. Although true to the rhythms, Da Sousa's ensemble leans heavily towards the melody, which is just fine by me. I love this album, and was thrilled to find it reissued on CD.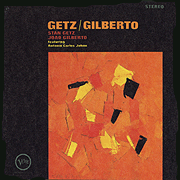 Stan Getz/Joao Gilberto/Astrud Gilberto "Getz/Gilberto" (Verve, 1963)



THE classic jazz-bossa nova crossover album, against which all others are measured. Almost shockingly intimate, with every tremble of the saxophone reed intact, this 1963 collaboration between Stan Getz and Joao Gilberto contains the global hit, "The Girl from Ipanema," which helped make bossa nova a household word in America. Gilberto's guitar work and whispery vocals are the ultimate in Brazilian soulfulness, while his then-wife Astrud sets the bar for blase '60s cool. Tom Jobim plays piano, in one of his sweetest performances, and the percussion by Milton Banana is a study in economy. There are zillions of pressings and reissues of this album -- don't worry, they're all magical.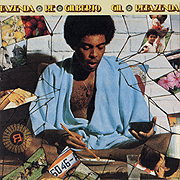 Gilberto Gil "Refazenda" (Warner-Brasil, 1975)



Gil's last great album of the 1970s, this beautifully arranged masterpiece is a multicultural mix-and-match along which starts off with some twangy guitar, and swiftly moves on to intertwine graceful string arrangements, forro accordion, subtle pop rock guitar and Gil's drifting falsetto. A mellow, reflective album, with a folkish tint -- I wouldn't be at all surprised to learn that Gil had been listening to a lot of Joni Mitchell at the time. Weird, magical, and highly recommended!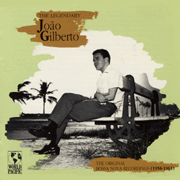 Joao Gilberto "Chega De Saudade" (Odeon Brasil, 1959)
Joao Gilberto "O Mito" (EMI Brasil, 1988)
Joao Gilberto "The Legendary Joao Gilberto" (Capitol/World Pacific, 1990)


Joao Gilberto "38 Titres De Bossa Nova" (EMI/World Pacific-France, 1993)
Bossa nova heaven. Guitarist and crooner Joao Gilberto's landmark recording, Chega De Saudade, was hailed as the first bossa nova album, a record that changed the course of musical history. The title track -- written by Antonio Carlos Jobim -- became an international hit, along with songs such as "Desafinado" and "Girl From Ipanema," which were recorded by U.S. jazz stars Stan Getz and Charlie Byrd. Still, Gilberto's original acoustic versions are the most captivating and magical, with the amazing economy which as the trademark of Gilberto's style. This album, along with his next two on Odeon, were gathered on a single, stunning CD (in the various versions listed above) yet, unfathomably, the record labels have allowed it to lapse out of print for over a decade now, depriving the world of one of its great musical jewels. Apparently it's due to some sort of idiotic licensing problem... Feel entitled to beg, cheat or burn a copy if you get a chance. It's crucial music.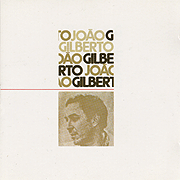 Joao Gilberto "Joao Gilberto" (Polydor Brasil, 1973)


Gilberto's "white album" -- a hauntingly sparse, beautiful, and quite ethereal recording. One of the best Brazilian records ever made. Sparing and gentle, graceful beyond the reach of practically any other musician alive, this includes revamped acoustic takes on several bossa nova and pre-bossa oldies, along with newer material such as his lullaby for his young daughter, Bebel, and one song each by the upstart tropicalistas, Caetano Veloso and Gilberto Gil. Gilberto sings barely at a whisper, while his percussionist is the absolute model of economy and restraint. Highly recommended!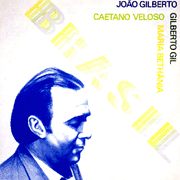 Joao Gilberto/Caetano Veloso/Gilberto Gil/Maria Bethania "Brasil" (Philips, 1981)


MPB's elite started the 1980s off right, crafting this rapturously understated, super-silky bossa nova album, with their enduring idol, Joao Gilberto. Very listenable and highly recommended. (Reissued on CD along with Joao Gilberto's Amoroso... what a bargain!)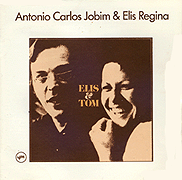 Antonio Carlos Jobim/Elis Regina "Elis E Tom" (Philips/Verve, 1974)



A stunning collaboration with bossa nova composer Antonio Carlos Jobim and jazzy MPB diva Elis Regina. Features the definitive version of Jobim's "Aguas de Marco", and some of the nicest, most tasteful music of his -- or her -- career. One of those sublime, perfect, magic albums that has a life of its own. Highly recommended -- essential, even!

Ze Keti "Sucesos De Ze Keti" (Eldorado/Inter Records, 2000)


A fabulous reissue of a 1967 album, made at the height of songwriter Ze Keti's popularity. A member of the Portela samba school, Keti started writing hits for various "radio singers" as early as the late 1940s. It was during the politicized phase of the bossa nova era, however, that Keti really made his mark, writing songs for and performing in the popular 1964 show, Opinao. These '60s recordings have a strong similarity to Chico Buarque's early work -- he's not the greatest vocalist, but his refashioning of the samba canacao form, with brusque percussion and a shrill keening female chorus, has a real appeal. The emphasis is on the songwriting, and the songwriting is very good. Many of these songs are better known through interpretations by Zelia Barbosa and Nara Leao, but Zeti's own versions have a great appeal.

Nara Leao "Dez Anos Depois" (Philips, 1971)


Beautiful. A 2-LP collection of the same-old bossa nova classics, EXCEPT that the ever-sublime Leao manages somehow to place a very distinctive stamp on them all. Perhaps is has something to do with the sessions being recorded in France -- a euro-chanson sensibility, perhaps? At any rate, the spare arrangements and distinctive acoustic guitar accompaniment by Tuca make this one of the best latter-day bossa nova records out there. If perhaps you've ever wearied of hearing the same damn Jobim songs over and over, give this album a try... it may make the classics seems fresh again! (And if you've never heard them... what a lovely way to start!)


<! actual GIF size = ? >

Carlos Lyra & Paul Winter "The Sound Of Ipanema" (Columbia, 1964)


A nice pairing of a mellow West Coast jazz player and one of bossa nova's founding songwriters. Winter's saxophone accompaniment here is understated, though a bit staid. What makes this record so sweet is Lyra's gorgeous guitar and intimate vocals, as well as all the great songs he wrote. Sergio Mendes and Milton Banana sit in on piano and drums, respectively, and though Winter is slightly less swinging than the "authentic" bossa musicians, this is quite a nice little record.
Carmen Miranda "The Brazilian Recordings" (Harlequin Records, 1993)


Carmen Miranda "1930-1945" (Harlequin Records, 1997)


Outstanding. A revelation for those who know Miranda only from her campy fruit-bowl-on-the-head Hollywood cameos. These collections highlight Miranda's early years in Brazil, where in the 1930s, she was a major samba star. The music is vibrant and infectious, especially featuring many of Ary Barroso's songs which went on to become standards. The second disc features more of her early Brazilian recordings, as well as some Hollywood stuff. Highly recommended!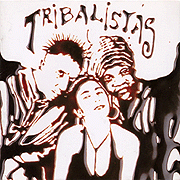 Marisa Monte/Arnaldo Antunes/Carlinhos Brown "Tribalistas" (Phonomotor/EMI, 2002) [Import]



Marisa Monte/Arnaldo Antunes/Carlinhos Brown "Tribalistas" (Capitol/Metro Blue, 2002)



Marisa Monte/Arnaldo Antunes/Carlinhos Brown "Tribalistas" (DVD) (Phonomotor, 2002)


A lovely, subtle and profoundly life-affirming record... a true, durable favorite. I keep coming back to this album and it keeps filling me with a sense of elation.... The band's name and all-star cast are an apparent tribute to the Veloso-Gil-Bethania-Costa mid-1970s supergroup, Doce Barbaros (The Sweet Barbarians), but in this case the musicians, neo-tropicalistas Arnaldo Antunes, Carlinhos Brown and Marisa Monte, go for tender restraint, rather than wild excess. It's a remarkably gentle, dreamy set, with an alluring blend of voices and styles. Each of these musicians has been instrumental in deepening the stylistic vocabulary of modern Brazilian pop, and the three have worked together on various projects and albums over the years. This album, however, is a marvel of collaborative creativity, with label owner Monte the album's guiding force and charismatic center, poet Antunes offering cerebral and ironic counterpoint, and soul-samba percussionist Brown mediating between the two, bringing his pure musicality in to balance them both. The songs feature all three artists flowing effortlessly in overlapping parts, with an intuitive connection that is quite marvelous to hear. (You can see it, too: if you can track down the DVD that accompanies this album, their creative process will astound you...) Old-school axe star Margareth Menezes also guests on one song, the catchy and irresistible "Passe Em Casa," one of many beautiful tunes that will echo in your mind for days on end. All in all, this is a very beautiful, inventive and multi-textured record... HIGHLY recommended.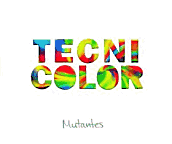 Os Mutantes "Tecnicolor" (Philips, 1970/1999)



Sao Paulo's Os Mutantes were perhaps the best psychedelic band of Brazil's late-'60s "tropicalia" era. This is a great "lost album" made up of English-language (and French!) recordings made in Paris, late in 1970, while singer Rita Lee as still in the band, and everybody sounds in pretty good spirits. Mutantes were that odd breed of "foreign" rockers who actually sounded great singing outside their native tounge, Rita Lee in particular. You might expect this to be lame, but it's not. Not by a longshot! A few rough spots, but frankly this is better than several of their proper Portugese-language releases. I also recommend some of Lee's early solo albums and Arnaldo Baptista's elusive oddity, Singin' Alone.

Clara Nunes "Meus Momentos" (EMI-Odeon, 1999)


Clara Nunes "Serie Bis" (EMI, 2000)



'70s samba queen Clara Nunes is one of my all-time favorite Brazilian artists, although all of her original albums have been out of print for over a decade, and none of the best-of collections really do her justice. These 2-CD sets are the best things out there, each with 30 tracks, covering the breadth of her career, from 1968-1982. Because they are only retrospective collections are in print, these CDs unfortunately are obliged to dip into her later, more orchestrated MPB material, which some may find too goopy. Her straight-ahead samba recordings are incredible, though, and if you've never heard Nunes sing, you owe it to yourself to discover these gems of Brazilian culture. These two collections are fairly interchangable -- a handful of tracks are different, but both are all-hits, all the time. The Bis set may be a little stronger than the Momentos series; the pacing is better and it includes fewer pop crossovers than the original twofer. Highly recommended.


<! really 109x108 >

Baden Powell/Vinicius De Moraes "Os Afro-Sambas" (Forma, 1966)


Unquestionably one of the greatest and most magical Brazilian albums ever recorded, this classic has mysteriously remained largely out of print for decades. This collaboration between guitarist Baden Powell and bossa poet Vinicius De Moraes is haunting and timeless, a moody, unsettling blend of bossa nova melodies and somewhat abrupt African rhythms, wisely left a bit rough around the edges. The music leaps out at you, as eerie and vibrant now as it was all those years ago. Powell rerecorded this album twenty-five years later (albeit without Vinicius' help... De Moraes had been dead for over a decade...), and although that remake has its moments, it is nowhere near as transcendent as the original. If you can track this album down, get it. It's a classic.

Jair Rodrigues "Orgulho De Um Sambista" (Philips, 1973)
One of my longtime favorites. An absolutely gorgeous album of swaying, romantic sambas and acoustic saudades with a graceful cavaquinho and Jair's lulling vocals. Rodrigues, who is best known for his glitzier mid-'60s work with Elis Regina went on to record many beautiful albums in the '70s, all of which mysteriously remain out of print. If you see this album, do not hesitate to snap it up.

Velha Guarda Da Portela "Tudo Azul" (Phonomotor, 2000)


An absolutely gorgeous acoustic samba album. Relaxed, affectionate takes on old samba cancao themes, by a band featuring various members of the Portela samba school, including several influental old-timers. This disc was bankrolled by novo tropicalista, Marisa Monte, whose dad was a Portela member in the '60s and who is now one of the escola's younger members... A beautiful album, frequently and deservedly compared to the Cuban Buena Vista Social Club.

Caetano Veloso "Caetano Veloso" (Philips, 1969)


Picking just one Caetano Veloso album to recommend seems impossible, since almost everything he's recorded in his decades-long career is worth checking out. Let's start with this one, then, which I consider an early masterpiece. It's his "white album" -- a simple, blank cover, with only his signature on the front. Beautiful, fluid arrangements on many tunes, including the exquisite flute-strings-guitar interplay on the lead track, "Irene", and the Portuguese fado stylings of "Os Argonautas". This is the high point of Veloso's most creative years -- the sheer beauty of "Irene" marks Veloso's master status as a revolutionizer of Brazilian acoustic music, while the whispering-then-howling electric guitar on "Empty Boats" places him in the top ranks of '60s space rock. An essential album.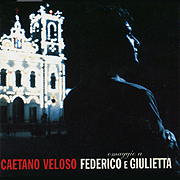 Caetano Veloso "Omaggio A Federico E Guilietta" (Mercury, 1999)


This gorgeous live album was dedicated to Federico Fellini and recorded at a concert near the filmmaker's hometown of Rimini. This is a stately, classy acoustic performance, with a band anchored by cellist Jaques Morelenbaum (Veloso's bandleader on several tours). For about half the album, Caetano goes Continental -- along with Brazilian classics such as "Coracao Vagabundo" and "Chega de Saudade," he delights his listeners with affectionate renditions of songs by Fellini's favorite composer, Nino Rota, and addresses the audience warmly in Italian. He also croons an English-language version of Irving Berlin's "Let's Face The Music And Dance"... all in all, a real class act. Amazingly, Veloso only seems to be getting better and better -- and this is one of his finest records.
---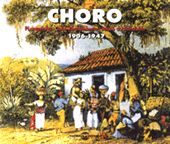 Various Artists "BRESIL -- CHORO - SAMBA - FREVO: 1914-1945" (Fremeaux, 1998)


Colossal. Enthralling. Essential. Legendary figures from the dawn of samba such as Pixinguinha, Noel Rosa, Sinho and Ary Barroso may seem distant and antique, but this excellent French compilation brings their music back with resounding immediacy. Two CDs worth of catchy, classy, crazy, playful creativity with an old-timey, jazzy feel. A lot of this would work well alongside old big band tunes, or Django Reinhardt records. HIGHLY recommended. Also check out the similar BRESIL: SAMBA collection.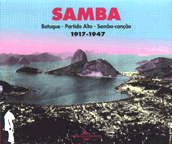 Various Artists "SAMBA -- BATUQUE - PARTIDO ALTO - SAMBA-CANCAO: 1917-1947" (Fremeaux, 1998)


The second in this fabulous archival series of early Brazilian pop songs. Of course, this 2-CD collection has a tasty sampling of early Carmen Miranda recordings, but better yet are the two dozen other tracks featuring fabulous artists whose work has been next to impossible to find for decades. Noel Rosa, Bahianho, Mario Reis, Cyro Monteiro and others are all represented -- this is a HIGHLY recommended collection!!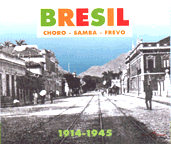 Various Artists "CHORO: 1906-1947" (Fremeaux, 1998)


Another stunner in this incredible French series. A beautiful collection of mostly-instrumental music, featuring the legendary Pixinguinha and acoustic jazz pioneer, mandolinist Jacob do Bandolim. There is some teensy overlap between this and the first BRESIL comp, but it's pretty negligible considering how great both collections are. This collection is indispensible for anyone looking into the roots of Brazilian samba.
---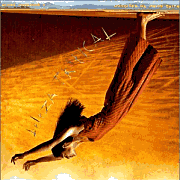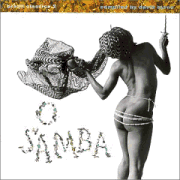 Various Artists "BRAZIL CLASSICS 1: TROPICALIA" (Sire/Fly Records, 1989)



Various Artists "BRAZIL CLASSICS 2: O SAMBA -- SAMBA AND PAGODE" (Luaka Bop, 1989)



You couldn't ask for better samplers of post-bossa nova pop than these. Well, you could, but they'd be darned hard to find. American art-rocker David Byrne did a fab job cherry-picking the best of '70s and early '80s MPB, throwing in super-catchy songs such as Jorge Ben's "Umbabarauma" and Caetano Veloso's "Ile Ale," tunes which really stick in your head and win you over. Also included: "Sonho Meu," perhaps the sweetest song recorded by either Gal Costa or Maria Bethania; several songs by Chico Buarque, including a wonderful duet with Milton Nascimento ("Calice"), and a couple of tracks by the lesser-known female singer, Nazare Pereira. Admittedly, there is some minor slippage into cheesier terrain, but this series remains one of the best -- if not the best -- introduction to Brazilian pop available. Also notable as the genesis of Byrne's Luaka Bop label.
---



Main Brazil Index
Other Brazilian Music Resouces



---