<! CA - CO > <! MP3 01/20/11 > <! update 00/00/00 > <! pix 02/08/10 > <! icons 01/20/11 >
---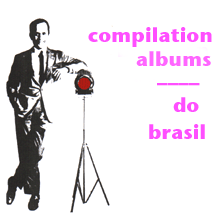 This is the third page of reviews of various Brazilian Music collections. This selection is limited by my budget and by the availability of records which make it here to the good old US of A... But if you have any favorite compilations which you think should be included here, please feel free to write me and make a suggestion.
---
Compilations: Page 1 / 2 / 3 / 4 / 5 / 6 / 7 | Artists: A-Z | Main Brazil Index | Glossary

---


Various Artists "CANTORES DO RADIO v.1" (EMI-Brasil, 2000)
Various Artists "CANTORES DO RADIO v.2" (EMI-Brasil, 2000)


Two double-CD collections, which feature several of the greatest stars of the 1920s, '30s and '40s, legendary figures such as Joao do Barro, Aracy de Almeida, Noel Rosa and Carmen Miranda who rose to fame as stars of radio and film in the pre-bossa nova, pre-TV era. Mostly this is gorgeous stuff, jam packed with classic samba cancao material and big band-y vocals. The tracks on the second volume are of slightly later vintage - a handful of songs from the 1930s, and a few tilting into the 1970s, featuring artists like the Trio Do Ouro, Os Guaranis, Odette Amaral and even Cauby Peixoto (who is credited as being the first Brazilian vocalist to record a rock'n'roll tune). These two collections are part of EMI's impressive reissue series, Cantores Do Radio, which includes over two dozen separate titles. Recommended!!

Various Artists "CAPOEIRA MATA UM: THE RHYTHM OF BAHIA/THE SOUND OF THE WORLD" (Tropical Music, 2001)



A strikingly varied set of songs based on the beat and boing-boing-boing of Bahia's homegrown martial arts form, capoeira. This is a much richer and more melodic set than most capoeira albums, which tend to stick to the rhythms and can get a little repetitious. Here, by contrast, artists from throughout the world modernize and play around with this distinctive sound -- there's fairly traditional material, mixed in with funk, samba, techno and pop stylizations... there's even one improbable free jazz track! This album is both challenging and a lulling delight to hear... Recommended!
Various Artists "CARNAVAL BRESILIEN: 1930-1956" (Fremeaux) <! year? >





<! Various Artists "CARNAVAL SEM FRONTEIRAS" (CSB, s/d) promotional album - for tourists? 01 - Mulher e parafuso (Marcha de Rubens Santos) Rubens Santos 02 - Sina de palhaćo (Marcha de Wail Armentano) Sérgio Dias 03 - Louca (Samba de Silvio Pinto e Gabriel Júnior) Silvio Pinto 04 - Na China (Marcha de Rubens Santos e Osvaldo Santos) Rubens Santos 05 - P'ra esquecer a minha dor (Samba de Rubens Santos e Alcides Macedo) Sérgio Dias 06 - Vamos namorar na Lua (Marcha de Silvio Pinto) Silvio Pinto 07 - Vez de palhaćo (Marcha rancho de Rubens Santos e Nilo Sergio) Rubens Santos 08 - Lua p'ra frente (Marcha de Cely Araújo) Rubens Santos 09 - Amor de carnaval (Samba de Nery Gomes) Zilá Machado 10 - Canto, pulo e bebo (Marcha de Túlio Piva) Túlio Piva 11 - Canta Colombina (Marcha rancho de Rubens Santos e Ubirajara) Rubens Santos 12 - Hora de pagar (Samba de Antonio Mendes) Rubens Santos 13 - Luto por Maria (Samba de Antonio Mendes) Rubens Santos 14 - Cara de pau (Marcha de Gabriel Júnior e Silvio Pinto) Silvio Pinto 15 - Alô amigos (Marcha de Rubens Santos e Alcides Macedo) Rubens Santos 16 - Atenćčo escola (Samba de Rubens Santos e Nilceu Porto) Rubens Santos Arranged by Paulinho do Pinho and Telmo Rubens Santos - cuíca Clio Paulo - cavaquinho Paulo Santos - acoustic guitar Fabrício - acoustic guitar Paquiderme - trombone Walter - pandeiro Betinho - surdo Nery Gomes - tamborim >

Various Artists "CARTOLA: O SOL NASCERA" (Revivendo)


A stunning collection of antique samba recordings, written by Angenor de Oliveira (aka Cartola), one of the great early sambistas and a founder of the Estacao Primeira de Mangueira, one of Brazil's largest samba schools. Most of these recordings are from the early 1930s, although it spans into the early '80s as well. If you enjoy old Carmen Miranda records, then this disc full of forgotten singers such as Sylvio Caldas, Arnaldo Amaral and crooner Francisco Alves will be a real treat. Also includes a sprinkling of Cartola's own rare recordings -- which are lovely. A few tracks towards the end are a bit goopy, and the "medley" at the end is clumsily edited, but these are only minor imperfections in an otherwise killer historical record.

Various Artists "CASA DA MAE JOANA" (Blue Jackel/Natasha, 1998)


Beautiful acoustic music -- one of the best new collections you can find, if you're searching for the gentle balladry style of yesteryear. These are new recordings, but include several old masters, such as Ze Keti, Nelson Sargento and Wilson Moreira. Gorgeous songs and gentle sambas, with more emphasis on the melody than the rhythm... This brings to mind the wonderful albums made by the acoustic sambistas of the early '70s. Recommended!
Various Artists "CASA EDISON E SEU TEMPO" (CD/Book/DVD) (Biscoito Fino, 2002)


Until 1928, there was only one recording studio in Brazil, the Casa Edison in Rio de Janeiro, a business that grew out of an appliance store that sold refrigerators, typewriters and phonograms. The store's owner, Fred Figner, cut deals with Odeon and Parlaphone to provide Brazilian music, and became the locus for the birth of a national music culture. This massive book/CD/DVD collection is an insanely valuable historical resource, documenting the lifespan of the Casa Edison whirlwind. It includes massive amounts of primary source material: reproduced on the DVDs are thousands of scanned photographs and documents -- Figner's correspondence with labels and clients, various sales catalogs from the 1910's, '20s and '30s (including those for sound equipment such as the gorgeous trumpet-shaped gramophones, as well as the other items sold in the Edison stock), reproductions of labels on dozens of ancient 78s, typed and handwritten lyric sheets for dozens of early samba songs, and photos of numerous dimly-remembered music stars of yesteryear. For musicians, one of the greatest bonanzas is a DVD devoted to the original sheet music to dozens of old samba and choro tunes (including the original artwork, which, in true Brazilian fashion, sometimes included revealingly sensual or racially-tinged imagery.) The book is massive, and a bit unwieldy, but gorgeous and packed with valuable information. Best of all, there are four CDs worth of primal Brazilian pop -- old-school sambas, various half-forgotten styles, and musicians who beckon back to the misty origins of the modern Brazilian musical scene. Super-cool, if you are heavily into the early years of Brazilian music.


<! Fundada por Fred Figner em 1900, situada ą Rua do Ouvidor nľ 107, a Casa Edison (nome-homenagem a Edison, o inventor do fonógrafo) foi um estabelecimento comercial destinado inicialmente ą venda de equipamentos de som, máquinas de escrever, geladeiras etc. Após dois anos de funcionamento, tornou-se a primeira firma de gravaćčo de discos no Brasil. No ano de sua fundaćčo, Fred Figner escreveu para a companhia Gramophone de Londres, solicitando que a firma enviasse ao Brasil técnicos para gravar música brasileira. Com a vinda do técnico alemčo Hagen, Figner instalou uma sala de gravaćčo anexa ą Casa Edison, na Rua do Ouvidor nľ 105. Foram entčo gravados os primeiros discos brasileiros, em seguida enviados ą Europa para serem prensados. O jornal "Correio da Manhč" de 5 de agosto de 1902 registrou: "A maior novidade da época chegou para a Casa Edison, Rua do Ouvidor 107. As chapas (records) para gramophones e zonophones, com modinhas nacionais cantadas pelo popularíssimo Baiano e pelo apreciado Cadete, com acompanhamento de violčo, e as melhores "polkas", "schottisch", "maxixes" executados pela Banda do Corpo de Bombeiros do Rio, sob a regźncia do maestro Anacleto de Medeiros". Entre 1902 e 1927, período que corresponde ą chamada fase mecČnica de gravaćčo, foram lanćados cerca de 7 mil discos, dos quais mais da metade pela Casa Edison. Até 1903, a Casa Edison produziu 3 mil gravaćões, conferindo ao Brasil o terceiro lugar no ranking mundial (estavam ą frente os Estados Unidos e a Alemanha). Fred Figner enriqueceu, tornando-se proprietário de tudo o que se produzia em música brasileira. Como próximo passo, montou a primeira loja de varejo do Brasil, com um sistema de distribuićčo em todo o país, com filiais, vendedores pracistas e produćčo de anúncios e catálogos. Em 1912, a Odeon Talking Machine instalou uma fábrica de prensagem de discos no Rio de Janeiro e Figner passa a ser vendedor exclusivo da Odeon, recebendo o encargo de fornecer o terreno e construir a fábrica. Esta foi a primeira fábrica de discos instalada no Brasil e a maior da América Latina. Um ano mais tarde, a fábrica Odeon comećou a produzir um total de 1,5 milhčo de discos por ano, tornando-se o Brasil o quarto mercado de discos. A vendagem de discos durante a Primeira Guerra se mantém, tendo a Casa Edison comercializado 4 mil gravaćões de música brasileira. Em 1925, a empresa holandesa Transoceanic é encampada pela Columbia Gramophone de Londres, que desenvolveu o sistema de gravaćčo elétrica inventado pela Western Electric. No ano seguinte, a Transoceanic - Odeon afasta Figner, passando a dominar a distribuićčo de discos no Brasil. Em 1927, Fred Figner entrega o selo Odeon e passa a gravar pelo selo Parlophon. Em 1932, a Transoceanic afasta Figner do negócio de discos. A partir deste ano, a Casa Edison restringiu sua linha de mercadorias a máquinas de escrever, geladeiras e mimeógrafos. Em 1960, encerrou as atividades como oficina de máquinas de escrever e calcular. Em 2002, o Instituto Moreira Salles, em conjunto com o selo Biscoito Fino, com apoio financeiro da Petrobras, lanćaram dois livros acompanhados por 15 CDs, produzidos pelo pesquisador Humberto Francheschi sobre alguns dos melhores títulos da Casa Edison.>

Various Artists "CAYMMI: 90 ANOS -- MAR E TERRA" (BMG, 2004)


A pleasant, solid set of songs written by the great samba cancao composer, Dorival Caymmi. This 2-CD anthology is only partly a usual suspects gathering, with MPB heavyweights such as Maria Bethania and Gal Costa and samba revivalists such as Paulinho Da Viola and Ivone Lara; what makes this collection so valuable, though, is the inclusion of numerous tracks from the golden years of the samba cancao and the "radio singers" era, performances from the 1940s and '50s by Anjos De Inferno, Trio De Ouro, Francisco Carlos, Angela Maria and others, antique recordings (with great sound quality, coming straight from the original major label vaults), skillfully programmed alongside more modern recordings by the likes of Fafa De Belem, Elba Ramalho, Almir Sater, Jussara Silveira and Angela Ro-Ro. The selections are kind of capricious or unexpected -- there's even a track by Sarah Vaughan (and nothing by Caymmi himself, or any of his family) -- but what's most remarkable is the album's overall listenabilty... There are perhaps two or three tracks that I found icky and sachharine, whereas the rest of the record was quite nice... That's a pretty good batting average for an MPB set... Definitely worth picking up!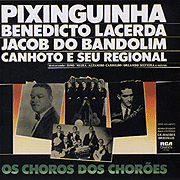 Various Artists "OS CHOROS DOS CHOROES" (RCA, 1977)


A delightful collection of the best, classic Brazilian choro recordings. This nostalgia album originally came out in 1977, packed with lively performances from four giants of the choro style, saxophonist Pixinguinha, flautist Benedicto Lacerda, mandolin master Jacob Do Bandolim and bandleader Canhoto, all recorded in top form between 1946-52. This disc is a perfect introduction to the best of the genre, and is a delight to listen to... Highly recommended!
Various Artists "CHOROS: SUCESSOS INESQUECIVEIS" (Copacabana, 1998)


An interesting multi-label collection of latter-day choro recordings... Things kick off with an electrified version of Pixinguinha's, "Odeon," with a fuzzed-out guitar wailing away over the chugging rhythm. Blasphemy, right? Yeah, totally -- except that the blasphemer in question is actually Pixinguinha himself, on one of his early 1970s revival albums... There are also later recordings by the likes of Severino Araujo, Waldir Azevedo, Altamiro Carrilho, Abel Ferreira and Deo Rian, as well as revivalists such as Os Choroes and Joel Nascimento, and even some nostalgia-trip numbers by rockers Lo Borges and Beto Guedes... A few tunes are painfully saccharine, but these thankfully are in the minority -- and though the overall tone is a bit too smooth and modern, there are still some lovely tracks here... High marks go to Os Choroes for the dazzling virtuoso flute work on their 1971 recording of "Bentevi Atre-Vido..." Whew! Now that's some real showboating!!


Various Artists "CITY OF GOD" (Soundtrack) (Milan, 2003)



The soundtrack to Fernando Meirelles' hard-hitting, gritty feature film about life in the favela slums. An excellent collection of vintage "Black Rio" Brazilian soul, including tracks by Tim Maia, crooner Hyldon and Wilson Simonal's hipsterdelic "Nao Vem Que Nao Tem," which was previously anthologized on the SAMBA SOUL '70 album reviewed below. Also included are sweet samba tunes from Cartola, an elder of the Mangueira samba school, and the anthemic "Metamorfose Ambulante," by rocker Raul Seixas. It's a fine set of classic songs to start with, but the new material that augments and connects these tracks is also pretty cool, '70s-styled funksploitation instrumentals by Antonio Pinto and Ed Cortez, along with a new samba-soul song by Seu Jorge, one of the best new artists in the style. This is a really groovy collection, definitely worth checking out!

Various Artists "COISAS MINHAS: LUPICINIO RODRIGUES - 90 ANOS" (RCA-BMG, 2004)


This 2-CD tribute to songwriter Lupicinio Rodrigues (1914-1974) highlights the contrasts of his work, from the stylistic differences between his more upbeat samba cancao and the slower romantic material that seems influenced by the Latin American boleros, to the different approaches artists have taken to his songs over the years. Disc One tilts towards older recordings, with artists from the golden age of samba cancao and the "radio singer" era -- Isaura Garcia, Nelson Goncalves, Cyro Monteiro, Orlando Silva, et. al. -- while Disc Two begins in the 1960s and works through recordings made in the '70s, '80s and '90s, showing the durability of his songwriting. While much of this collection is a bit florid and sleek, it's also pretty classy. Worth checking out.
---
>> More Compilation Albums | Artists: A-Z | Main Brazil Index
---



---