<! MP3 02/08/10, 01/20/11 > <! update 00/00/00 > <! pix 02/08/10 > <! icons 01/20/11 > <! D to M >
---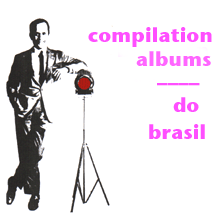 This is the fourth page of reviews of various Brazilian Music collections. This selection is limited by my budget and by the availability of records which make it here to the good old US of A... But if you have any favorite compilations which you think should be included here, please feel free to write me and make a suggestion.
---
Compilations: Page 1 / 2 / 3 / 4 / 5 / 6 / 7 | Artists: A-Z | Main Brazil Index | Glossary

---

Various Artists "DANCE MUSIC FROM BRAZIL: CHOROS AND FORRO" (Nimbus, 2000)


A far-flung but fairly wimpy 4-CD set that features about four hours of mostly-instrumental music drawn from this label's vast catalog. It's not actually a proper compilation so much as a collection of albums... each disc features a separate group: Os Ingenuos, Oficina De Cordas, Camarao, and the Fred Dantas/Ailton Reiner ensemble each tackle a separate style -- choro, forro, etc. Like many choro albums, this disc might be best taken in small dose, but there is some truly fabulous musical virtuousity on display here. The forro disc has the greatest variety, but they're all worth checking out. A great introduction to the styles, and the label.
Various Artists "DAORA: UNDERGROUND SOUNDS OF URBAN BRASIL" (Mais Um Discos, 2013)



Various Artists "DESTINATION: BRAZIL" (Sugo Music/National Geographic, 2001)


Part of an interesting series of musical "journeys" sponsored by the National Geographic. This has a nice selection of modern artists: Caetano Veloso, his niece Belo Velloso, Bebel Gilberto, Suba, Ana Caram and the like. The Quarteto Jobim-Morelenbaum provides a more traditionalist link to old-school bossa nova, and Fatima Guedes to the older acoustic sambas... The coolest part of this disc is the accompanying geographic/social info: a brief timeline of Brazilian history, descriptions of major musical styles and instruments, tips on various music festivals and, of course, one of those great National Geographic maps. Pretty mainstream, overall, but a nice introductory collection.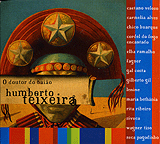 Various Artists "O DOUTOR DO BAIAO: HUMBERTO TEXEIRA" (Biscoito Fino, 2003)


A splendid live tribute to composer Humberto Texeira, one of the great founders of modern Northeastern pop... Texeira's legacy tends to be overshadowed by his connection to forro star Luiz Gonzaga, but this fine concert album brings his work to the foreground, with rich, heartfelt renditions of his old baiao compositions from the middle the 20th Century. It's an all-star cast, packed with MPB royalty: Maria Bethania, Chico Buarque, Gal Costa and Gilberto Gil on call for the '70s old guard, Lenine and Rita Ribeiro representing the younger generation, Elba Ramalho and Fagner as Texeira's nordestinho stylistic stepchildren. High marks go to Caetano Veloso for his soft, piercing rendition of "Baiao De Dois," although one of the most surprising artists on here is alt-rocker Lenine, who gives a similarly gentle, exploratory performance. This entire album is quite nice, actually, highlighting the fun, playful, bouncy aspects of Texeira's work, while liberating it from the manic, hyperactive feel of the original, old-school baiao recordings of the 1940s and '50s. This disc does for Texeira's legacy what the BAIAO DE VIRAMUNDO collection did for Gonzaga in 2000: it shows the elasticity and enduring appeal of these gloriously catchy old pop tunes. Recommended!

Various Artists "ESCOLAS DE SAMBA" (RCA, 2002)


A great 2-CD collection of various Carnaval themes by the various escolas that dominate the parades from year to year. These are studio recordings, mainly drawn from the '80s and '90s, and are on the slick, poppy side, but still quite nice. Featured performers include Neguinho Da Beija-Flor, Jamelao, Quinho, Dede Da Portela, Dominguinhos Do Estacio and Sergio Do Porto. RCA has really been on a roll with all these "100 Anos" releases, and this is certainly one worth picking up if you want to check out the non-MPB end of the modern scene.


<! B0000648OT? >

Various Artists "ESTACAO LAPA" (Deckdisc, 2005)



(Produced by Joao Augusto & Teresa Cristina)
A sweet set of acoustic samba performances and a smidge of choro, with a lovely repertoire curated by modern samba star Teresa Cristina. This album -- named after a Sao Paulo subway station -- features a great mix of performers, from old-timers such as Cristina Buarque, Dona Ivone Lara and Nilze Carvalho, to more obscure players who are solidly in the contemporary roots samba scene. The record holds together well as an album, a delight to listen to from beginning to end. Recommended!!
Various Artists "ESTACAO LAPA, v.2" (Deckdisc, 2007)


EXPLOSAO DO SAMBA (series) - see series discography
Various Artists "FAVELA CHIC: POSTNOVE 1" (BMG-France, 2001)


Various Artists "FAVELA CHIC: POSTNOVE 2" (BMG-France, 2002)


This series was assembled by the DJs at a hip Parisian nightclub , where it's said to be all the rage. This volume opens with several well-selected 70s rock and soul numbers, by the likes of Trio Ternura, Rita Lee and Toni Tornado; it moves into more modern remix tracks from labels such as Trama and Natasha, and then alternates back and forth between classic tropicalia and contemporary novo-tronica. It's not bad!
Various Artists "FAVELA CHIC: POSTNOVE 3" (BMG-France, 2004)






<! more modern artists - see list >
Various Artists "FAVELA CHIC: POSTNOVE 4" (BMG-France, 2006)

Various Artists "FESTA BRASIL" (Putumayo, 2000)


Sadly, this contemporary samba cancao collection reverts to Putumayo's older style of goofy, safely synth-poppy "world music" vibe... leaning towards overproduced feel-good material, of varying degrees of interest. Some of it's perfectly fine, some of it's pretty drekky -- Braz-pop purists may find it a bit bland, but it could still be a nice stocking stuffer for an uninitiated pal. And it collects tracks such as Gal Costa's version of the forro oldie, "Chiclete Com Banana", which is better heard here than on the original Costa album (which is pretty awful). Other artists include Zeca Pagodinho, Ivete Sangolo, Pepeu Gomes and Rita Ribeiro.




Various Artists "FESTIVAIS v.1-2" (Globo, 1997)
The exact provenance of these recordings is a little unclear... the liner notes are laudatory and expansive, yet not very specific about recording dates, etc. Still, looking at some of the artists included, it's clear that these tracks are not strictly drawn from the golden years of the MPB song competitions (which ended in 1971), and most tracks do not appear to have been recorded live, either. My guess is that this is a set that draws in part on studio recordings of songs that were originally presented at the old MPB festivals, as well as from the lesser ranks of soft pop artists of the times. Some of this material is painfully sappy, although several gems are included, such as Caetano Veloso's early hit, "Alegria, Alegria," Gal Costa's version of "Divino Maravilhoso," and "Amigo e Pra," an actual live concert track by the MPB-4, which is one of the liveliest songs I've ever heard by them. An uneven 2-CD set which has a few cool tracks.


<! B0000A9DOG ? >

Various Artists "FOCUS: O ESSENCIAL DE ESCOLAS DE SAMBA" (BMG, 1999)


A nice collection of recent Carnaval themes, including some by stars such as Martinho da Vila, who helped shape the modern sound of the escolas. These are all themes of recent vintage, from 1980-99, but that's hardly a liability. The sound quality is great, the melodies are rich... Sure, the rhythm gets a bit repetitive if you listen to the whole album all at once, but taken in small doses, this is pretty fab. A recommended record from a neglected style.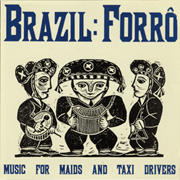 Various Artists "FORRO: MUSIC FOR MAIDS AND TAXI DRIVERS" (Rounder, 1989)


Forro music isn't for everyone, but this is one of the best collections of this manic accordeon-based music currently available in the US: if you want to check the style out, this is a great place to start. The artist selection is off the beaten track, and the emphasis is fairly rootsy (this is Rounder after all...) The title refers to the distain that many of the more cosmopolitan Brazilians hold for the rural forro style... As in, "What? You listen to forro? Good lord, why? Only taxi drivers listen to that!!" Sort of like Mexican ranchera music in California. . But, hey, judge for yourself. This is pretty solid collection, with plenty of super-catchy material. This collection centers on little-known younger amateur artists, including Duda Da Passira, Toinho De Alegras, Jose Orlando and Heleno Dos Oito Baixos... For information about more well-known artists, check out my forro section...

Various Artists "GAFIEIRA BRASIL" (BMG, 1999)



Wahoo!! Some truly swingin' big-bandish samba-jazz from the 1950s, '60s and '70s, dance music that hearkens back to older styles like the maxixe and baiao, while fusing them with a hard-edged, American bandstand jazz. It's a style of Brazilian pop I haven't heard much of, made by artists who have been largely forgotten over the years. Os Velhinhos Transviados, Ases Do Ritmo, Fats Elpidio and others are anthologized along with 1950s bandleader Aristides Zacharias, someone I'd only known before from cheapo, budget label LPs ("Romance In Rio!", etc.) and whose work I'd dismissed as kitschy, sell-out, faux-Braziliania made for the North American easy listening crowd way back when... Well, it turns out he really rocks! Modern-day Brazilians don't seem to care for these guys much either; this album is the only place I know of that you can get any of their work on CD... A pity, because it's fun stuff, and deserves a fuller exploration in the digital reissue age... There are also some more recent recordings from Paulo Moura, who I guess is the main modern exponent of the gafieira style... Anyway, if you can track this disc down, it's totally worth it. (I got my copy through SomLivre.com...) Recommended!

Various Artists "GLUCKLICH v.1" (Compost, 1999)


Various Artists "GLUCKLICH v.2" (Compost, 1999)


Various Artists "GLUCKLICH v.3" (Compost, 1999)


Various Artists "GLUCKLICH v.4" (Compost, 2000)


Various Artists "GLUCKLICH v.5" (Compost, 2002)


House-ish European takes on EZ-brazillica, some tracks with a vaguely Austin Powers/Sergio Mendes retro '60s feel. This kind of chill-room easy listening isn't entirely my cup of tea, but I suppose that for the style, these are strong collections. They include new recordings, as well as older, obscure recordings from the '70s and '80s. Highlights on v. 3 include Boozoo Bajou's swinging "Night Over Manaus" and "Ye Mele" by Brazil Selection. I have not heard the other volumes in this series, but imagine it is rather similar territory. [Check out the Compost website for more information.]

Various Artists "GERACAO ANOS 80: SINGLES, VOLUME 1" (Warner, 2007)


Synthesizer pop come to Brazil: here is a top-notch collection of genuine, spazzy '80s New Wave, Brazilian-style, with a slight punkish vibe. I'm not sure, but I think this might actually be a straight reissue of the singles sampler that brought Kid Abelha to the top of the charts, and also introduced bands such as Ira!, Titas and Ultraje A Rigor. Also included is an energetic (though dorky) single by Lulu Santos, as well as tunes by AgentSS, Azul 29, the R&B-ish Brylho and (no, not the same band) Magazine. Anyone who would like to learn more about Brazilian new wave and punk/rock would do well to check this compilation out... It's pretty strong, even considering the genre. Amazon Kid Abelha did so well, though: Paula Toller sounded just awwwwwful on these early recordings!

Various Artists "HAIR" (Brazilian Soundtrack) (Fermata, 1969)
A cultural curio, but an unimpressive recording... The singers and the band are uniformly mediocre, at best. A fan of the original production might get a kick out of hearing it translated into Portuguese, butother than that there's really no "there" there. (Side note: apparently actress Sonia Braga was in the original cast; I'm not sure if she sings on this album...)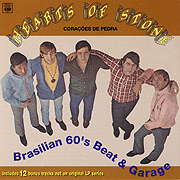 Various Artists "HEARTS OF STONE/CORACOES DE PEDRA" (Magica, 2000)
Yeah, baby!! Brazilian beat from the mid-'60s, with plenty of cover tunes but also a healthy dose of originals. The best known groups on here are (of course) Renato e Seus Blue Caps and Os Beat Boys, but mainly this is for-real, off-the-beaten-track, honest-to-goodness teen beat from the British Invasion days. For those of us who like kitschy cover tunes that don't suck, and who are trying to delve into the dim, misty past of Brazil's pre-tropicalia rock scene, this is an ultra-invaluable find. Plus, it's even got (gasp!) great, well-written liner notes. Okay, so when's volume dois come out?
Various Artists "HIP HOP: CULTURA NA RUA" (Eldorado, 1988)


This was, apparently, the first hip-hop collection in Brazil, featuring Thaide & DJ Hum, and others...


<! 1 Corpo fechado (Thaíde - Marcos T. Telésforo) 2 Código 13 (Márcio G. do Pinho) 3 Centro da cidade (Jackson A. B. de Moraes) 4 O credo (Cassius Franco) 5 Deus da visčo cega (Cassius Franco - Akira S. - Ruberval Oliveira) 6 Homens da lei (DJ Hum - Thaíde - Marcos T. Telésforo) 7 Gritos do silźncio (Anderson Ferreira - Marcos A. Duarte) 8 Calafrio (Melo do terror) (Jackson A. B. de Moraes - André L. A. Martins) 9 A minha banana (Jackson A. B. de Moraes) 10 Vicio (Jackson A. B. de Moraes - André L. A. Martins) 11 Cidade maldita (Jackson A. B. de Moraes - André L. A. Martins) 12 Loucura (Anderson Ferreira - Marcos A. Duarte - Márcio G. do Pinho) 13 Teu negócio é grana (Anderson Ferreira - Márcio G. do Pinho - Renato T. Guimarčes) 14 A garota da casa (Anderson Ferreira - Marcio A. Duarte - Márcio G. do Pinho) >

Various Artists "HIP HOP: CULTURA NA RUA, v.2" (Eldorado)







Various Artists "HIP HOP: O PODER DE TRANSFORMACAO" (Paradoxx, 1997)



<! 1 Introdućčo (DJ Hum - DJ Dri) 2 Planeta funk (Fishkadelic) 3 Um dia quem sabe? (Neno - Nidas - Gordinho) 4 Som de drčo (Linno Crizz - DJ Dri) 5 Viagem psicodélica (DJ Hum - DJ Dri) 6 Acid scratch (DJ Hum - DJ Dri - Druck Jam) 7 Quero te encontrar (Gerson Jr. - Bruno - Samarone - Emerson) 8 V.E.M. (Vida, emoćčo e música) (Nidas) 9 Conversa (DJ Hum) 10 Bonito (Fishkadelic) 11 Amar (DJ Hum) 12 Amar vocź (Gerson Jr. - André - DJ Hum - J.C. Sampa - Emerson) 13 Lata de lixo (DJ Hum - Linno Crizz - Thaíde) 14 De esquina (Eli - Xis) 15 Guarde minha voz no coraćčo (Linno Crizz - DJ Dri) 16 O poder da transformaćčo (Attitude - Nidas - DJ Hum - Linno Crizz - Gordinho - DJ Dri - Fishkadelic - Thaíde - Xis) 17 Pense bem (DJ Hum - DJ Dri) >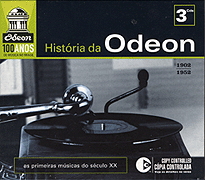 Various Artists "HISTORIA DA ODEON: 1902-1952 - AS PRIMEIRAS MUSICAS DO SECULO XX" (EMI-Brasil, 2003)
Wow! This is easily one of the best and most exciting Brazilian reissues in recent years, a sweeping, 3-CD set that covers the first five decades of the Odeon label's illustrious career in Brazil. For a comprehensive, compelling look at the giddy, dynamic early years of samba cancao and other Brazilian pop, this collection is hard to beat. HIGHLY RECOMMENDED.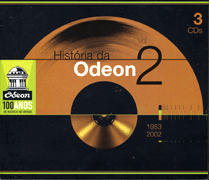 Various Artists "HISTORIA DA ODEON, v.2" (EMI-Brasil, 2007)


This 3-CD set is a much-welcome, but too-brief followup to the earlier HISTORIA collection, which traced the history of the Odeon label in Brazil, from 1902-1952. That first volume is one of the finest archival releases to come out of Brazil in the digital era, and I've been greatly looking forward to this second set. In some regards, it's a little disappointing, largely because of the embarrassment of musical riches in the post-bossa nova era. EMI was at the forefront of the jazz-pop crossovers of the classic "Musica Popular Brasileira" (MPB) scene of the late 1960s and '70s, recording key artists such as Luiz Gonzaga, Jr., Ivan Lins, Milton Nascimento Marcos Valle, and others, as well as samba revivalists like pagode diva Clara Nunes and acoustic virtuoso Paulinho Da Viola. Accordingly, they rush into these years and largely gloss over the pre-bossa "radio singers" of the 1950s, and even pay scant attention to the bossa years, even though they had some great artists in their bossa nova roster. (The first recordings of Joao Gilberto, the master of the style, remain tied up in legal snarls, so his groundbreaking classic, "Chega De Saudade," is, sadly, not included here, and there are some other omissions, though nothing else as fundamental as Gilberto...) Once in the thick of the MPB years, the selection is, of necessity, all too short, and subject to endless second-guessing and criticism. Odeon had an astonishing surplus of top talent and innovative musicianship in the early '70s, and for any given artist the choice of which single song to choose is maddening. They manage to include a few relative obscurities in alongside the stars (and this is good, since obscurities and new discoveries are what I look for in box sets...) but the time flies by quickly -- MPB's golden years are bracketed on the other side by an equally cursory overview of the 1980s and '90s, when rock and rap crept into the Brazilian pop scene, and the slick stuff got even slicker. Here again, the scope of the era -- from 1982-2002 -- is too much to do justice in a single CD. Several noteworthy artists are sampled, including rockers such as Os Paralamas Do Sucesso and Blitz, soul singers and modern pop stars, some obscure and some mainstream. With such a daunting sweep, and wit so much more music recorded in the second half of the century, as opposed to the first, perhaps EMI would have done well to divide this project into even more than these six discs -- the '70s MPB scene along could easily accommodate three of its own. Still, as a general overview of one of Brazil's greatest labels, this is an impressive collection, and a great introduction to dozens of great artists. Worth checking out, although fans of old-school samba will want to track down the first volume as well.
Various Artists "HISTORIA DEL CARNAVAL, v.1" (Ubatuqui, 1992)

Various Artists "HISTORIA DEL CARNAVAL, v.2" (Ubatuqui, 1992)


Various Artists "HISTORIA DEL CARNAVAL, v.3: 1902-1952" (Ubatuqui, 1992)


A nice set of formal, studio-based recordings of various Carnaval theme songs... Although this series ranges from 1902 forward, this third disc actually only spans the last part of the dates listed: here are some groovy Carnaval themes from 1941-52, many of which have obvious and interesting elements of North American-style big band swing, particularly with the complex brass arrangements. These versions are generally by big-name samba-cancao stars such as Anjos do Inferno, Aracy de Almeida, Atualfo Alves, Francisco Alves, Carlos Galhardo, Orlando Silva and Trio Irakitan. There are also several less well-known, more generic artists (which is in keeping with later Caranval recordings) such as 4 Ases & Un Coringa, Joel & Escola and Vocalistas Tropicais... Also included in this list (and the main reason I picked this collection up) is the much vaunted avant-classical producer-arranger, Rogerio Duprat, who was apparently booked in 1950 and '52 to record some Carnaval themes ("O General Da Banda" and "Lata D'Agua". His arrangements are, frankly, a bit generic and don't really give much indication of the wild, genre-defying inventiveness he would contribute to the 1960s tropicalia scene, but it's still interesting to see a bit of his early roots. Sadly, the liner notes are confined to a general essay about the history of Carnaval as a Brazilian cultural phenomenon, and don't add much in the way of recording info, other than the years each song was written and recorded, and the names of the authors and performers. Similar in scope (if not breadth) to the Revivendo label's extensive Carnaval series.

Various Artists "HOME OF SAMBA" (Universal/Pure Brazil, 2004)


A strong set of live, in-concert duets that pair major-league samba stars with Brazilian pop singers... These shows were originally recorded in the late 1990s and released as the four-volume "Casa De Samba" series, but they still sound as classy, vibrant and lively now as they did nearly a decade ago... The collaborators include Jorge Ben & Ivete Sangelo, Beth Carvalho & Zelia Duncan, Simone & Marthinho Da Vila, Nelson Sargento & Chico Cesar, and numerous other combinations... Caetano Veloso, who was in a particularly fruitful phase of his career, sings on a couple of tracks, bringing an irrepresible joyfulness to his parts... Some of the songs on this album drift into the overly-lavish pop styles of the MPB scene, but for the most part these are pretty solid, compelling performances. Worth checking out!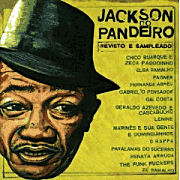 Various Artists "JACKSON DO PANDEIRO: RETRATO E SAMPLEADO" (BMG-Brasil, 1999)


This tribute to forro legend Jackson do Pandeiro features a bunch of younger contemporary Brazilian artists, along with old-timers such as Gal Costa, Chico Buarque and Elba Ramalho. Soul, trip-hop, dancehall and rap weave throughout about half of these tracks; the rest stick more closely to traditional forro arrangements. The two tracks by Lenine are disappointing, but on balance this is a nice set, with surprisingly few weak moments.

Various Artists "JOAO BATISTA DO VALE" (RCA, 1995)


(Produced by Chico Buarque, Sérgio Carvalho & Jose Milton)
A nice all-star homage to songwriter Joao do Vale, organized by Chico Buarque, who kicks things off with a swank version of "Minha Historia" and is joined by other MPB luminaries: Alcione, Geraldo Azevedo, Maria Bethania, Joao Bosco, Paulinho da Viola, Raimundo Fagner, Edu Lobo and many others. The performances are uniformly solid (though at times a bit sedate) with Do Vale's forro roots weaving in and out in song after song. I'm not sure if all the songs on here were made specially for this compilation, or if some were taken from individual artists' albums. A nice spin on some great old songs.
Various Artists "JOVEM GUARDA" (Polydor, 1999)
Well, THIS was a huge disappointment. I took one look at the cover in the stores and got all giddy: it's just what I was looking for!! A sampler of all the goofy Brazilian roqueiro acts that appeared on Roberto Carlos' 1960s TV show, Jovem Guarda! How cool is that?? Not very, as it turns out. Who would have ever imagined that, instead of putting out a collection of Mod-era oldies, Polygram would instead get all these geezers together for a 1995 studio session to re-record their songs? Yeah, many of the big names are here -- Erasmo Carlos, Wanderlea, the Fevers, Renato e Seus Bluecaps -- but in watery, smoothed out modern form, with all the vigor of an ABBA cover band playing at the county fair with a hangover. Sigh. The only mildly noteworthy track is Caetano Veloso relaxing and having a toss at a version of "Road Hog," a song that Robeto Carlos used to do back in the day. Roberto, himself, is notably absent from this project.
Various Artists "(AS 16 MAIS DA) JOVEM GUARDA" (Globo/Universal, 2000)


And ditto for this disc, which even has some overlap with the one mentioned above. The only improvement is the cooler cover art... but then again, that might not be such a great thing, after all, since you don't want to buy this disc either. Sigh.

Herivelto Martins/Various Artists "JUBILEU HERIVELTO" (RCA Victor, 1957)


This is a tribute album released in 1957, honoring the career of Brazilian pop songwriter Herivelto Martins. Martins doesn't actually perform on the record, but the artists who do -- Nelson Goncalves, Dircinha & Linda Batista, Ivon Curi, Carlos Galhardo, Trio De Ouro, etc. -- represent the creme-de-la-creme of the pre-bossa "radio singers" era. If you like old-fashioned nostalgic music, this is a wonderful collection. Nice instrumental choro/jazz turns from Jacob Do Bandolim and Zaccarias, as well!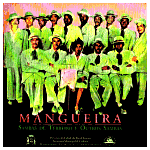 Carlos Cachaca/Various Artists "MANGUEIRA: SAMBAS DE TERREIRO E OUTROS SAMBAS" (Arquivo Geral da Cidade do Rio de Janeiro, 1999)
This 2-LP set gathers historical recordings of a number of Mangueira samba school members, including a handful of recordings Cachaca made in the 1940s and '50s. The artists include Cartola, Jacob Do Bandolim, Nelson Cavaquinho, Clementina de Jesus, Ze Keti and many others who are more obscure; the music is mostly pretty awesome.


<! 1 - Sala de recepćčo (Cartola)Cartola (Voz e Violčo) 2 - Tive sim (Cartola) Cartola (Voz e batuque) e Jacob do Bandolim (Violčo) 3 - Amor proibido (Cartola) Cartola (Voz e batuque) e Jacob do Bandolim (Violčo) 4 - Vai amigo (Cartola) Cartola (Voz e batuque) e Jacob do Bandolim (Violčo) 5 - Amanhecer (Cartola) Cartola (Voz e batuque) e Jacob do Bandolim (Violčo) 6 - Divina dama (Cartola) Cartola (Voz e batuque) e Jacob do Bandolim (Violčo) 7 - Notícia (Nelson Cavaquinho - Lourival Bahia - Alcides Caminha) Nelson Cavaquinho (Voz e violčo) e Elton Medeiros (Caixa de fósforo e coro) 8 - Nome sagrado (Nelson Cavaquinho - José Ribeiro - José Alcides) Nelson Cavaquinho (Voz e violčo), Elton Medeiros (Caixa de fósforo e coro) e Zé Keti (Coro) 9 - Caridade (Nelson Cavaquinho) Cheiro de Vela (Nelson Cavaquinho) Nelson Cavaquinho (Voz e violčo), Elton Medeiros (Caixa de fósforo e coro) e Zé Keti (Coro) 10 - Baile das flores (Preto Rico) Preto Rico (Voz e palmas), Cartola (Violčo) e Carlos Cachaća (Ao fundo cantando) 11 - Eu hei de te ver chorar (Nelson Batinha) canta Clementina de Jesus 12 - Decepćčo de um autor (Padeirinho) Padeirinho (Voz), Nelson Sargento (Violčo), Elton Medeiros (Caixa de fósforo) 13 - O remorso me persegue (Padeirinho) Padeirinho (Voz), Nelson Sargento (Violčo), Carlos Cachaća (Ao fundo cantando) 14 - Modificado (Padeirinho) Padeirinho (Voz), Nelson Sargento (Violčo), Carlos Cachaća (Ao fundo cantando) 15 - Lacrimário (Carlos Cachaća) Nelson Sargento (Violčo e Voz), Carlos Cachaća e Hermínio Bello de Carvalho (Voz) 16 - Pátria querida (Carlos Cachaća) Nelson Sargento (Violčo e Voz), Carlos Cachaća e Hermínio Bello de Carvalho (Voz) 17 - Se algum dia (Carlos Cachaća) canta Carlos Cachaća 18 - Tempos idos (Cartola - Carlos Cachaća) Cartola (Voz e batuque) e Jacob do Bandolim (Violčo) 19 - Vale do Sčo Francisco (Cartola - Carlos Cachaća) Cartola (Voz e violčo) 20 - Nčo me deixaste ir ao samba (Carlos Cachaća - Heitor dos Prazeres) Cartola (Violčo e Voz) e Carlos Cachaća (Voz) 21 - Alvorada (Cartola - Carlos Cachaća - Hermínio Bello de Carvalho) Cartola (Violčo e Voz) e Hermínio Bello de Carvalho (Voz) 22 - Amar, Amar (Cartola - Maciste) Cartola (Voz e violčo) 23 - Meu amor já foi embora (Cartola - Zé da Zilda) Cartola (Violčo e Voz) e Carlos Cachaća (Voz)24 - Eu nčo posso viver na orgia (Zé Crianća) Cartola (Violčo) e Menininha (Voz) 25 - Linda demanda (Saturnino Gonćalves) Cartola (Violčo e Voz) e Dona Neuma (Voz) 26 - Chega de demanda (Cartola) canta coro 27 - Ri (Lauro dos Santos "Gradim") canta coro 28 - Adeus Mangueira (Zé Espinguela) canta Dona Neuma 29 - Castelo desmoronado (José Ramos) canta José Ramos 30 - Quem chegou foi a mangueira (Mestre Gato) canta Comprido 31 - Nasceste de uma Semente (José Ramos) Quando ouvi essa batida (José Ramos) canta José Ramos CD 2 1 - Jequitibá (José Ramos)Capital do Samba (José Ramos) canta José Ramos 2 - Sorriso falso (Zé Crianća) canta Nelson Sargento / Quem se muda pra mangueira (Zé da Zilda) canta Dona Neuma 3 - Quando Xangô pegar o apito (Nelson Sargento - Marreta) cantam Nelson Sargento e Comprido 4 - Cuidado que o vento te leva (Chico Modesto) canta Xangô da Mangueira 5 - Divergźncia (Jorge Zagaia - Xangô da Mangueira - Quincas do Cavaco) canta Xangô da Mangueira 6 - Eu quero nota (Arthurzinho) cantam Dona Neuma e Nelson Sargento 7 - Naquela noite de sereno (Babaú - Alfredo Portuguźs) cantam Comprido e Nelson Sargento 8 - Fiquei sem esperanća (Saturnino) canta Dona Neuma 9 - Freira querida (Alfredo Portuguźs - Nelson Cavaquinho) canta Nelson Sargento 10 - Deus Onipotente Criador (Cícero dos Santos) canta Sônia 11 - Se o amor é isso (Aloísio Dias - Cartola) canta Zélia 12 - Os teus olhos cansam de chorar (Nelson Cavaquinho - Alfredo Portuguźs) canta Nelson Sargento 13 - Barraco de Mangueira (Estudante) canta Jurandir da Mangueira 14 - Sofrer é minha sentenća (Geraldo Pereira) canta Nelson Sargento 15 - O índio (Geraldo da Pedra) canta Zenith 16 - Agora se arrependeu (Jorge Zagaia - Leléo) canta Leléo 17 - Vocź quer saber (Jabá da Mangueira) canta Tantinho da Mangueira 18 - Minha companheira (Jurandir) canta Jurandir da Mangueira 19 - Com vocź nčo tive sorte (Leléo - Jabá) canta Leléo 20 - Sai da minha frente (Jorge Zagaia) cantam Xangô da Mangueira e Comprido 21 - Terreiro em Itacurućá (Padeirinho) canta Tantinho da Mangueira 22 - Boźmio fracassado (Hélio Cabral) canta Tantinho da Mangueira 23 - Vela acesa (Fandinho) cantam Xangô da Mangueira e Comprido 24 - Estamos aí (Comprido - Pelado) canta Comprido 25 - Verde Rosa (Mauro Pereira) canta Tantinho da Mangueira 26 - Alegria (Cartola - Lauro dos Santos "Gradim") canta Cartola >

Various Artists "O MELHOR DA JOVEM GUARDA" (Som Livre, 2002)
Yay! This 3-CD set is perhaps the best-programmed of the major label JG collections, spanning the teenybopper back-catalogs of several different labels, and thankfully avoiding the bulk of their drippy-sounding, slower ballads. Plenty of rock'n'roll cover tunes, all at mid- to moderate tempo, with performances by plenty of well-known JG stars and tons of more obscure one-hit wonders such as Os Caculas, Dori Edson, Joelma, Giane, Vox Deorum, etc. The edition I got came packaged in a kooky metal tin, but I suspect the three discs may also be offered individually. At any rate, this is a top-flight collection, well worth looking for if you're curious about the Brazilian bubblegum beat. Fun stuff!

Various Artists "MUQUIFO RECORDS APRESENTA: COMP_01|02 - ORGANICO | SINTETICO" (Muquifo, 2001)


A nice, 2-CD sampler of Brazilian electronica, with artists such as Superagua, DJ Dolores, Sons Of The Beat, etc., and erstwhile indie-rockers like Jupiter Apple in tow as well. The first disc ("Organico") is mellower, more melodic stuff, and while it isn't until the end of the disc that we start hearing sounds that seem distinctly "Brazilian," it's a nice little chill room set. The "Sintetico" disc, predictably, is a little harder and more mechanical -- a fairly generic set of uptempo house music. Nothing special there, unless you're into that scene, in which case I suppose this is pretty decent. (But honestly, how the hell can anyone tell the difference between these artists?) Nice to know Brazilians are as capable of making club music as anyone else. I liked the first disc.
Various Artists "MUSICANOSSA" (Forma, 1968)
(Arranged by Ugo Marotta)
This album seems to have been a project of Roberto Menescal, attempting to get something cooking in the post-bossa era. There are two tracks by his Conjunto Roberto Menescal and organist Ugo Marotta is credited as the album's arranger -- also, the backing on all the vocalists sounds pretty similar, so I'm thinking that's his band backing them as well. The singers are a mixed bag: a group called Agora 4 are chirpy and charming, while solo singers Magda and Regininha are both rather lackluster. Likewise with romantic singer Jorge Nery, who does a great duet with Johnny Alf (the lively, intricate "Ponto De Vista") but who sounds pretty drippy on his own. Lastly, there's a guy named Ze Luis, who's also kind of blah. This is okay in a time-capsule kind of way, worth listening to if you're digging deep into '60s Brazil, even though this set sounds kind of dated for '68. You don't have to knock yourself out tracking this disc down, although a handful of tracks are fun.


<! Conjunto Roberto Menescal: Roberto Menescal - acoustic guitar Ugo Marotta - organ, vibrafone Alfeu - drums Ico Castro Neves - bass Celinho - piston Laerte - alto sax Copinha - flute Jorge Arena - tumbadora Special participations: Eduardo - drums (9) Durval Ferreira - acoustic guitar (7) Conjunto Johnny Alf (4) >

---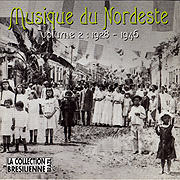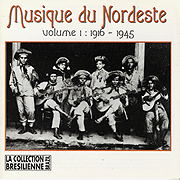 Various Artists "MUSIQUE DU NORDESTE v. 1: 1916-1945" (Buda Music/France, 1999)


Various Artists "MUSIQUE DU NORDESTE v. 2: 1928-1946" (Buda Music/France, 1999)


Two stunning CDs of distinctive and primordial music from the Northeastern states, including some of the earliest forro classics. This series is very similar to the Fremeaux collections listed above, though if anything, it digs a bit deeper, and has a stronger regional flavor. Most folks will enjoy the second disc more -- its melodies are more modern and gentle, whereas the first disc is a little starker and has a close affinity to the style of Portuguese fados and ballads found on the Heritage label. Featuring long-lost artists such as Luperce Miranda, Joao Pernambuco, Irmaos Valenca and -- of course -- forro founder, Luiz Gonzaga. Highly recommended!
---
>> More Compilation Albums | Artists: A-Z | Main Brazil Index
---



---