<! MP3 02/08/10, 01/20/11 > <! update 00/00/00 > <! pix 02/08/10, 01/20/11 > <! icons 01/20/11 > <! N to Q >
---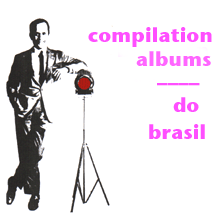 This is the fifth page of reviews of various Brazilian Music collections. This selection is limited by my budget and by the availability of records which make it here to the good old U.S. of A... But if you have any favorite compilations which you think should be included here, please feel free to write me and make a suggestion.
---
Compilations: Page 1 / 2 / 3 / 4 / 5 / 6 / 7 | Artists: A-Z | Main Brazil Index | Glossary

---

Mario Lago/Various Artists "NADA ALEM" (tribute album) (Som Livre, 1991)


Guest performers abound in this heartfelt tribute to velha guarda poet-actor-songwriter Mario Lago, whose professional career began in the 1930s, when samba cancao stars such as Atualfo Alves, Carmen Miranda, Mario Reis and Orlando Silva recorded his early hits. The songs have a very distinctive feel to them; Lago certainly had a "sound," which I suppose could be typified as not-too-lachrymose saudade, a romantic sense of longing and sadness... Although Lago is pictured on the album cover, I don't think he actually performs on the disc -- no matter, with elegant performances by Gal Costa, Paulinho Da Viola, Nelson Goncalves, Ivone Lara and Raphael Rabello, this tribute disc has its share of talent... Most of the arrangements are cheesy, but some are real gems, particularly Costa's reading of the title track, "Nada Alem."

Various Artists "NANDE REKO ARANDU: MEMORIA VIVA GUARANI" (MCD Music World, 2000)



Contemporary composers take the music of the Guarani Indians into modern studios, giving the indigenous culture of the Amazon jungle a modern facelift in this intriguing set of tunes, sung by a children's chorus atop sleek modern arrangements... I had expected this album would either be filled with tacky "remixes" or it would be a set of dry, shrill field recordings. As it turns out, it's neither: the production sounds quite clean, and the songs are surprisingly listenable. The basic beat remains quite static -- a light, simple thump-thump-thump-thump on all the tunes-- and the melodies aren't terribly complex, yet there's a simplicity and sincerity to the project that comes through on the recordings, and even though it's not super-groovy or mind-blowingly rapturous, it's kind of sweet and compelling. Worth checking out, though you have to be in the right frame of mind.
Various Artists "NA ONDE DO IE-IE-IE v. 1" (EMI/Copacabana, 2000)


Various Artists "NA ONDE DO IE-IE-IE v. 2" (EMI/Copacabana, 2000)
Two excellent 2-CD sets of some of the best early-60s jovem guarda teenybopper rock. Other collections, particularly those on Polygram, tend to be a bit tepid, although these are packed with the chirpiness and spunk I was hoping for. If you want to check out the pre-tropicalia teen scene, with all its Fabian 'n' Funicello-esque charm, this is the collection I would recommend. Sure, it's not earth-shattering or Elvis, but these recordings are still fun and cute.
Various Artists "NAQUELE TEMPO" (Som Livre, 2004)


A budget-line 4-CD set looking back at the good old days of the "radio singers" era... This collection bridges over several different record labels, and includes well-known artists such as Elizeth Cardoso, Vincente Celestino, Nelson Goncalves, Dick Farney, Angela Maria, Nora Ney, Cauby Peixoto and Orlando Silvam, as well as a slew of less-well remembered old-schoolers -- Wilma Bentivegna, Juca Chaves, Conjunto Farroupilha, Leny Eversong, Fernanda, Elza Laranjeira, Helena Lima, Rosana Toledo, and others. By and large, the song selection is not the strongest... it tilts towards the florid and overblown, and while I haven't heard tons of this old stuff, I'm sure a stronger set could have been compiled. Still, it's a valuable glimpse back into the pre-bossa nova olden days, and even if many of these artists were second- and third-stringers, it's nice to be able to hear their work.


<! B000068VER ?? >

Pixinguinha/Various Artists "NAQUELE TEMPO: CHOROS E VALSAS" (Revivendo, 1998)


Wartime and postwar chororecordings featuring duets with Pixinguinha and flautist Benedito Lacerda, as well as other choro and valsa stars, such as Custodio Mesquita and the legendary pre-bossa nova guitarist, Garoto. A great deal of the old-world gentility of the style is preserved in these recordings, which were made well after the style's real heyday in the 1920s, with the delicate society band fragility of the music fully intact. It's also easier to parse the music out, as these later renditions also have superior sound quality to the rollicking originals... Also of interest is the Hawaiian-style slide guitar employed by Garoto on several tracks made in the mid-'40s. Great stuff... Highly recommended!
Various Artists "NATIVE BRAZILIAN MUSIC, v.1 (Columbia, 1942) (78 RPM album)
One of the great "lost" classics of world music history, these two folios of 78s -- a total of seventeen songs on eight discs -- are the only official U.S. release (to date) of a legendary recording session staged by classical music conductor Leopold Stokowski during a 1940 "good neighbor policy" trip to Brazil. Stokowski was an self-professed fan of Brazilian music and asked his colleague, composer Heitor Villa-Lobos, to invite some of the best local musicians he could find to take part in the session. And what a lineup he got! Onhand were choro and samba legends such as Cartola, Donga, Luiz Americano, Pixinguinha, Joao do Bahiana, Ze Espinguela, Ze da Zilda and other elite members of the classic early samba schools. This two-part collection represents only about half the forty tracks Stokowski recorded -- the other songs are apparently still in the Sony vaults, awaiting the day when the label will give them a proper digital-age release. Music scholar Daniella Thompson has led a fifteen-year effort of track the masters down and persuade the folks at Sony to reissue these songs (including the twenty-three unreleased tracks). Here's a link to an article she wrote about her quest as well as a petition on the Sony Legacy website, urging them to open their vaults.
Various Artists "NATIVE BRAZILIAN MUSIC, v.2" (Columbia, 1942) (78 RPM album)

Various Artists "NATIVE BRAZILIAN MUSIC" (MVL, 1987) (LP)


This was a Brazilian-edition LP, mastered from existing 78s from the original release. (Apparently the masters do still exist, they're just buried away somewhere up the the US...)
Various Artists "NICOLA CONTE PRESENTS: VIAGEM, v.1 (FarOut, 2008)


Various Artists "NICOLA CONTE PRESENTS: VIAGEM, v.2 (FarOut, 2009)


Various Artists "NICOLA CONTE PRESENTS: VIAGEM, v.3 (FarOut, 2011)


Various Artists "NICOLA CONTE PRESENTS: VIAGEM, v.4 (FarOut, 2012)


Various Artists "NICOLA CONTE PRESENTS: VIAGEM, v.5 (FarOut, 2013)






<! Various Artists "NICOLA CONTE PRESENTS: VIAGEM, v.1 (FarOut, 2008) B0011B9W4C B0015S2A6S Various Artists "NICOLA CONTE PRESENTS: VIAGEM, v.2 (FarOut, 2009) B0025T7PFM B002A6MBWW Various Artists "NICOLA CONTE PRESENTS: VIAGEM, v.3 (FarOut, 2011) B004GN9TZ4 B004NHILJI Various Artists "NICOLA CONTE PRESENTS: VIAGEM, v.4 (FarOut, 2012) B00888RGT4 B008BGFY3I Various Artists "NICOLA CONTE PRESENTS: VIAGEM, v.5 (FarOut, 2013) B00CWWGOZ4 B00CTSERA0 >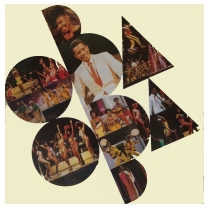 Jair Rodrigues/Various Artists "OBA OBA '84" (Maracana, 1985)
(Produced by Gianni Daldello)
(Artistic directors: Franco Fontana & Luzie Mathias)
This was one of a series of albums commemorating, I believe, a European carnaval show (held annually in Italy? anyone know more about it?) that brought Brazilian artists to the Continent. Jair Rodrigues seems to have been the headliner in '84, with Chico Buarque singing on one song and bandolim virtuosa Nilze Carvalho playing a couple of beautiful tunes. The spotlight was really on vocalist Eliana Estevao, though: she sings several duets with Rodrigues and with Buarque, as well as one solo... She's got an okay voice, and I'm guessing she was part of Rodrigues's stage show at the time. The arrangements are generally pretty cheesy -- standard-issue, synth-heavy soft-jazz/funk MPB typical of the era... Side Two of the album is taken up with a gigantic potpourri medley of the kind Rodrigues all-too-often indulged in... He also sings a couple of solo songs, though his vocals are kind of inconsistent, especially on the fast-paced medley track.

Various Artists "O CAFONA (Soundtrack)" (Som Livre, 1971/2001)


See, if I were more thoroughly attuned to the whole '60s-soundtrack kitsch factor, I would probably "get" stuff like this and seem much cooler than I do. And sure, this soap opera soundtrack has its moments, mainly in an early Tim Maia funk/early '70s soft pop vein, but it's also a bit facile and musically unformed. The artists involved are mainly second-and-third stringers, with Carlos Lyra towards the top and numerous others holding up the lower rungs... But if you're already into the whole Italian & French sleazy-listening scene, then this Brazilian material should appeal to you as well... Recommended, sort of, even though it's not really my cuppa tea. This disc is part of a series of twenty soundtrack albums reissued in by Som Livre in an overview of many of Brazil's best TV programs.
Various Artists "OI! A NOVA MUSICA BRASILEIRA" (Mais Um Discos, 2010)



A far-reaching, 2-CD sampler of modern Brazilian music, much of it with heavy pop, rock and electronica influences... I haven't heard this one yet, but look forward to checking it out!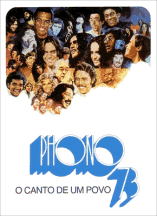 Various Artists "PHONO 73: O CANTO DE UM POVO" (CD & DVD) (Universal Music, 2005)


This 2-CD/1 DVD collection is a remarkable document of an incredible concert, held in 1973 at the Palacio do Anhembi, with superstars such as Jorge Ben, Maria Bethania, Chico Buarque, Gal Costa, Gilberto Gil, Nara Leao, Ivan Lins, Elis Regina, Jair Rodrigues, Sergio Sampaiao, Raul Seixas, Caetano Veloso, Toquinho & Vinicius De Moraes (and others) all performing in protest of the cultural bans of the military dictatorship then in power. It was an amazing festival, packed with Brazil's top talent. Along with the two discs of live music is a trove of film clips taken from various performances - the footage is fragmentary and poorly edited (tragically so) but utterly compelling, an absolute must-see movie for fans of this era of Brazilian pop. These are the giants of the era, many of them at their youthful peak. Jorge Ben is electrifying; Gilberto Gil is a playful god; Chico Buarque is arresting though remote (plus you get to see him play a faux-rock song!); Caetano Veloso (singing his revival of the forro classic, "Asa Branca") is at his artiest, most elfin and most indulgent. One of the wildest performances is by rocker Raul Seixas, who blasts through American rock oldies like "Tutti Frutti" and his own crazy Brazilian hard-rock adaptations and his glam-rock persona is intense: you have to see it to believe it. The video content is frustrating but crucial, particularly since there isn't much footage like it to be seen anywhere today... It would be wonderful to see more complete versions of these performances (or anything of similar vintage) but I'm glad I got a chance to see the material that's on here. It's super-cool stuff.
Various Artists "POSICOES" (Odeon, 1971)
Mercifully short, this compilation EP explored the fringier fringes of Brazilian experimental rock -- a real find for freak-folk fans, but pretty wanky and irritating for the rest of us. This disc includes four bands: A Tribo was a short-lived supergroup that included Nelson Angelo, Joyce, Toninho Horta and Nana Vasconcelos, as well as Novelli... This disc includes two songs, "Kyrie" and "Peba E Pobo," from A Tribo's lone release, a double single which also contained two other songs. Also on here are the psychedelic band Modulo 1000 (two songs also included on the CD reissue of their legendary album), the fusion-y Som Imaginario and a rock band called Equipe Mercado. It's all weird stuff, but hard to get into, at least for those of us who are not on drugs. Probably for a lot of you who are, as well. But a historical curio, for sure!
Various Artists "PRAZER EM CONHECA-LO" (Funarte, 1986)
(Produced by Cristovao Bastos)
An homage to composer/pianist Custodio Mesquita... A cheerful, if somewhat goofy set, with theatrical, almost vaudevillian arrangements, and vocals by Amelia Rabello, Marcos Sacramento and old-timers Marlene and Rosana Toledo, with piano backing from producer Cristovao Bastos (who also contributes a lovely instrumental version of "Enquanto Houver Saudade") This didn't completely curl my toes, although there are a couple of songs that really stood out. Definitely worth checking out if you're into the swankier side of modern MPB (from artists such as Maria Bethania and Nana Caymmi, for example...)


<! TITLE TRACK CO-WRITTEN WITH NOEL ROSA >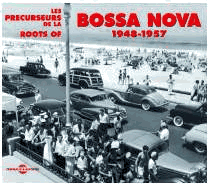 Various Artists "LES PRECURSEURS DE LA BOSSA NOVA: 1948-1957" (Fremeaux & Associes, 2008)


The history of Brazilian popular music is often seen to hinge on the release of a single song, Joao Gilberto's transcendent, revolutionary "Chega De Saudade," a gentle, intoxicating ditty written by Tom Jobim that made bossa nova the new national music of Brazil, back in 1958, when it came out as a single. But like any other country, Brazil's cultural history is complex and multi-layered and obviously Gilberto and Jobim didn't just come out of nowhere. This magnificent 2-CD set -- compiled by the ever-fab French archival label, Fremeaux -- documents the many crosscurrents and interconnections that set the stage for bossa nova to explode in the late 1950s, first in Brazil and then across the globe. Both Jobim and Gilberto had long careers in the years before their ascent into the heavens: many of the rare tracks gathered here show their early work with other artists, including early versions of Jobim songs performed by the stars of the 1950's "radio singers" era, while other tracks feature Gilberto backing famous singers or, similarly, show Jobim acting as bandleader on various sessions. At some point, their paths collided, and Gilberto (for a while) became Jobim's voice, while Jobim was Gilberto's muse. Although "Chega De Saudade" is seen as the song that sparked a musical revolution, there are several other songs and albums that are considered "the first bossa nova record," chief among these is perhaps the 1957 album Cancao Do Amor Demais, where Joao Gilberto backed romantic singer Elizete Cardoso on a series of newly-minted bossa classics. (The results are mixed: while the album was Gilberto's first big break, Cardoso is a pretty old-fashioned, corny singer... I've never been that fond of the record; turns out Gilberto didn't like it that much, either...) Bossa nova was a distillation of many trends in Brazilian music -- classic samba-cancao, the romanticism of boleros, and the influence of cool, melodic jazz and American-style pop vocals taken up by singers such as Dick Farney and Johnny Alf. Also gathered here are fabled pre-bossa artists such as guitarist Garoto (one of Joao Gilberto's idols) and his group Trio Surdina, as well as the vocal group Os Cariocas and divas and crooners such as Sylvia Telles, Doris Monteiro, Lucio Alves and Tito Madi... Even in this golden era of digital reissues, the songs on this collection remain hard to find and expensive to own, so having them all together in such as compact, well-curated collection is a rare treat indeed. Highly recommended -- a great way to explore deeper into the history of Brazilian popular song.
Various Artists "PROIBIDO C.V. -- FORBIDDEN GANG FUNK FROM RIO DE JANEIRO" (Sublime Frequencies, 2007)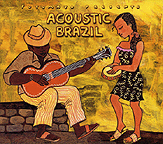 Various Artists "PUTUMAYO PRESENTS: ACOUSTIC BRAZIL" (Putumayo, 2005)


This is a swell album of pretty-sounding acoustic tunes running the gamut from superstars such as Chico Buarque, Gal Costa and Caetano Veloso to less well-known newcomers like Marcio Faracao and Glaucia Nasser. The collection is very well selected and has a nice, cohesive feel, tuning into the prettiest, most delicate aspects of Brazil's samba and bossa traditions. Highlights include magical tunes by up-and-coming stars such as samba singer Tesesa Cristina, and surprisingly soft contributions by rockers like Lucas Santtana. This is a record that lovers of Brazilian music will enjoy, and that they can give to folks who aren't already familiar with the styles... It's very listenable and mellow, but it also has a real emotional and stylistic depth... It's a very nice set. Recommended.

Various Artists "PUTUMAYO PRESENTS: BOSSA NOVA AROUND THE WORLD" (Putumayo, 2011)


A nice mellow set of neo-bossa nova from all across the world -- from Brazil (of course), Canada, Cape Verde, Mexico and even Norway and Serbia (where they probably really need the sunny vibes...) There are several tracks by French artists -- that nouvelle scene is still going strong, and very bossa-friendly -- although sadly nothing by Japanese guitarist Lisa Ono, who is an icon of non-Brazilian bossa worship. As with the best of these various-artist outings, this introduces listeners to several previously unknown artists; for me perhaps the biggest discovery was the German indie/agitpop duo, 2raumwohnung, who apparently have several really fun albums out. Time for a trip to the old Record Hut to track a couple down! Overall, another nice set from the folks at Putumayo -- didn't blow my mind, but it sure sounds nice on the stereo.

Various Artists "PUTUMAYO PRESENTS: BRASILEIRO" (Putumayo, 1999)


A very nice collection, emphasizing sweeter, melodically-oriented tunes. Features a nice selection of tunes by big-name stars -- Jorge Ben, Clara Nunes, Joao Bosco, Beth Carvalho -- as well as several newer or lesser known artists such as Celso Machado and Nazare Pereira. In addition to sounding all-around nice, this collection has great liner notes... a welcome antidote to the normal dearth of information on Brazilian imports. One of several recent Putamayo releases pointing towards a new vigor in their song selection.


<! really 122 x 108 >

Various Artists "PUTUMAYO PRESENTS: BRAZILIAN CAFE" (Putumayo, 2009)


(Various Producers)
A mellow, acoustic-oriented set of modern Brazilian ballads. For the most part this is a collection of less well-known artists, which I personally appreciate. The album kicks off with a relatively restrained track by the MPB superstar Djavan, but after that the next most famous artist is guitarist-vocalist Rosa Passos. All the tracks are quite nice, and this is another wonderfully listenable collection from Putumayo, not gooey or cloying crossover stuff, but a rather classy collection that knowledgeably explores the contemporary Brazilian acoustic scene. The current trad-samba revival is represented by Teresa Cristina and Ana Costa (two great artists whose work is well worth tracking down) while more pop and bossa-oriented music is also well represented. Nice record; definitely worth a spin!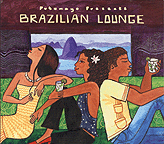 Various Artists "PUTUMAYO PRESENTS: BRAZILIAN LOUNGE" (Putumayo, 2006)


Nice...! A really beautiful set of mellow, modern bossa-electronica-samba crossovers, easy on the ears yet musically rich and spiritually fulfilling. There are plenty of heavy-hitters on here, including bossa elder Marcos Valle, Bebel Gilberto, Paula Morelenbaum (of the Jobim-Morelenbaum Quartet), manguebeat heroes Mundo Livre S/A (in a pleasantly mellow mood) and several hot younger artists such as Bossacucanova, BiD and the uber-mellow Katia B, as well as several fine artists I'd never heard of before (but will look into soon!). From start to finish, this is a well-programmed, revelatory set, relaxing but not sonambulent... It's one of those discs that wound up stuck in my stereo for a lot longer than I'd expected, getting played over and over, while delivering the goods every time. Recommended!
Various Artists "PUTUMAYO PRESENTS: SAMBA BOSSA NOVA" (Putumayo, 2002)


Putumayo scores another hit with this excellent collection of sleek modern balladeers and Brazilian pop innovators... Included are Da Lata, Rossa Passos, Jussara Silveira, Rita Ribero, and my personal hero, Moreno Veloso (the son of the great Caetano Veloso). There are also several less well known artists on here, but the level of quality is consistently very high. This is a really nice, really listenable album... Highly recommended for anyone who wants to check out some more recent Brazilian material.

Various Artists "QUARTIN" (Far Out, 1997)



Music from Roberto Quartin's early-'70s jazz-oriented Quartin label... A little too jazz-oriented for my tastes... This disc includes a few tracks off Jose Mauro's excellent Obnoxius album, and some interesting instrumentals by guitarist Piri (backed up by Wilson Das Neves and a young Danilo Caymmi) ... Unfortunately, it also contains most of the tracks off of an instrumental jazz Jobim tribute album by alto sax player Victor Assis Brasil, every one of which I found to be tedious -- a braz-jazz cross between Charlie Parker and Kenny G, perhaps. I was able to part with this disc without much sorrow, especially considering the entire Mauro album is also available as a reissue.
---
>> More Compilation Albums | Artists: A-Z | Main Brazil Index
---



---