<! MP3 01/20/11 > <! update 00/00/00 > <! pix 02/08/10 > <! icons 01/20/11 > <! R to R > <! Various Artists "RODA DE SAMBA DE PARTIDO ALTO" (Cedro Rosa, 2009) B008A5H6A4 (Produced by Virginia Carvalho) Four younger artists -- backed by a cast of thousands -- recreate the funky, joyful vibe of the classic "partido de alto" albums of the roots-samba revival of the 1960s and '70s. Led by percussion and cavaquinho, singers Maquinhos China, Renatinho Partideiro, Serginho Procopio and Tiago Mocoto move jovially through a set of songs that recall the heyday of bands such as Os Originais do Samba, with surprisingly little in the way of modern, contemporary musical ornamentation. If you like the old style sound, you might really enjoy this loose, funky album. >
---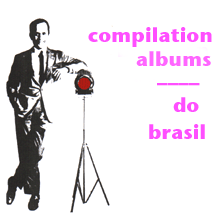 This is the sixth page of reviews of various Brazilian Music collections. This selection is limited by my budget and by the availability of records which make it here to the good old U.S. of A... But if you have any favorite compilations which you think should be included here, please feel free to write me and make a suggestion.
---
Compilations: Page 1 / 2 / 3 / 4 / 5 / 6 / 7 | Artists: A-Z | Main Brazil Index | Glossary

---
Various Artists "RACA BRASILEIRA" (Som Livre, 1985)


A nice, solid modern samba album, featuring the likes of Zeca Pagodinho and Jovelina Perola Negra. Not mind-blowing but catchy and pleasant. Recommended.

Various Artists "RED HOT + LISBON: ONDA SONORA" (Bar None, 1999)


Wow! Another winner in the "Red Hot" AIDS charity series. This follow-up to RED HOT AND RIO focuses on contemporary Portuguese pop, but the influences are overwhelmingly Brazilian. The highlight here is a bilingual duet between David Byrne and Caetano Veloso (who, as it turns out, have very similar voices...) Lisbon's sizable immigrant community is represented by several interesting traces of African traditional and pop music, including a collaboration between Angola's pop legend, Bonga, and Brazil's Marisa Monte and Carlinhos Brown. There are also heavy doses of club and ambient electronica. Some of these efforts are fluid and seductive; others are disappointing. In particular, the talents of DJ Spooky seem poorly utilized, and the lusophone rap of General D is predictably lackluster (he's no MC Solaar); probably the worst track on here is an insufferable fado by the ever-schmaltzy k.d. lang. Overall, though, this is an excellent album, well worth checking out. New to me: Smoke City, who are sort of a Portuguese Portsihead. Recommended!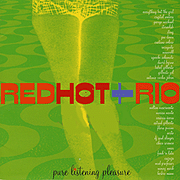 Various Artists "RED HOT AND RIO" (Verve Antilles, 1996)


An ambitious and often lovely mix of Jobim standards with modern production and styles. Heavyweights such as Caetano Veloso, Gilberto Gil, etc. team up with various U.S. hipsters, soul singers and rappers, to varying degrees of success. Everything But The Girl's version of "Corcovado," David Byrne's duet with Marisa Monte or Stereolab teamed up with Herbie Mann are among the highlights. The efforts of "quiet storm" soul singers such as Maxwell and Incognito are less satisfying, though I'm sure their fans will appreciate them. Overall, this is a nice, far-reaching effort, very much in the spirit of experimentation and inclusion which makes MPB so exciting to begin with. (PS - this disc is a benefit for AIDS research, for the Red Hot foundation.)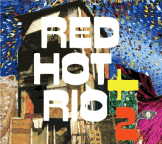 Various Artists "RED HOT AND RIO 2:" (Entertainment One, 2011)



An impressive lineup of indie/pop/electronic artists step up for this tribute to the wild, eclectic Brazilian tropicalia scene of the 1960s and early '70s. Many of the original tropicalistas are on board as well, notably Caetano Veloso, Tom Ze, Rita Lee and the recently-reformed Os Mutantes. They inspire and interact with an avalanche of modern talent, including non-Brazilian hipsters like Beck, Of Montreal, Alice Smith, Mia Doi Todd (and numerous electronica artists) as well as younger Brazilian stars, such as Apollo Nove, Ceu, Bebel Gilberto, Seu Jorge, Curumin, Vanesa de Mata and others... Presiding as elders over this great cross-cultural confluence are Caetano Veloso (whose cosmic, ambient "3 Mellowtrons In A Quiet Room" update of "Terra" is an album highlight) and his longtime friend David Byrne, whose expansive, enthusiastic "Brazil Classics" series sparked popular interest in a wide variety of Brazilian styles back in the '80s and '90s: they do a groovy duet on "Dreamworld/Marco De Canaveses," while numerous artists cover Veloso's work. High marks go to Marisa Monte (always a fave) for her version of "Nu Com A Minha Musica," Superhuman Happiness for their electro-JPop take on "Ile Aye," and Curumin, who really nails it on his reggaefied version of Gilberto Gil's "Ela." Marisa Monte contributes a typically gorgeous performance on "Nu Com A Minha Musica" (a duet with Devendra Banhart) and Mia Doi Todd's contributions are also pretty solid. Not all of this 2-CD set appealed to me -- the stuff on the more electronic and R&B end of the spectrum wasn't my cup of tea (particularly John Legend's jazzy, well-intentioned "Love I've Never Known") but hey, variety is the spice of life, as the tropicalistas cheerfully taught us, lo those many decades past. Some cool stuff on here, with a little bit of something for everyone. Worth a spin!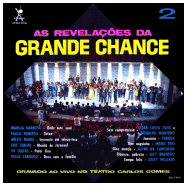 Various Artists "AS REVELACOES DA GRANDE CHANCE, v.2" (Codil Ritmos, 1968) (LP)


An album commemorating the second "Grande Chance" competition hosted by TV Tupi, a talent show modeled after the popular "song contests" of the time, but concentrating solely on unknown artists. In this case, most of the artists were (and deservedly remain) really obscure, awkwardly performing romantic ballads and covers of current bossa hits and, in one case, a rock cover of the Peter Gunn TV theme. Nonetheless, the contestant who wound up winning became a genuine star and a champion of the roots-samba scene of the 1970s and '80s: singer Leci Brandao (credited as "Lecy" on the track listings) belts out an upbeat urban samba called "Riqueza, Pobreza," kind of in the style of Leny Andrade or Elza Soares. It's not a great record, but it's an interesting snapshot of the time, and hearing the youthful Brandao in '68 is cool. Also, I think the Fabiola who sings "Januaria" is the same guy who later on recorded some interesting psychedelic stuff, so that's of interest as well.


<! Also included is an artist called Fabiola, who I'm assuming is the same gal who recorded an album of psychedelic folk-rock in the '70s... but don't quote me on that. > <! As Revelacoes da Grande Chance 2 (Codil Ritmos, 1968) The famous Festivais da Cancao from the 60's, were used to reveal new artists and also improve the career of known artists with their participation; Brazilian festivals were sponsored and produced by TV channels. Brazilian TV also produced "show de calouros", a TV contest to reveal new artists. A Grande Chance was probably one of the most successful in this format and we are presenting here the live recording of the second edition. Let's see! This is As Revelacoes da Grande Chance 2 (1968), for Codil Ritmos, the second edition of new artists contest, presented by Flavio Cavalcanti and produced by TV Tupi. I will be straightforward on my writing, Refer will pop-up in a matter of hours with all details, but this second edition had Leci Brandao as the winner, performing the song Riqueza, Pobreza. The cast brings artists that could make further recordings and others that are really obscure, such as Inema Trio, Os Solfas, Gessy Willians, among others. This should make the happiness of those who kept memories of A Grande Chance, broadcasted on TV to a great audience in Brazil. Tracks include: > <! Various Artists (?) "REVISTA DO SAMBA" (Rob Digital, 2003) B0000ARKJ9 >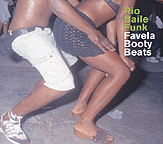 Various Artists "RIO BAILE FUNK: FAVELA BOOTY BEATS" (Essay, 2004)


A groovy, well-programmed collection of Brazilian party music, lively stuff that springs from a Brazilian fascination with the "Miami bass" style of dance/hip-hop music... As heard here, the insistent, often obnoxious baile funk doesn't always highlight the heavy low end of its Miami-based ancestors, but it does share a gleeful sense of hedonism, frivolity and abandon. This disc is a slick mix of no-brainer dancefloor favorites by artists such as Dennis DJ, Furacao 2000, MC Jack and others; although its hardly in the Brazilian pop mainstream, the baile funk scene had an explosive growth in the 1980s and '90s, fronting huge, rave-like dance parties amid monstrously large sound systems. As described in the album's liner notes, the scene fell prey to incidental violence and for a time the dances were legally procribed following a few notably disasterous shows. Still, it's hard to imagine such a spunky sound being kept down for long: I'm hardly a fan of club culture, dance music or 'lectro beats, but this is a fun album, with spazzy sampled beats, kooky, rapid-fire lyrics (often sampled and manipulated) that are more like rally chants than rapping or dancehall... The superfast, dat-datdat-daadad-dah beat somehow, miraculously falls short of simple monotony, and the whole effect is rather giddy and captivating. It's hardly your typical Brazilian pop, but it's definitely worth checking out.
Various Artists "RIO BAILE FUNK: MORE FAVELA BOOTY BEATS" (Essay, 2006)


Various Artists "ROUGH GUIDE TO BRAZILIAN ELECTRONICA" (Rough Guides, 2003)


Nice collection! The automatic compatibility of Brazilian bossa and samba with modern electronica has been taken as a given for many years, but the easy assumptions of many mixers -- particularly DJs in the European acid jazz/lounge/dance music cliques -- have not always borne the synthesis out. This collection stands out amidst the many bland "Brazilian" chill out discs, highlighting several artists with a genuine feel for Brazilian grooves and more to offer than the same old drum'n'bass sound and formless ambient meanderings. Interesting, creative stuff... well worth checking out, particularly as it will lead you to several of Brazil's more innovative modern artists, such as Fernanda Porto, Rebeca Matta and Ramiro Musotto. Recommended!
Various Artists "ROLE: NOVOS SONS DO BRAZIL" (Mais Um Discos, 2014)



Various Artists "ROUGH GUIDE TO BRAZILIAN MUSIC" (Rough Guides, 1998)


An odd, interesting mix of mainly modern musicians and styles. Not quite the sweeping overview the title might imply, but still a very interesting set. There are a few familiar names, such as Ivan Lins and Dominguinhos, but for the most part this disc is packed with artists that I had not previously heard of (and I'm reviewing this disc in 2003, so these songs, culled from the Pau Brasil, Velas and Atracao labels, is definitely off the beaten track...) A good look at some of the newer, more obscure music from the 1990s, including axe, glossy-sounding MPB, a little artier material and some escola- style percussion thrown in for good measure.
Various Artists "ROUGH GUIDE TO BRAZILIAN STREET PARTY" (Rough Guides, 2008)


A tasty mix of Jorge Ben-style samba-soul, modern electronica/dance and baile funk, rap, pagode and some bad soul music thrown is as well. An interesting mix of music, with many artists who are kind of off the beaten track. Definitely worth checking out!

Various Artists "ROUGH GUIDE TO SAMBA" (Rough Guides, 2001)


An excellent collection, beautifully sequenced, which covers a wide swath of modern samba artists, mainly folks such as Monarco, Cartola, Bezerra Da Silva, Nelson Sargento and Leci Brandao, who are connected either to the various samba schools or to the post-'60s acoustic samba revival. There are also a fair number of more obscure artists, which is quite welcome as far as I'm concerned. The album flows well; the only jarring moment comes with an intrusively loud, brash hip-hoppish track by Luciana Mello, which comes at the very end. Skip that one, and this disc is a gem.
---
>> More Compilation Albums | Artists: A-Z | Main Brazil Index
---



---