<! MP3 02/08/10, 01/20/11 > <! update 00/00/00 > <! pix 02/08/10 > <! icons 01/20/11 > <! S to Z >
---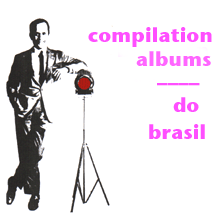 This is the seventh page of reviews of various Brazilian Music collections. This selection is limited by my budget and by the availability of records which make it here to the good old U.S. of A... But if you have any favorite compilations which you think should be included here, please feel free to write me and make a suggestion.
---
Compilations: Page 1 / 2 / 3 / 4 / 5 / 6 / 7 | Artists: A-Z | Main Brazil Index | Glossary

---

Various Artists "SAMBA" (Arc Music, 2006)



Delightful! This is a sparkling set, energetic yet relaxed -- the kind of modern ('70s style) samba that drew me to Brazilian music in the first place. Features the work of Martinho Da Vila, Paulo Da Viola and Zeca Pagodinho, as well as well-selected tracks by a few artists such as Benito Di Paula, who are better known as cheesy pop singers (but who, obviously, had some really good songs in them as well...) This disc is highly recommended... It's the kind of thing you can put on and groove out to from start to finish. Great stuff.




Aracy De Almeida/Various Artists "SAMBA PEDE PASSAGEM" (Polydor, 1966)
(Produced by Joao Das Neves & Armando Costa)
(Arranged by Maestro Gaya)
This free-flowing album draws on material from the live "show," Samba Pede Passagem, which was mounted by Grupo Opinao in December, 1965. Samba-cancao old-timers Aracy De Almeida and Ismael Silva are the central stars of the album, joined by the recently-founded vocal quartet, MPB-4 as well as flautist Carlos Poyares and various samba musicians. Highlights include Aracy and Ismael's recreation of the classic "polemica" song-battles of Wilson Batista and Noel Rosa, basically a Brazilian version of "doing the dozens," where the artists trade good-natured jibes while trying to outshine each other musically. Admittedly, these performances seem a bit tame in comparison to the originals and in general this album has kind of a languid, overly controlled feel, although it's still pretty cool. The best moments come from the samba and choro players, particularly a couple of tracks that highlight Poyares as a soloist. The album is notably an early showcase for MPB-4 and while I've never been a big fan, at least here they are relatively laid-back and not trying to do a bunch of vocal gymnastics. Fans of old-school samba-cancao and Nara Leao's early albums might wanna check this out.


<! 1 Polźmica Wilson Batista vs. Noel Rosa: • Lenćo no pescoćo (Wilson Batista) - MPB-4 • Deixa de arrastar (Noel Rosa) - Aracy de Almeida • Mocinho da Vila (Wilson Batista) - MPB-4 • Palpite infeliz (Noel Rosa) - Aracy de Almeida • Frankstein da Vila (Wilson Batista) - MPB-4 • Feitićo da Vila (Noel Rosa-Vadico) - Aracy de Almeida Interpretaćčo: Aracy de Almeida / MPB-4 2 Pot-pourri Ismael Silva: • Vem chegando Ismael (Padeirinho - Leléu - Zagaia - Bidi) - Os Partideiros • Eu agradećo (Ismael Silva) - Ismael Silva • Nem é bom falar (Ismael Silva - Nilton Bastos - Francisco Alves) - Ismael Silva • Antonico (Ismael Silva) - MPB-4 • Ao romper da aurora (Ismael Silva - Lamartine Babo - Francisco Alves) - MPB-4 • Se eu precisar (Ismael Silva - Nilton Bastos - Francisco Alves) - Ismael Silva • Adeus... adeus... (Ismael Silva - Francisco Alves - Noel Rosa) - MPB-4 • Me diga teu nome (Ismael Silva) - Ismael Silva • Para me livrar do mal (Ismael Silva - Noel Rosa) - MPB-4 • Se vocź jurar (Ismael Silva - Nilton Bastos - Francisco Alves) - Ismael Silva • A razčo dá-se a quem tem (Ismael Silva - Noel Rosa - Francisco Alves) - Ismael Silva e Aracy de Almeida 3 Trźs apitos (Noel Rosa) • Aracy contando de Noel (Monólogo) Interpretaćčo: Aracy de Almeida 4 Fita amarela (Noel Rosa) • Aracy conta a história de Cecy (Monólogo) • Só pode ser vocź (Noel Rosa - Vadico) Interpretaćčo: Aracy de Almeida 5 Sonho de carnaval (Chico Buarque) Interpretaćčo: MPB-4 6 Urubu malandro (Louro - Jočo de Barro) Interpretaćčo: Carlos Poyares 7 Samba do povo (C.Castilho - A.Costa) Interpretaćčo: MPB-4 8 Homenagem a velha guarda (Sivuca) Interpretaćčo: Carlos Poyares 9 Brincadeira de Angola (Francisco de Assis - Sergio Ricardo) Interpretaćčo: MPB-4 10 Arquitetura de pobre (Joacyr Santana - Edgar Barbosa) Interpretaćčo: Conjunto Samba Autźntico 11 Missčo (Paulo Thiago - Sidney Miller) Interpretaćčo: Grupo Mensagem 12 De babado (Jočo Mina - Noel Rosa) Interpretaćčo: Aracy de Almeida / Os Partideiros Gravado ao vivo no Teatro de Arena - Rio de Janeiro, em dezembro de 1965 Participaćčo Especial: MPB-4 Carlos Poyares Grupo Mensagem: Sidney Miller, Paulo Thiago, Luis Carlos Sá, Marco Antônio e Sônia Ferreira Conjunto Samba Autźntico: Edgar Barbosa, Bilú, Hélio Cabral, Sidoca, Jočo Laurindo e Tiana Partido Alto: Padeirinho, Jorge Zagaia, Leléu da Mangueira e Bidi >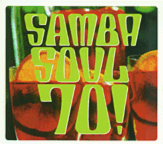 Various Artists "SAMBA SOUL '70" (Ziriguiboom/Six Degrees, 2001)


A pretty sweet set, and probably the best collection of Brazilian soul we're likely to see up in the States for some time to come. Apparently these guys didn't have access to the full Philips-PolyGram catalog, so there are major omissions - Tim Maia, Gershon King and Jorge Ben, to name a few - but what's in here is pretty tasty. The disc's major coup is the inclusion of Wilson Simonal's super-swinging "Nao Vem Que Nao Tem," a hip, Ray Charles-style zinger from the mid-'60s which mysteriously has never been included on any of Simonal's own best-ofs... There are also plenty of other rarities and odd inclusions (such as a funky disco-era track by former jovem guarda teen queen, Wanderlea...) along with staples of the samba-soul scene like Banda Black Rio, Dom Salvador and Trio Mocoto. The slant of this collection is somewhat lounge-y and acid-jazz-ish -- not as all-out disco or as sappy and Philly-Sound as it might have been. Overall it's pretty breezy and fun. It also has several impossible-to-find songs on it... Worth checking out!

Various Artists "SAMBISTAS" (Solid Air Music, 2008)



(Produced by Rildo Hora & Ady Harley)
A classy, old-school set of Brazilian MPB-samba songs, in the rich, romantic tradition of the samba-cancao style that dates back to the early 20th Century. Old-timers from the 1960s, like Jair Rodrigues and Elza Soares, headline this album, along with younger artists such as Luciana Mello and rising star Seu Jorge, crooning and belting out lush, expansive ballads, amid large, colorful arrangements. At first blush, the production may seem a bit bombastic or overripe, but this album swiftly pulled me in -- the backing isn't entirely my cup of tea, but the vocals are uniformly heartfelt and compelling. For MPB fans who like things a little slick and over the top, it doesn't get better than this. Recommended!
Various Artists "SAMPA NOVA: SAO PAULO A FLASH OF THE FUTURE" (Stern's Music, 2003)


A well-curated set that concentrates on modern-day artists (1990s/2000s) from musically vibrant Sao Paulo. Includes clubby musicians such as Max De Castro, DJ Dolores, Jair Oliveira, Otto, Fernanda Porto, Suba, and some other more oddball acts. Interesting selection, pitched at a European audience.

Various Artists "SAUDADE EM SAMBA: BRASIL: 1929-1942" (Kardum/Iris, 1998)



An excellent entry into the all-too-slight catalogue of pre-bossa oldies albums out there. This tasty set of old-school samba cancao features singers such as Orlando Silva, Francisco Alves, Sylvio Caldas and the ever-inevitable Carmen Miranda. A lot of really great stuff, and also a nice hint of how early Brazilian pop was heavily influenced by Argentinian tangos. Highly recommended!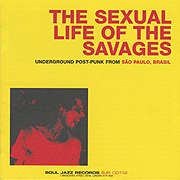 Various Artists "THE SEXUAL LIFE OF THE SAVAGES: UNDERGROUND POST-PUNK FROM SAO PAULO, BRASIL" (Soul Jazz, 2005)


Make no mistake about it: this disc is a fascinating, well-researched and invaluable exploration of some of the rarest Brazilian rock -- jittery, angular, no-wave-ish art-rock from the early-'80s Sao Paulo underground scene. Generally speaking, punk and indie rock have historically made little traction in Brazil, particularly the bands of this era and this style of music, so a disc is of tremendous historical value, filled with way-off-the-radar bands such as Mercenarias (whoever they were...), Gang 90 (hunh?), and Akira S E As Garotas Que Erraram (hey wait, they're not in the Trouser Press Guide, either...!!) The trouble is, for me at least, that I never really liked this kind of music, even though half the people at my radio station dutifully venerated bands like ESG, James White, Gang Of Four, Lora Logic, et al., back when I was first immersed in the murky world of 1980s college radio... But man, if my artsy little pals had known about this collection back then...!! Wheeww... they really woulda wet themselves. Anyway, I've never been much for the arid, super-cerebral side of the punk and post-punk scene -- crunchy, messy guitars, snotty attitudes and sheer hormonal release were always kinda more my style. But it's instantly clear that these kids in Sao Paulo were really pretty hip and up-to-date, and they were getting all the "right" imports for the time... The spirits of Joy Division and Pere Ubu hang like patron saints over this remarkable album... Great liner notes, too, that delve into the particulars of the Brazilian punk/rock scene, including some info about the fabled Baratos Afins label and record shop... I doubt I'll ever really listen to this disc again, but I'm certainly not going to give up my copy any time soon...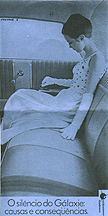 Various Artists "O SILENCIO DO GALAXIE: CAUSAS E CONSEQUENCIAS" (Midsummer Madness, 2000)
A couple of years ago I wrote a letter to a little Brazilian underground indie label I had heard of, saying "hey! hi! send us your records and we would love to review them...!" Well, I hadn't necessarily expected a response, so boy was I shocked when ages later they sent a copy of this lovely CD compilation, wrapped in construction paper and featuring over a dozen swell Brazilian indie bands that are certainly below the radar for folks here in the old EU. Fans of the Spanish label, Siesta Records, might want to sit up and take notice of Midsummer Madness -- it's another earnest, genuinely independent label (and fanzine) that follows its own heart and issues music that it loves. This CD (Volume Two in a series) collects tracks from several 7" singles by bands such as The Gilbertos, Grenade, Stellar and Vibrosensores, presumably the cream of the Brazilian indie scene. It's mostly recognizable, charmingly derivative guitar rock, with hints of old Sonic Youth, Sarah label and new romantic haircut bands from years gone by... and it easily holds its own with similar fare from across the world. This is stuff you won't be able to find anywhere else -- other than possibly on Brazil's online station, Trama Radio -- and it's all pretty nice. I especially like the opening track by Feedback Club, which has a pleasantly Sonic Youth/Jesus And Mary Chain feel to it. Several songs are sung in English, some are bilingual, and some (my faves) are in Portuguese... The rock revolution is alive and well in Rio de Janeiro, and now you can check it out for yourself.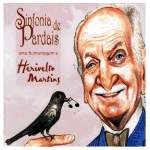 Various Artists "SINFONIA DE PARDAIS: UMA HOMAGEM A HERVIELTO MARTINS" (Som Livre, 1999)


A lovely, luminous version of "Pensando Em Ti," crooned to perfection by Caetano Veloso, kicks off this tribute to samba-cancao composer Herivelto Martins. Numerous other MPB elders are in on the project, including Leny Andrade, Maria Bethania, Baby Do Brasil, Beth Carvalho, Moraes Moreira, Ney Matogrosso, et. al. None of the other songs reach the height of Veloso's contribution, though: this is a very glossy, modern, often cluttered affair that leaves behind the antique beauty of Martins' songs, or the charm of his work as a member of Trio De Ouro. Nice liner notes, though -- great way to learn more about his life, even if the music is a little iffy.


Various Artists "SKA BRASIL" (Aztlan Records, 1997)


Contemporary Brazilian ska, which sounds pretty good for the genre. Worth checking out if you already like the North American stuff.


Various Artists "THE STORY OF BOSSA NOVA" (Capitol/Metro Blue, 2000)


A good sampling of EMI-Odeon's 1960s (and post-'60s) catalog, which even during the late '50s/early '60s heyday of the bossa nova scene often tilted towards an overlay of North American-style "pop" stylings. Hence, a lot of what's on here may seem a bit staid in comparison to the looser-limbed material that producers over at Philips favored. For some reason, U.S. copyright on Joao Gilberto's old stuff has gotten fouled up in recent years, so his groundbreaking, pivotal work on Odeon is omitted from this collection, which is a real shame. Nonetheless, this includes early recordings by crucial artists such as Marcos Valle, Luis Eca and Sylvia Telles (who was the first star to record many of Jobim's best bossa material...), and graciously mines the older stuff in favor of later interpretations from the '80s and '90s (which are included as well).
Various Artists "SUPER-POPULAR: ANOS 70" (Mercury-Universal, 2002)


A fairly representative 2-CD set of brega-style soft-pop from the 1970s, with tracks by artists such as Odair Jose, Jerry Adriani, Paulo Diniz and Sidney Magal, many of whom had occupied the wimpier end of the jovem guarda teen-pop spectrum in the '60s, and settled into full cheeseball mode in the following decade. A lot of this stuff sounds suspiciously like bad Italian pop music from the same era: it's a bland accommodation to the softer side of the American Top 40 sound, wherein a song like The Fever's cover version of "Candida" stands out as one of the more vigorous selections (yikes!!) Some of this I can almost get into, but if the truth be told, should someone ever walk in on me while I had this on the stereo, I would be compelled to commit ritual seppuku to atone for my shame.


<! ALT TEXT: Super-cheesy mainstream soft pop, what the Brazilians call brega, or "tacky," music. A few of the tunes on this 2-CD set are okay, but many are simply awful... There's a lot of stuff on here that sounds suspiciously like Italian pop from the 1970s and '80s... Artists include Sidney Magal, Vanusa, Wando, Jerry Adriani, a later edition of The Fevers, Claudia Telles, Odair Jose, and others. Scary stuff; innocuous at best. (Although, I have to admit I have a soft spot for Odair Jose... hard to say why...) > <! right ASIN?? >


Various Artists "THIS IS SAMBA, v. 1" (Rounder, 2000)



Various Artists "THIS IS SAMBA, v. 2" (Rounder, 2000)


An absolutely superior, top-flight collection of late-'80s recordings of upbeat, acoustic samba cancao, with contributions by stars of the various Rio de Janeiro escolas (such as Portela, Mangueira and Deixa Falar). Included is the traditionalist group Velha Guarda Da Portela (which is becoming known as "the Buena Vista Social Club of Brazil"...) and even several of the composers and performers from the 1930s golden age of samba cancao. Don't let the Putumayo-esque artwork throw you: this is first-class stuff, recalling the best recordings from the early '70s samba revival.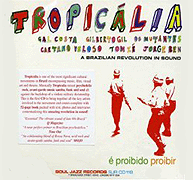 Various Artists "TROPICALIA: A REVOLUTION IN SOUND" (Soul Jazz, 2006)


A top-notch collection of Brazilian psychedelic classics, featuring all the big-name stars of the brief-lived tropicalia scene of the late '60s and early '70s. I haven't actually laid eyes (or ears) on this disc, and probably won't anytime soon, since it's kinda pricey and I've also already heard pretty much all the music that's gathered here. But for an introduction to some of Brazil's greatest musicians -- Gilberto Gil, Caetano Veloso, Gal Costa, Jorge Ben and others -- this is a pretty cool set. Definitely worth checking out if you're curious about the style. (For more info on tropicalia, check out my Brazilian Music Guide... )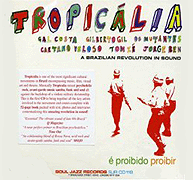 Various Artists "TROPICALIA: A REVOLUTIONARY MOVEMENT IN SOUND" (Universal Latino, 2007)



Various Artists "TROPICALIA ESSENTIALS" (MCA/Hip-O, 1999)



I guess with the latest corporate shake-up/merger mania, The Corporation gave these guys the nod to put out their domestic reissues of classic tropicalia material. So far, so good. Even though the sound on here doesn't seem as crisp as the Philips originals, the song selection is good, although it sticks to the softer, more melodic side of the genre... This is all pretty classic material from Caetano Veloso, Gilberto Gil, Gal Costa, Os Mutantes, and others. (It's a pity they didn't consider Jorge Ben's late-'60s stuff to officially be part of the tropicalia scene, 'cause that's the one thing that's really missing from here.) One nice rarities inclusion is a track from famed arranger Rogerio Duprat's elusive solo album... Also, the liner notes have a nice essay from Ricardo Pessanha, co-author of the fabulous book, The Brazilian Sound... If you're looking for an introduction to tropicalia, this is a fine place to start.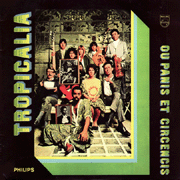 Various Artists: "TROPICALIA: OU PANIS ET CIRCENSIS" (Polygram, 1968)


(Produced by Rogerio Duprat)
A collaborative statement of purpose for the hippie-ish tropicalia movement, with contributions from Gilberto Gil, Os Mutantes, Nara Leao, and Caetano Veloso. Gal Costa sings on four of the twelve tracks, and her vocals are consistently pleasant, although this is really a songwriting and stylistic showcase album which overshadows vocalists. Overall, this record radiates youthfulness and a playful, experimental artistic zeal. Recommended!

Various Artists "UM BANQUINHO E UM VIOLAO, v.1" (EMI/Copacabana, 1999)
Brazilian pop -- and bossa nova in particular -- has inspired a plenitude of soft, goopy easy listening, and not all of the schlock comes from outside of Brazil. Witness this collection: a 2-CD set mainly from the 'Sixties that funnels the cool of bossa through the filters of Robert Goulet and Mantovanni. Oh sure, there are a bunch of top-tier artists on here, including Luiz Bonfa, Elizeth Cardoso, Eumir Deodato, Doris Monteiro and Walter Wanderley, but there are also some generic EZ ensembles such as the Ipanema Pop Orchestra and Quarteto Nostalgia, with the bulk of the recordings tilting decisively towards the cheesier end of the spectrum. This collection has some noteworthy rarities and material by little-known artists, but it's probably a little too softcore for many listeners.
Various Artists "NICOLA CONTE PRESENTS: VIAGEM, v.1 (FarOut, 2008)


Various Artists "NICOLA CONTE PRESENTS: VIAGEM, v.2 (FarOut, 2009)


Various Artists "NICOLA CONTE PRESENTS: VIAGEM, v.3 (FarOut, 2011)


Various Artists "NICOLA CONTE PRESENTS: VIAGEM, v.4 (FarOut, 2012)


Various Artists "NICOLA CONTE PRESENTS: VIAGEM, v.5 (FarOut, 2013)






<! Various Artists "NICOLA CONTE PRESENTS: VIAGEM, v.1 (FarOut, 2008) B0011B9W4C B0015S2A6S Various Artists "NICOLA CONTE PRESENTS: VIAGEM, v.2 (FarOut, 2009) B0025T7PFM B002A6MBWW Various Artists "NICOLA CONTE PRESENTS: VIAGEM, v.3 (FarOut, 2011) B004GN9TZ4 B004NHILJI Various Artists "NICOLA CONTE PRESENTS: VIAGEM, v.4 (FarOut, 2012) B00888RGT4 B008BGFY3I Various Artists "NICOLA CONTE PRESENTS: VIAGEM, v.5 (FarOut, 2013) B00CWWGOZ4 B00CTSERA0 >
Various Artists "VIRA-LATAS: TRIBUTO A COLERA" (Voice Music, 2003)


A tribute to pioneering Brazilian punk band, Colera...


<! 1. Medo - Pappa Nikolau 2. Passeatas - Sobreviventes 3. X.O.T. - Melody Monster 4. Somos Vivos - Sub Existźncia 5. Marcha / Histeria - Forća Macabra 6. Direitos Humanos - Phobia 7. C.D.M.P. - Reaćčo Kaotika 8. Tente Mudar o Amanhč - Foda-C 9. Amnésia - Aćčo Direta 10. Histeria - Condutores da Revolta 11. Bloqueio Mental - P.P.A. 12. Alucinado - Nifis Ácratas 13. Violar Suas Leis - Voraz 14. Marcha - Discarga 15. É Natal - New York Against the Belzebu 16. Gurrear - C.S.P. 17. Gritar - Antimídia 18. Humanidade - Pátria Armada 19. Quanto Vale a Liberdade? - Juventude Maldita 20. Sčo Paulo - Agrotóxico 21. Dia e Noite - Rasta Knast >

Various Artists "VISOM: CONTEMPORARY INSTRUMENTAL MUSIC FROM BRAZIL" (Windham Hill, 1993)


With Nando Carneiro, Ulisses Rocha, Aquarela Carioca, Olmir Stocker, No Em Pingo D'Agua and others...


<! >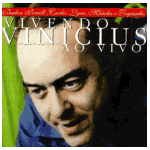 Various Artists "VIVENDO VINICIUS: AO VIVO" (BMG-RCA, 1999)


(Produced by Jose Milton & Jorge Davidson)
Four big-name MPB stars -- Baden Powell, Carlos Lyra, Miucha and Toquinho -- pay tribute to bossa nova founding father Vinicius de Moraes in a 2-CD live set recorded in June, 1999 at Rio's Teatro Joao Caetano. It's an all-star lineup, but if truth be told, the performances are a bit fusty and unelectrifying -- classical, old-school bossa, with the extra layers of slickness and pretension that the MPB elders acquired over the years. Vinicius's longtime partner Toquinho is the most syrupy of the performers; there are some good tracks spread out through the concert, but a lot of cloying material as well. This is okay, but it didn't really resonate with me; this is great material that can be heard elsewhere in much catchier versions.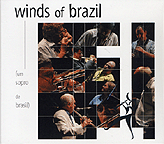 Various Artists "WINDS OF BRAZIL (UM SOPRO DE BRASIL)" (Adventure Music, 2006)


This live concert disc celebrates wind instruments in Brazilian music, including the flute, clarinet, bassoon and brass, as well as a bit of harmonica music, courtesy of harpist Mauricio Einhorn. It's mostly a soft, classically-informed jazz set, with featured players such as the esteemed Altamiro Carrilho, Teco Cardoso, flautists Lea Freire and Mauro Rodrigues, trombonist Vittor Santos and others, supported by an enesemble led by pianist Benjamin Taubkin and bassist Zeca Assumpcao

Various Artists "WOMAN ON TOP" (Soundtrack) (Sony Classical, 2000)



Low-key, low impact bossa nova standards and the like, performed mainly by Paulinho Moska, along with tracks by better know folks such as Dori Caymmi, Maria Creuza and Baden Powell. Nothing overly exciting, though I'm sure it must have worked well in the film...

Various Artists "YELE BRAZIL" (EMI/Hemisphere, 1994)


A fairly solid (if sleek) collection of Afro-Brasilian pop tunes, featuring contemporary bands such as Ara Ketu, Banda Reflexu's, Os Paralamas and Marisa Monte. This also has several lesser-known artists and reaches into the not-so-distant past to include sambistas such as Clara Nunes. The emphasis is on African-tinged Bahian pop, and in many cases the Africanization approximates the same sort of studio sleekness that African artists themselves often favor. Also, there are outright stylistic swipes, such as the bouncy juju-reggae of Os Paralamos' "Alagados." This is worth checking out -- a little too poppy and not entirely my cup of tea, but pretty solid for the territory.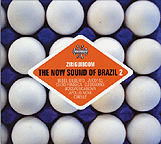 Various Artists "ZIRIGUIBOOM: NOW SOUND OF BRAZIL 2" (Six Degrees, 2006)

A nice representation of the Brazilian-tinged electro-lounge sounds of the Crammed Disc/Six Degrees empire... Most of these songs are taken from various albums that may already be on your record shelves, but there are four new tracks here -- all of equality to the previously released material -- the new material, along with the nice pacing of the set, makes this a bossa-techno disc worth owning. The the song selection is top-notch, putting the best face on this style (which I often find either too vaucous or monochromatic...) Here, each remix and rhythm track seems to have its place, and the musical ideas are well-developed and multi-textured. Bebel Gilberto leads the pack (naturally), along with Ziriguiboom stalwarts such as Bossacucanova, Cibelle, Celso Fonseca, Zuco 103, and others. For my money, this set is much stronger than Volume One, and is certainly worth checking out.
---
>> More Compilation Albums | Artists: A-Z | Main Brazil Index
---



---