<! BAP - BAT > <! MP3 11/08/09, 03/08/12 > <! pix 11/08/09, 03/08/12 > <! ALLBM 00/00/00 > <! icons 01/20/11 > <! UPDATES: 11/08/09 03/08/12 - added Adoniran Barbosa page; still skipping Beto Barbosa 07/14/14 - still need Beto Barbosa, Carlos Barbosa-Lima pages, maybe Vincente Barreto. Need 208s. > <! Gregorio Barrios >
---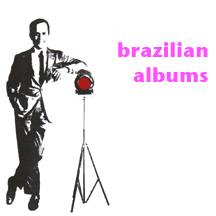 This is the second page of miscellaneous albums and artists under the letter "B"
If an artist or album you like is not reviewed here, please feel free
to contact me and make a suggestion.
---
A | B-1/ 2/ 3/ 4/ 5 | C | D | E | F | G | H | I | J | K | L | M | N | O | P | Q | R | S | T | U | V | W | X | Y | Z | Compilations
Brazilian Styles | 30 Recommended Records | Portuguese-language pop | Brazilian Links | Slipcue.Com
---
Arnaldo Baptista - see solo discography and Os Mutantes discography
Cyro Baptista - see artist profile
Barao Vermelho - see artist profile
Barbatuques "Corpo Do Som" (MCD, 2003)


Barbatuques "Corpo Do Som - Ao Vivo" (MCD, 2003) (DVD)

Barbatuques "O Seguinte E Esse" (MCD, 2005)









Adoniran Barbosa - see artist profile




Beto Barbosa "Beto Barbosa" (Continental, 1987)
Before the lambada really took off, Barbosa was doing the same sort of material, only at halftime tempo. Sounds a lot like modern (synthy) Mexican ranchera music; these songs sound better than most -- they're listenable -- but as an album this is terribly, terribly monotonous. Barbosa has a bazillion other records, but really, jeez... who can be bothered??


<! about a dozen albums listed on Amazon 4.08 >

Zelia Barbosa "Brazil: Songs Of Protest" (Le Chant Du Monde, 1968/Monitor LP, 1988/Harmonia Mundi CD, 1995)


Besides this one album of political songs recorded in France for the Le Chant du Monde label, I don't know of anything else this artist has done. It's a fun record, though, featuring protest songs written or popularized in response to the military coup of 1964. Particularly catchy are renditions of Chico Buarque's "Pedro Pedreiro", "Opinao" and several other Ze Keti songs, and "Carcara" by Joao do Vale. Barbosa is not the greatest vocalist ever, and there are other versions of many of these songs (particularly those by Nara Leao) that are more are compelling -- but this is still worth checking out. Harmonia Mundi also reissued this on CD, under the title Sertaos E Favelas.


<! OOP asin - B000003IBJ >

Zelia Barbosa "Brazil: Songs Of Protest" (Smithsonian-Folkways, 1968/2009)


This newer edition features the artwork from the Monitor Records edition of the album; part of Smithsonian-Folkways extensive reissues program... Ah, back in print again at last!




Carlos Barbosa-Lima "Concerto En Modo Frigio" (RGE, 1965)



<! 01 - Allegro -Concerto Em Modo Frigio (Eduardo Grau) 02 - Adagio quasi largo-Concerto Em Modo Frigio (Eduardo Grau) 03 - Alegro energético-Concerto Em Modo Frigio (Eduardo Grau) 04 - Fuga (J.S.Bach) 05 - Introdućčo e Variaćões Sobre a Ária O Cara Armonia da opera a Flauta Magica (Mozart) 06 - Na Ilha Abandonada (Isaías Savio) 01,02,03 "Concerto Em Modo Frigio" para violčo e orquestra (primeira audićčo mundial) Antonio Carlos Barbosa Lima (solista de violčo) Regźncia do Maestro Diogo Pacheco >

Carlos Barbosa-Lima "Brasil E Violao" (Alvorada, 1979)



<! 01. Luar do Sertčo (Catullo da Paixčo Cearense) 02. Flor Amorosa (Catullo da Paixčo Cearense - Antonio da Silva Callado) 03. Rasga o Coraćčo (Catullo da Paixčo Cearense - Anacleto de Medeiros) 04. Ontem ao Luar (Catullo da Paixčo Cearense - Pedro de AlcČntara) 05. Si Te Adoro (autoria desconhecida) 06. Quem Sabe (Carlos Gomes) 07. Viola Quebrada (Mario de Andrade) 08. Mestića (autoria desconhecida) 09. Casinha Pequenina (Folclore) 10. Batucada (Isaías Sávio) 11. Caixinha de Musica (Isaías Sávio) 12. Valsa Choro n.4 (J.C.Queiroz) >

Carlos Barbosa-Lima "Siboney" (Zoho, 2004)


Re-release of a 2001 album of Cuban music classics interlaced with various Brazilian oldies...
Carlos Barbosa-Lima "Carioca" (Zoho, 2006)



Braz-jazz with backing from from Duduka Da Fonseca, Nilson Matta and Danny Rivera...
Carlos Barbosa-Lima "O Boto" (Zoho, 1998/2007)


Guitarist Barbosa-Lima works through a diverse lineup of Handel, Jobim, Pujol and others... (Originally released in 1998)

A Barca Do Sol "A Barca Do Sol" (Continental, 1974)


A pioneering folk-jazz-classical fusion band, featuring the immensely talented cellist/arranger Jacques Morelenbaum near the start of his pop music career. The first album (re-released on a single CD along with the second) opens with a trio of stunning numbers, which blend flamenco guitar and NY-style salsa rhythms in with a heady mix of traditional Brazilian melodies and jazzy instrumental flourishes; the group sounds like a cross between the acoustically-based Quinteto Violado and wilder, more rock-oriented groups such as Novos Baianos. Interesting!

A Barca Do Sol "Durante O Verao" (Continental, 1976)


Sadly, the formula wears thin and by the second album, where they try on an even more experimental tone, becomes fairly irritating. These albums have a fascinating feel, but may ultimately be best seen as Morelenbaum's most energetic juvenelia. Still, since Morelenbaum later became one of Caetano Veloso's key collaborators and a major modern interpreter of Antonio Carlos Jobim, this disc may be worth checking out for any serious student of Brazilian avant-pop.
A Barca Do Sol "Sucessos" (1997)

Arrigo Barnabe - see artist profile
Junio Barreto "Junio Barreto" (Tratore, 2005)






<! slows down at the end... >

Junio Barreto "Setembro" (Tratore, 2011)



Vicente Barreto "Ano Bom" (Warner-Continental, 1993)



(Produced by J. C. Costa Netto)
A disappointing album, with bland, poppy arrangements. Imitative of Gilberto Gil, but not Gil at his best. There's also a tint of Timbalada and other poppish/synthy axe bands. I enjoyed Barreto's later albums (see below) and they led me to pick up this disc, but I couldn't get into it. Not an album I need to come back to. Includes liner notes from his pal, Tom Ze, and a cover of Ze's song, "Hein," which Barreto co-wrote.


<! listed as Dabliu elsewhere? >

Vicente Barreto "Mao Direita" (Dabliu, 1996)



A lovely acoustic album, reminiscent of early Chico Buarque and Joao Bosco, but with a sprightliness that also reminds me of Cuba's Silvio Rodriguez. Nice stuff -- not a bum note or an irritating track on here. Guitarist Barreto has been a longtime collaborator of Ze's, ever since the early '70s, and can be considered co-architect of their distictive sound. Tom pitches in on a few tracks, and many of the songs were co-written with Paulo Cesar Pinheiro. Recommended!

Vicente Barreto "E A Turma Chegando Pra Dancar" (Dabliu, 1999)



Wonderful! Silky, sensual, multi-layered gentle pop, along the lines of Arnaldo Antunes and Vinicius Cantuaria, with more than a slight hint of Jorge Ben's best stuff of the early '70s, and certainly with a nod towards Barreto's work with Ze. A relaxed, dreamy album with only a few misfires (such as the reggae-based "O Crague.") On the whole, I'd say this is record well worth checking out, and obviously one which the artist spent a fair chunk of time planning out and composing. Recommended!
Vincente Barreto "Noite Sem Fim" (Ouver, 2003)

Vincente Barreto "Vincente" (Ouver, 2008)


With Rafa Barreto...
Vincente Barreto "O Melhor De Vincente Barreto" (Dabliu, 2000)






<! Gregorio Barrios - a bunch of albums on Odeon >


Ary Barroso - see artist profile





Inezita Barroso - see artist profile



Marisa Barroso "Marisa" (CBS, 196--?)
With backing from trombonist Astor Silva and his band... Not sure of the date on this one, but it looks like early '60s, maybe '62-'63(?) with a mix of old-school ballads and some newer bossa nova tunes.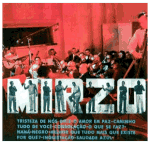 Mirzo Barroso "Mirzo" (RCA, 1965)
A schmaltzy, bombastic bossa-ballads set with contributions from bossa-jazz musicians such as percussionist Rubens Bassini and pianist Fats Elpidio. This didn't do much for me; apparently it was Barroso's only album.


<! arrangements by Orlando Costa & Maestro Cipo... Personnel includes Fats Elpidio (piano), Copinha (flute), Jorge Arenas and Rubens Bassini (percussion). Musical Direction is from Maestro Zaccarias. 01 - O Que Se Faz (Rildo Hora / Gracindo Jr.) 02 - Caminho (Chico Feitosa / Marcos Vasconcellos) 03 - Saudade Azul (Sergio Malta) 04 - Melhor Que Tudo Mais Que Existe (Roberto Jorge) 05 - Inquietaćčo (Chico Feitosa) 06 - Por Quź (Geraldo Vespar / Mário Telles) 07 - Tudo de Vocź (Marcos Valle / Paulo Sergio Valle) 08 - Nanč (Moacir Santos / Mário Telles) 09 - Tristeza de Nós Dois (Durval Ferreira / Bebeto / Maurício Einhorn) 10 - Consolaćčo (Baden Powell / Vinicius de Moraes) 11 - O Amor Em Paz (Tom Jobim / Vinicius de Moraes) 12 - Negro (Roberto Menescal / Ronaldo Bôscoli) >


Vania Bastos - see artist profile




Batacoto "Batacoto" (Triloka, 1993)


Easy listening, smooth-jazz world music, Brazilian style. Not quite my cup of tea, but a stronger-than-usual offering for the genre... There are shades of Djavan, Gilberto Gil and Milton Nascimento in some of the songs, but they are all obscured by glossy pop-fusion production that I, personally, am not fond of... Ivan Lins is a guest performer, singing a duet with Dionne Warwick, of all people...


<! w/ Claudio Jorge(?), Teo Lima(?) Amazon list this both as a Batacoto album and as a Teo Lima album. Hmmmm > <! "Ivan sings: Camaleao & Chameleon w/ Dianne Warwick" >

Batacoto "Samba Dos Ancestrais" (Velas, 1995)



Batatinha "Toalha Da Saudade" (Warner/Continental, 1976)


Old-school Bahian sambista Batatinha, a magnificent composer and gentle performer, sings a dozen of his best songs, with moving, richly emotional, mainly acoustic backing. The liner notes include a testimonial from Caetano Veloso, giving a sense of the high regard Batatinha is held in in his home town of Salvador. Lovely stuff, the kind of latter-day samba cancao that I adore.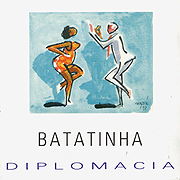 Batatinha "Diplomacia" (EMI-Brasil, 1998)


A gorgeous album showcasing the songwriting and vocals of a samba old-timer -- the music is delicately sculpted, simple and strightforward. Batatinha's good-humored, old-man vocals are deliciously framed by straight-ahead acoustic arrangements. The nostalgic simplicity and grace of this album strongly recalls Joao Gilberto's 1981 album, Brasil. And, like that album, this one also features warm, reverential contributions by Maria Bethania, Gilberto Gil, Caetano Veloso, Chico Buarque and Jussara Silveira. This is well worth searching for, and not just for the high-power guest stars! Highly recommended.

Chico Batera "Ritmo" (Som Livre, 1979) (LP)


A manic mix of Santana-esque soul/rock/salsa and tightly crafted, Dazz Band-style funk... Drummer Chico Batera, a prolific studio session player, breaks out as a solo performer on this funky, uptempo set, which has some pretty tight grooves and is actually one of the best Brazilian funk records I've heard... Includes contributions from guest performers such as Joao Bosco, Dom Beto, Carlos Dafe and Raimundo Fagner. Yes, in some regards it can be irritating (the shrill guitar solos, in particular) but mostly it's a booty shaker. Definitely worth checking out.



<! B00414TS72 - LP - no CD ASIN as of 07/14/14 > <! 01 – Vocź (Chico Batera) with Fagner 02 – Yndaya-ź (Nelsinho do Pandeiro) 03 – La Rumba (Dom Beto / Reina / Sergio Mello) with Dom Beto 04 – A Ilha (Chico Batera / Carlos Dafé) with Carlos Dafé 05 – No Va Más (Dom Beto / Reina) 06 – Zezé (Chico Batera) 07 – Bolero Para Ti (Chico Batera) 08 – Tiro de Misericórdia (Jočo Bosco / Aldir Blanc) with Jočo Bosco 09 – Nana-yo (Chico Batera) 10 – Lili (Chico Batera) Sérgio Dias (from Os Mutantes) (guitar) Tavinho Bonfa (violao) Robertinho de Recife (guitar) Amelinha (vocals) Terezinha de Jesus (?) Lee Marcucci (bass) >

Chico Batera "50 Anos De Baile-Salsa Com Alma" (BMG, 1998)


Chico Batera "Lume" (Biscoito Fino, 2000)



A mellow jazz set; other than the Portuguese-language vocal tunes, there isn't much on here to set it apart from similar material from Europe or North America. It's okay; not my cup of tea, though.
Chico Batera "50 Anos De Baile-Salsa Com Alma" (BMG, 1998)


Dyrcinha Batista "Serie Bis - Cantores Do Radio" (EMI-Brasil, 2000)


This disc opens on shaky ground, technically speaking, as the first track, her 1937 version of Lupicinio Rodrigues' "Nunca," warbles and buckles a bit under the weight of time. That's how you know, though, that this is a collection that includes actual radio performances, along with film appearances and numerous studio recordings. It's worth sticking it out, though, as Dyrcinha turns out to be one of the finest Depression-era singers in the Brazilian constellation. A confident vocalist with a warm, delicate trill and cheerful delivery that's reminiscent of Carmen Miranda, Batista also covered similar terrain, excelling in a brace of cheerful samba cancao tunes. This collection tracks her career through the late thirties into the wartime era and onto the early '50s... Highly recommended set by one of an early great whose best work is little-remembered nowadays.

Linda & Dircinha Batista "Linda E Dircinha Batista" (RCA-BMG, 2004)



A fine collection of two of the best "radio singers," sisters Linda and Dircinha Batista, recording solo (not as a duet) over the course of two decades (from 1941-1959). Each singer has her strengths, and each has a tremendous, appealing presence. In general, the earlier, more samba-oriented recordings are the best; as time went on, the arrangements and the overall approach became more florid and formulaic. But as a glimpse at the pre-bossa nova pop vocals era, this is a fine collection.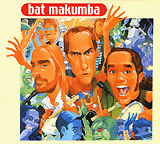 Bat Makumba "Bat Makumba" (Bat Makumba, 2003)



A super-impressive set of Brazilian/latin dance funk tunes, written and recorded by a trio out of San Francisco, CA. Although the band is known for live shows in which they do sizzling cover versions of '60s/'70s tropicalia oldies, this album is comprised entirely of original tunes written by the band... though you'd be hard pressed to tell this apart from contemporary Brazilian manguebeat artists such as Nacao Zumbi or Lenine. The spirits of Gilberto Gil, Jorge Ben and Os Mutantes hover supportively overhead as the Bat Makumba crew work their way through a dizzying array of rhythms, moods and styles, opening with the catchy forro-funk of "Trabalha" to the calming MPB balladry of "Resolucao", soft electronica of "Cantiga" and rowdy, good-time salsa rhythms of "Quiero (Cuba Rum, Cachaca Brasil)." On "Morro De Saudade (Enredo 415)," the band collaborates with the esteemed Velha Guarda da Mangueira, a group of musicians associated with Rio's famously bouyant Mangueira samba school. All in all, this disc by Bat Makumba is quite a feat: if any band from the EU stands a chance of having their music covered by someone back in Brasil, I imagine it would be these guys! Heck, they're even named after a Gilberto Gil song... what more could you want? Highly recommended.

Bat Makumba "Boteco" (Bat Makumba Records, 2008)



(Produced by Carl Remde & Bat Makumba)
This San Francisco-based dance band plays Brazilian music with a vengeance. The Brazilian rhythms are dense and the tempo furious -- an other tracks delve deep into American-style funk and even a bit of hippie-ish folk-jazz. Some of it's really groovy, reminding me of the wildly eclectic Brazilian manguebit of the 1990s, or the more modern hip-hop flavored "baile funk"of the last few years. Other tracks may try your patience a bit (the weirdo-funk song "Homo Sapiens," for example, is way too self-indulgent for me) but some of it's pretty cool. If you were drawn to Brazilian music for the swank harmonies and mellow elegance of classic bossa nova and MPB, this world-beat blast will be a new sound for you; depending on your temperament and taste, it may be either exasperating or exhilarating... Honestly, I found it a little exhausting. Still, I suspect they are pretty fun live.
Os Batuqueiros "Os Batuqueiros" (RCA Camden, 1976)

Toniquinho Batuqueiro "Memoria Do Samba Paulista" (Tratore, 2009)


---
Brazilian Music - More Letter "B"
---



Main Brazil Index
World Music Index

---