<! BI - BO > <! MP3 12/02/08, 11/08/09, 03/09/12 > <! pix 00/00/00, 11/08/09 - reorg > <! ALLBM 00/00/00 > <! icons 01/20/11 > <! UPDATES: 12/02/08 03/09/12 - added Billy Blanco, Boca Livre pages > <! Boca Nervosa > <! Sérgio Bittencourt (filho de Jacob do Bandolim) >
---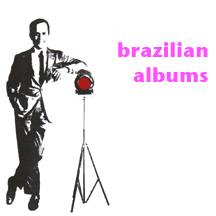 This is the fourth page of Brazilian artists under the letter "B"
If an artist or album you like is not reviewed here, please feel free
to contact me and make a suggestion.
---
A | B-1/ 2/ 3/ 4/ 5 | C | D | E | F | G | H | I | J | K | L | M | N | O | P | Q | R | S | T | U | V | W | X | Y | Z | Compilations
Brazilian Styles | 30 Recommended Records | Portuguese-language pop | Brazilian Links | Slipcue.Com
---
Cido Bianchi "Show De Orgao: O Mais Belos Temas Do Cinema E TV" (Farroupilha, 1965)
(Produced by Rogerio Gauss & Os Farroupilhas)
A solo album by organist Aparecido (Cido) Bianchi, who is perhaps best known as a member of the jazz-bossa Jongo Trio. This all-instrumental album of movie themes is pretty sedate, dull even, with modest accompaniment and lots and lots of high-pitched organ work. Not really my cup of tea, but folks who are more into "easy listening" and soundtrack music in particular might find something to celebrate here. Nothing particularly "Brazilian," though: he does cover "Manha De Carnaval," from Black Orpheus, but it's just as bloodless as the rest of the record. No need to go out of your way to track this one down. Really.
Cido Bianchi "Cido Bianchi" (Som Da Gente, 1985) (LP)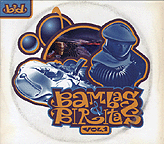 BiD "Bambas & Biritas, v.1" (MCD/Soulcity, 2005)


Featuring a veritable who's-who of Brazilian hip-hop'n'soul, both old and new, this is a fairly sophisticated, mellow set, with a funky soul-fusion feel. Eduardo BiD is the main artist, playing host to an impressive cast of Black Rio samba-soul elders and contemporary hip-hoppers... Carlos Dafe, Seu Jorge, Marku Ribas and Elza Soares are among the big-name guests... which is kinda cool, although the now-over-the-hill Soares brings things to a painful, grinding halt when she croaks her way through an extended solo on "Mandinguera." (I know she's lauded as a living legend and all, but Ella Fitzgerald she ain't...) This isn't really my cup of tea, but it is one of the finer contemporary albums of its kind, and it thankfully forsakes the louder, more confrontational rap attacks of groups such as Afro-Reggae or the irritating techno-bleats of the "funk carioca" crowd. So, for folks looking for a low-key middleground to help them explore the booming Brazilian hip-hop scene, this is a pretty cool record to start your explorations. Worth checking out. (Available through www.soulcity.com.br. )
Bide Ou Balde "Bide Ou Balde" (Abril, 2002)

Bide Ou Balde "E Preciso Dar Vazao Aos Sentimentos" (L & C Editoras, 2006)


Generic, fill-in-the-blanks, New Wave-tinged, power-poppy alterna-rock... Atypical for Brazilian pop, but also kind of fun, like a prefab mix of the Dickies and the B-52s. This disc is actually fairly engaging, right up until the handful of remix tunes that close the album... But for folks looking to close up the indie-rock vacuum in Brazil's rock world, this is certainly worth checking out. Not the greatest, but it's interesting to know it's there.


<! 144 x 144 >

Victor Biglione & Marcos Valle "Live In Montreal" (Rob Digital, 2000)





<! VICTOR BIGLIONE Victor Biglione "Biblioteca" (Leblon, 1993) BEST-OF Victor Biglione "Victor Biglione" (Musician/WEA, 1985) Victor Biglione "Baleia Azul" (Musician/WEA, 1987) Victor Biglione "Quebra-Pedra" (Chorus/Som Livre, 1989) Victor Biglione "Maquette Brazil" (Sony, 1994) Victor Biglione/Ze Renato/Litto Nebbia "Ponto De Encontro" (Leblon, 1994) Victor Biglione "Trilhas" (Leblon, 1994) Victor Biglione & Marcos Ariel "Duo #1" (Leblon, 1994) Victor Biglione "Como Nascem Os Anjos - Trilha Sonora Do Filme" (Rob Digital, 1996) Victor Biglione & Andy Summers "Strings Of Desire" (BMG Brasil, 1998) Victor Biglione "Cinema Acustico" (Visom, 1998) Victor Biglione "Um Tributo A Hendrix" (Universal, 2000) http://cliquemusic.uol.com.br/artistas/ver/victor-biglione >


Biquini Cavadao - see artist discography



Biriba Boys "Biriba: Alegria O Brasil" (Chantacler, 1965)
Lounge-y Latin dance music, with a bit of bossa and jazz. Pretty kitschy, overall. The Biriba Boys were the band of Sao Paulo-based bandleader and pianist/arranger Sergio Weiss, who led the group through the 1950s and '60s. Not sure how many other albums they recorded...
Biriba Boys "Biribalanco" (Chantacler, 1969)
This album has a brighter, more modern production style, as well as a more jazzy easy-listening sound. Still too kitschy for my tastes, but some retro-ists out there might get into these guys.


<! A jornalista Sandra Prado na ultimo sábado lanćou o livro "Sergio Weiss, o Biriba do Brasil", um belíssimo livro documentário que fala de aspectos biográficos da vida do compositor, arranjador e pianista Sérgio Weiss, de Sčo José dos Campos, SP, e que entre os anos 50 e 90 esteve a frente de diversas bandas e orquestras que ele mesmo administrava e montava. Destes grupos, destaca-se o Biriba Boys, que atuou entre os anos 50 e 60. O livro de Sandra Prado é muito oportuno e joga luz sobre um tema muito importante de parte da história recente da nossa musica. Além de aspectos biográficos de Sergio Weiss o livro nos conta um pouco da história de Sčo José, traz depoimentos de diversas pessoas ligadas a vida do compositor, uma entrevista com ele e a partitura da musica "Minha Cidade", que Sergio compôs em homenagem a cidade de Sčo Jose dos Campos. > <! LX: Lana Bittencourt "Sambas Do Rio" (Columbia, 1960) ...all songs composed by Antonio Carlos Jobim and Luiz Antonio Lana Bittencourt "Intimamente" (Columbia , 1958) >

Lana Bittencourt "Maxximum" (Sony-BMG, 2006)


Luiz Bittencourt "Vereda Tropical" (Musidisc, 1962)
(Produced by Nilo Sergio)
Kooky, pleasant easy listening, with a four electric-guitar band, led by Bittencourt, with light rhythmic accompaniment, working its way through a set of standards ("Begin The Beguine," "Jalousie," et. al.) and some Brazilian oldies. There's sort of a Les Paul vibe here, like Bittencourt wanted to sound like him, but couldn't quite swing the whole multi-tracking thing, so he just hired a handful of guitarists instead. It's pretty kitschy, but okay, in a goofy, ephemeral kinda way. No idea who the other guitarists might have been.


<! 144 x 144 >

Bixiga 70 "Bixiga 70" (AguaForte, 2011)


Bixiga 70 "Ocupai" (Mais Um Discos, 2014)







<! Hailing from the Bixiga neighbourhood in Sčo Paulo, Ocupai sees the band build on the sound that saw their self-titled debut album top many Brazilian tastemakers best of lists for 2011. They combine the obvious touch points of Fela Kuti (the band's name tips a hat to the most famous incarnation of his band) and Tony Allen (with whom Mauricio Fleury from the band studied with) and bounce through boundaries to harvest textures of mandingo from Guinea and Mali, soukous from the Congo and ethio-jazz – all the while pulling in threads from the pioneers who first caught their ear; Pedro Sorongo, Os Tincočs, Gilberto Gil, Jočo Donato, Baden Powell, Deodato, Orchestre Poly Rythmo, Miles Davis and Lee Perry. Having collaborated with Souljazz Orchestra, Criolo, Emicida and Banda Black Rio, the band have also shared the same stage as their heroes Antibalas, Ebo Taylor, Tony Allen, Gilberto Gil and Q-tip at the likes of Denmark's Roskilde and Amsterdam's Paradiso and are set to return to Europe in May/June 2014. >

Bixo Da Seda "Bixo Da Seda" (Continental, 1976) (LP)


In the early 1970s, the mod-psych band Liverpool metamorphosed into an experimental prog group - a transitional album under the name "Liverpool Sounds" led to a further name change, and a move from Porto Alegre to Rio... Although they rechristened themselves years earlier, this was their only album recorded as Bixo Da Seda.


<! Bixo da Seda foi uma banda de rock formada em Porto Alegre no início dos anos de 1970, e que iniciou a carreira com o nome de Liverpool, em 1965, passando a chamar-se Liverpool Sound e, após 1971, Bixo da Seda. Com o nome Bixo da Seda, a banda teria partido para "uma levada de rock inglźs, num mix de influźncias, próximo do progressivo", conforme o jornlista e pesquisador Gilmar Eitelvein. As letras, compostas por Fughetti Luz, eram extremamente críticas e psicodélicas1 . Tendo se tornado uma espécie de lenda no rock do sul do Brasil, a banda reuniu-se, posteriormente, para shows, tendo tocado, por exemplo, no Festival Morrostock 20112 , na cidade de Sapiranga. Já Fughetti Luz emplacou muitos sucessos em sua carreira solo compondo para bandas conhecidas no Rio Grande do Sul, tais como Bandaliera e outras, e atualmente, encontra-se em retiro espiritual no interior do Estado. Como Liverpool, nome com que a banda se tornaria primeiramente conhecida localmente, e que se justificava pelo fato da banda fazer, a princípio, covers dos Beatles, a banda chegou a escrever a discografia de Marcelo Zona Sul, um filme sobre a juventude carioca dos anos 60 que tinha Stepan Nercessian e Franćoise Forton nos papéis principais. No início dos anos 1970 ainda, adotaram o nome de Bixo da Seda e após se transferiram para a cidade do Rio de Janeiro, tendo lanćado lá o disco Estaćčo Elétrica, em 1976. O nome da banda teria sido dado pelo filho de Leonel Brizola, Zé Vicente Brizola, que era, naquela altura, integrante da banda. No disco gravado no Rio de Janeiro, com o afastamento de alguns dos integrantes iniciais, um dos participantes da gravaćčo foi um ex-componente da banda A Bolha. Trźs anos depois, terminou a banda, que voltou a reunir-se para shows, posteriormente, havendo uma certa "rotatividade" de integrantes3 . Na mesma época, se apresentaram como grupo de apoio ao conjunto vocal As Frenéticas. Apesar da sua produćčo pequena, a banda até hoje é famosa no circuito progressivo gaúcho e, possivelmente, foi a partir dela que se originou o termo "rock gaúcho". Fughetti Luz - voz, letras e composićões. Pecos (Wilmar Ignácio Seade Santana) Pássaro - guitarra Mimi Lessa - guitarra Renato Ladeira - teclados Marcos Lessa - baixo Edson Espíndola - bateria4 > <! Liverpool "Por Favor Sucesso" (Equipe, 1969) Liverpool "Marcelo Zona Sul" (1970) - soundtrack recording? - Liverpool Sounds "Hei Menina" (1971) Bixo Da Seda "Bixo Da Seda" (1976) >


Tony Bizarro - see artist discography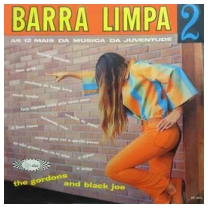 Black Joe & The Gordons "Barra Limpa 2: As 12 Mais Da Musica Juventude" (Op-Disc)
I'm not sure what to make of the singer called Black Joe (who apparently took his name from an iffy old Stephen Foster song...) I own one of his records, I've seen two others, and it appears there are at least a half dozen of them, all issued on the cheapo Op-Disc label, all from indeterminate dates in the mid-to-late '60s. There's a definite crossover in his work with the prefab, teenie-bopper jovem guarda style, with Black Joe both premiering and covering songs in the genre, and writing a few himself... And yet, the man remains a mystery, relegated to the back pages of Brazilian MPB, with no tangible information about him that I've yet been able to find online. On this album, Joe seems to have been part of (or backed by) the band The Gordons, but they faded from sight on future albums... So... anyone know more about this guy?? Also... anyone know what year(s) these albums came out?


<! OP 3003 > <! Joe seems to have been part of (or backed by) the band The Gordons > <! Meu Grito Condźssa De Hong Kong Coisinha Estúpida Nossa Canćčo A Praća O Ciúme O Bom Rapaz Coraćčo De Papel Música Para Ver A Garota Passar Eu Nčo Presto Mas Eu Te Amo Pensando Nela Faća Alguma Coisa Pelo Nosso Amor >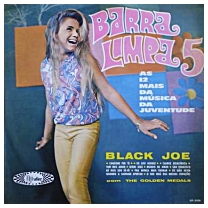 Black Joe & The Golden Medals "Barra Limpa 5: As 12 Mais Da Musica Juventude" (Op-Disc)
(Produced by F. Contreiras)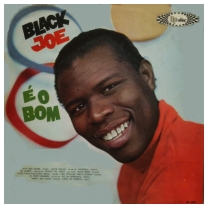 Black Joe "E O Bom" (Op-Disc)
(Produced by F. Contreiras)



<! OP 3011 > <! "Marly Meu Amor" and "xxxxxxxxxxx" by Black Joe; several songs identified as "ye-ye-ye" songs; Carlos Imperial in credits as well >


Aldir Blanc - see artist discography





Billy Blanco - see artist discography





Blitz - see artist discography




Blow Up "Blow Up" (Caravelle, 1969)
The first full-length album by this dynamic hippie-era rock band, formerly known as The Black Cats... These guys cited the Bee Gees as influences; you can also hear traces of sophisticated but hip pop bands such as the Rascals in their work -- and certainly The Zombies, since they cover "Time Of The Season" here (in English, unfortunately -- I would have loved to hear that song em Portuguese!) Blow Up (named after the Antonioni film) later toughened up their sound and became more of a hard-rock group, but this earlier, twee-er stuff is fun, too. Definitely one of the more vigorous rock bands of the jovem guarda era!


<! 01. Estrela que Cai 02. Meu Anjo Especial 03. Vocź Nčo Sabe Amar 04. Ela se Foi 05. Tristeza do Adeus 06. Cada Dia 07. Deixe-me 08. Feliz sem Ter Vocź 09. Os Sonhos Meus 10. Para Ter Seu Carinho 11. Tempo de Amar 12. Eu Nčo Sei >

Blow Up "Blow Up" (Caravelle, 1971)
A pretty groovy hippie rock album, with plenty of stylistic influences, running roughly from the country-folkier side of the Byrds to a more heavy rock sound with little bursts of Cream-ish power chords and more jittery stuff that seems more Brit-Mod influenced. It's pretty cool, even on the songs where they sing in English. Apparently these guys had several changes of line-up and in addition to these two albums they also released a few singles, as late as '77... They certainly seem like good candidates for a best-of reissue disc!


<! 01. Hei Brasil 02. Hello My Baby 03. I Want You Any Way 04. Som D'Avenida 05. Nčo é Natural 06. Canćčo de Quase Um Minuto 07. Noite e Dia 08. Expresso 21 09. Amigo Coraćčo 10. Tá Cozendo o Tempo 11. Meu Amigo Em 1966, nascia em Santos, no bairro do Macuco, o grupo The Black Cats, formado por Robson (guitarra solo), Hélio (bateria), Tivo (baixo e vocal), Zé Luis (vocal), Nelson (teclado) e Adalberto (guitarra base), com forte influźncia dos Shadows, Jovem Guarda, Beatles e Bee Gees. A primeira apresentaćčo do grupo foi em setembro de 1965, na TV Excelsior, no programa Almoćo Musicado, de Hugo Santana. Na onda beatlemania, comećaram a ensaiar e tocar nos bares da regičo, onde conheceram o cantor e compositor mineiro Zegź (mais tarde conhecido por Zé Geraldo), que os convidou para acompanha-lo em seus shows. Em 1968, por já existir outro grupo com o nome de The Black Cats, inclusive patenteado, trocaram o nome para Blow Up, tirado de um filme homônimo de Antonioni. Um ano mais tarde gravam o seu primeiro disco, chamado Blow Up, pela gravadora Caravelle, e participam do filme Se Meu Dólar Falasse, com Grande Otelo e Dercy Gonćalves. O segundo álbum veio em 1971, novamente chamando-se Blow Up, o disco que também é conhecido por Expresso 21, já trazia mudanćas da formaćčo inicial, com a entrada de Lobčo no vocal, em substituićčo a Zé Luis. Os dois álbuns integram as listas de mais procurados por colecionadores, inclusive internacionais, sendo que o seugndo tem sua capa publicada no livro 1001 Record Collector Dreams, do austríaco Hans Pokora, e também pode ser visto no site Rato Laser. Em 1974, ocorre outra substituićčo: entra Adalberto no lugar de Dielson, autor da composićčo de maior sucesso do grupo - Rainbow lanćada em 1976 pela Philips. A música entrou na trilha sonora da novela Anjo Mau (primeira versčo) e, com ela, o grupo participou do Globo de Ouro da Rede Globo, do programa Fantástico, da mesma emissora, e entrou na compilaćčo Sua Paz Mundial - Volume 4. Em 1974, ganharam o prźmio de melhor banda do estado de Sčo Paulo, segundo a imprensa especializada, entregue no ginásio do C.A. Juventus. O Blow Up ainda gravaria mais um compacto Pamela Poon Tang, em 1977. Depois de tentativas frustradas com gravadoras que impunham condićões, ou queriam grupos populares no seu elenco, a banda até que tenta fazer um disco independente, mas os obstáculos da época eram muitos e o projeto acaba ficando na gaveta. Em 1988, depois de brigas internas, o Blow Up resolveu encerrar suas atividades. O retorno veio alguns anos depois, com o grupo voltando a se apresentar em clubes e bares de Santos, com um público fiel, que lota todas as suas apresentaćões. A formaćčo atual conta com Lobčo (vocal), Hélio (bateria), Marinho (baixo), Lando e Edú (guitarra), Alex Lobinho (sax e flauta) e Oliver Alex (teclado), tocam várias músicas dos Beatles (sua especialidade), Creedence Clearwater Revival, Bee Gees, e até de grupos atuais como R.E.M., entre outros. Atualmente, o grupo se prepara para lanćar um álbum ao vivo, sem nenhuma pretensčo de retorno ao cenário musical, simplesmente deixar um registro na história cultural do rock nacional. Discografia * Zegź/The Black Cats (compacto 7", 1968 - Mocambo) * Blow Up (LP, 1969 - Carvelle Discos do Brasil) * Blow Up (LP, 1971 - Caravelle Discos do Brasil) * Rainbow (compacto 7", 1976 - Philips) * Pamela Poon Tang (compacto 7", 1977 - Philips) >

Boca Do Rio "Boca Do Rio" (Vagabundo, 2007)



A slick, playfully funky mix of Brazi-Latin jazz and sugary pop... These San Francisco Bay Area artists take up the banner from younger, pop-friendly artists like Charlie Hunter, Peter Apfelbaum and Martin Medeski & Wood, who make jazz more accessible and less remote to mainstream listeners... The approach may be too soft for some (including myself) but for the right listeners, it'll be like aural catnip. Included in this crew are guitarist-singer Kevin Welch and pianist Jacob Aginsky (who once tickled the ivories at a local Bay Area breakfast joint I used to frequent...) The style isn't my cup of tea, but I'm not the only arbiter of taste in the world... If you like smooth-sounding world-jazz, this might really grab you.





Boca Livre - see artist discography


<! Boca Nervosa "Do Samba Rock Ao Swing No Chic Show" (xxxxxxxxxxxxxxxx, xxxxxx) Boca Nervosa "Conta Do Abreu" (xxxxxxxxxxxxxxxx, 1985?) - EP? Boca Nervosa "xxxxxxxxxxxxxxxxxxxx" (xxxxxxxxxxxxxxxx, xxxxxx) Boca Nervosa "xxxxxxxxxxxxxxxxxxxx" (xxxxxxxxxxxxxxxx, xxxxxx) Boca Nervosa "Nego Veio" (xxxxxxxxxxxxxx, xxxxxxx) Boca Nervosa "High Society Da Favela" (Canta Brasil, 2001) >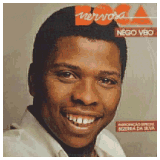 Boca Nervosa "Nego Veio" (Raposa Discos, 1985)
(Produced and arranged by Ze Carlos)
Sweet, pleasant acoustic samba with an old-school acoustic pagode feel... A few songs start off with gooey keyboards, but there are only a few songs that do, and they aren't really horrible, just a little annoying for a few moments... Mostly, this is a very nice set, with the sweet, classic sound. Recommended!





Bola Sete - see artist discography




Bolao "Favoritas Do Brotos" (RCA Camden, 1961)
The saxophonist nicknamed "Bolao" was apparently a member of the studio group Os Sambaloucos, and recorded several solo albums as well, many with youth-oriented "fad" themes.




Bolao "Cha Cha Cha E Twist" (RCA Camden, 1963)





Bolao "Muito Legal! Hully-Gully, Surf, Twist" (RCA Victor, 1964)





Bolao "Hully Gully" (RCA Victor, 1964)





Bolao "Forro Do Bolao" (Arlequim, 1979)



<! with Dominguinhos >

Bolao "Back 2 Bahia" (Stern's, 2003)



This percussionist, also nicknamed "Bolao," is a different guy from the '60s jazz musician. Not a lot of info about this release, either: for one thing, I'm not sure if this is the drummer Carlos Bolao listed below. Anyone know more about this guy?
Carlos Bolao "Pulsacao" (Guitarra Brasileira, 2009)






<! Ceatano Veloso performs on one track, "Sim/Nao" - is there a professional connection?? >
Bom Gosto "Roda De Samba: Ao Vivo" (EMI, 2005)


Old-school traditional samba-raiz -- the kind of stuff that was called pagode in the 1970s, before the term was taken over by slick pop-samba bands in the 1990s. Anyhoo, if you like groups such as Grupo Fundo De Quintal or Grupo Revelacao, you might like these guys, too.
Bom Gosto "Deixa Eu Cantar Meu Samba: Ao Vivo" (Sony-BMG, 2007)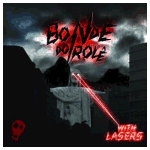 Bonde Do Role "With Lasers" (Domino, 2007)


A poppy, techno-y, gleefully brainless, version of the baile funk/funk carioca dance style. This band's secret weapon is the piercingly tinny, half-innocent/half-mocking, adolescent tones of Marina Gasolina, who is, I believe, both the band's singer and the name of their hit single... It's kind of a Salt'n'Pepa/L'Trimm thing going on here. Anyway, I'm maybe a little too old for this kind of thing, but if you're looking for Brazilian music that (was) a little bit more modern, or more lighthearted than all that classic bossa and MPB, this party-down dance band might be just what you ordered.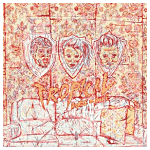 Bonde Do Role "Tropicalbacanal" (Mad Decent, 2012)


I like this followup full-length better, just because it seems better produced and because they seem like a more accomplished band, after several years making EPs and remixes and whatnot. It just feels like a better record, even though ironically it has more kind of music that actively irritate me (a greater overt emphasis on rap, and more English-language lyrics; also less Gasolina). Lots of guest stars on here, most notably Caetano Veloso, who really, really, wants to make the scene with the kids today. Although there's a lot of stuff on here I'd say I don't need to listen to more than once, there are also several very fun songs... Overall, this definitely worth checking out.
Luiz Bonfa - see artist discography

Marcelo Bonfa "O Barco Alem Do Sol" (Trama, 2000)



A bouncy solo effort by a former member of Brazil's revered part-punk pop supergroup, Legiao Urbana. As with his old band's work, this album alternates between more-indie and more-commercial leanings... The Velvet Underground-ish undertone of a few songs is nice (but not that prominent), while a other tunes drift into formulaic alternapop. The overall effect is, I suppose, of a Brazilian Morrissey (?) Probably worth checking out, if you're interested in hearing something from the world of modern, international guitar rock.
Marcelo Bonfa "Bonfa + Videotracks" (EMI, 2004)



A 2-disc CD-DVD set...
Marcelo Bonfa "Mobile" (Giz Producoes, 2008)

Emilinha Borba - see artist discography
Luiz Bordon "Recordando Carnavais" (Chantecler, 1960-?)
Carnival hits played on the Paraguayan harp? What will they think of next...?

Ari Borger "Blues Da Garantia" (ST2, 2000)


The blues have never had a particularly large presence in Brazil... The tropicalistas dabbled in them a bit; various rockers have played a riff here and a riff there, but for the most part, the style never seemed to strike the fancy of Brazilian audiences. That makes this a very unusual album -- an accomplished, hard-edged, houserocking blues blast, led by Sao Paulo pianist Ari Borger. He's got the goods: this is a punchy, well-produced set... superior, even, to most of the blues coming out in the United States these days. Vocalist Ivone Williams, who fronts the band on most of these songs, also has serious blues chops, wailing away in a Koko Taylor-y, Francine Reed-like fashion. The only trouble, though, is that most of the songs are sung in English, rather than Portuguese, which makes this merely a good blues album, rather than a rare and amazing cultural artifact. Still, this is worth checking out if you want to hear a completely different kind of Brazilian pop.


<! 110 x 108 >

Ari Borger "AB4" (ST2, 2004) <! 2007? >

Ari Borger "Backyard Jam" (GRV, 2010)

Lo Borges - see artist discography

Os Borges "Os Borges" (EMI-Odeon, 1980)



The Borges family band, featuring Lo Borges and his half-dozen brothers, as well as their mom and dad, as well as guest performers Lucio Alves, Gonzaguinha, Milton Nascimento and Elis Regina... A little more accessible than Lo's own work, but definitely some similarities that give a sense of what his musical roots were like... Interesting!
Joao Bosco - see artist discography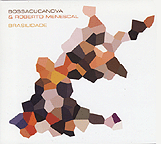 Bossacucanova & Roberto Menescal "Brasilidade" (Six Degrees/Ziriguiboom, 2001)



As one of the primary architects of bossa nova's sleek, tony sound, composer Roberto Menescal is justifiably a legendary figure, having co-written or arranged several of the genre's greatest early standards. Over the years, though, his own albums have tended towards syrupy easy-listening, particularly his many all-instrumental albums. But Menescal's penchant for the lightweight finds a surprisingly effective match in the retro EZ-fusion impulses of the Bossacucanova collective, which, by the way, includes his son Marcio as a member of the band. BCN's sub-jungle skittering and flat-out house-trance disco-isms lend themselves perfectly to Menescal's melodic minimalism. It's as if all those old albums of his were just waiting for someone to insert a few extra breakbeats and noodly toodlings to fill the empty spaces. Improbably, this is a pretty good record, and only mildly embarrassing to listen to. Worth checking out.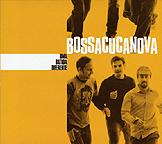 Bossacucanova "Uma Batide Diferente" (Six Degrees, 2004)



A fine album, in my opinion their best to date. The clubby touches accent but do not outweigh the more "Brazilian" elements, and finally the fusion sounds seamless. Guest stars abound on this well-produced album, including Marcos Valle (father of Bossacucanova's Marcio Valle), Adriana Calcanhoto and singer-guitarist Celso Fonseca and old-school '60s soulster Orlandivo. A few tunes got on my nerves, but for the most part, this was a very listenable record... Worth checking out!
Bossa Tres/b> - see artist discography

Richard Boukas & Jovino Santos Neto "Balaio" (Malandro, 2001)


Mellow and accomplished acoustic jazz featuring original compositions by this New-York based guitarist and Brazilian pianist. There are also a trio of tunes by Braz-jazz legend Hermeto Pascoal, whose band Jovino Santos Neto performed in for much of the 1990s... The vibe is kind of a cross between John McLaughlin and Milton Nascimento -- Boukas scats in a very Milton-like fashion, although with more restraint and precision. These tunes are generally very sprightly; overall this isn't my cup of tea, but it's very nice for the style, and if you like acoustic jazz, you might enjoy this disc...


<! 130 x 130 >

Boyz From Brazil "Boyz From Brazil" (Ya Basta, 1999)



...Who actually seem to be from France. Lounge-y, acid-jazz-y, break beat-y mellow stuff which rather obliquely refers back to the acoustic cool of bossa nova and the (somewhat muted) thunder of Afro-Brazilian percussion. Not my cup of tea, but fans of the style might find this 2-CD set to be quite pleasant.
---
Brazilian Music - More Letter "B"
---



Main Brazil Index
World Music Index

---