<! MP3 11/18/08, 11/10/09, 03/11/12 > <! pix 11/10/09 reorg > <! ALLBM 00/00/00 > <! icons 01/21/11 > <! UPDATES: 11/18/08, 01/21/11- updated Ana Carolina 03/11/12 - added Os Cariocas, Antonio Carlos & Jocafi pages >
---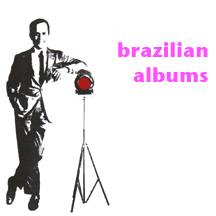 This is Page 2 of miscellaneous artists under the letter "C"
If an artist or album you like is not reviewed here, please feel free
to contact me and make a suggestion.
---
A | B | C-1 / 2 / 3 / 4 / 5 / 6 / 7 | D | E | F | G | H | I | J | K | L | M | N | O | P | Q | R | S | T | U | V | W | X | Y | Z | Compilations
Brazilian Styles | 30 Recommended Records | Portuguese-language pop | Brazilian Links | Slipcue.Com
---
Ana Caram - see artist discography

Os Carbonos "Serie Bis - Jovem Guarda" (EMI/Copacabana, 2000)


Mainly sluggish, mid-tempo teeniebopper ballads, recorded between 1969-81, well after the real Jovem Guarda boom. Although there are plenty of potentially interesting cover tunes ("Bus Stop," "Mellow Yellow," Arthur Adams' "Anna"...) none of the performances are very exciting... this is basically the Brazilian equivalent of the kind of oldies cover band you'd hear at a country fair up here in the States... Of note, though, is their version of "Never Never," by Uruguay's Los Shakers, which is still pretty rinky-dink, but noteworthy because of the pan-Latin American link.
Os Carbonos "Selecao De Ouro" (2007)

Os Carbonos "So Samba!" (Beverly, 1973)

Elizeth Cardoso - see artist discography
Leonel Jose Cardoso/Leonel Do Trombone "Samba E Balanco" (Copacabana, 1954) (LP)





<! CLP-11604 - year per Amoeba site >


Wanderley Cardoso - see artist discography




Os Caretas "Historia Dos Sambas Enredo: 1932-1975" (Polydor, 1975)
Usually samba de enredo albums are collections of the best carnaval songs, issued as souvenirs from the various samba schools which had competed or won in a given year. This one, however is a collection of famous or winning songs, drawn from five decades of competitions, and performed by one band (the studio band Os Caretas, who did a series of generic souvenir albums in the 1970s). The survey includes famous songwriters such as Noel Rosa, Cartola, Ze Keti and Candeia, as well as dozens of more obscure writers. Musically, this is quite pleasant, though also quite static -- the arrangements (percussion, cavaquinho, cuica, chorus) are unvaried from track to track. Of course, it's a sound that's hard to find fault with, so sonic homogeneity may not be a problem for many.




Carioca E Sua Orquestra "Classicos No Samba" (RCA Victor, 1961) (LP) <! BBL 1083 -- 1960?? >
Classical music, played in Brazilian big band/samba gafieria style...


<! Personnel: Fats Elpidio (tracks 06, 10 and 12) Laerte (piano) Paulo Moura, Wilson, Aurino, Sandoval and Orfeu (sax) Mozart, Barriquinha, Maurilio and Clelio (piston) Nelsinho, Norato, Macaxeira and Jose Leocadio (trombone) Del Loro (guitar) Luis Marinho (bass) Barao and Plinio (drums) ...and several others on rhythm section, available with the music. >


Carioca (Ronaldo Leite de Freitas) - see artist discography





Os Cariocas - see artist discography




Carlao "Carlao" (1981) <! label? >



<! same as Carlao Elegante? Or Carlao Bueno? >


Antonio Carlos (& Jocafi) - see artist discography





Erasmo Carlos - see artist discography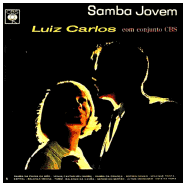 Luiz Carlos "Samba Jovem" (CBS, 1965)
A fun set from a third-tier performer who actually could have (or should have) been more famous... Although the album title (and songwriter credits) hint at this being a jovem guarda-style rock record, the music is mostly jazzy, Vegas-tinged samba-pop similar to what Jorge Ben and Wilson Simonal were doing at the time, bouncy -- upbeat material with velvety crooner vocals. The backing band (anonymously billed as "Conjunto CBS") is talented but a little too slack, while Carlos is a compelling singer, with a broad, warm voice, and a swinging sensibility. While the music isn't dazzling, it's still a cheerful snapshot of the times. I can't find much biographical info on this guy, although I am curious about the jovem guarda connection: there are a couple of songs written by Renato Correia (of the Golden Boys) and five more by TV host Erasmo Carlos: were they relatives? Anyone know? Anyway, if you like Jorge Ben's earliest albums, you'll enjoy this, too.


<! With the "Conjunto CBS" == no producer info == 01 - Samba na Palma da M‹o (Erasmo Carlos) 02 - Venham Cantar Meu Samba (Renato Correia / Donaldson Gon¨alves) 03 - Samba da Crian¨a (Erasmo Carlos) 04 - Sofres Demais (Dalmo Castello / Ant™nio Valente) 05 - Moleque Trinta (Erasmo Carlos) 06 - Espiral (Ivan Botticelli) 07 - Balan¨a Menina (Renato Correia / Donaldson Gon¨alves) 08 - Timb— (Erasmo Carlos) 09 - Balan¨o da Canoa (Dalmo Castello) 10 - Menino do Sert‹o (Erasmo Carlos) 11 - ņltima Mensagem (Dalmo Castello / Ant™nio Valente) 12 - Est‡ na Hora (Hamilton) > <! Luiz Carlos Vinhas??? >


Roberto Carlos - see artist discography




Ze Carlos "Vamos Nessa" (CID, 197--??)
(Produced by Aramis Barros)
One of the great Brazilian session players, guitarist Jose (Ze) Carlos was a ubiquitous presence on countless albums, particularly during the peak of the 1970s MPB scene... Here he is backed by several of his studio-pro contemporaries, including the duo of Jaime Alem & Nair in the vocal chorus, along with Lilian Knapp (formerly of the teen-pop duo of Leno & Lilian. This album also features arrangements by Maestro Cipo, Ivan Paulo & Geraldo Vespar...


<! 01: deitou e rolou 02: No Pe Da Ladeira 03: VA 04: Pode Ser Que Amanha, Amanheca Chovendo 05: Voce Ja Tem Idade 06: So Felicidade 07: Pagina Colorida 08: Ela Disse-Me Assim 09: Sombra E Agua Fresca 10: Um Novo Dia 11: Malandro Moderno 12: Conversa Fiada >

Ze Carlos "Passo A Passo" (Mixhouse, 2000)


These soft-jazz instrumentals, featuring guitarist Ze Carlos, are not my cup of tea. Not particularly "Brazilian" sounding, either. Folks more in the Pat Metheny/Kenny G swing of things might enjoy this, though.


<! Eldorado? > <! "Caminhante" by Ze Carlos Medeiros -- same guy? -- B00006J3R7 >


Ana Carolina - see artist discography





Altamiro Carrilho - see artist discography





Cartola - see artist discography





Beth Carvalho - see artist discography




Daniel S. Carvalho "Brazilian Rhythms For Dancers, Vol. 1" (Self-released, 2004)



Four prime tracks of instrumental batucada drumming...
Delcio Carvalho "Canto De Um Povo" (Polydor, 1980) (LP)

Delcio Carvalho "Amar E Sofrer" (Paralelo) (LP)

Delcio Carvalho "A Lua E O Conhaque" (Eldorado, 2002) <! date? >

Delcio Carvalho "Inedito E Eterno: Roda De Samba" (Rob Digital, 2003)

Delcio Carvalho "Inedito E Eterno: Acustico" (Rob Digital, 2003)

Delcio Carvalho "Inedito E Eterno: Encontros Musicais" (Rob Digital, 2003)

Delcio Carvalho "Profissao Compositor" (Rob Digital, 2007) <! date? >


Nilze Carvalho "Choro De Menina" (CID, 1980)


A remarkable and beautiful choro album recorded by pre-teenage cavaquinho prodigy, Nilze Carvalho... I'm not sure how old she was when this disc was recorded, but judging from the picture on the cover, it couldn't have been much more than twelve years old, or so... And she is a stunning musician, not merely in a technical sense, but also for the depth and emotion she is able to infuse into her performances. Accompanying her is one of the premiere choro revival groups, Epoca de Ouro, and this is one of their best works as well. The arrangements are both lively and inventive, particularly with the use of percussion. There's none of the static feel or formalism of, say, Joao Nascimento's albums, but rather a lot of give and take between the precocious soloist and her backing back, and lots of creative, joyful playfulness. This is a wonderful set -- her first album, I believe.


<! Recorded with the participation of Conjunto Epoca de Ouro & Netinho. >

Nilze Carvalho "Chorinhos De Ouro, v.4" (BMG, 1992)

Nilze Carvalho "Chorinhos De Ouro, v.7" (CID, 2005) <! real date >





<! Compilation gathering greatest Choro hits played by this virtuoso female mandolim player. >

Nilze Carvalho "Estava Faltando Voce" (Rob Digital, 2005)

---
Brazilian Music - More Letter "C"
---



Main Brazil Index
World Music Index

---