<! MP3 10/29/08, 11/11/09, 03/14/12 > <! pix 11/11/09 reorg > <! ALLBM 00/00/00 > <! icons 01/21/11 > <! UPDATES 03/14/12 - some new pix, posted new Cidade Negra page >
---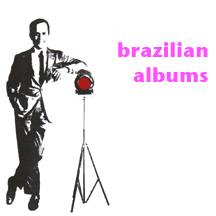 This is Page 5 of a listing of miscellaneous albums and artists under the letter "C"
If an artist or album you like is not reviewed here, please feel free
to contact me and make a suggestion.
---
A | B | C-1 / 2 / 3 / 4 / 5 / 6 / 7 | D | E | F | G | H | I | J | K | L | M | N | O | P | Q | R | S | T | U | V | W | X | Y | Z | Compilations
Brazilian Styles | 30 Recommended Records | Portuguese-language pop | Brazilian Links | Slipcue.Com
---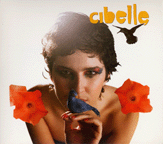 Cibelle "Cibelle" (Six Degrees/Ziriguiboom, 2003)



Mellow soul-electronica vocals with rich, multi-textured arrangements courtesy of producer Apollo 9 (known for his work on the Caipirissima collection). Cibelle, who previously worked with the Yugoslavian expatriate Suba, emerges here as a singer of note: her silken tones dance gently inside the rhythms, while the music itself is imaginative and engaging, a cut above the usual club mix murk. This is soft stuff, unapologetically easy listening, but quite lovely all the same, with contributions by old-timers such as singer Johnny Alf, samba-funkster Joao Parahyba (of the '70s soul band, Trio Mocoto), and a slew of younger Sao Paulo club kids. If you're in search of a pretty-sounding, alluring set to lower your blood pressure by, this dreamy disc may be be for you!
Cibelle "The Shine Of Dried Electric Leaves" (Six Degrees/Ziriguiboom, 2006)


Cibelle "About A Girl" (EP) (Six Degrees/Ziriguiboom, 2007)

Cibelle "Green Grass" (EP) (Six Degrees/Ziriguiboom, 2007)

Cibelle "White Hair" (EP) (Six Degrees/Ziriguiboom, 2008)

Cidade Negra - see artist discography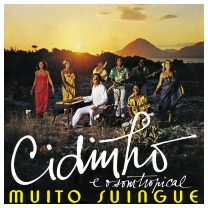 Cidinho "Muito Suingue" (Phillips, 1980) (LP)


(Produced by Paulo Debetio)
Soft-centered pop-funk, with a restrained jazz fusion influence... The complex, cosmpolitan musical influence isn't too surprising since composer Sergio Paulo Valle co-wrote most of this material... The backbeats bring Tim Maia's funk to mind; the warm vocals (and shrill female chorus) conjure up Jorge Ben's work, and the rolling piano adds a whiff of glossy, lounge-y jazz, as well as a fair dose of Cuban-style salsa, sort of like a Brazilian version of Cuba's Irakere. It's slick, but not bad; not bad at all. Eliana Pittman guests on one track, "Amor Proibido," while guitarist Luiz Vagner and singer Maria Vera each appear on several other songs. (See also: Cidinho Texeira)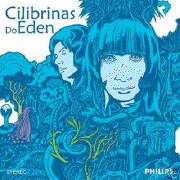 Cilibrinas Do Eden "Cilibrinas Do Eden" (Philips, 1973)


A stunning psychedelic-rock reissue from the vaults of the Brazilian tropicalia scene... This is cool acid rock album from Rita Lee, of the band Os Mutantes, singing here with her friend Lucia Turnbull and (as was common in her early solo career) some help from her buddies in the Mutantes bands. Turnbull is a cipher to me -- outside of this album, I know very little about her -- but this album is a real dazzler, one of Lee's grittiest and most impressive rock records, better than pretty much anything she did with her '70s solo band, Tutti Frutti. It features Brazilian cult classics like "Ainda Bem (Bad Trip)" and some of the wickedest electric guitar work of her career. This album was built around an electrifying performance at the 7th International Song Festival, in 1972 -- a live concert single (also included here) led to a studio recording, all of which is pretty striking. The album's original liner notes make nods towards Alice Cooper and the subversive hard rock of the era, and unlike the 1970s Mutantes and Tutti Frutti albums, this disc doesn't tilt as heavily towards a commercialized, stadium-rock sound, sticking instead to the more piercing, disturbing end of the glam/hard-rock/psychedelic spectrum. It's pretty cool, if not entirely the kind of record you'd want to relax to at home. If you can track it down, this is definitely worth snapping up.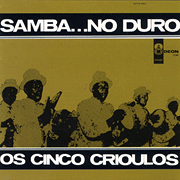 Os Cinco Crioulos "Samba... No Duro" (Odeon, 1967)
Simple and simply irresistible acoustic sambas, with a quintet that features Nelson Sargento, Elton Medeiros, Jair do Cavaquinho, Mauro Duarte and Nescarzinho do Salgueiro, some of the most talented samba revivalists of the post-bossa era. The percussion is catchy, the melodies sweet, the vocal coros is only a few voices in harmony (as opposed to the large group chorus that became part of the '70s pagode style), and the songs are all great. This one's a keeper.

Os Cinco Crioulos "Samba No Duro, v.2" (Odeon, 1968)
Pure gold. If anything, the group had improved upon its sound by this second album... Dominated by lively cavaquinho riffs and an overall ebullience, this disc is a real gem. Highly recommended!
Os Cinco Crioulos "Series Do Raizes" (EMI, 2000)


A compilation of this fine acoustic samba band's early work, including plenty of material from the Samba... No Duro album. Sweet stuff -- recommended!
Leonardo Cioglia "Early Years" (Quizamba Music, 1995)

Leonardo Cioglia "Bean Oil In A Pot" (Quizamba Music, 1999)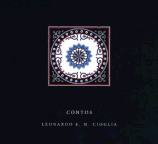 Leonardo Cioglia "Contos" (Quizamba Music, 2008)


(Produced by Leonardo Cioglia)
Swank, mellow, self-produced jazz from bassist Leonardo Cioglia, a Brazilian-born expatriate now living in New York... I don't hear as much of a Brazilian influence on this disc, but it's pretty solid for fans of "smooth jazz" -- strong, confident playing throughout. It's not totally my cup of tea, but it's quite good for the genre. If you like this, you can also check out his band, Zabumbatuq...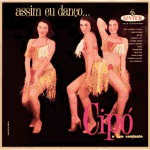 Cipo E Sua Orquestra "Assim Eu Danco" (Sinter, 1952)
Snoozy orchestral dance music, with a teeny dash of Brazilian gafieira and a much larger debt to Cuban rumba music... The sometimes lugubrious horn arrangements owe perhaps more to North American big bands than to the Brazilian composers (Ary Barroso, et al) whose work gets the big blanding-down. In addition to bandleader/saxophonist Cipo, there are some heavy hitters from the pre-bossa nova era, including trombonists Lord Astor and Edson Maciel... On Side Two things perk up a bit, with a little samba rhythm creeping in, and a few intriguingly jazzy leads kicking in, as on "PraŤa Onze" and "Comigo E Assim." Mostly, though, this isn't a very inspiring album -- for better material of the same vintage, check out Trio Surdino and Mestre Zaccarias...


<! Side A 01 - N‹o se aprende na escola (Haroldo Barbosa) 02 - Assim eu danŤo (Cip—) 03 - Sedutor (Oswaldo Lyra - Carlito) 04 - Juramento falso (Orlando Silva) 05 - A grande verdade (Luiz Bittencourt - Marlene) 06 - Na baixa do sapateiro (Ary Barroso) Side B 07 - Faceira (Ary Barroso) 08 - Conquistador (Cip—) 09 - PraŤa Onze (Herivelto Martins - Gotelo) 10 - Comigo Ž assim (JosŽ Menezes e Luiz Bittencourt) 11 - Jo‹ozinho Boa Pinta (Haroldo Barbosa - Geraldo Jacques) 12 - Doce recordaŤ‹o (Cip—) Norato, Astor, Edmundo Maciel, Edson Maciel, Nelsinho Macaxeira, Manoel Araśjo - trombone Oswaldo Pereira Lyra, Henrique Galhardo, Cip— - sax Lauro Miranda - piano Vidal - contrabass Elias, Paulo Marques, Arno Canegal - tamborim, pandeiro Paunorte - drums espalas: Norato (2,3,4,6,7,8,9,12) Astor (10,11) Edmundo Maciel (1), solo (5,8) Nelsinho Macaxeira (4) Manoel Araśjo (5) Henrique Galhardo, solo (9) >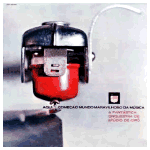 Cipo E Sua Orquestra "Aqui Comecao Mundo Maravilhoso Da Musica" (Imperial, 1964)
Billed as "A Fantastica Orquestra De Studio De Cipo": mostly a set of standards and oldies from up North: "Caravan," "That Old Black Magic," "Harlem Nocturne," "My Funny Valentine," that sort of thing, not done in a particularly "Brazilian style. Cool album cover, though: that's a close-up of an old turntable stylus touching the edge of a vinyl LP.


<! 01 - Rei dos reis 02 - That old black magic 03 - I've got you under my skin 04 - I love you Samantha 05 - Blue gardenia 06 - Harlem nocturne 07 - Caravan 08 - Days of wine and roses 09 - What's new 10 - Answer me 11 - My funny Valentine >

Cipo E Academia De Samba Imperial "Ritmo Espetacular" (Imperial, 1965)





Cipo And His Authentic Rhythm Group "Brazilian Beat" (London, 1965)



<! reissue of which record? >


Claudia - see artist discography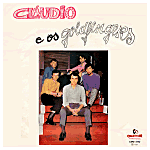 Claudio E Os Goldfingers "Claudio E Os Goldfingers" (Chantacler, 1967)
Earnest but often lethargic late-'60s jovem guarda, with echoes of Roberto Carlos' RC-7, especially the meandering electric organ of bandleader Claudio de Souza, whose playing doesn't really work most of the time, but is still a charming reminder of the era. The repertoire includes some originals and some covers of '60s pop hits ("Goldfinger," for example) but nothing that'll knock your socks off... Not a great record, really, and not as teenybopper super-cute as other stuff from the time, but worth checking out if you're hardcore into the style.





Luiz Claudio - see artist discography


<! Claudinho & Buchecha >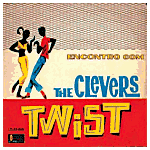 The Clevers "Encontro Com The Clevers - Twist!" (Continental, 1963) (LP)


A solid surf/instrumental rock set by the band that later changed its name to Os Incriveis... Later, in a move worthy of Don Kirshner or Phil Spector, the labels put together a new group called The New Clevers, and issued several albums under that name... But this was the real, original band, and they were pretty good. If you like the whole Cliff Richards/Shadows sound, you'll probably get a kick out of this as well.
Clube Do Balanco "Samba Incrementado" (Spin Music/MCD, 2004)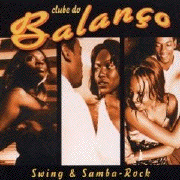 Clube Do Balanco "Swing & Samba-Rock" (Spin Music/MCD, 2005)



This was recommended to me by a reader... and it's pretty cool! This Sao Paulo-based ensemble pays homage to the smooth Brazilian soul-samba sound of the 1970s, picking up where artists such as Jorge Ben, Banda Black Rio and Tim Maia left off. And they get the style completely right: this is smooth, mellow party music, perfect for a relaxing evening on a steamy, summery dancefloor. The grooves are sweet, the rhythm is gentle but persistent, and the vibe is just right. Plus, they are amazingly well-connected: guest performers include Brazilian pop and funk icons such as samba-funkster Bebetos and Marku Ribas, jovem guarda legend Erasmo Carlos, Seu Jorge and a host of younger soul-funk-triphoppers like Max De Castro, Paula Lima and Wilson Simoninha, each seamlessly mixed into the band's groovy party vibe. If this sounds like it's up your alley, trust your instincts: it's really quite good!
---
Brazilian Music - More Letter "C"
---



Main Brazil Index
World Music Index

---