<! MP3 10/29/08, 03/17/12 > <! pix 11/12/09 reorg, 11/28/12 > <! ALLBM 00/00/00 > <! icons 01/21/11 > <! UPDATES: 03/17/12 - new pages for Gerson King Combo, Carmen Costa, Yamandu Costa 04/01/13 - added: Nando Cordel, Codo, Baby Consuelo, 04/26/14 - some 144s to 160s > <! Conjunto Realidade - on old samba comp > <! Ed Costa "...E Sua Musica Maravilhosa" (RGE, 1983) > <! ConSertao "ConSertao" (Kuarup, 1983) (Kuarup 0008) B00413UTOY - LP B000XTFNC8 - MP3 A jazz-and-classical-meets-the-sertao jam session, featuring the quartet of Elomar, Paulo Moura, Arthur Moreira Lima and Heraldo do Monte >
---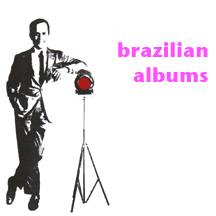 This is Page 6 of a listing of miscellaneous albums under the letter "C"
If an artist or album you like is not reviewed here, please feel free
to contact me and make a suggestion.
---
A | B | C-1 / 2 / 3 / 4 / 5 / 6 / 7 | D | E | F | G | H | I | J | K | L | M | N | O | P | Q | R | S | T | U | V | W | X | Y | Z | Compilations
Brazilian Styles | 30 Recommended Records | Portuguese-language pop | Brazilian Links | Slipcue.Com
---
Os Cobras "Os Cobras" (Copacabana, 1960)
Smooth, danceable dinner jazz from an all-star cast: guitarist Waltel Branco, Ed Maciel and Moacyr Silva on horns, samba percussionist Paulinho and some splashy piano playing by Chaim Lewak... Not sure if there was any connection between this combo and the Os Cobras jazz band listed below, tough I suppose it's possible, even though there's no overlap in the personnel. Also, these guys were much more mainstream and pop-oriented... But they also had a nice, smooth sound with a lightly swinging bounce. Paulinho's samba crew gets to cut loose on one track, where the cuica solos at the start of "E Bom Assim," though for the most part it's straight jazz-combo arrangements, with the percussion buried in the mix. Pretty listenable and sweet, though not very groundbreaking. On the light side, but pleasant and worth a spin.


<! Apparently a DIFFERENT group: Chaim Lewak Ed Maciel Julinho Barbosa Moacyr Silva Paulinho (Baterista) Waltel Branco >

Os Cobras "O LP" (RCA, 1964)



(Produced by Roberto Jorge)
An all-star Brazilian jazz band, featuring hot-shot players such as Milton Banana, Tenorio, Jr., Raul De Souza, Paulo Moura and J.T. Meirelles. Like many of the Brazilian jazz albums that actually are jazz albums, this is more jazz than "Brazilian"... With the exception of a cover of Clifford Brown's "Blues Walk" (which was a favorite standard in Brazil), these songs are all homegrown compositions... yet they sound like straight-up hard jazz from the 'Fifties, early 'Sixties era. This album is notable both for the calibre of talent in the band, but also for the weight of their playing -- this still isn't my cup of tea, but I like it better than the tinkly, hyperactive cabaret style which predominated in the bossa nova years.


<! 144 x 144 >


Codo - see artist discography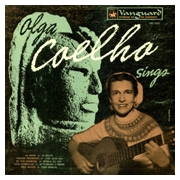 Olga Praguer Coelho "...Sings" (Copacabana, 1952) (LP)
An early star of Brazilian radio, Olga Praguer Coelho (1909-2008) was a soprano vocalist and guitarist who made the scene with the cultural elite of Europe and Brazil, and was an artistic ambassador to continental Europe and the United States, notably performing at the 1936 Berlin Olympics and playing a Carnegie Hall gig at the behest of Aaron Copland, where she showcased Heitor Villa-Lobos' "Bachianas Brasileiras." For over a decade, Praguer Coelho was the lover of classical guitarist Andres Segovia and she lived in the United States for many years, returning to Brazil in the '70s where she resumed her radio career. In addition to these two albums, she recorded over a dozen 78s between 1929-1942, but doesn't seem to have done any studio work past the 1950s.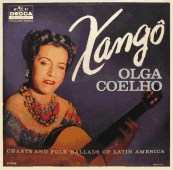 Olga Praguer Coelho "Xango: Canciones Folkloricas De America Latina" (Decca, 1959) (LP)


A selection of songs from several country, with about two thirds of them being from Brazil. This is an odd album, or at least one that will sound unfamiliar to most fans of mainstream Brazilian music -- Praguer Coelho's refined, operatic approach to Latin American folkloric material is a bit songbirdish, and initially her soprano trills made me think I'd discovered a Brazilian Madame Castafiore, but further exploration made me soften a bit... Her Spanish-influenced guitar work is pretty solid. Still... this is a little hard to take, if we're really being honest.


<! about a dozen 78s on Odeon and Victor between 1929-1942 > <! had a decade-long affair with Andres Segovia > <! went to New York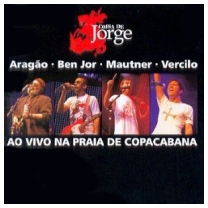 Coisas De Jorge "Ao Vivo Na Praia De Copacabana" (EMI, 2007)


Funny concept: for musicians with the same first name -- Jorge Aragao, Jorge Ben, Jorge Mautner and Jorge Vercilo team up for a concert album. Not sure if they perform together, but for now I'll add this as a "band." If I track this one down, I'll let you know how it sounds.
Colera "Tente Mudar Amanha" (Ataque Frontal, 1985)
Brazilian hardcore punk, circa 1985. The inner label says something about "introducing Suburbio Geral..." Their lead singer, perhaps? Anyone know more about these guys?
Gerson King Combo - see artist discography

Comunidade S8 "O Rio Das Aguas Que Saram" (1977)
Painfully earnest chamber-folk Christian psychedelia, with a mix of hurdy-gurdyesque acoustic swirliness, flat, sombre male vocals, counterpoised with a keening female soprano, and an almost unvarying musical approach from track to track. Religious messages are laced throughout, which may account for the overly-serious tone ("S8" stands for "salvation eternal...") A countercultural relic, to be sure, but I didn't find it that interesting: the arrangements are dreary and monotonous, reminiscent of the madrigal moments of old Os Mutantes albums, but without the rock vibe to cut through the classical pretensions. Apparently this group, and its evangelical ministry are still around, decades after their formation in the late 'Sixties... This was their first LP.


<! 144 x 144 >

Companhia Do Pagode "Psiu Psiu: O Melhor Do Companhia Do Pagode" (Polygram/Mercury, 1998)


A perfect example of the degradation of "pagode" music from the richly-layered acoustic sambas of the 1970s into the more stripped-down, popped-up, commercialized dance style of the 1980s and '90s. The artwork says it all: a couple of dorky guys in casual, polyester-y outfits, flanking three scantily-clad young women, whose tight-fitting swim clothes seem designed primarily to show off their tushies and midriff. The image is tacky, although the music is appealing, in a bland, brainless kind of way. If you put this stuff on, you'll find yourself tapping your toes and nodding your head... But while it works as simple pop music, it's not even exciting enough to count as a guilty pleasure. This best-of set includes several live tracks... It's all okay, inoffensive but unchallenging.


<! 144 x 144 > <! Sergio Rocha, Negao Jamaica, Leila, Paulinha, Daniela > <! what are the actual release dates???? Companhia Do Pagode "Nhec Nhec Roinc Roinc" (Universal, 1999) B00000G7QR Companhia Do Pagode "Na Boquinha Da Garrafa" (Universal, 1996) B00008ESP6 Companhia Do Pagode "Na Danca Do Strip Tease" (Polygram, 1999) B00000G7QQ Companhia Do Pagode "Ao Vivo" (Universal-Polygram) B00000G7QP Companhia Do Pagode "Danca Do Canguru" (Universal, 2000) B00003Q57H Companhia Do Pagode "Millennium" (Universal-Polygram, 1999) B0000DEMWA >

Onias Comenda & Edinho Marundele "Eu, Bahia" (Philips/Fontana, 1972) (LP)


An interesting album of berimbau and Orixa-related percussion by two players I've never heard of before. Each artist takes one side of the LP -- Marundele (whose real name was apparently Edson Emerete de Sant'Anna) is the drummer, and his side is dynamic and intense, running through rhythms from Angola and their Brazilian permutations. Similarly, berimbau master Onias Camardelli plays capoeira music from Angola and Bahia, as well as improvisations of his own creation. Some of it is spooky and haunting, some of it seems kind of static and same-y. I don't think the average fan of Brazilian pop would get much out of this, but for cultural scholars and capoeira students, this album would be a goldmine.


<! 144 x 144 >

Edson Conceicao "Quen Tem Fe, Nao Sai!" (CBS, 1977) (LP)

Edson Conceicao "Ai E Que Voce Se Engana" (CBS, 1978) (LP)


Eduardo Conde "Minha Chega" (Philips, 1969)
A schmaltzy pop-bossa album from a modestly talented singer who went on to a long career as a television actor. Conde apparently was a member of the Conjunto 3D, which also featured a young Beth Carvalho as its "girl" singer. I wouldn't say this album is super-special -- the arrangements are distinctive for being a bit cluttered and manic; Conde himself is kind of a corny, emotive crooner, and also a bit generic. This is okay, but it's nothing to get too worked up over. Of note are a couple of songs written by Arthur Verocai, who has gone on to become something of a cult artist over the years...


<! 144 x 144 >

Eduardo Conde "Certas Cancoes Ao Vivo" (LP)

Eduardo Conde "Intimo" (Dabliu, 1998)

Eduardo Conde "Pra Falar De Amor" (2007) <! date? >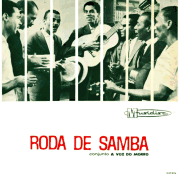 Conjunto A Voz Do Morro "Roda De Samba" (Musidisc, 1965)


This exquisite acoustic album was a foundational touchstone for the traditional samba revival of the 1960s, featuring contributions from master sambistas Jair Do Cavaquinho, Elton Medeiros and bandleader Ze Keti, along with newcomer Paulinho Da Viola, who solos on a couple of songs. It's a beautiful album and a great debut for Da Viola, a joyful, stripped-down session, with each artist trading lead vocals from song to song, round-robin style. All the performances, all the songs, all the melodies and choruses are rich with history and finesse: these guys set the bar pretty high for anyone who would follow. Note: Keti apparently wasn't on this album, although he appears on later Voz Do Morro releases -- the record is no less rich and rewarding for his absence, though. A wonderful album -- highly recommended!
Conjunto A Voz Do Morro "Roda De Samba v. 2" (Musidisc, 1965)

Conjunto A Voz Do Morro "Roda De Samba v. 3" (RGE, 1966)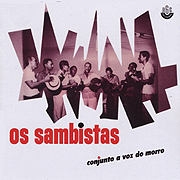 Conjunto A Voz Do Morro "Os Sambistas" (RGE, 1966)


Holy. Cow. If you want to talk about Brazilian music rosetta stones, check this one out. An early samba revival group featuring Jair Do Cavaquinho, Ze Keti, Elton Medeiros, Nelson Sargento and an up-and-coming Paulinho Da Viola, along with the lesser-known Anescar, Oscar Bigode and Jose Cruz... It's a ton of talent in a tightly focussed, thoroughly joyful acoustic samba set with songs sung in praise of the samba schools and slums, with bright, melodic arrangements and a richer sonic texture than many albums of similar vintage. Moreover, it's a ringing proclamation heralding the entry of Da Viola into the Brazilian pop scene... the stuff that history is made of! Snap this up if you get a chance.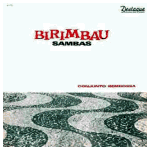 Conjunto Bembossa "Berimbau Sambas" (Destaque, 1964)
Meh. Haphazard, rinkydink lounge-jazz performances of a bunch of early '60s bossa standards, performed with varying levels of enthusiasm and/or proficiency. Some of the differences are so pronounced (good saxophone, versus bad) that I kind of wonder if this album sandwiches together different sessions recorded at different times. Anyhow, I wasn't wowed by this one. Half of the tracks are perky, though the other half seemed kind of sloppy and by-the-numbers, not to mention, pretty corny. I did like their version of "Lamento Da Lavadeira," which closes the album. Hey... does anyone know who was in this group?


<! 01 - Consolaćčo (Baden Powell - Vinicius de Moraes) 02 - A canćčo que virou vocź (Luiz Antonio) 03 - Berimbau (Baden Powell - Vinicius de Moraes) 04 - Meu nome é ninguém (Haroldo Barbosa - Luiz Reis) 05 - Nčo sabemos (Rubens Caruso) 06 - Foi a noite (Tom Jobim - Newton Mendonća) 07 - Garota de Ipanema (Tom Jobim - Vinicius de Moraes) 08 - Água de beber (Tom Jobim - Vinicius de Moraes) 09 - Vou andar por aí (Newton Chaves) 10 - Dona baratinha (Newton Ramalho - Almeida Rego) 11 - Nossos momentos (Haroldo Barbosa - Luiz Reis) 12 - Lamento da lavadeira (Monsueto Menezes - Nilo Chagas - Jočo Violčo) I have noticed that five out of twelve songs (A Canćčo Que Virou Vocź, Água de Beber, Lamento da Lavadeira, Nčo Sabemos and Nossos Momentos) are identical with the recordings on 'Samba 40 Graus' from 1961 by Moacyr Marquez 'Bijú'. So I wonder if this album is an alias release. >


Conjunto Explosao Do Samba - see artist discography




Conjunto Folclorico De Bahia "Viva Bahia!" (Philips, 1968) (LP)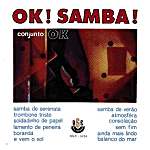 Conjunto OK "OK! Samba!" (RGE, 1964)
(Produced by Walter Arid)
A pretty swinging set of pop-balanco and samba, with a sharp band led by organist Walter Arid, with a modest brass section alongside a nightclub bossa combo, and a perky, all-male vocal chorus. Some of this sounds goofy and poppy, but there are also undertones of the sophisticated MPB being championed by artists such as Edu Lobo and Chico Buarque (with three songs here written by Marcos Valle...) There's even some straight up jazz on songs such as "Consolacao" that holds up to anything being done by the bossa trios of the same era. Apparently this group hung together for several years, and later recorded under the name of Som Okey 5. This is a good album, with strong performances in a variety of styles -- definitely worth checking out.


<! Walter Arid (piano, organ) Augusto (drums) Jair and Vieira (percussion) Ismael (trombone) Perez (piston) Epaminondas (sax tenor, alto and flute) Peri (violao) Clemente (bass) Nilton Siqueira (vocal) Track List 01 - Balanćo do Mar (Zil Rosendo) 02 - Samba de Verčo (Marcos Valle / Paulo Sergio Valle) 03 - Borandá (Edu Lobo / Ruy Guerra) 04 - Soldadinho de Papel (Vica / Afonso Sarmento) 05 - Ainda Mais Lindo (Marcos Valle / Paulo Sergio Valle) 06 - Atmosfera (Dizzy Gillespie) 07 - Consolaćčo (Baden Powell / Vinicius de Moraes) 08 - Trombone Triste (J. Venceslau Neto) 09 - E Vem o Sol (Marcos Valle / Paulo Sergio Valle) 10 - Sem Fim (Roberto Jorge / José Ari) 11 - Samba de Serenata (Vica) 12 - Lamento de Peneira (Geraldo Vespar / Maria Helena Toledo) >

Conjunto Rosa De Ouro "Rosa De Ouro, v.1" (EMI-Odeon, 1965)
Conjunto Rosa De Ouro "Rosa De Ouro, v.2" (EMI-Odeon, 1967)
Conjunto Rosa De Ouro "Raizes Do Samba" (EMI Brasil, 2000)


As part of their excellent "Raizes do Samba" reissue series, EMI has collected both these old albums on one CD. An all-star ensemble including Paulinho Da Viola, Clementina De Jesus, Elton Medeiros, Jair do Cavaquinho and Nelson Sargento... so how could you go wrong? These acoustic sambas are intensely rhythmic, though light on percussion, and heavy on vocals and guitars. When recorded in the mid-'60s, this music was a deliberate throwback; what's modernized about it is the smoothness of performance and production. Mighty nice stuff.
Conjunto Sambacana "Sambacana" (Odeon, 1964)





<! Há quase dois anos atrás eu postei aqui este Sambacana, só que com a capa da versčo lanćada em 1969, pelo selo Imperial. Nem me toquei para o fato e só agora percebo isso. Seja como for, num 'repeteco' que vale a pena ouvir de novo, temos o Conjunto Sambacana, do precursor bossa nova mineira, Pacífico Mascarenhas. Este disco foi lanćado em 1964 e como já foi dito, o primeiro da série Sambacana, de um total de seis lps. O trabalho contou com os arranjos de Roberto Menescal e Hugo Marota. Foi um disco aclamado pela crítica da época e é hoje um símbolo do movimento bossanovista nas Geraes. >

Conjunto Sambacana "Conjunto Sambacana, v.2" (Odeon, 1968)



<! Boa noite amigos cultos e ocultos. Ainda continuo com falta de tempo e planejamento. Longe de casa tudo fica difícil, mas nčo irei perder o rumo. Prova disso é este álbum especial que guardei justamente para o dia de hoje. Esta é a versčo Imperial para o álbum lanćado pela Odeon em 1969 do Conjunto Sambacana de Pacífico Mascarenhas. Para quem nčo conhece, o Sambacana foi o grupo onde Milton Nascimento e Wagner Tiso pasaram em inicio carreira. O conjunto foi criado nos anos 60 pelo compositor Pacífico Mascarenhas, maior representante da Bossa Nova em Minas Gerais. Neste disco temos um bom exemplo do que foi o movimento por lá. As composićões de Pacífico sčo pura bossa, tendo Belo Horizonte, a capital, como pano de fundo. Para sacramentar a bossa mineira, os arranjos sčo de Roberto Menescal e Hugo Marota. >

Conjunto Sambacana "Conjunto Sambacana, v.3" (Odeon, 1969)







Conjunto Sambacana "Conjunto Sambacana, v.4" (Tapecar, 1971)



<! Tenho aqui mais um disco do Pacífico Mascarenhas e seu Sambacana. Na verdade, um disco do conjunto, sem a participaćčo efetiva de Pacífico. O IV Sambacana foi um álbum lanćado pela Top Tape em 1971 e reunia nomes como Toninho Horta, Novelli, Nivaldo Ornelas, Roberto e Suzana Tostes, entre outros… Wagner Tiso também participa do disco cuidando dos teclados e de todos os arranjos. Imperdível! >

Conjunto Sarau "Cordas Novas" (Rob Digital, 2003)





<! choro >

Conjunto Som 4 "Conjunto Som 4" (Continental, 1964)


A rather bland jazz session featuring Hermeto Pascoal and cohorts Edilson (drums), Azeitona (bass) and Papudinho (trumpet). Although the compositions are from contemporary Brazilian bossa songwriters (all the usual suspects), the sound is pure North American jazz, indistinguishable from their cool Stateside contemporaries, except for the inferior, unexciting performances. This album doesn't stack up well compared to Hermeto's infinitely more soulful Quarteto Novo sessions of a few years later. This is a dull, slow-going, pale imitation of American jazz.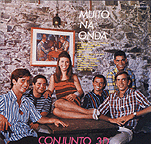 Conjunto 3D "Muito Na Onda" (Odeon, 1967)


This 1967 album features some of the earliest recorded work of samba superstar Beth Carvalho, who was the "girl" singer in this pop vocals/jazz band, as well as pianist Antonio Adolfo. They're aiming for a swinging Sergio Mendes/Young Holt Trio-style hipness, and in many ways are more successful here than many of their contemporaries. Carvalho sounds either hampered or hesistant on many of the tunes; she's paired up with a couple of fairly unremarkable male vocalists... But on some songs she shines, particularly on "Patruira Samba" (the lone Adolfo composition on an album packed with North American pop and jazz standards such as "When The Saint's Go Marching In," Cole Porter's "Night And Day," Herbie Hancock's "Watermelon Man," etc.) and on an early Gilberto Gil composition, "Roda," which is also a highlight of the album. The English-language material is uniformly unsuccessful, but there's still an adventurous air here that hits the mark on a few songs. Adolfo went to form the band Brazuca, which took this formula further (and abandoned the attraction to cover tunes...) while Carvalho, of course, went on to become one of the biggest stars of her generation... This is an interesting prelude and/or historical footnote to her career! (See also: Trio 3D.)
Gerson Conrad & Zeze Motta "Gerson Conrad & Zeze Motta" (Som Livre, 1975)



Gerson Conrad "Rosto Marcado" (Warner Arquivos, 1981)


A solo album by one of the founding members of the seminal Brazilian glam/tropicalia band, Secos & Molhados, which also featured singer Ney Matogrosso. This is pretty slick, AOR-ish stuff, and it falls prey to many of the stylistic shortcomings of the time -- slow, fusion-y arrangements, soft-funk basslines, tinkly keyboards, and an overall strained wimpiness. There is a vocal similarity to Caetano Veloso, though -- Conrad was from Sao Paulo, but he has a soft, Bahian delivery. Anyway, this is pretty cheesy, though also inoffensive and listenable... nothing to struggle too hard to track down, unless you're really, really into the ornate pop stylings of the late '70s/early '80s MPB scene. Amazingly enough, this was one of only two albums Conrad released after the breakup of Secos, although his partner Ney Matogrosso had a very long and successful solo career.
Baby Consuelo/Baby Do Brasil - see artist discography

Copa 7 "O Som Do Copa 7" (Top Tape, 1979)
One of the sleeker bands from the "Black Rio" soul movement, Copa 7 were looser than the better-known Banda Black Rio and funkier than most of the soul singers that dominated the '70s scene. They were also more identifiably building from a samba background, but layering it with tight horn and keyboard arrangements, similar to Earth Wind and Fire. The Copa 7 took their name from an earlier jazz band led by J.T. Meirelles, although as far as I know there were no direct links between the two groups -- maybe it's just the "copasetic" pun that occurred to both bands? Either way, this is a pretty cool record, with some solid funk and soul performances, and a few lapses into softer disco-pop instrumentals. The influences of bands such as the Bar Kays, KC & The Sunshine Band and Brazil's Tim Maia can readily be heard on this disc, a long-time collector's item, and certainly worth looking for, if you're into the style.

Copa 7 "O Som Do Copa 7, v.2" (Top Tape, 1980)
A fine follow-up to their first album, maybe a bit tougher and more muscular, but still drenched in solid, funky rhythms and sharp, American-style funk and R&B. These guys really were several steps ahead of most of their competition. Recommended!


<! 130 x 130 > <! [Reissued by a href= "http://www.whatmusic.com" WhatMusic /a.] >

Copinha E Seu Conjunto "...Interpretam Os Sucessos Do Pixinguinha" (Philips, 1961)



<! Copinha (fl) Sandoval (t-sax) Chiquinho (acc) Baden Powell (git) Menezes (cavaquinho) Hugo (dr) Alberto (pandeiro) Bide (ganza) >

Cordel Do Fogo Encantado "Cordel Do Fogo Encantado" (Rec Beat, 2001)


(Produced by Nana Vasconcelos)
Experimental Brazilian rock, seemingly equally influenced by manguebeat artists such as Nacao Zumbi and the dadaist tropicalismo of Tom Ze. Heavy on the percussion, this disc drifts and ambles, avoiding rock guitar cliches and has a certain fresh playfulness to it, with spaced-out, Allan Ginsburg-ish poetic lyrics. It's a bit meandering, not melodically that satisfying, or filled with overt pop hooks, but it's still interesting to know that there is this sort of searching, difficult-listening avant-ish pop being made in Brazil. Producer Nana Vasconcelos's guiding hand is easily felt on this far-ranging set; he also plays percussion on most tracks. Kinda sounds like Quinteto Violado after a particularly long night, with a slight hangover, but still up for some more fun.

Cordel Do Fogo Encantado "O Palhaco Do Circus Sem Futuro" (Rec Beat, 2002)


(Produced by Cordel Do Fogo Encantado, Ricardo Bolognini & Boguinha Dub)
More of the same; an unusual sonic excursion, certainly different than most Brazilian pop, and worth checking out, if you want to go a little on the wild side. Their first album might be slightly better, but either disc will hit you about the same.
Cordel Do Fogo Encantado "MTV Apresenta..." (Trama, 2005)





<! DVD B000BP2XVS >


Nando Cordel - see artist discography





A Cor Do Som - see artist discography


<! CORISCO made only six albums? Corisco E Seu Conjunto "Viva O Ritmo!" (RCA Camden, 1962) with Hamilton Godoy on piano, Haroldo do Monte, guitar and Dirceu Simões de Medeiros on drums Corisco & Os Sambaloucos "Show De Bossa" (Philips, 1963) Corisco & Os Sambaloucos "Outro Show De Bossa" (Philips, 1964) Corisco & Os Sambaloucos "Incendio No Samba" (Philips, 1965) Corisco & Os Sambaloucos "Sucessamba!" (Philips, 1965) Corisco "...E Os Brasaloucos" (Continental, 1967) >
Corisco E Seu Conjunto "Viva O Ritmo!" (RCA Camden, 1962)
(Arrangements by Francisco Moraes)
Pretty swinging dance material, kitschy but fun. Bandleader Corisco led several versions of his Sambaloucos ensemble over the years, specializing in covers of Brazilian and non-Brazilian pop hits of the day... This early album has an intriguing mix of Cuban-style son and Brazilian samba; some serious musicians playing pretty ephemeral music. Doesn't really stick to your ribs, but it's fun nonetheless, at least in small doses.

Corisco E Os Sambaloucos "Show De Bossa" (Philips, 1963)
(Produced by Alfredo Barbe)
Pretty sedate easy-listening samba/bossa instrumentals from a competent but uninspiring band led by percussionist Waldemar Marchetti (aka "Corisco") along with Zimbo Trio pianist Hamilton Godoy... Only occasionally did anything leap out at me: a few berimbau boing-boings, a riff or two that showed some spark of life... But otherwise, this was just too sleepy for me. Didn't float my boat.


<! I HAVE GIF Corisco e Os Sambaloucos – Show de Bossa (1963), for Philips. Corisco e Os Sambaloucos is lead by Waldemar Marchetti, a Brazilian percussionist very active in the 60's, releasing with Corisco e Os Sambaloucos more than five albums. Corisco always brings top-notch musicians to his recording sessions and Show de Bossa is not different, featuring Hamilton Godoy (the legendary Zimbo Trio pianist), Heraldo do Monte (guitar), Xu (bass) and others. Waldemar Marchetti (Corisco) (percussion) Hamilton Godoy (piano) Manoel Luis Viana "Xu" (bass) Heraldo do Monte (guitar) Dirceu Simoes de Medeiros (drums) Radamanto (percussion) >

Corisco E Os Sambaloucos "Outro Show De Bossa" (Philips, 1963)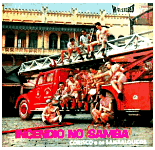 Corisco E Os Sambaloucos "Incendio No Samba" (Philips, 1965)
Kitschy, whimsical pop instrumentals, samba and samba-jazz played in a Herb Alpert-ish vibe. These might be top musicians banded together on this project, but the music is too goofy for me...


<! If you are already an expert on Corisco e Os Sambaloucos though the previous releases, do not miss this one, they seems to make it better on each release on their unique blending of Samba Jazz, unusual instruments with fun on top of everything. Tracks include: 01 - Bicho do Mato (Jorge Ben "Jorge Benjor") 02 - Menino das Laranjas (Theo de Barros) 03 - Só Vou de Balanćo (Jočo Roberto Kelly) 04 - O Sapo (Jaime Silva / Neusa Teixeira) 05 - Balanćo Zona Sul (Tito Madi) 06 - Vou de Samba Com Vocź (Jočo Mello) 07 - Cara de Pau (Haroldo Barbosa / Luis Reis) 08 - Samba de Brfanco (Jočo Roberto Kelly / J. Rui) 09 - Samba Para o Pedrinho (Walter Santos) 10 - Diz Que Fui Por Aí (Zé Keti / Hortźncio Rocha) 11 - Ela É Carioca (Tom Jobim / Vinicius de Moraes) 12 - Mono Boogie (Denis Brean) >

Corisco & Os Sambaloucos "Sucessamba!" (Philips, 1965)





Corisco "...E Os Brasaloucos" (Continental, 1967)
Corisco and his crew seem even less focussed here than usual, kicking off with a truly bizarre, truly bad cover of the Beatles' "Sgt. Pepper," and moving into a mostly-shrill, mostly-clattersome set of cover tunes, including clunkers such as "I Was Kaiser Bill's Bat Man" and a fun, slightly samba-fied version of "Music To Watch Girls By." There's rock-era kitsch value, to be sure, but the only song on here that really stands out is the twee, upbeat jovem guarda tune, "Uni-Duni-Te," with an enthusiastic group vocal and plenty of jangly guitars. Mostly, though, this is overly-obvious pop-sploitation covers stuff and doesn't hold up outside of the novelty value.




Cornelius "Santa Fa" (RCA Victor, 1976)



<! Samba-funk, heavy on the disco/funk side, with Bernie Worrell-ish keyboards and tinny electric guitar A white guy... several originals, also several songs by Guilherme Lamounier >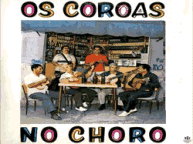 Os Coroas No Choro "Os Coroas No Choro" (RGE, 1985) (LP)


The bouncy instrumental style of choro legend, Pixinguinha, brought into the modern age. Nary a synthesizer or string section to be heard here; just the lilt of the cavaquinho and guitar. Okay, so after about five songs in a row, this may start to sound repetitive, but it's such a great sound, it's really hard to complain... Sweet stuff!


<! 03/2012: found GIF has funky proportions - some kind of security thing - but looks okay-ish >
Coro De Camara Villa-Lobos "Todas As Ondas Do Radio" (Eldorado/CPC-UMES, 2000)


One of the more unusual Brazilian artifacts you'll come across... As near as I can figure, this is a liver performance by a nostalgia oriented, glee club-type organization whose goal was to recreate the experience of listening to Brazilian regional radio back in its heyday of the 1940s and '50s. There's a wide variety of styles, ranging from regional music (mostly from the Northeast) and old-fashioned samba-cancoes to tonier material such as Brazilianified versions of Bach vocal works, and a few modern MPB tunes. (Oddly enough, there are no Villa-Lobos compositions included in the repertoire... which was kind of a disappointment!) Anyway, I kept my copy just for its novelty value, but I'm not sure it would have much appeal to the casual listener... It is an odd little record, though!

Coro Dos Compositores Da Portela "Minha Portela Querida -- Sambas De Terreiro: 1972" (Odeon, 1972)


A splendid set of Carnaval compositions from the Portela samba school's 1972 lineup. Paulinho Da Viola, Candeia, Monarco and Garoto are among the better known soloists in this set; other artists include Wilson Bombeiro, Casquinha, Carlos Elias, Joaozinho da Pecadora and Norival Reis. It's a lot like the annual souvenir albums that come out from the Carnaval competitions, except with much better sound quality and a sense of unity and joyfulness that's quite a delight. Lively and engaging, and a lot of fun!
Djalma Correa "Biafro" (Philips, 1978) (LP)





<! alt title(?): "MPBC" - part of MPBC series >
Djalma Correa "Viva Brasil" (Philips, 1979) (LP)



<! percussionist - pic available 08/2014 >

Djalma Correa "...E Banda Cauim" (Barclay, 1984) (LP)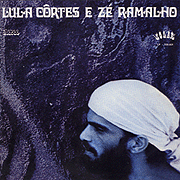 Lula Cortes & Ze Ramalho "Paebiru" (Rozenblit/Mocambo, 1974)



Northeastern rock pioneer Ze Ramalho plays various instruments on this aggressivley experimental pysch/prog/avant rock album, backing Lula Cortes of the Brazilian psych band Satwa... For many, this is a lost treasure of Brazilian acid rock; I just found it to be tremendously irritating and jaggedly textured. If your taste in jazz tilts towards improvisational "free jazz," where constantly pushing against the envelope is an end in and of itself, then this album might be a real treat... Personally, I like a little more melody. (So I'm square; sue me, daddy-o.) This is an interesting historical relic, I suppose, but I far prefer the spacy folk-rock of Ramalho's first few solo albums...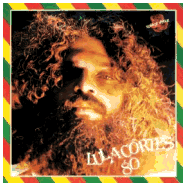 Lula Cortes "Rosa De Sangue" (Rozenblit, 1980)



Through prolonged exposure, I have to say I'm not a huge fan of Lula Cortes' work, but this is certainly his best album, and the most musically satisfying. He works through a wide variety of styles, starting with a modern forro fusion reminiscent of Gilberto Gil's Refazenda album, gets into some disjointed folk, reggae and rock, as well as an intriguing Indian classical vocal song, "Bahjan: Oracao Para Shiva," and some tweaky psychedelic disco. Interesting stuff, and worth checking out, though it might not totally stick to your ribs.


<! Rozenblit? > <! 10/12: in iTunes >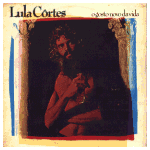 Lula Cortes "O Gosto Novo Da Vida" (1981)
One: If you want me to like your record, don't use the soprano saxophone. Two: don't use it... a lot. This is an odd, discursive, languid album, with Cortes basically talking, sometimes half-singing, over a sparse, fusion-ish sound bed -- formless synths, loping electric bass, some guitars, and that f___ing soprano sax. The songs themselves are inconsistent and lopsided, lazily realized with irregular bursts of life -- a generic rock solo, and little dash of forro, some brief flurry of psychedelic intensity -- and then it lapses back into soft-pop tedium. It's artsy, but it's not very good. I mean... Well, no... it's just not very good. Seriously. There's not a single song on here that I'd want to hear again.


<! Faixas: 01. Desengano 02. Dos Inimigos 03. Lua Viva 04. Sčo Várias as Trilhas 05. Patativa 06. Canćčo da Chegada 07. Quadrilha Atômica 08. Brilhos e Mistérios 09. Gira a Cabeća 10. O Morcego Neste sábado, dia 26 de marćo, faleceu Lula Cortes. Este post é uma homenagem a esse grande artista pernambucano. O cantor, compositor e poeta Lula Côrtes, um dos pioneiros em fundir o ritmo regional nordestino ao rock and roll, morreu na madrugada deste sábado aos 61 anos de idade. Ele sofria de um cČncer na garganta e, segundo amigos, estava na praia de Maracaípe quando passou mal, sendo trazido por uma ambulČncia para o Hospital Barčo de Lucena, onde já chegou sem vida. Ele exercia a funćčo de assessor cultural da Prefeitura de Jaboatčo. Sua última apresentaćčo como músico aconteceu no Pátio de Sčo Pedro, no domingo de Carnaval. Nascido Luiz Augusto Martins Côrtes, Lula tem seu nome marcado na música popular brasileira por dois discos lanćados na primeira metade da década de 1970, hoje lendas na internet pelo alto prećo cobrados pelos vinis. Em 1972, ele gravou com o hoje cartunista Laílson o LP Satwa, pela Rozemblit. Em 1974, com Zé Ramalho, finalizou o álbum duplo Paźbiru - O Caminho da Montanha do Sol, mas a gravadora pernambucana, atingida por uma grande enchente, só conseguiu salvar poucas cópias, que se tornaram raridades. Ele ainda produziu e fez o desenho da capa de No Sub Reino dos Metazoários (de Marconi Notaro). Os trźs trabalhos chegaram a liderar a lista de discos mais vendidos na categoria World Music quando foram lanćados em 2008 nos Estados Unidos por uma gravadora independente, a Time-Lag Records. O relanćamento em CD de Paźbiru no Brasil fazia parte dos planos de Lula Côrtes, que destacou ao Diario: "Na verdade, o disco nčo é só meu e de Zé Ramalho, é de toda a galera do movimento underground nordestino da época. Na ficha do Paźbirú, aparecem muitos nomes, como Alceu Valenća e Geraldo Azevedo", afirmou. Côrtes ainda lanćou os discos O Gosto Novo da Vida, Rosa de Sangue, A Mística do Dinheiro, O Pirata, Nordeste, Repente e Canćčo e Lula Cortes & Má Companhia. Somente este último teve distribuićčo direta em CD. Além de músico, Lula Côrtes lanćou obras de prosa e poesia, como o audiobook O lobo e a lagoa e livros como Hábito ao vício, Rarucorp, Bom era meu irmčo, ele morreu, eu nčo e Amor em preto e branco e se dedicava atualmente ąs artes plásticas. Em reconhecimento ao seu trabalho literário, a Uničo Brasileira dos Escritores de Pernambuco (UBE/PE) deu-lhe a carteira de sócio efetivo, retroagindo a ano de admissčo a 1972, quando o multiartista lanćou o Livro das Transformaćões. Da sua experiźncia como assessor de Cultura da Prefeitura de Jaboatčo, Lula extraiu matéria para pintar aquarelas retratando o cotidiano dos habitantes do município, seus aspectos ecológicos, o patrimônio materia e imaterial da cidade. Sua meta era chegar a 365 pećas. A primeira exposićčo, com 35 aquarelas, intitulada Fragmentos, foi aberta em setembro do ano passado. Lula Côrtes sofria de um cČncer que comećou na garganta há cinco anos, mas se espalhou por outros lugares do corpo. Ele tinha feito quiomio e radioterapia, mas de acordo com amigos próximos, continuava bebendo e fumav quase trźs carteiras de cigarro por dia. No mźs de janeiro ele teve Hepatite C e, em seguida, erisipela, que o deixou ainda mais fragilizado. Ainda assim, o músico continuava trabalhando. Os últimos shows foram na semana passada - quinta, sexta e sábado - no Sesc Belenzinho, em Sčo Paulo. Ele e Zé da Flauta fizeram participaćões especiais no show de Alceu Valenća, relembrando a década de 1970. Na madrugada da terća para a quarta-feira, Côrtes passou mal e foi socorrido para uma UPA em Jaboatčo, sendo liberado em seguida. Decidiu entčo, a convite de uma amiga, continuar o tratamento numa pousada em Maracaípe. "Na última quinta-feira ele teve uma melhora surpreendente, mas na sexta de manhč já amanheceu muito pior. Foi quando entrei em contato com amigos para trazź-lo ao Recife", contou o produtor e amigo, Lulinha. Lula Côrtes deixa seis filhos. O primeiro casamento foi com a cineasta Kátia Mesel. Texto de José Teles, publicado originalmente no portal Diário de Pernambuco >


Alaide Costa - see artist discography




Ana Costa "Meu Carnaval" (Zambo Discos, 2005)


Ana Costa "Novas Alvos" (Zambo Discos, 2009)


Carmen Costa - see artist discography
Gal Costa - see artist discography
Yamandu Costa - see artist discography

Hector Costita Sexteto "Impacto" (Som Livre, 1964)


A solo album by jazz saxophonist Hector Costita, an Argentine-born artist who moved to Brazil at the height of the bossa nova scene and worked with many of the era's best musicians, including Dick Farney, Sergio Mendes and Elis Regina, as well as more hardcore jazz players, such as Luiz Chaves, Hamilton Godoy and Hermeto Pascoal.
Hector (Costita) "O Fabuloso Hector" (RGE, 196-?) <! XRLP 5171 >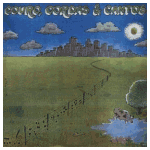 Couro, Cordas & Cantos "Couro, Cordas & Cantos" (1983)
Deliciously spacy, ripely indulgent, satisfyingly melodic hippie-rock with a strong folkie streak running through it. I don't know anything about the band or its origins, but I do like the record. Sort of like a more pop-oriented Quinteto Violado, perhaps mixed with early Sergio Sampaio? At any rate, a genuine lost gem, well deserving of reissue.
Fabiana Cozza "Samba E Meu Dom" (Bandeirantes, 2004)

Fabiana Cozza "Fabiana Cozza" (Tratore, 2007)






<! date? >

Fabiana Cozza "Quando O Ceu Clarear" (Brazilmusica, 2008)


---
Brazilian Music - More Letter "C"
---



Main Brazil Index
World Music Index

---