<! MP3 11/12/09, 03/17/12 > <! pix 11/12/09 reorg > <! ALLBM 00/00/00 > <! icons 01/21/11 > <! UPDATES: 03/17/12 02/05/13 - new pages for Teresa Cristina, Arlindo Cruz, some adds >
---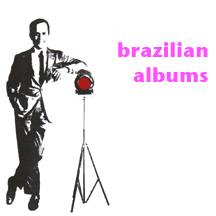 This is Page 7 of a listing of miscellaneous albums under the letter "C"
If an artist or album you like is not reviewed here, please feel free
to contact me and make a suggestion.
---
A | B | C-1 / 2 / 3 / 4 / 5 / 6 / 7 | D | E | F | G | H | I | J | K | L | M | N | O | P | Q | R | S | T | U | V | W | X | Y | Z | Compilations
Brazilian Styles | 30 Recommended Records | Portuguese-language pop | Brazilian Links | Slipcue.Com
---
Maria Creuza - see artist discography
Teresa Cristina - see artist discography
Arlindo Cruz - see artist discography

Carmen Cuesta "Mi Bossa Nova" (Tweety Records, 2011)



(Produced by Carmen Cuesta & Chuck Loeb)
Romantic singer Carmen Cuesta, an expatriate of Madrid now living in New York, expresses her passion for the bossa nova sound of the 1950s and '60s, with sensitive, elegant covers of classics by Antonio Carlos Jobim, Ronaldo Boscoli and Luiz Bonfa. The sound is rich and multi-textured, bridging the gap between the early bossa style and more modern "smooth jazz" production. Cuesta had originally wanted to translate the songs into Spanish, but discovered the Jobim estate now only allows artists to record his work in the original Portuguese, which she sings eloquently, though with the clarity and precision of a well-versed non-native speaker... She contents herself with a pair of her own Spanish-language compositions, "Tormenta" and "Jobim," a tribute to the genre's master composer... All in all, a sweet album which should pull fans of modern jazz back towards the rich heritage of Brazil's most sensuous music. Recommended!
Fernanda Cunha "O Tempo E O Lugar" (2002) <! 2004? >


Fernanda Cunha "Dois Coracoes" (2004)



A tribute to singers Johnny Alf and Sueli Costa...
Fernanda Cunha "Brasil Canada" (On Request, 2005)


Fernanda Cunha & Ze Carlos "Zingaro" (2007)



Geraldo Cunha "Quem Tem Bossa Faz Assim" (Audio Fidelity, 1966)
A sweet, sleek bossa nova album from composer Geraldo Cunha, apparently backed by the Sambalanco Trio, but often simply accompanied only by a lone acoustic guitar. It's a lovely, musically agile, intelligent and very playful set. Only about a third of the songs are Cunha originals; the rest include a mix of standards (Jobim, et. al.) and stuff by more obscure artists such as Naya Sampaio and the guitarist called Tuca. This as Cunha's only full-length release, which is a pity, because it really is a gem from this musically rich era. Long overdue for reissue!


<! 01 - Samba Bom (Vera Brasil) 02 - Samba de Quem Ficou (Naya Sampaio) 03 - Vivo Sonhando (Tom Jobim) 04 - Prece do Amor Infinito (Geraldo Cunha / Milton de Paula) 05 - Vier Só Mesmo Com Amor (Geraldo Cunha / Laércio Vieira) 06 - Canćčo da Partida (Dorival Caymmi) 07 - O Morro Nčo Tem Vez (Tom Jobim / Vinicius de Moraes) 08 - Lamento Nagô (Laércio Vieira / Hércio Expedicto) 09 - Nčo Sou do Morro (Geraldo Cunha / Alberto Júnior) 10 - Moća de Azul (Geraldo Cunha / Pery Ribeiro) 11 - A Estória É Vocź (Naya Sampaio / Tuca) 12 - Rancho das Namoradas (Ary Barroso / Vinicius de Moraes) > <! This is Geraldo Cunha - Quem Tem Bossa Faz Assim (1966), for Audio Fidelity. Quem Tem Bossa Faz Assim also features Sambalanćo Trio. We will have a lot of time to discuss this LP, which is the first and only recorded by Geraldo Cunha, an acclaimed composer recorded by several artists in Brazil. Tracks include: >

Ivon Curi "Serie Bis - Cantores Do Radio" (EMI-Brasil, 2000)


Pretty corny stuff from a Mina Gerais native who specialized in Franco-European material in the 1940s, and turned to nordeste roots towards the end of the '50s. His blend of bouncy forro rhythms and chanson showiness probably won't capture your fancy, but then again, who knows? I found this to be negligible, although I guess it's an interesting footnote to the development of forro as a mainstream style.


<! 130 x 130 ------ 136 x 136 w/ border >

Ivon Curi "Meus Melhores Momentos" (RCA, 1957)





Ivon Curi "Farinhada A Francesa" (EMI-Brasil)

Ivon Curi "Farinhada A Francesa" (Revivendo, 2007)

Ivon Curi "Sua Melhor Epoca" (2010)

Curumin "Achados E Perdidos" (Quannum, 2005)



This disc opens with "Guerreiro," a thunderously sexy, slinky, cool, irresistibly catchy pop-funk samba that recalls Stevie Wonder's grooviest work from the early 1970s... That sweet funk vibe is echoed on "Tudo Bem Malandro," which also uses a full, fat-toned keyboards to create a thumping funk beat -- Curumin's debt to Wonder is made explicit in his English-language cover of Wonder's "You Haven't Done Nothing," which rounds out the album's soft, sensual opening set. From there, more contemporary hip-hop and Brazilian pop influences kick in, and the record starts to lose some of its momentum, becoming more a collection of songs than a cohesive artistic statement. There's a little bit of a patchwork, kitchen-sink feel to the second half of the album, but this lack of cohesion also indicate's Curumin's searching, innovative creativity. A Sao Paulo native (whose given name is Luciano Nakata Albuquerque), Curumin makes a point of opening his album up to guest performances by off-the-radar locals; as is often the case, Sao Paulo's music scene offers a grittier, edgier alternative to the sleek elegance of Rio and the party-down sambas of Bahia... Of the many Brazilian artists who have melded funk, soul and samba over the last four decades, Curumin stands as one of the most fluid and accomplished. Sadly, the entire album isn't as funky as the opening numbers, but those few tracks go a long way towards establishing him as a contemporary pop artist worth keeping track of... While savoring the songs on here that get my toes tapping, I'm definitely looking forward to Curumin's next record!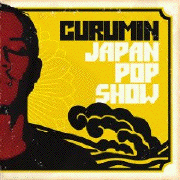 Curumin "JapanPopShow" (Quannum, 2008)



(Produced by Curumin, Gustavo Lenza & Lucas Martins)
Brazilian music has always been about the mixing of cultures and styles, and Luciano Nakata Albuquerque, aka Curumin, is a young Brazilian of mixed Spanish-Japanese ancestry who exemplifies this tradition of diversity. As on his previous album, Curumin shows mastery of a wide variety of styles, mainly from the continuum of soul, funk and hip-hop, but with distinct touches of Brazilian samba-pop and different stripes of rock in the mix as well. JapanPopShow is far more cohesive and consistent album than 2005's Achados E Perdidos, moving from one pop style and era to another while keeping an even keel -- the songs all sound different, but they are all good within the separate sounds. For old-schoolers (like me) the album's gem is the song "Compacto," an irresistible samba-funk tune on a par with Jorge Ben's great works of the 1970s, a hummable and seductive ultimate cruising tune. Other standout tracks include "Caixa Preta," which opens with rock guitars and settles into a slippery, funky vibe, and the dubby, trip-hoppy "Dancando No Escuro." The album encompasses various styles of funk, soul and hip-hop, edging into the more hyperactive modern-day "baile funk" scene, but staying thankfully closer to the sultry grooves of yesteryear. Guests include fellow Brazilian pop experimentalist Lucas Santtana, samba-funk elder Marku Ribas and the American hip-hop duo Blackalicious, who join Bay Area rapper Lateef the Truthspeaker on the song "Kyoto." Curumin's savvy mix of styles is another strong example of how the youthful, ever-modern Sao Paulo scene is setting itself on a par with other major pop movements, absorbing influences and creating new sounds that will inspire similar creative bursts across the globe. Definitely worth checking out!


<! Curumin "JapanPopShow" B0016JD66E - Import version on Adrenaline Records >
Curumin "Arrocha!" (Six Degrees, 2012)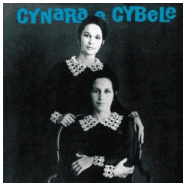 Cynara E Cybele "Cynara E Cybele" (Columbia, 1968)



(Produced by Helcio Milito, arrangements by Dori Caymmi)
A fairly sedate, even monotonous, bossa-orchestral outing from two of the gals in Quarteto Em Cy... The good news is they don't indulge in any of the vocal gymnastics of the quartet, but these duets and Dori Caymmi's overly-studious arrangements are a bit dreary. A strong repertoire, mixing classics by Lamartine Babo and Noel Rosa with newer material by Caymmi, Chico Buarque, Marcos Valle and others... But by and large this album doesn't really come alive -- maybe it was just because the folks at Columbia were too fusty to really get what was going on at the time? Anyway, this is worth checking out, but don't get your hopes up too high.


<! Dory Caymmi as arranger; Luiz Eća arrangements on "Januaria" 01 - Pelas Ruas do Recife (Marcos Valle / Paulo Sergio Valle / Novelli) 02 - Carolina (Chico Buarque) 03 - Rasguei a Minha Fantasia (Lamartine Babo) 04 - Lua Cheia (Chico Buarque / Toquinho) 05 - Fala Meu Amor (Tom Jobim / Vinicius de Moraes) 06 - Anjo da Noite (Dorival Caymmi / Danilo Caymmi) 07 - Januária (Chico Buarque) 08 - Jočo Ninguém (Noel Rosa) 09 - Lua Nova (Maurício Tapajós / Joaquim Cardoso) 10 - De Onde Vens (Dori Caymmi / Nelson Motta) 11 - Rancho Pra Quem Vem de Fora (Tamir Drumond / Kátia Drumond) 12 - Até Segunda-feira (Chico Buarque) B008ES6WUM - LP ASIN >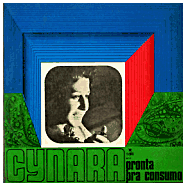 Cynara "Pronta Para Consumo" (Elenco, 1969) <! date? >
(Produced by Helcio Milito, arrangements by Ruy Faria)
A very cool album! This was recorded in 1968, when Cynara was still a member of the Quarteto Em Cy (she went solo that smae year) but it has very little of the Quarteto's trademark musical tropes -- indeed, it's a much brighter, fresher sound overall. Fans of Rogero Duprat's kooky classical-meets-psychedelic tropicalia production will want to check this out: he didn't do the arrangements, but Ruy Faria's work is slavishly imitative of Duprat, in a way that many fans of this era's music will find both pleasant and amusing, although surprisingly not all that intrusive.A hefty chunk of the songs are by Sidney Miller, and a couple were cowritten by Cynara and Faria, who was at the time her husband. Amid youthful, vivid pop arrangements, Cynara emerges from the Quarteto's long shadow and reveals a singer deserving of wider fame, fame which sadly would elude her as a solo artist. Still, great record. Definitely worth tracking down.


<! Cynara - Pronta para Consumo (1969), for Elenco, the first solo LP recorded by Cynara, just before she left O Quarteto em Cy for a solo career in 1968. Pronta para Consumo is directed by Ruy Faria, Cynara's husband at that time and two Cynara compositions, Oraćčo do Astronauta (Ruy Faria / Cynara / Sidney Miller) and Sem Direćčo (Ruy Faria / Cynara). Tracks include: 01 - Pronta Pra Consumo (Guarabyra / Sidney Miller) 02 - Oraćčo do Astronauta (Ruy / Cynara / Sidney Miller) 03 - Pois É Pra Que (Sidney Miller) 04 - Doce Veneno (Valzinho) 05 - Aquele Abraćo (Nelson Śngelo) 06 - Deus Vos Salve Esta Casa Santa (Caetano Veloso / Torquato Neto) 07 - ňs Sete Em Ponto (Renato Correia / Guarabyra) 08 - Nosso Romance (J. Cascata / Leonel Azevedo) 09 - Minha Noite (Magro / Miltinho / Aquiles) 10 - Casaco Marrom (Renato Correia / Danilo Caymmi / Gut) 11 - Sem Direćčo (Ruy / Cynara) 12 - Umas e Outras (Chico Buarque) >

---
Brazilian Music - Letter "D"
---



Main Brazil Index
World Music Index

---