<! MP3 10/21/08, 03/20/12 > <! update 00/00/00 > <! pix 11/13/09 - reorg > <! ALLBM 00/00/00 > <! icons 01/21/11 > <! Chiquinho de Moraes "Os Mais Famosos Temas De Telenovelas" (Fermata) Francisco de Moraes (aka Chiquinho de Mores) > <! Mauricio De Oliveira "Interpreta Ernesto Nazareth" (Fundacao Jonice Tristao) >
---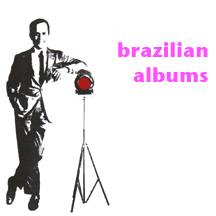 This is Page 3 of Brazilian artists under the letter "D"
If an artist or album you like is not reviewed here, please feel free
to contact me and make a suggestion.
---
A | B | C | D-1 / 2 / 3 / 4 / 5 / 6 | E | F | G | H | I | J | K | L | M | N | O | P | Q | R | S | T | U | V | W | X | Y | Z | Compilations
Brazilian Styles | 30 Recommended Records | Portuguese-language pop | Brazilian Links | Slipcue.Com
---
Carolina Cardoso De Menezes & Orlando Silveira "Honeymoon In Rio" (Capitol, 1956)

Demetrius - see artist discography
Dende & Hahahaes "Bahia De Todos Os Santos" (Mamadele Productions, 2005)



(Produced by Manfred Knoop & Chris Sulit)
A poppy showcase for Brazilian expatriate Dende, a percussionist and singer originally from the band Timbalada, now living in New York... As the title implies, there's a strong Bahian thread here, but more unusually there are strands of Afro-Cuban salsa, contemporary Caribbean and African pop. It's a little cheery and lanyard-wearing for me, but I bet they are fun live... Along with various other East Coast expats, this album features contributions from Vinicius Cantuaria (on the song "Sinaleira") and Duke Amayo, from the afrobeat band Antibalas. Worth a spin if you're into crossover-oriented "world beat" dance music.




Denilson "Meu Idioma E Samba" (Chantecler, 1976)
(Arranged by Jose Briamonte)



<! w/ Jose Briamonte >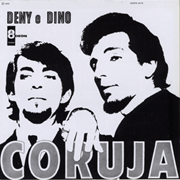 Deny & Dino "Coruja" (Odeon, 1966/2005)


(Produced by Tony Campello)
Consistently fun; this teen-oriented pop-rock record is a minor gem from the jovem guarda era. JG veteran Tony Campello produced this album, and as is often the case, he proved much more savvy and sympathetic in presenting American-style rock than did the old-guard samba and radio singer-era producers who cranked out so many other jovem guarda releases. Although Deny & Dino cover "Girl" (translated by Ronnie Von as "Meu Bem"), the shadow of the Beatles is surprisingly light here... More striking is their version of "As Tears Go By," which hits just the right emotional tone, as do many of Deny & Dino's jangly original tunes. The Searchers, The Hollies, and Jan & Dean seem like their main models -- softer, harmony-oriented pop with much more subtlety and depth than the Big Bopper-meets-Mancini tossoffs that cluttered the JG scene. Seriously, this is one of the best jovem guarda albums I've heard yet... Worth checking out!

Deny & Dino "Deny & Dino" (Odeon, 1967/2005)


(Produced by Milton Miranda)
Considering the freshness and groovy feel of their pleasant debut, this disc was a big disappointment. Deny & Dino still look incredibly hip and happening, with their muttonchops and goatees, but the arrangements on this album are more staid and forced than before, a reversion to the out-of-touch pop sensibilities of Brazil's old-school studio heads... Tony Campello stepped aside and the electric guitars went with him -- greater prominence is given to chugging brass samba beats and string sections, pretty much the same old stuff that other JG records suffered with. Which isn't to say this record sucks... It's still pretty good, but it isn't fun the way the first one was, and it isn't as listenable from start to finish. Here you have to hunt and peck for the good songs, though while there is a newfound measure of tedium, the cool stuff is still pretty cool. The bonus tracks on the 2005 CD reissue add a lot, particularly the groovy, spacy "Coisas Que Acontecem Sempre," which now closes the album. Worth checking out, but in comparative terms, a bit of a downer.
Deny & Dino "Deny & Dino" (Odeon, 1969)

Deny & Dino "Serie Bis -- Jovem Guarda" (EMI, 2000)

Eumir Deodato - see artist discography
Agenor De Oliveira "Bafafa" (Rob Digital, 2002)

Agenor De Oliveira "...Canta Noel Rosa" (Tratore, 2005)


Agenor De Oliveira "E Banto" (Joaninha, 2006)






<! samba >

Aloysio De Oliveira "Cantem Conosco Com O Coro Odeon" (EMI-Odeon, 1960)
Best known as a fabled arranger and record producer, and as the founder of the influential Elenco record label, Aloysio De Oliveira had a performing background as part of the samba-cancao group, Banda Da Lua, and as Carmen Miranda's bandleader when she emigrated to the USA. Here, he steps out of the studio booth and returns to the microphone for a set that mostly includes oldies and traditional tunes... The accompaniment is a little lethargic, with modest percussion, a tootling accordion and an earnest, large male chorus that evokes a college glee club choir more than, say, the Four Freshmen. De Oliveira seems content to hide behind their booming, resolutely square vocal arrangements -- he doesn't emerge as a soloist and the record never really takes off, remaining sedate and melodically flat throughout. The album's an interesting historical curio, but I wouldn't go koo-koo trying to track it down. Probably the most intriguing track here is an early version of Tom Jobim's foundational bossa nova tune, "Chega De Saudade." (De Oliviera produced the original, earth-shattering single with Joao Gilberto, the year before...) Sadly, though, this version is just as stuffy and static as the rest of the record, but it's still kind of cool, in an archival kinda way.


<! 01 - Saudade da Bahia (Dorival Caymmi) 02 - Maringa (Joubert de Carvalho) 03 - Sonhando Contigo (Anísio Silva / Fausto Guimarčes) 04 - Ave Maria (Erothides de Campos / Jonas Neves) 05 - Prenda Minha (Tradicional) 06 - Caminhemos (Herivelto Martins) 07 - De Papo Pro Á (Joubert de Carvalho / Olegário Mariano) 08 - Chega de Saudade (Tom Jobim / Vinicius de Moraes) 09 - Interesseira (Bidú Reis / Murillo Latini) 10 - Maracangalha (Dorival Caymmi) 11 - Meu Limčo Meu Limoeiro (Tradicional) 12 - Feitićo da Vila (Noel Rosa / Vadico) > <! 1914-1995 >


Dalva De Oliveira - see artist profile




Idalina De Oliveira "Idalina" (Chantecler, 1964)
Teenybopper stuff, along with more mainstream pop vocals from a jovem guarda-era TV personality. Sort of in the same range as Annette Funicello or Connie Francis; one of those younger singers who got saddled by sluggish, over-sized pop-orchestral arrangements, as well as some fairly square material. Features a few songs by Nelson Luis, as well as the normal adaptations of foreign pop hits you'd expect from the era, such as Guy Warren's "That Happy Feeling," and a random Felice & Boudleaux Bryant ballad. Apparently this was her only album; the backing band is identified as the "Orquestra Chantecler," with Elcio Alvarez and Francisco Moraes conducting. Nothing earthshaking, but nice in a kitschy-nostalgic way.


<! 01. Pissi Pissi Bao Bao (Migliacci / Meccia / Vrs. Paulo Queiroz) 02. Amorzinho Querido (mariquila Bonita) (José Luis Martinez / Vrs. Joaquim Gustavo) 03. Tristeza Em Meu Coraćčo (Nelson Luis / Hélio Ansaldo) 04. Chove Em Meu Coraćčo (Raining In My Heart) (Felice Bryant / Boudleaux Bryant / Vrs. Carlos Américo) 05. Fim de Noite (Miranda / Maio) 06. Vento Do Mar (That Happy Feeling) (Guy Warren / Vrs. Hélio Ansaldo) 07. Gosto de Vocź (Adpt. Idalina de Oliveira) 08. Vai Trenzinho (Nelson Luis) 09. Passeando Pela Praia (Nelson Luis / Valéria Luvercy) 10. Convencido do Sete Sete Nove (Maria Thereza) 11. A Canćčo Que Te Ouvi Cantar (La Canzone Che Piace a Te) (Ruccione / De Paolis / Cutolo / Vrs. Joaquim Gustavo) 12. Furugudum (Paulo Rogério) >

Wilma De Oliveira "Tribute To Carlos Lyra" (Sony, 2005)


An homage to pioneering bossa nova composer Carlos Lyra...

Consuelo De Paula "Samba, Seresta & Baiao" (Dabliu, 1999)



(Produced by Dino Barioni)
A gentle exploration of several acoustic styles... For want of a better vocabulary, I'd have to say that De Paula has a sort of classic "folk" flavor to her sound; although this music is solidly Brazilian, there's also a hint of Judy Collins floating around in there. Closer to home, she also shares a winnow-y similarity to Gal Costa, if Costa were to stick to more traditional material. Pleasant to hear, and also a bit unusual in its approach... worth checking out.
Consuelo De Paula "Tambor & Flor" (Tratore, 2002)


Consuelo De Paula "Danca Das Rosas" (Tratore, 2004)


Consuelo De Paula "Patchwork" (Koala/Tupiniquim, 2008)

Irio De Paula "Sozinho" (Philology, 1995)

Irio De Paula "Jazz-Samba Ao Vivo" (NelJazz, 1997)


Irio De Paula "Sarava Jobim" (Pacific Time, 2000)


Tom Jobim's canonical compositions get an extra-gooey workthrough, with guitarist De Paula -- who has worked with several major jazz players, including Chet Baker, Gato Barbieri and Eumir Deodato -- leading a mellow ensemble, augmented by string arrangements worthy of the master. In some ways, this is a bit much, but also quite inviting. Depends on your tolerance for "easy listening," I suppose... But I think this is well within the tradition set down by the master, and Jobim fans will probably thrill to the interplay of the guitar and Riccardo Ballerini's sprightly arrangements. Not bad!
Irio De Paula "Sem Batera: 2002" (Azzurra, 2002)





<! more of a straight jazz album >

Irio De Paula "Amigo Baden" (Azzurra, 2002)

Irio De Paula "Samba Jazz" (Azzurra, 2007)

Irio De Paula "Viajando" (Azzurra, 2007)

Irio De Paula "Retrato Do Rio" (Blue Music, 2007)


Roberto De Recife "Satisfacao" (Philips, 1981)
Mildly "new wave" rock, with power-poppy hand claps and ringing guitars. That description may actually sound more enticing than I'd like, but all things considered, this album actually isn't as horrific as one might imagine. Kinda borderline, which, for Brazilian MPB of the time, can be taken as high praise.

Roberto De Recife "Jardim De Infencia" (Philips, 1981)



<! in iTunes, GIF >


Sandra De Sa - see artist profile





Wanda De Sah - see "Wanda Sa"




Carlos Monteiro De Souza "Metais Em Brasa Bossa Nova" (Philips, 1963)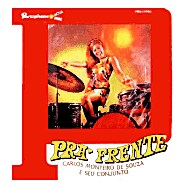 Carlos Monteiro De Souza "Pra Frente" (Parlophone, 1968)
Pure easy listening cheese. And there's no way you can convince me otherwise. If you really like muzak -- the hard stuff -- then by all means subject yourself to this one. It's pretty horrid, though. Super-cheesy organ with generic bossa backup, although there's a good acoustic guitarist caught in the middle, adding perky riffs, but unable to redeem the album. Trust me: you can skip this one.


<! really 188 x 188 > <! no producer info > <! 01 - Estamos Aí (Maurício Einhorn / Durval Ferreira / Regina Werneck) 02 - O Cantador (Dori Caymmi / Nelson Motta) 03 - Carolina (Chico Buarque) 04 - Samba do Avičo (Tom Jobim) 05 - Roda (Gilberto Gil / Jočo Augusto) 06 - Linhas Cruzadas (Roberto Menescal) 07 - Samba de Verčo (Marcos Valle / Paulo Sergio Valle) 08 - Tim Dom Dom (Jočo Mello / Codó) 09 - Manhč de Primavera (Adilson Godoy) 10 - Travessia (Milton Nascimento / Fernando Brant) 11 - Mancada (Gilberto Gil) 12 - Sambou Sambou (Jočo Mello / Jočo Donato) >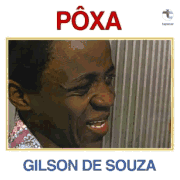 Gilson De Souza "Poxa" (Tapecar/Discobertas, 1975/2010)


(Produced by Luiz Mocarzel & Wilson Mouro)
A classic '70s samba/MPB album from Brazilian pop songwriter Gilson De Souza, who made his mark when crooner Jair Rodrigues recorded his song, "Orgulho De Um Sambista" on his (super-fab) album of the same name. The big hit here was the song "Poxa," one of many tracks with an intriguing mix of standard-issue pagode samba stylizations (cavaquinho, percussion, vocal chorus) and sleek, tony pop/MPB touches (prominent string arrangements, woodwinds, electric bass, etc.) bonded together by De Souza's thin, light vocals and, of course, his richly-layered songwriting, and his knack for catchy choruses. At first I was a little taken aback, but this grew on me. Definitely a welcome reissue!


<! ...considerado um dos mais belos sambas da época >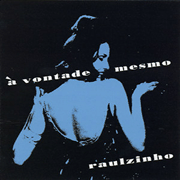 Raul De Souza (Raulzinho) "A Vontade Mesmo" (RCA, 1965)


I'm sure the role of the trombone as a lead instrument has been a constant source of contention among jazz fans, but I have to say that it doesn't do much for me here. Still, this is the bandleading debut of one of Brazil's most successful mainstream jazz players, Raul De Souza, who later emigrated to the US and became a leading session player. Here he works through a primarily homegrown set, including one of his own early compositions alongside material by the likes of Tom Jobim, Carlos Lyra and (for exotic effect) Duke Jordan. I'm no jazz critic, but this album mostly strikes me as a bit unsubtle and overly energetic. Also on board are many of the early leading lights of Brazil's jazz scene, including pianist Cesar Camargo Mariano and percussionist Airto Moreira, who kicks in with some nice Cuban-flavored percussion.
Raul De Souza (Raulzinho & Impacto 8) "International Hot" (Equipe, 1968)



A pretty funky set from an American-style party band whose sound never quite clicked with Brazilian music fans... Trombonist Raul De Souza led this soul-oriented octet, which also featured drummer Robertinho Da Silva, organ player Helio Celso and saxophonist Oberdan Magalhaes (later of Banda Black Rio). The "Black Rio" soul sound hadn't really hit Brazil yet, so these guys were kind of shooting in the dark... But it's a fun set, a mix of earnest funk and deliberate kitsch... They covered hits like "Spinning Wheel" and "You've Made Me So Very Happy," alongside giddy instrumentals with titles like "Fried Bananas" and "Cantelope Island." It's goofy, but better than I had expected... Worth checking out.
Raul De Souza "Rio" (Trama, 1998)

Raul De Souza "No Palco!" (Eldorado, 2000)





<! Raul De Souza - a bunch more CDs, no MP3 action 10/08 Many of the remaining albums are more "jazz" than Brazilian >

Rosalia De Souza "Garota Moderna: Nicola Conte Apresenta Rosalia De Souza" (Leeds Music/Avatar, 2003)



Many folks hail young Ms. De Souza as a new Bebel Gilberto, an electronic/trip-hop crossover diva... But while there are a few electro beats on some of these songs, I'd peg her as more akin to jazz-MPB queen Elis Regina, tackling bossa nova oldies and more modern compositions (many courtesy of Italian album producer Nicola Conte) with a brash, headstrong approach, subsuming many of the melodies to a propulsive, muscular sensibility. Works for me, mostly -- she has a nice enough voice and the arrangements are often new enough that you don't feel you're hearing just another bossa standards album. Again, I didn't think this was particularly clubby or danceable, but hey -- what do I know? I'm sure the remix record can't be far behind... In the meantime these relatively straightforward, well-produced renditions will suit most folks just fine. Worth checking out!

Rosalia De Souza "Garota Diferente" (Schema, 2004)



Remixes of the Garota Moderna album...

Rosalia De Souza "Brasil Precisa Balancar" (Schema, 2006)


Rosinha De Valenca - see artist discography
Os Devaneios "Devaneando" (Master Sound)
(Produced by Nelson Trigueiro & Nivaldo Duerte)
To be perfectly honest, this is completely negligible, downtempo instrumental music with a slight pop/rock tinge, sort of like Roberto Carlo's RC7 but without any real pep or pizazz. The organist who leads this ensemble is capable of fairly complex melodies, but plays without much bounce or flair, while the rhythm section and electric guitarist sound like a particularly lethargic wedding band. The saxophonist, who rarely solos, was inept. This must be an early edition of the band, as they apparently stuck together throughout the '70s and cut at least one record I've seen described as a "samba soul" album, a claim that makes me skeptical, although I'll reserve judgement until actually hear it. This one, though? You can skip it. It's pretty mediocre.


<! 01 – Devaneio 02 – Vai Pecadora 03 – Sou Feliz com Mamae 04 – Gosto do Jeitinho Dela 05 – Esqueca 06 – Comprei um Karman Guia 07 – Mary Baby Samba 08 – Devaneando 09 – Ceu Azul 10 – Tema em Fa 11 – Tema Nr. 2 12 – Bossa Nova for You >

Os Devaneios "Embalo Diferente" (EMI, 1978)



<! samba funk? >

---
Brazilian Music - More Letter "D"
---



Main Brazil Index
World Music Index

---