<! MP3 10/15/08, 03/21/12 > <! pix 11/13/09 - reorg > <! ALLBM 00/00/00 > <! icons 01/21/11 > <! UPDATES: 10/15/08 03/21/12 - posted Dolores Duran, Zelia Duncan, Altemar Dutra pages >
---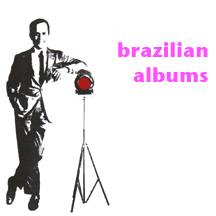 This is Page 6 of Brazilian artists under the letter "D"
If an artist or album you like is not reviewed here, please feel free
to contact me and make a suggestion.
---
A | B | C | D-1 / 2 / 3 / 4 / 5 / 6 | E | F | G | H | I | J | K | L | M | N | O | P | Q | R | S | T | U | V | W | X | Y | Z | Compilations
Brazilian Styles | 30 Recommended Records | Portuguese-language pop | Brazilian Links | Slipcue.Com
---
Mauro Duarte & Cristina Buarque "Cristina & Mauro Duarte" (Coomusa, 1985) (LP)


A collaboration between sambista Mauro Duarte and samba revivalist Cristina Buarque... A Portela member, Duarte was a member of Os Cinco Crioulos and composed several hit songs, notably "Portela Na Avenida," which was recorded by Clara Nunes. But other than this disc and the fabled Cinco Crioulos records of the '60s, I'm not sure if he recorded any other albums. Anyone know for sure?
Jane Duboc - see artist discography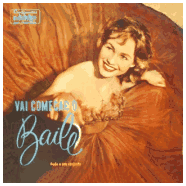 Duda "Vai Comecar O Baile" (Continental, 1958) (LP)
One of the vast legion of nightclub performers in 1950's Brazil, pianist Aldovrando de Castro went by the nickname Duda, leading a small ensemble through a very relaxed, very lounge-y set, covering various North American, Latin American and Brazilian standards. Nothing terribly remarkable, to be honest, just a competent piano-guitar-sax-accordion combo going through the moves in a standard-issue, mainly instrumental dinner music repertoire. This particular album features a few '50s-style rock tunes which, like the other stuff, doesn't have much of a distinctively "Brazilian" sound woven in (ie, no samba to speak of...) Perhaps noteworthy: the inner label identifies the guitarist as someone named "Kon-Tiki," doubtless a pseudonym for some better-known picker, but I have no idea yet who it might have been. Hardcore lounge fans might dig this record, but most folks can pretty safely skip it.


<! LPP 3015 this album from 1958, which is, his second LP out of four which he released in the period between 1957 and 1959. >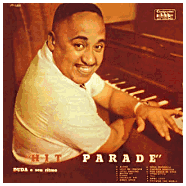 Duda "Hit Parade" (Continental, 1958) (LP)



<! LPP 3032 his third LP 186 x 186 uploaded >

Abel Duere "Criolinha: Musicien Africain" (RCA, 1988) (LP)


A very interesting album, which took the Africanized pop of the reggae-tinged "fricote" style of Sao Salvador to its ultimate conclusion, recording actual African pop, with African musicians, while alternating between Portuguese and African lyrics... (Sorry, I don't know what languages are involved...) Duere himself was of Angolan-Portuguese descent, born in Africa but raised in Brazil, and brings an obvious authenticity to this stylistic crossover. The sound is pretty glossy, sort of a meeting point between the slick production style of the Parisian Afro-Pop school and the slick production style of '80s Brazilian MPB. For the most part, I don't it in musical terms, but conceptually it's pretty amazing. Not sure who the backing musicians, Banda Afra Sound Stars, really were -- they may have been Brazilian ringers, or African immigrants -- but their sound seems pretty authentic.


<! 03/12: unable to find GIF >

Abel Duere "Ombaka" (Quantitum/Afrik Music, 2007)

Dulce (Nunes) - see artist discography
Zelia Duncan - see artist discography
Duofel "As Cores Do Brasil" (Velas, 1990)

Duofel "Duofel" (Camerati, 1993)


Duofel & Badal Roy "Espelho Das Aguas: Ao Vivo" (Velas, 1994)



Indian percussionist Badal Roy joins guitarists Fernando Melo and Luiz Bueno (aka Duofel) for an interesting live acoustic set, exploratory "new acoustic" work that brings Leo Kottke, et al to mind. It's not overtly "Brazilian," but it is quite nice for the style. Roy's tabla work mainly seems to follow the drifting of the guitars, rather than the other way around, so I'm not sure how effective this is as a cross-cultural fusion... Still, if you like modern acoustic music with plenty of propulsive drive, this may really rock your world.


<! http://cliquemusic.uol.com.br/artistas/duofel.asp >

Duofel "Kids Of Brazil" (Velas, 1996)

Duofel "Atenciosamente" (Trama, 1999)


Duofel "20: Ao Vivo Teatro Municipal De Sao Paulo" (Trama, 2000)


Duofel "Frente & Verso - Ao Vivo" (MCD, 2004)

Duofel "Precioso" (Fine Music, 2006)


Duofel "Experimenta" (Camerati, 2007)

Duo Retrato Brasileiro "Espia So: As Musicas De Octavio Dutra" (Revivendo, 2005)

Rogerio Duprat - see artist discography
Dolores Duran - see artist discography

Eduardo Dusek "Olhar Brasileiro" (Philips, 1980)


Dusek's first album -- a kooky, rather unusual MPB outing, with fast, extravagant, flamboyant arrangements, very much in the tradition of Broadway-based musical theatre and some of the wilder cabaret acts. It's off the beaten path, but still quite interesting, compelling even. Worth checking out, particularly if you're up for something different than the run-of-the-mill, super-classy pop that was the Brazilian norm in the late '70s and early '80s. Might be a bit too manic for some, but I found it compelling, with signs of life and renewed playfulness that are nice to hear.
Eduardo Dusek "Cantando No Banheiro" (Polydor, 1983) (LP)

Eduardo Dusek "Brega-Chique" (Polydor, 1984)

Eduardo Dusek "Na Sua" (Polydor, 1986) (LP)

Eduardo Dusek "Minha Historia" (Polygram, 1990)

Eduardo Dusek "Millennium" (Universal, 1999)

Eduardo Dusek "A Arte De..." (Universal, 2006)

Eduardo Dusek "...E Show" (2011)


A live show with guest appearances by Preta Gil and Ney Matogrosso...


<! Eduardo Dusek (Rio de Janeiro, January 1, 1958) is a Brazilian actor, singer and composer. He began his artistic career as a pianist plays at fifteen, when she studied at the National School of Music. Later went on to compose their own songs and assembled a band, which eventually sponsored by Gilberto Gil. From 1978 he had some songs recorded by big names of the MPB, as As Frenˇticas (samba "Vesuvius"), Ney Matogrosso (the fox "Seu Tipo") and Maria Alcina (the frevo "Folia no Matagal", two years later rewritten by Ney Matogrosso) - all in partnership with Luis Carlos G—is. His compositions sought to combine satire and humor. In 1980 he participated in the MPB Shell festival of Rede Globo in his underwear singing a mocking song "Nostradamus", which did not qualify but was known by the public. By this time he recorded his first LP, "Olhar Brasileiro". But success would burst in 1982, when he flirted with the incipient pop-rock, the LP "Cantando no Banheiro" with "Barrados no Baile"(with Luis Carlos G—is)," Cabelos Negros"(with Luiz Antonio de C‡ssio) and "Rock da Cachorra" (Lˇo Jaime). Two years later, he became famous with the LP "tacky-chic," whose title track, better known as "Home," was a social satire, and nonsense in the climate of the theater of the time. In 1986, he released "Dusek on your" to "Adventure" and "I sailed on You," one of the most moving songs of MPB, then rewritten by Zizi Possi. In 1989, he returned to the scene with the musical "Shop of Horrors," which acted in the role of the dentist. In 90 years, away from the role of singer, played the character of Captain Gon¨alo-Mor in the novel "Xica da Silva," the former Network Headline. He served as director of shows and at the end of the decade, again showed some work as a comedian and singer, one of Carmen Miranda. >


Altemar Dutra - see artist discography




---
Brazilian Music - Letter "E"
---



Main Brazil Index
World Music Index

---