<! MP3 10/14/08, 11/14/09, 03/25/12 > <! pix 11/14/09, 03/25/12 > <! ALLBM 00/00/00 > <! icons 01/22/11 > <! UPDATES: 10/14/08 - need 14 Bis page? 01/23/10 - posted 14 Bis 03/25/12 - added Celso Fonseca page (still needs bio) > <! Firmino De Itapoa "Firmino De Itapoa" SAMBA DE MALANDRO (Copacabana) > <! BOB FLEMING > <! Bene Fonteles "Benedito" (Arco Iris, 1983) - "experimental" > <! Paula Fernandes EXPAND > <! Déa Franco - female vocalist Fruto Da Terra "Fruto Da Terra" (RGE, 1983) > <! Tadeu Franco "Cativante" (Barclay, xxxxx) > <! Free Son "Banguele" (Chantecler, 1972) > <! Laura Finocchiaro "Laura Finocchiaro" (BMG, 1992) > <! Fredera "Aurora Vermelha" (Som Da Gente, 1981) From Rio de Janeiro jazz guitarist, composer, painter Frederico Mendonća de Oliveira better know as Fredera >
---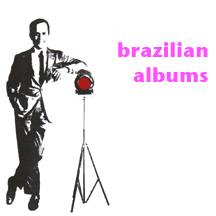 This is the second page of a llisting of miscellaneous albums and artists under the letter "F"
If an artist or album you like is not reviewed here, please feel free
to contact me and make a suggestion.
---
A | B | C | D | E | F-1 / 2 | G | H | I | J | K | L | M | N | O | P | Q | R | S | T | U | V | W | X | Y | Z | Compilations
Brazilian Styles | 30 Recommended Records | Portuguese-language pop | Brazilian Links | Slipcue.Com
---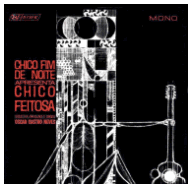 Chico Feitosa "Chico Fim De Noite" (Forma, 1965)


A swinging little bossa album with some wild, intricate arrangements, courtesy of the innovative Forma label vibe, as interpreted by Oscar Castro-Neves and his band. Feitoso is best known as a composer, popular with the MPB elite, but this is his one and only solo album in a long musical career. At first blush, I was put off by his deep, Barry White-ish vocals, but a closer listen reveals him as a masterful singer, with great tonal control, subtle phrasing and inherent charisma. This is quite a good record from this era, and sorely in need of reissue. Highly recommended.
Chico Feitosa "Um Banquinho, Um Violao" (Seven Music, 2001)

Chico Feitosa "Nas Margens Geste Chao" (2010)

David Feldman "O Som Do Beco Das Garrafas" (EMI, 2005)







Romeu Feres "Tardes Orientais" (Odeon, 1957)



<! Temos aqui o cantor de origem libanesa Romeu Féres, acompanhado de côro e a orquestra do Maestro Luiz Arruda Paes. Embora o repertório seja totalmente de música árabe, o disco foi gravado aqui no Brasil. "Tardes Orientais" nasceu em consequźncia do sucesso de um outro disco, "Jóias Árabes", lanćado pela mesma gravadora um ano antes e com o mesmo cantor. Muitos acreditam que Romeu Féres fosse também árabe, mas ele nasceu em Sčo Paulo, em 1918. Com um descendente árabe, foi criado dentro das tradićões de seus pais. Tocava alaúde, um dos mais antigos instrumentos de cordas do mundo. É considerado o primeiro cantor profissional da música árabe no Brasil. Iniciou a sua carreira nos anos 40, onde atuou no Cassino da Urca, ao lado de outros grandes nomes como Elvira Rios, Pedro Vargas e José Mojica. Cantava em sete idiomas, o que lhe dava um leque de um amplo repertório internacional. Suas primeiras gravaćões saíram pelo selo Continental. Gravou música brasileira, versões e outras em idiomas francźs, inglźs, italiano, alemčo, espanhol e árabe. Atuou nčo apenas no Brasil, mas também na Europa e em países da América do Sul. Como a comunidade árabe no Brasil é muito grande, Féres fez sucesso com seu disco "Jóias árabes" e por conta disso, no ano seguinte lanćou este "Tardes Orientais", um álbum com oito belíssimas canćões de autoria do próprio Romeu Féres em parceria com o poeta árabe Tanios Baaklini. Os arranjos e orquestraćčo sčo de Luiz Arruda Paes, que procurou ser o mais fiel na aproximaćčo com o estilo musical árabe. Um disco realmente interessante e curioso. Vale conferir! >
Paula Fernandes "Ao Vivo" (Universal-Brasil, 2011)


Carlos Fernando & Toninho Horta "Qualquer Cancao: A Musica De Chico Buarque" (Dubas, 1994)



An homage to songwriter Chico Buarque with vocalist Carlos Fernando, of the band Nouvelle Cuisine joined by guitarist Toninho Horta.




Abel Ferreira/Various Artists "Os Brasileiros Na Europa" (Odeon, 1958)
In the late 1950s, a number of Brazilians toured Europe with tremendous success. Here, Abel Ferreira plays clarinet with a compact lineup of Pernambuco do Pandeiro's forro/choro band, including Sivuca on accordion; the vocal group Trio Irakitan is also included on this album.


<! 01 - Maracangalha (Dorival Caymmi) 02 - Brasileirinho (Waldir Azevedo) 03 - A Fonte Secou (Monsueto-Tufic Lauar-Marcléo) 04 - Carrapicho (Humberto Teixeira) 05 - No Paraiso das Mulatas (Guio de Morais) 06 - Vai na Paz de Deus (Ataulfo Alves-Antônio Domingues) 07 - Nega (Waldemar Gomes-Afonso Teixeira) 08 - Vai Com Jeito (Jočo de Barro) 09 - O Baičo Em Paris (Humberto Teixeira) 10 - Zezé (Humberto Teixeira-Caribé da Rocha) 11 - Mulata Mulata (Roberto Martins-Jair Amorim) 12 - Fantasia Carioca (Osvaldo Santiago-Alcyr Pires Vermelho) Sivuca - accordion Pernambuco do Pandeiro (Inácio Pinheiro Sobrinho) - pandeiro Dimas - drums Abel Ferreira - clarinet >

Abel Ferreira "Brasil, Sax E Clarineta" (Discos Marcus Pereira/EMI-Brasil, 1976/2003)
Beautiful, soulful, gently textured readings of old choro tunes written for the saxophone and clarinet, including several songs written by Ferreira himself. An early master of the style, reedman Ferreira brings a richness and sensitivity to these songs that really makes this album stand out... The guitarist known as Dino 7 Cordas accompanies him, with contributions by Raul de Barros and Orlando Silveira. Recommended! (Part of EMI's "Serie Choro - Grandes Solistas.")
Abel Ferreira "20 Selecionadas" (2007)

Abel Ferreira "Chorando Baixinho" (2007)


Djalma Ferreira & Seus Milionarios Do Ritmo "Drink" (Drink Discos, 1958)
A goofy lounge act, committed to record, with various instruments being used to imitate animal noises -- pigs, ducks, chickens, etc. -- in sort of a Spike Jones/Hoosier Hotshots/Slim & Slam kinda vibe, but inside the context of the pre-bossa Brazilian nightclub scene. It looks like this album came out on the same label as Celso Murillo's more highminded samba-jazz records, and was attached to the Drink nightclub. I wouldn't say this is a record you have to kill yourself to track down, but it is good goofy fun. What it's really notable for it the presence of several '60s heavyweights -- Ed Lincoln on organ (along with bandleader Ferreira, who also played something called a "solovox"); singer Miltinho chimes in as well -- I think he also sang on the Celso Murillo records.

Djalma Ferreira & Seus Milionarios Do Ritmo "Depois Do Drink" (Drink Discos, 1959)
More of the same: this record has more cover tunes and less of Ferreira's original material, mixing standards by Cole Porter, etc. with some Brazilian originals. The band's interesting, though, with Ed Lincoln and Djalma Ferreira joined by guitarist Waltel Branco and drummer Helcio Milito, who became one of the key players on the Brazilian jazz scene. Again, not a killer album, but a cool historical footnote.


<! Djalma Ferreira "Drink" (Drink Discos, 1958) with Ed Lincoln ("...E Seus Milionarios Do Ritmo") Mostly Ferreira originals, with a few covers - Jobim, Gershwin, Djalma Ferreira (organ, solovox) Ed Lincoln (organ) Araken Peixoto (piston) Miltinho (crooner) Waltel Branco (?) (bass) donald duck scatting... goofy vocals! Djalma Ferreira "Depois Do Drink" (Drink Discos, 1959) with Ed Lincoln Lounge music, mixing stadrds by Cole Porter, etc. with some Brazilian originals, including a few by Ferreira Djalma Ferreira (organ, piano, solovox) Ed Lincoln (bass, piano) Waltel Branco (guitar, bass) Helcio Milito (drums) >

Djalma Ferreira "The Brilliance Of Djalma" (D. F. Records, 19--)
Apparently at some point (in the early '60s? There's no date on this album...) Ferreira had a gig in Las Vegas, where he recorded this self-released album of all-original material, with a backing band that included North American jazz bassist Red Callendar and Brazilian guitarist Laurindo Almeida, in an ensemble of more obscure American players. Several tracks were co-written with jazz critic Leonard Feather (which is kind of cool) and Ferreira plays a variety of keyboard instruments -- Hammond organ, harpsichord and piano -- and is credited with the arrangements for the small combo stuff. Anyone know when this came out...??


<! (Produced by Djalma Ferreira & xxxxxx Fields) >

Nelson Ferreira/Various Artists "20 Super Sucessos - Historia Do Carnaval" (Sony, 1999)

Nelson Ferreira/Various Artists "Carnaval: Sua Historia, Sua Gloria -- CD 1" (Revivendo, 2007)


This series explores the music of 1930s carnaval composer Nelson Ferreira, who worked in a variety of styles, but is best known for the manic, mile-a-minute frevo, which he favored. There's a lot of fast-tempoed material here, with appearances by several stars of the old-school samba-cancao era... The sound quality is lamentably poor (perhaps due to the scarcity of good masters?) but the material has profound historical importance. On a few tracks you can hear Ferreira himself sing, and these are a real treat. A nice window into a lost era of Brazilian partying -- lively, exuberant music bursting with good cheer.


<! v.23 >

Nelson Ferreira/Various Artists "Carnaval: Sua Historia, Sua Gloria -- CD 2" (Revivendo, 2007)





<! v.24 >

Nelson Ferreira/Various Artists "Carnaval: Sua Historia, Sua Gloria -- CD 3" (Revivendo, 2007)





<! v.25 >

Nelson Ferreira/Various Artists "Carnaval: Sua Historia, Sua Gloria -- CD 4" (Revivendo, 2007)





<! v.26 >

Nelson Ferreira/Various Artists "Carnaval: Sua Historia, Sua Gloria -- CD 5" (Revivendo, 2007)





<! v.27 >

Nelson Ferreira/Various Artists "Carnaval: Sua Historia, Sua Gloria -- CD 6" (Revivendo, 2007)


In this volume, Ferreira sings on "Come-E-Dorme" and a delightfully relaxed "Cabelos Brancos"; also several tracks featuring Carlos Galhardo, Gilberto Alves, a lively Carmen Miranda-esque samba from Marlene, and one by the Orquestra de Frevos de Jose Menezes.


<! v.28 > <! "Hino Joao Cleofas" recycled by Caetano Veloso? >

Veronica Ferriani "Veronica Ferriani" (Tratore, 2007)


Veronica Ferriani & Chico Saraiva "Sobre Palavras" (Boranda, 2009)


Manfredo Fest - see artist discography
The Fevers - see artist discography
Filo "Filo" (Chantacler, 1978) (LP)





<! main artist, songwriter: Judith de Souza Produced by Luiz Mocoral (?? hard to see last name) Celso Machado in band? >

Fino Collectivito "Fino Collectivito" (Dubas, 2007)








Aecio Flavio "Tributo A Chico Buarque" (Bemol)



<! http://www.dicionariompb.com.br/aecio-flavio Aecio Flavio is a pianist, arranger and composer, with several collaborations with renowned Brazilian musicians, such as, Carlos Lyra and Vinicius de Moraes, as arranger of Pobre Menina Rica, Jane Duboc, Leo Gandelman among others - different from '90s forro artist? - >

Aecio Flavio "O Melhor Da Noite" (Philips, 1964)





Flenks "Flenks" (Visom, 2000)


A jittery set of hyperactive rock instrumentals by a trio of musicians who worked extensively as backup for MPB stars such as Caetano Veloso and the late Cassia Eller. Sort of a discomforting mix between Steve Vai and the Meters, with just a smidge of Brazilianness in the margins. Not my cup of tea.

Ademilde Fonseca "A La Miranda" (Odeon, 1958)
The first full-length LP from this fabled chorinho singer... Fonseca got her start years earlier, performing with choro bandleader Benedito Lacerda and releasing several hit singles in the early 1940s, during the tail end of the samba-cancao era. Here she pays tribute to the great Carmen Miranda (who had died a few years before this record was made, in the far-away United States...) Here Fonseca sings classic samba-cancao songs with the same upbeat lilt as Miranda, including many Miranda-esque tounge-twisters and chatty asides. It's not as wild or as magical as the original recordings, but it's still classy and fun, even with the slightly fusty orchestrations... Worth checking out.


<! her first album recorded by Ademilde Fonseca in the 12-inch format. >

Ademilde Fonseca "Choros Famosos" (Philips, 1960)
An unusual album, in that choro music is primarily an all-instrumental form (when it includes vocals, it's called "chorinho...") This album, released well after her professional heyday, opens with an uptempo remake of her first big single from 1942 (a zingy cover of Carmen Miranda's old hit, "Tico Tico Na Fuba") and then Fonseca dips into more sedate material, alternating romantic ballads with the perkier chorinhos... The faster songs keep the traditional choro instruments -- flute, guitar, bandolim, some brass -- but the ballads include bigger, goopier orchestrations. So, it's sort of hit or miss. But the nice stuff is really nice -- a groovy blast from the past from a long-forgotten and quite endearing performer.


<! Vadico as musical director >

Ademilde Fonseca "A Rainha Do Chorinho" (Top Tape, 1975) <! '77? >
(Produced by Jorge Countinho) <! arrangements by Orlando Silveira, Nelsinho & Menezes (bandolim player) >
Revisiting her classic catalog with an all-star cast of '70s session players, Fonseca musters up some of her old power and pep, although on most the album, her age is evident: she's still a nimble singer and able to bounce around in the melodies the way she used to, but her voice is itself not as supple or sweet as it once was. A nice nostalgia piece, but the old recordings are better, even with all the great new acoustic backing. Includes one song, "Titulos De Nobreza (Ademilde No Choro)" that was written by Joao Bosco and Aldrir Blac especially for her; the opening track, Martinho da Vila's "Choro Chorao" is quite nice, as is the slower "Meu Sonho." Sadly, though, I didn't enjoy this album as much as I hoped. Performers include Abel Ferreira on clarinet, flautists Altamiro Carrilho and Copinha, Canhoto, Wilson Das Neves and others...


<! This album was recorded in 1975 and follows immediately Choros Famosos (1962), a hiatus of 13 years on recordings. This is Ademilde Fonseca - A Rainha do Chorinho (1975), for Top Tape, featuring Ademilde Fonseca chorinho standards with some new compositions, including Titulos de Nobreza "Ademilde no Choro" written by Joao Bosco and Aldir Blanc as a gift to Ademilde Fonseca. I think this album is a real find, a breathtaking constellation of Brazilian musicians were in this session, and among many other surprises, I got really amazed with the open tune, Choro Chorao, a choro composition by the Samba legend Martinho da Vila. Orlando Silveira, Maestro Nelsinho, Menezes (musical direction, arrangements) 01 - Choro Chorčo (Martinho da Vila) 02 - Brasileirinho (Waldir Azevedo) 03 - Coraćčo Trapaceiro (Hermínio Bello de Carvalho / Vital Lima) 04 - Doce Melodia (Abel Ferreira / Luis Antônio) 05 - Amor Sem Preconceito (Candeia / Paulinho da Viola) 06 - Choro do Adeus (Nelson Cavaquinho / Guilherme de Brito) 07 - Títulos de Nobreza (Ademilde no Choro) (Jočo Bosco / Aldir Blanc) 08 - O Que Vier Eu Traćo (Alvaiade / Zé Maria) 09 - Meu Sonho (Paulinho da Viola) 10 - Pedacinho do Céu (Waldir Azevedo / Miguel Lima) 11 - Tico-tico no Fubá (Zequinha de Abreu) Dinorah (Benedito Lacerda / José Ramos) 12 - Lamento (Pixinguinha / Vinicius de Moraes) >

Ademilde Fonseca/Waldyr Azevedo/Jacob Do Bandolim "Ve Se Gostas" (Revivendo)


Prime choro tracks by three stars of the choro genre. These 1942-1955 recordings feature bandolim master Jacob Do Bandolim, cavaquinho whiz Waldyr Azevedo, and vocalist Ademilde Fonseca performing in separate recordings, and all in their prime. Fonseca's voice may be a little songbirdish at times, but every track on here is a delight... highly recommended!
Ademilde Fonseca "20 Selecionadas" (Eldorado, 2000)





<! The most important singer of the choro genre, which is instrumental by nature due to its fast tempo and full melodies, Ademilde Fonseca acquired a rare proficiency and had an important career, being celebrated by many composers like Pixinguinha, Waldir Azevedo, and Garoto. Moving at age four to Natal RN, with her family, Fonseca frequented the local serestas at a very early age, later marrying one of the participating musicians, Naldimar Gedečo Delfim. After the marriage, she moved to Rio in 1941, opening in Renato Murce's novice show Papel Carbono at the Rádio Clube do Brasil the next year. Also in 1942, she had success singing "Tico-tico no Fubá" (Zequinha de Abreu) with the regional of Benedito Lacerda. In July, she had her first record released, Tico-tico no Fubá. The album was received with success. In 1943, she recorded "Apanhei-te, Cavaquinho" (Ernesto Nazareth/Jočo de Barro) and "Urubu Malandro" (adaptation by Lourival de Carvalho). Acknowledged as a successful singer, she became a requested professional by several composers. In 1944, she was hired by Rádio Tupi (Rio), performing with the regionais of Rogério Guimarčes and Claudionor Cruz. In the next year, her recording of the polka "Rato, Rato" consecrated her as the best singer of the choro genre. Accompanied by Garoto and the Conjunto Bossa Clube in the last recording, Fonseca would also record new choros by Garoto ("Sonhador," "Celestial," "Meu Cavaquinho") with the same sidemen, an all-star team, in fact (Valzinho, Luís Bittencourt, Luís Bonfá, Garoto, Zimbres, Sebastičo Gomes, and Hanestaldo). With the decline of choro in the '40s, her prestige also decayed, but she had hits again in the '50s with "Brasileirinho" (by Waldir Azevedo, lyrics added later by Pereira da Costa) and "Teco-teco" (Pereira da Costa/Milton Vilela), accompanied in both by the regional of Waldir Azevedo. In 1952, she performed in Paris, France, accompanied by Severino Araújo's Orquestra Tabajara. She recorded several albums that became hits until 1955. She also had noted participation at Rádio Nacional, having been accompanied by the regionais of Canhoto, Jacob do Bandolim, and Pixinguinha, and the orchestras of Radamés Gnattali and Chiquinho. In 1964, she toured through Portugal and Spain with singer Jamelčo, performing six months in Lisbon. In 1967, the decline of choro was felt under the weight of a gross injustice when she was booed, together with Pixinguinha, who was accompanying her in "Fala Baixinho" (Pixinguinha/Hermínio Bello de Carvalho) at the II FIC. In 1970, she had success in shows at the Teatro Opiničo, with her hits being reissued on the Top Tape LP of 1975. Also recorded in that decade was "Títulos de Nobreza -- Ademilde no Choro" (Jočo Bosco/Aldir Blanc). In 1997, she recorded the CD Ademilde Fonseca -- Rainha do Choro with RGE. ~ Alvaro Neder, All Music Guide >


Celso Fonseca - see artist discography



Zila Fonseca "Zila Fonseca" (Columbia, 1955) <! 1957? >
Don't know much about Ms. Fonseca... She started her career back in the 1940s, recording a handful of samba-cancao singles in the style of Carmen Miranda, and put out a couple more records a decade or so later... It's nice stuff; I'd say the '50s recordings have more resonance and depth, but the '40s tracks (which were collected on LP at one point) are pleasant as well.




Zila Fonseca "Sambas Da Saudade" (Columbia)





Zila Fonseca "Sambas Da Saudade, v.2" (Columbia, 1958) <! date? >
I like these later recordings... She's still imitating (and covering) Carmen Miranda, but she's doing it as a more mature and more mellow performer... I like her voice, and the pop-vocals-y arrangements are nice. Definitely worth a spin.


<! 1929-1992 Radio Tupi star Surgiu em finais da década de 1930, sendo contratada pela Rádio Tupi paulista e logo após pela Rádio Mayrink Veiga do Rio de Janeiro. Lanćou seu primeiro trabalho pela gravadora Columbia, mas também gravou por outras fábricas como a Odeon e a Todamérica. >

Claudio Fontana "Serie Bis: Jovem Guarda" (EMI, 2000)

Claudio Fontana "Selecao De Ouro: 20 Sucessos" (EMI, 2002)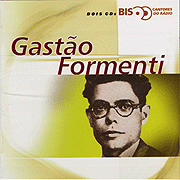 Gastao Formenti "Serie Bis - Cantores Do Radio" (EMI-Brasil, 2000)


Antique recordings from the era of pre-bossa nova "radio singers." Nearly half the tracks on this 2-CD set are from the 1920s, and most of the others are of '30s vintage. Although there's some samba influence, these tracks tilt towards acoustic ballads and romantic interpretations along the lines of Cuba's Antonio Machin and Miguel Matamoros rather than dance tunes. It's a nice slice of old-world Brazilian pop that's unfamiliar to modern ears... nice stuff! Highly recommended!
Gastao Formenti "Noite De Encanto" (Revivendo, 2007)







Gastao Formenti "Quadros Musicais" (RCA Victor, 1959)



<! 01 - De papo pro á (Olegario Mariano - Joubert de Carvalho) 02 - Retalhos d'alma (Milton Amaral) 03 - Samba da saudade (Ronald Lupo - Saint-Clair Senna) 04 - Na serra da Mantiqueira (Ary Kerner) 05 - Meu último luar (Waldemar Henrique) 06 - Zíngara (Olegário Mariano - Joubert de Carvalho) 07 - Maringá (Joubert de Carvalho) 08 - Coraćčo, por que solućas?... (José Maria de Abreu - Saint-Clair Senna) 09 - Cobra grande (Waldemar Henrique) 10 - Folhas ao vento (Milton Amaral) 11 - Vinganća (Francisco Mattoso - José Maria de Abreu) 12 - Casa de caboclo (Luiz Peixoto - Hekel Tavares) >


14 Bis - see artist discography




Neyde Fraga & Walter Wanderley "Balancando Com Walter Wanderley" (Philips, 1964)
(Produced by Alfredo Borba)
A fun set from singer Neyde Fraga (whose career spanned back to the early 1950s: anyone know if her pre-LP stuff is available anywhere?) backed here by organist Walter Wanderley and a large-ish band that sometimes widens the sound from the normal Wanderley style. Fraga is a very appealing singer, performing here with a lightness, lilt and intimacy that's quite different from her later, brasher big band work on Continental. I suppose that shows her range: in either mode, she sounds great. Wanderley's presence is definitely felt as well; his trademark dit-dit-dit organ riffs thread through all the songs, but mostly he tones it down and plays it cool. Definitely worth checking out.

Neyde Fraga "Mais Balanco" (Continental, 1965)


A swinging set, featuring lively, inventive, upbeat, big band-y dance tunes with some serious jazz chops throughout. Not sure who was in the band, but the bandleaders and arrangers are Erlon Chaves and Francisco de Moraes, and they really deliver the goods. So does Ms. Fraga -- in terms of timbre and tonality she might not have the greatest voice, but her phrasing is superb and she is a very playful and nimble performer. Teresa Brewer and Anita O'Day come to mind... The arrangements are a gas, too, particularly on some of the more inventive tracks, such as "Onda Quebrando" and "Posto Seis," which have great, fluttering flute riffs. Definitely worth tracking down!


<! Neyde Fraga - Mais Balanco com Neyde Fraga (1965), for Continental, an contagious samba album with a swingy big band orchestra and arrangements shared by Erlon Chaves and Francisco de Moraes. Actually each one is in charge of six arrangements as indicated at track list. Neyde Fraga recorded several 78 rpm, some singles, EPs, three LPs and for reasons that I don't know she stop her career after releasing this album. The third Neyde Fraga LP is a 10-inch format, released in 1957 for Odeon. I'm tracking down this one and any hint is really appreciated. Tracks include: 01 - Samba Jazz (Ely Silva / Meneguim Júnior) ERLON CHAVES 02 - Gente (Marcos Valle / Paulo Sergio Valle) FRANCISCO DE MORAES 03 - Dor de Separar (Hilton Accioli / Roberto Luna) ERLON CHAVES 04 - Miss Biquini (Sylvio Mazzuca / Zuleika Amaral) FRANCISCO DE MORAES 05 - Só Deus e Eu (Jorge Costa / Sebastičo da Silveira) ERLON CHAVES 06 - Mar Amar (Roberto Menescal / Ronaldo Bôscoli) FRANCISCO DE MORAES 07 - Balanćafro (Luis Bandeira) FRANCISCO DE MORAES 08 - Posto Seis (Zé Keti / José Ari) ERLON CHAVES 09 - Arrastčo (Edu Lobo / Vinicius de Moraes) FRANCISCO DE MORAES 10 - Onda Quebrando (Zil Rosendo) ERLON CHAVES 11 - Barquinho Diferente (Sergio Augusto) FRANCISCO DE MORAES 12 - Vá Ser Feliz (Geraldo Vandré) ERLON CHAVES >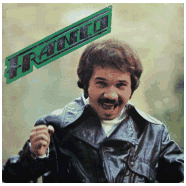 Franco "Franco" (Continental, 1978) (LP)


The former bass player for the jovem guarda '60s rock band Os Brasas, Franco Scornavacca cut a wide swath in Brazil's 1970's "samba rock" scene, as a session player, producer and in this case as a solo artist. I think this may have been his only solo album (anyone know for sure?) and is considered a classic of the genre, with tracks that include perennial favorites such as "Bloco Maravilha" "Como?" and "Fazer Molho Na Cozinha." Backing Franco is his Os Brasas bandmate, guitarist Luis Vagner as well as saxophonist Hector Costita and Branca Di Neve, a fellow samba-rock also-ran who recorded a couple of albums around the same time. Funky stuff -- definitely worth a spin! (Note: three of Franco's sons, Kiko, Leandro and Bruno -- formed the pop band KLB.


<! Franco Scornavacca é italiano e aos oito anos veio para Porto Alegre, como baixista, integrou a banda Os Brasas, é pai dos integrantes do KLB (sic) e foi ou ainda o é, nčo possuo essa informaćčo precisa, empresário de Zezé di Camargo e Luciano. Lanćou catorze compactos e dois álbuns, em depoimento ą finada Revista Bizz de agosto de 1999, lamentava o fato da dificuldade daqueles tempos, anos 70, pelos problemas enfrentados com o pessoal do rock e do samba, que nčo entendiam o som suingado que produzia, mas ao mesmo tempo sentia muitas saudades e a canćčo "Rock Enredo" é o seu primeiro sucesso. Porém, seu trabalho que obteve maior źxito é o LP Franco (Continental, 1978) em que figuravam composićões de Luis Vagner, Hélio Matheus, Bedeu, Alexandre, Antonio Marcos, Voltaire, entre outros. Músicas como a divertida "O Rock do Rato" e o sambablackrock "Black Samba", sčo clássicos dos bailes, mais a venenosa "Fazer Molho Na Cozinha", a de levada latina "Bloco Maravilha", a lírica e essencial "Como?", a introspectiva "Moro No Fim Da Rua" e as canćões que sintetizam a pluralidade musical do álbum por suas melodias, pelo cenário apresentado, pela citaćčo de seus ídolos nas letras, que pode ser conferido em "Guitarreiro", "Coqueluche", "Coisas Antigas" e "Nostalgia Transviada". Um conjunto formidável de instrumentistas participou das sessões de gravaćčo, entre eles Luis Vagner (guitarra e violčo), Branca Di Neve (ritmo), Armandinho (piano), Hector Costita (sax) e Roberto Sion (sax), que com excelźncia e balanćo, protagonizaram esse suntuoso disco. >

Guilherme Franco "Capoeira: Legendary Music Of Brazil" (Lyrichord, 1998)



A cool instrumental album featuring the eerie and hypnotic sounds of Brazil's unique martial arts form, capoeira dancing. Franco, a solid percussionist with a strong jazz pedigree (who also spent a couple of years in Jorge Ben's band), is the inventor of the double berimbau, which is the main lead instrument on this album. Perhaps a bit more boing boing boing-ing than the average bear is looking for, but nonetheless this is a compelling album, and well worth checking out. Excellent percussion, and a very traditional (non-fusion) sound throughout. Recommended.

Lucienne Franco "Lucienne -- A Notivel" (Barclay, 1959)
(Produced by Altamiro Carrilho)
Popular in the 1950s, before the advent of the bossa nova, singer Lucienne Franco was apparently a protege of samba composer Ary Barroso and guitarist Luiz Bonfa (each of whom contribute songs to this album.) This set is very much in the syrupy, romantic tradition of the pre-bossa "radio singers," with a heavy influence from the South American bolero, with Franco's husky voice well-suited to the style. It's a little too corny and operatic for my tastes, but listeners with deeper interests in pop vocals nostalgia might really dig it. Features arrangements from bandleader Severino Filho, as well as a couple of his compositions, and a couple credited to producer Altamiro Carrilho.


<! This is the debut LP of an extraordinary Brazilian singer that record only three LPs in the early 60's and just left the scene for reasons that I could not track down. Lucienne Franco was the favorite singer of many renowned Brazilian artists, such as Ary Barroso and Luiz Bonfa. Actually, she had the chance of making her first public performance at Friend's nightclub with Ary Barroso recommendation and a contract with TV Rio channel with the blessing of Luiz Bonfa. I read several times that Lucienne Franco is one of the best singers in Brazil, unfortunately, nobody could tell me why she retired. Let's see. This is Lucienne Franco - Lucienne, A Notavel (1959), for Copacanana, presented to Loronixers with a Beverly 1960 reissue. Altamiro Carrilho is in charge of production and wrote a very nice liner notes describing with details Lucienne Franco first career steps. Maestro Severino Filho is in charge of arrangements, while musicians in this session were not credited. Tracks include: 01 - Vento do Outono (N. Wanderley / Altamiro Carrilho) 02 - Dois Amigos (Ary Barroso) 03 - Diga Adeus e Se Vá (Hianto de Almeida / Macedo Neto) 04 - Nada Mudou (Severino Filho / Alberto Paz) 05 - Prelúdio da Saudade (Victor Freire / Armando Cavalcanti) 06 - Canćčo da Triste Jornada (Neusa Carvalho / Anita Andrade) 07 - Nčo Foi a Saudade (Severino Filho / Alberto Paz) 08 - Chamando Vocź (Luis Bonfá) 09 - Vela Branca (Tito Madi / Edgard C. Alves) 10 - Onde Estava Eu (Victor Freire / Armando Cavalcanti) 11 - Manhč de Carnaval (Luis Bonfá / Antônio Maria) 12 - Baičo Triste (Altamiro Carrilho / Miguel Gustavo) >
Moacyr Franco "Contrastes" (Copacabana, 1962)
(Produced by Nazareno De Brito, arrangements by Pachequinho)
The first album by singer and humorist Moacyr Franco... Deliriously over-the-top, cornball pop-romantic vocals, mixing some old-fashioned samba-cancao with other Latin dance styles, boleros and just plain kitsch. Lots of surging string arrangements and big, Mario Lanza-esque vocals, as well as some swingin', upbeat cha-cha-cha-ish mambo material, blurring the lines with the chugga-chugga-chugga of old-school samba music. Franco was a pretty competent performer, even if this is probably too antiquated and square-sounding for most modern listeners. Worth checking out, though, if you're into pre-bossa MPB.


<! (Reissued in 2003 on a "2-Em-1" disc, along with the 1963 "Moacyr Franco" album below.) >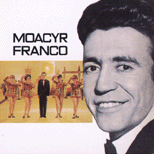 Moacyr Franco "Moacyr Franco" (Copacabana, 1963)
(Produced by Nazareno De Brito, arrangements by Pachequinho)
Still more corny pop-romantic vocals, with heavy, almost oppressively syrupy string arrangements dominating the first side of the album. On Side Two, however, the album opens up with more stylistic variety, dipping into muscular big band sounds and various frantic novelty-song approaches, including the Mexican harps on "Que Sera De Ti" and the faux-Japanese shrillness of "Kata Ai." It's silly and strained, but kind of fun in a weird way. Mostly this would have to qualify as mere kitsch, but Franco was obviously putting his all into it, so that's gotta count for something...
Moacyr Franco "Para Sempre" (EMI, 2004)





<! Moacyr Franco - several other best-ofs 11/09 >


Walter Franco - see artist discography




Edson Frederico "...E A Transa" (RCA, 1975)


Pianist and bandleader Edson Frederico worked with some of the MPB uppercrust -- Vinicius de Moraes, Elis Regina -- but recorded sparingly under his own name. This disc includes the funk-dance track, "Bobeira," which became a collector-nerd holy grail...


<! pic on file >

Edson Frederico & Orquestra Metalúrgica Dragčo de Ipanema "Musica Pra-Pular Brasileira" (Polydor, 1980) (LP)





<! Edson Frederico "...Plays Maranezi" (1995) "A songbook of the Brasilia-based composer Erineu Maranesi." > <! Edson Frederico Barbosa Cavalcante (Rio de Janeiro, 7 de maio de 1948 - Rio de Janeiro, 22 de dezembro de 2011) foi um arranjador e maestro brasileiro. Formado pela Escola Nacional de Música da Universidade Federal do Rio de Janeiro na década de 1960, comećou a trabalhar na TV Globo em 1974 diretor musical do programa "Sandra & Miéle" e também fez as trilhas sonoras de "Malu mulher" e "Carga pesada". Também trabalhou na extinta TV Tupi[1]. Trabalhou com arranjos musicais para artistas como Miúcha, Toquinho e Tom Jobim e foi músico de Vinicius de Moraes, Elis Regina e Antonio Carlos & Jocafi[2]. Participou em orquestras em programas de televisčo e no teatro, como em "Pippin", "Evita" e "Orfeu da Conceićčo", de Tom e Vinicius. Lanćou um LP denominado de "Edson Frederico" e participou de disco, como "Flor de Liz", de Djavan (1976); "Banda do Zé Pretinho", de Jorge Ben Jor; "Love Brazil", de Sarah Vaughan e "Roberto Carlos" (1983). Edson Frederico started as a pianist in 1965, accompanying Vinícius de Moraes and Elis Regina. From 1970 to 1974 he worked for TV Tupi as a pianist and orchestrator. Also in that decade he participated in Erlon Chaves' Banda Veneno, as well as recording with Marília Medalha, Rosinha de Valenća, Antonio Carlos Jocafi, and other artists. Since 1974 he has conducted and orchestrated for TV Globo, participated in major nationwide productions, and worked in nightclubs. He has also worked as a musical director/composer for several theater productions and as a freelance session musician. His first solo album, Edson Frederico, was recorded in 1975. In 1980 he formed Orquestra Metalúrgica Dragčo de Ipanema, which inaugurated Nelson Motta's ~Noites Cariocas at the Morro da Urca (Rio). In 1985, Frederico formed Rio Pop's Orquestra. > <! Edson Frederico "A Melhor De..." (???????, 1975) >


Frederyko - see artist discography




Dorinha Freitas "A Voz De Dorinha Freitas" (RGE, 1961) (LP)



<! 07/2013 - no ASIN >


As Freneticas - see artist discography





(Grupo) Fundo Do Quintal - see artist profile




Funk Como Le Gusta "Roda De Funk" (ST2, 2000)


Fans of Venezuela's Los Amigos Invisibles may find kindred spirits in this Sao Paulo-based funk outfit... Funk Como Le Gusta specializes in horn-heavy groove tunes that are reminiscent of War and Tower of Power back in the day... There are also homegrown touches as on the Tim Maia-styled soul crooning of "Olhos Coloridos" and the cumbia flavored "Funk De Bamba," as well as a dash of ska and axe flavoring. A little smooth for my tastes, but worth checking out. Soul and funk fans will probably love this!
Funk Como Le Gusta "FCLG" (ST2, 2005)

Funk Como Le Gusta "Remixes" (ST2, 2005)



With DJ Patife, DL Cuca and Cosmonautics.
Funk Como Le Gusta "Special Edition (Box Set)" (ST2, 2005)


A box set with three albums: Roda De Funk, FCLG and Funk Como Le Gusta Remix.
Funk Como Le Gusta "Ao Vivo" (DVD) (ST2, 2007)

The Funky Funny Four "Let's Dance: 16 World Top Hits" (Young Records, 1971)
A cheapie-label bubblegum rock cover band, doing English-language versions of songs such as "Chirpy Chirpy Cheep Cheep," "Put Your Hand In The Hand" and "It Don't Come Easy." Improbably, the "band" featured some prog-psych heavyweights, including Liminha and Dinho, at the time the bassist and drummer for Os Mutantes, as well as guitarist Lanny Gordin. Who knew?


<! O LP ganhou a superfície pelas mčos do site Rato Laser, fonte de descobertas e raridades do rock brasileiro. Batizado '16 World Top Hits', o disco é uma das maiores raridades do rock nacional, e um achado espetacular. O LP contém covers para hits internacionais, mas o interessante é a composićčo da banda, que reúne grandes ícones do rock dos anos 60 & 70. The Funky Funny Four é nada mais nada menos que Lanny Gordin (guitarra), Liminha (baixo, dos Mutantes), Suely Chagas (vocal, ex-O'Seis, o pré-Mutantes), Dinho (bateria, também dos Mutantes), Pedrinho (vocal, ex-Código 90) e, ainda, Lineu e Fernada nos vocais. O nome do disco é 'Let's Dance – 16 Worlds Top Hits' e foi lanćado pelo selo Young, em 1971, em meio a onda 'cover', que marcou a produćčo roqueira paulista da primeira metade dos anos setenta. 1. It Don't Come Easy 2. Here Comes That Rainy Day Feeling Again 3. Pickin' Up Sticks 4. Put Your Hand In The Hand 5. Sweet Mary 6. Chirpy Chirpy Cheep Cheep 7. Rosianna 8. Country Sam 9. Where Are We Going 10. Never Can Say Goodbye 11. Lotti, Lotti 12. Jodie 13. Sweet and Inocent 14. All You'll Never Get From Me 15. Cathy, I Love You 16. Treat Her Like a Lady 17. What is Life 18. When You See Jerusalem >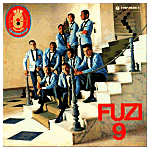 Fuzi 9 "Fuzi 9" (Todamerica, 1970)
Authentic, though semi-inept pop-funk with slight psychedelic tinges, apparently recorded by a bunch of guys who were enlisted in the army at the time... Although I'm sure this qualifies as a genuine "samba soul" lost nugget, you have to admit that the rhythm section is kinda wobbly, the horns are off-key, and the organ soloist is a little ragged, as are the group vocals. But once you get past all that, this album does have its charms. Mostly, I think, this is notable for the presence of bandmember Carlos Dafe, who went on to record several soul albums in the '70s and '80s. Not sure what he was up to between this group and his solo stuff...


<! This is Fuzi 9 Fuzi 9 (1970), for Todamerica, the first and only record by this awesome group of nine boys and a female singer. Don't let these tuxedos on cover artwork cheats you these guys delivers an awesome Samba Soul music, all nine members are soldiers from Brazilian Army. Complete personnel listing is unknown but among the boys we have Carlos Dafe, a well-known singer in the 70s and perhaps the only that followed on a career as an artist. Highly recommended. Tracks include: >

---
Brazilian Music - Letter "G"
---



Main Brazil Index
World Music Index

---