<! MP3 10/10/08 > <! update 00/00/00 > <! pix 00/00/00 > <! ALLBM 00/00/00 > <! icons 01/22/11 > <! Loch Ness "Prologue" (Som Interior, 1988) - prog band > <! Luli & Lucina "Luli & Lucina" (NÓS LÁ EM CASA, 1982) - folkies > <! Chaim Lewak pianist - accordionist? also with Os Cobras, Orquestra Milionários Del Rio, Quarteto Nostalgia Chaim Lewak "Recordando A Italia" (Som/Copacabana, 1959) Chaim Lewak "...E Seus Teclas Magicas" (Continental, 1960) Chaim Lewak "xxxxxxxxxxxxxxxxxxx" (Continental, 1960) Chaim Lewak "xxxxxxxxxxxxxxxxxxx" (Continental, 1960) Chaim Lewak "Para Ouvir Amando" (Continental, xxxxxxx) Chaim Lewak "Para Ouvir Amando, v.2" (Continental, xxxxxxx) Chaim Lewak "Para Ouvir Amando, v.3" (Continental, 1959) Copa? Chaim Lewak "xxxxxxxxxxxxxxxxxxx" (Continental, 1960) >
---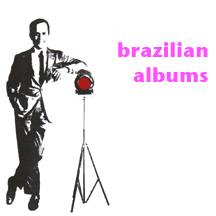 This is a listing of miscellaneous albums and artists under the letter "L"
If an artist or album you like is not reviewed here, please feel free
to contact me and make a suggestion.
---
A | B | C | D | E | F | G | H | I | J | K | L-1 / 2 / 3 | M | N | O | P | Q | R | S | T | U | V | W | X | Y | Z | Compilations
Brazilian Styles | 30 Recommended Records | Portuguese-language pop | Brazilian Links | Slipcue.Com
---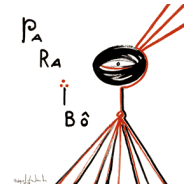 Hugo Leao Filho "Paraibo" (Shadoks, 1978/2009)


(Produced by Padua Carvalho & Hugo Leao)
A groovy, chaotic semi-psychedelic rural rock outing from a guy who was in Ze Ramalho's circle of friends, and previously played lead guitar in the early-'70s Brazilian rock band The Gentlemen... Leao was asked by poet Antonio de Padua Carvalho to help put some of his poems to music, and the result is pretty cool. This is similar to work by Lula Cortes and Ze Ramalho from around the same era, though more cohesive and listenable that Corte's albums, less interested in annoying listeners just for the sake of annoying them. A nice mix of electric and acoustic, regional and rock'nroll, with impassioned vocals that manage not to sound corny or melodramatic. Definitely worth a spin! (Originally recorded in 1978, this was reissued in 2009 by Shadoks Music.)


<! Shadoks notes: "Everything began in 1977 when the poet, Antônio de Pádua Carvalho invited me to create melody for his poetries. At that time I was lead guitarist of the band " The Gentlemen "(a garage northwest group that included Zé Ramalho (who released the wonderful DLP together with Lula Cortez) in one of his line-ups and recorded a rare LP and one 45).. For this unique project we invited Zé Ramalho, the musician and composer Elísio Alexandrino (Golinha), to control the 4 channels tape recorders the musician Enilton Araújo, the 12 strings viola arrangements where done by Irapuan (Pupu), drummer Edmilson (Crauna), percussionby special guest Zé Crisólogo and Hugo Filho (Hugo Lečo) nylon guitar,bass, keyboards and art direction". Even in Brazil an incredibly rare album, only 500 pressed given to friends and sold in shops, the first private pressing in this country. If Sacros, Lula Cortez, Mutantes and El Congreso is something you like, you will love this one. >


Nara Leao - see artist discography




Carlos Lee "Bossa Maximus" (Musidisc/Whatmusic, 2002)



A reissue of an obscure early '60s disc of mysterious provenance... Singer Carlos Lee is a bit of a cipher -- apparently no one from the old Musicdisc label has any recollection of him or of this recording's original release... And yet, here it is. He was, admittedly, a mediocre talent, though this has a certain period charm to it, with a blend of breezy, bopping bossa nova and the more serious-minded MPB of Chico Buarque and Edo Lobo. There's a whiff of early Jorge Ben in there as well, along with a big dose of the slushy romantic styles of the late-'50s radio singers. A mixed bag, but kind of a cute look back at the amateurish, small-potatoes end of the Brazilian pop spectrum...
Rita Lee - see artist page and Os Mutantes
Legiao Urbana - see artist profile

Legendarios Do Brasil "Legendarios Do Brasil" (EMI, 2006)


Not quite what you'd expect. I figured these music be a bunch of velha guarda acoustic samba old-timers -- elders of various carnaval escolas... But instead it's a group of retired soccer players -- Jairzinho, Marcos Antonio Feliciano, Hercules Ruas, et. al. singing mostly all together, but occasionally crooning solo. They're up for a good time, but none of them are particularly good vocalists, and the poppy arrangements are dubious as well -- a bit slick, and a bit slack. Didn't do much for me.

Dirceu Leitte "Leitte De Coco" (Caju/Milestone, 1993)


A delicious and inventive modernization of the classic choro sound, inflected with a sleek jazz bounce, as well as a taste of the music of the Brazilian Northeast. Saxophonist Dirceu Leitte, of the group Choro So, leads this fine ensemble, which includes, among others, guitarists Dino 7 Cordas and Raphael Rabello, drummer Wilson Das Neves, and veteran choro mandolinist Deo Rian. The set presents the music as neither a museum piece nor as a slick, smooth jazz appropriation of this old Brazilian instrumental style -- rather, it's a lively, vital, fun update... And a nice record to tap your toes to!
Leleo "Se Quiser Tem" (Dubas, 2008)





<! baile-funk? >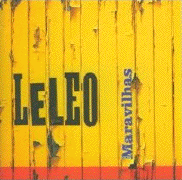 Leleo "Maravilhas" (Acid Jazz, 2008)



(Produced by Leleo & Lucas Marcier)
Perfect summertime tunes from this Brazilian guitarist-producer. The first song I heard off here, "Ferias," is a real doozy, a sly, sexy samba-pop song which mixes the funky tropical vibe of Jorge Ben's best early-1970s work with a great approximation of the classic roots reggae of the Bob Marley era -- heavy syncopation, doubled guitar lines, and plenty of soul. It's a celebration of summertime and idleness, freedom and relaxation, with Leleo's nasality exaggerated by vocal processing -- a heady brew of unusual sounds, all coalescing into an irresistible, perfect Brazilian pop tune. I rushed to get the CD after seeing the "Ferias" video, and am pretty pleased with the rest of the record. About half the album is too clubby for me, but the songs I like are pretty groovy, reminiscent of the best of the '70s samba-funk scene. Definitely worth checking out.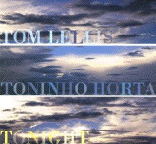 Tom Lellis & Toninho Horta "Tonight" (Adventure Music, 2008)


(Produced by Tom Lellis & Toninho Horta )
Brazilian jazz legend Tonininho Horta and North American crooner Tom Lellis get mellow on a sweet set of bossa nova-flavored, English-language tunes, drawn mainly from the American standards songbook, along with several Horta-Lellis originals, and a fine rendition of Tom Jobim's "Dindi." Lellis tackles evergreens by Harold Arlen, Hoagy Carmichael, George Gershwin, Cole Porter, Vincent Youmans and others. It' a nice set, with a decidedly Sinatra-esque vibe (as heard in the inclusion of "Fly Me To The Moon"). For his part, Horta plays some delicious, beautiful acoustic guitar that is both marvelously restrained and wondrously complex. Lellis' piano work fills out the sound, providing a larger, warmer sound than you'd imagine from just two people. This album comes fifteen years after their first collaboration, 1993's Mountain Flight, and gives an even more intimate glimpse into their collaborative process. Smooth jazz, pop vocals and bossa fans will dig this one.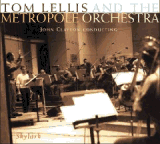 Tom Lellis & The Metropole Orchestra "Skylark" (Adventure Music, 2009)



Sinatra-esque vocalist Tom Lellis, backed by the Netherlands Metropole Orchestra, inserts a couple of Brazilian composers -- Toninho Horta and Tom Jobim -- into an album of orchestral pop/jazz ballads, alongside North American jazz composers such as Hoagy Carmichael, Chick Corea and Herbie Hancock, as well as trio of his own original tunes. It's not really my kinda vocals music, but it's very solid for the style: if you liked the Sinatra-Jobim sessions, you might want to check this out.
Fafa Lemos - see artist profile
Sonia Lemos "...Sua Viola Enluarada" (Philips, 1968) (LP)

Sonia Lemos "Domingos" (Continental, 1975) (LP)


Sonia Lemos "Perola De Agonita" (Continental, 1976) (LP)


The sound is right: 1970s-era Afro-Brazilian samba-roots pagode, featuring many of the fabled session players of the time such as Waldir and Dino 7 Cordas, along with a hefty dose of percussion and those great, keening vocal choruses. I'm not super-wowed by Lemos' vocals -- she sings a little flat and it might get on your nerves after a while. But overall, this is a very solid album, and certainly worth checking out if you love the acoustic samba sound of Beth Carvalho, Martinho Da Vila and Clara Nunes.


<! Sonia Lemos - Perola de Agonita (1976), for Continental, featuring Sonia Lemos 8 years after her successful debut LP. Definitively, she is also a great Samba interpreter, but not in the first tier, such as Clara Nunes. I could not find much information about Sonia Lemos to bring more clarification on her shift, but Pedra de Agonita is solid, like any other recording in the style and counts with a constellation of Brazilian musicians. Tracks include: Personnel: Luiz Roberto, Oberdan (arrangements) Dino 7 Cordas, Waldir (violao 7 cordas) etc. >

Sonia Lemos "O Amor Seja Bem-Vindo" (Polydor, 1978) (LP)





<! 1978 brazil lp, arranged by ivan paulo, luiz roberto and geraldo vespar, incl. "que o amor seja bem-vindo", "coracao vadio" and "momento exato" >


Lenine - see artist profile





Leno / Leno & Lilian - see artist profile




Gracinha Leporace "Gracinha Leporace" (Philips, 1968) (LP)


A nice set of stately, standard-issue bossa-era ballads, the lush, orchestral pop vocals that gradually gave way to the more eclectic, jazz-tinged MPB of the '70s. Gracinha was Sergio Mendes' wife, and recorded with him on his albums (as well as with some other artists...) On this solo album, she proves herself a solid artist, a strong stylist, if not an entirely magical performer... Oscar Castro-Neves provides the arrangements, giving a craftsmanlike feel to this set of from '60s stalwarts such as Ronaldo Boscoli, Vinicius de Moraes, Carlos Lyra, Edu Lobo -- oh, and Tom Jobim, of course. Can't forget about him!


<! Gracinha Leporace is a Brazilian female singer noted by her contribution with Sergio Mendes (she is his wife), Bossa Rio and Guinga. This is an obscure late 60's solo album with nice jazzy arrangements by Oscar Castro Neves. Wonderful surprise with songs written by Edu Lôbo, Capinan, Sidney Miller, Fernando Leporace, Carlos Lyra, Ronaldo Boscoli, Guttemberg Guarabyra, Dori Caymmi, Tom Jobim, Vinicius de Moraes, among others. Oscar Castro Neves makes a great contribution with sophisticated arrangements and some use of organ by an unknown player that puts a Walter Wanderley on it.. Track list includes: 01 - Última Batucada 02 - Rancho De Ano Novo 03 - Madrugada 04 - Prece 05 - Mensagem 06 - Canćčo Da Desesperanća 07 - A Saudade Fez Um Sambaa 08 - Senhora, Senhorinha 09 - Sem Saída 10 - Cantiga 11 - Em Tempo 12 - Chega De Saudade B003XOHN6O - LP ASIN Gracinha Leporace é uma cantora brasileira. Apareceu na cena musical brasileira em 1965 integrando o Grupo Manifesto, um grupo vocal e instrumental formado entre outros por Guttemberg Guarabyra, Fernando Leporace, seu irmčo, Guto Graća Mello e Mariozinho Rocha. Com o Manifesto, em 1967 Gracinha foi eleita a melhor intérprete com ""Canćčo de esperar vocź", de seu irmčo Fernando,[1] e venceu a fase nacional do III Festival Internacional da Canćčo, com a música "Margarida", de Guarabira, cantada pelo Manifesto, do qual também fazia parte. Na fase internacional, os brasileiros ficaram em terceiro lugar e neste mesmo ano lanćaram seu primeiro álbum, Manifesto Musical.[2] Em 1968, Gracinha lanćou seu único disco solo, Gracinha Leporace, com composićões de Edu Lobo, Vinicius de Moraes, Tom Jobim e Carlinhos Lyra. No ano seguinte, ela conheceu Sérgio Mendes, líder do Sergio Mendes & Brazil 66, que fazia entčo grande sucesso nos Estados Unidos e em todo mundo, e que criou o Grupo Bossa Rio, todo com integrantes brasileiros, para fazer uma grande turnź mundial. Com Sérgio, Gracinha apresentou-se no MIDEM (Marché International du Disque et de l'Edition Musicale), na Franća, no Japčo e gravou mais dois discos. O relacionamento com Sérgio Mendes tornou-se afetivo e os dois casaram-se, indo Gracinha viver nos Estados Unidos a partir de 1970, onde ela substituiu Lani Hall, a vocalista norte-americana do Brazil 66, na banda do marido. Desde entčo, ela tem participado das gravaćões e shows das diversas formaćões do grupo de Sergio Mendes, inclusive gravando os vocais do último grande sucesso mundial do grupo, uma nova versčo de Mas Que Nada, de Jorge Ben, junto com o grupo norte-americano Black Eyed Peas, para o último CD de Sérgio Mendes, Timeless.[2] >

Marcello Lessa & Paulinho Tapajos "Viola Violao" (Dabliu, 2004)



A sweet, light set, blending gentle acoustic sambas with flowery modern MPB, ala Chico Buarque... The music, the style and the harmonies are reminiscent of the samba-pop duo of Antonio Carlos & Jocafi. Might be a little too flowery for some, but there are lots of nice touches as well. Definitely worth a spin!
Marcello Lessa & Paulinho Tapajos "Par Ou Impar" (Kuarup, 2006)







Chaim Lewak "Para Ouvir Amando, v.3" (Copacabana, 1959)



<! presumably there were also volumes 1 and 2... > <! Moacyr Silva's piano player... also in a band called Os Cobras >

Chaim Lewak "Recordando A Italia" (Copacabana, 1959)



<! LP 11090 >
Chaim Lewak "...E Seus Teclas Magicas" (Copacabana, 1960)
A nice, brisk set of simple, down-to-earth nightclub instrumentals spotlighting pianist Chaim Lewak and an unidentified (but quite competent) ensemble providing elegant, economical backing. Lewak distinguishes himself from other pianists of the era by not overindulging in pure schmaltz -- the opening tracks have a bounce to them that's suggestive of George Shearing or Marty Paich. Things slow down in the second half, but there's still a nice spark here that gives this a little lift... Overall this is still an "easy listening" album, reflective of the pre-bossa Rio nightclub scene and might not hold the interest of many modern listeners, but a certain set of lounge enthusiasts might get into it. The repertoire is a mix of American jazz and standards -- stuff by Benny Goodman, Sammy Kahn -- and non-Brazilian Latin dance stuff, as well as several originals credited to Pedro Santos. Anyone know who played the percussion, guitar, etc. on this one?
---
Brazilian Music - More Letter "L"
---



Main Brazil Index
World Music Index

---