<! MP3 10/06/08, 01/25/10, 05/06/12 > <! pix 11/27/09 > <! ALLBM 00/00/00 > <! icons 02/15/11 > <! UPDATES: 05/06/12 - added Mart'nalia, patricia Marx, Marisa, Marku, Marines, Marcelo D2 discographies - still need Jayme Marques, Marcelo 05/31/12 - prepped a Dercio Marques page > <! Doroty Marques - "folk" artist >
---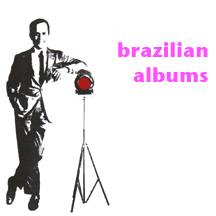 This is a listing of miscellaneous albums and artists under the letter "M"
If an artist or album you like is not reviewed here, please feel free
to contact me and make a suggestion.
---
A | B | C | D | E | F | G | H | I | J | K | L | M-1 / 2 / 3 / 4 / 5 / 6 / 7 | N | O | P | Q | R | S | T | U | V | W | X | Y | Z | Compilations
Brazilian Styles | 30 Recommended Records | Portuguese-language pop | Brazilian Links | Slipcue.Com
---




Sandra Mara "Poema Do Morro" (Epic, 1975)



<! arrangements by ORLANDO SILVEIRA (aka SOS BAND-IT) and NELSINHO >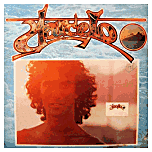 Marcelo "Marcelo" (EMI, 1978)
The first album by the incredibly long-necked Brazilian actor-composer Marcelo Costa Santos, who found a slick disco-fusion-funk groove, and made what some folks consider a funk-fusion classic... Almost all of the songs on here are originals -- although he does cover a Caetano Veloso song -- with a standout track being the widely posted "Algo No Ar," a driving, propulsive fusion tune worthy of LA Express-ability... Marcelo recorded about a dozen albums total... When I have more time, I'll let you know about the others as well.
Marcelo D2 - see artist profile
Marcia "Eu E A Brisa" (Philips, 1968) (LP)


Understated bossa nova ballads... I can't say as I'm a huge fan of her voice, in particular, but these are classy recordings. This album is notable for including the debut recording of Johnny Alf's song, "Eu E A Brisa," which became a bossa/MPB standard. Overall, this disc was a little too sedate for me.


<! Marcia - Eu e a Brisa (1968), for Philips, which is the debut LP of this really important and unfortunately underated artist. Marcia performed with great artists like Vinicius de Moraes, Paulo Cesar Pinheiro and her long time partner Baden Powell. This album has also important for being the first recording of Johnny Alf's Eu e a Brisa, previously performed by Marcia at III Festival da Musica Popular Brasileira (1968). ********Same as Marcia Maria (below)?********** (By the way, anyone know if she's the same artist as Marcia Maria, who's listed below? Just wondering... ) >

Marcia/Various Artists "DISCOS ODEON - AO VIVO" (Odeon, 1973)


A live showcase for some of the lesser-known artists on the Odeon label, including singer Ari Vilela, along with Marcia, Simone and jazz vocalist Leny Andrade...
Marcia "Rimas" (EMI-Odeon, 1973)



<! 1. Ultima Forma * 2. E Mais Um Samba 3. Caminhos 4. Pra Nao Ser Mais Tristeza 5. Vai e vem 6. Minhas Maos 7. Chorar Chorei 8. Rimas 9. So Pode Ser Voce (Ilustre Visita) 10. Fez Bobagem 11. Tema Da Cidade Longe 12. Lua Aberta Musicians: Marcia (Elizabeth Raimundo Barbosa) (vcl) Baden Powell - guitar > <! Marcia "O Importante E Que A Nossa Emocao Sobreviva" (1975) w/ Eduardo Gudin Marcia "Eu So Queria Ser" (Pointer, 1983) Arranged by Eduardo Assad >
Marcia "Volume One: Pra Machucar Seu Coracao" (Caravelas, 1995)

Marcio & Goro "Atrevida" (1997)

Marcio & Goro "Ponto G" (1998)

Marcio & Goro "Festa Surpresa" (Abril, 1999)





<! Marcio G "xxxxxxxxxxxxxxxx" (xxxxxxxxxxx, 2006) http://pt.wikipedia.org/wiki/Marcio_%26_Goro Márcio & Goró foi uma dupla de cantores de funk melody formado em Madureira no Rio de Janeiro. Entre seus maiores sucessos estčo "A DistČncia", "Atrevida" e "Deitados na Areia". Em 2000, devido a uma depressčo e sofrendo com a falta de sucesso da dupla, Goró acabou cometendo suícidio. Em 2005, Márcio retornou sua carreira, agora usando o nome Márcio G, homenageando seu parceiro Goró. >


Angela Maria - see artist profile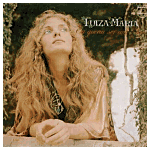 Luiza Maria "Eu Queria Ser Um Anjo" (Philips, 1975)
(Produced by Sergio de Carvalho)
A cool bluesy boogie-rock, psychedelic album by a husky-voiced gal who could belt it out like Tracy Nelson or Mama Cass, and a compact, all-star session crew backing her up that included Antonio Adolfo on piano, Lulu Santos on guitar, Chico Batera, Rick Ferreira (who also wrote some of the material and did some of the arrangements) and Jim Capaldi (of the British folk-prog band Traffic) pitching in as well. Her voice is a little hard to handle, but the musical backing is cool, sort of similar to Rita Lee's stuff around the same time, but better. The music ranges from spacey, cosmic epics to funky blues jams and delightfully opens with a bluegrassy country number, "Na Casca Do Ovo," which is a style very foreign to mainstream Brazilian pop. Apparently, Luiza Maria went on to sing backup for several stars, notably Tim Maia and Ivan Lins, but other than that I don't know how much of a dent she made in the music scene. This disc is definitely worth a spin, although many listeners may find it a bit grating.
Luiza Maria "Tarantula" (Leblon, 1993)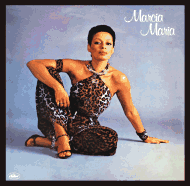 Marcia Maria "Marcia Maria" (Capitol, 1978) (LP)


(Produced by Carlos Lemos)
Blech. I dislike her voice, as well as the bland, '70s jazz-pop arrangements. Kind of a slick, fusion- and disco-tinged MPB ballads session, with a laid-back, moderate-to-slow tempo throughout, so that in addition to sounding too slick, it also feels a bit lifeless. Notable, I suppose, for some of the backing musicians: Lincoln Olivetti and Jorge Robson anchor the band, which also features some veteran jazz players, such as Aurelio, Ze Bodega, Ed Maciel, clarinetist Netinho, and other old pros. Didn't do much for me, though.

Marcia Maria "Colo Do Rio" (Caravage/L'Arome, 1985)


Clattersome, overly energetic samba-jazz vocals from a Brazilian expatriate living in Paris, backed by an enthusiastic European trio. This is the sort of music that, when I play it at home, my wife is likely to hurl heavy objects at me across the room in order to make it stop. Maria's aggressive approach derives from the Tania Maria-Elis Regina school of shouted vocal power... I found this to be really irritating, though jazz fans might be more forgiving. Apparently, Maria recorded one album earlier in Brazil, not long before she headed for France.
Marcia Maria "Brasil Nativo" (Fremeaux & Associes, 2008)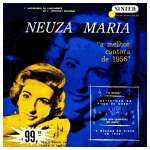 Neusa Maria "A Melhor Cantora De 1956" (Sinter, 1957)
A long-forgotten vocalist from the pre-bossa era; Ms. Maria was a pretty-sounding, but relatively bland singer, backed here by light, inconsequential orchestrations. Patti Page comes to mind, or Doris Day, perhaps. Nothing "bad," but also not terribly dynamic or inspiring. Includes a few Italian-themed numbers ("Que Sera Sera," "Arrivederci Roma," etc.)
Silvia Maria "Coragem" (Arte Maior, 1981) (LP)





<! Baden Powell (git) Silvia Maria (vcl) Amilson Godoy (p) >


Tania Maria - see artist profile





Ze Maria - see artist profile





Cesar Camargo Mariano - see artist profile




Torcuato Mariano "Paradise Station" (Windham Hill, 1994)


Torcuato Mariano "Last Look" (Windham Hill, 1995)


Torcuato Mariano "Diary" (215 Records, 2004)



A very, very soft jazz fusion set. Not my cup of tea, but for the smooth jazz set, I imagine this'd be kinda nice.
Torcuato Mariano "Lift Me Up" (215 Records, 2006)


Torcuato Mariano "So Far From Home" (Nu Groove, 2009)


Marina - see Lima, Marina
Marines & Sua Gente - see artist profile
Evandro Marinho "O Som Do Barzinho, v.6" (Universal, 2001)

Evandro Marinho "O Som Do Barzinho, v.7" (Universal, 2001)

Evandro Marinho "O Som Do Barzinho, v.8" (Universal, 2001)

Evandro Marinho "O Som Do Barzinho, v.9" (Universal, 2001)


Evandro Marinho "O Som Do Barzinho, v.10" (Universal/Matrix, 2001)


Volume Ten of this intriguing and generally pleasant live acoustic series, with singer-guitarist Evandro Marinho working through an intimate set of MPB ballads, songs written by the likes of Djavan, Gilberto Gil, Gonzaguinha, Beto Guedes, Ivan Lins and Caetano Veloso (as well as some less well-known composers). The audience sings along, sharing an affection for the audience: it might not be the original artists singing the songs, but the magic is still shared.

Francisco Mario "Retratos" (Fantasy/Caju, 1994)



(Produced by Francisco Mario)
This reissue pairs up two albums by Minas Gerais guitarist Francisco Mario, Conversas De Cordas, Courous, Palhetas E Metais, from 1984, and 1986's Retrato, which found him working with many of Brazil's best modern jazz/choro performers, such as Zeca Assumpcao, Paulinho Baga and Raphael Rabello (who played on the Conversas album...) Nice stuff, with a wide variety of regional influences; his use of amplification makes him sound a bit like a Brazilian Chet Atkins... Apparently Mario died in 1988, from HIV disease... Alas! Another voice sadly silenced.
Marisa - see artist profile
Marku - aka Marku Ribas
Marlene - see artist profile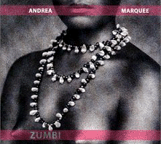 Andrea Marquee "Zumbi" (YBrazil/Stern's, 2000)



Trip-hop and soul-tinged pop, with nods to the past such as covers of songs by Caetano Veloso, Jorge Ben and Zeca Pagodinho, as well as a slew of original tunes. Marquee isn't as forceful as fellow soulster, Daude, nor as spazzy as supersinger Daniela Mercury, though that's the general area she's aiming for. This didn't set off any bells for me, but it may be of interest for others looking for contemporary, post-MPB pop that's a little off the beaten path.
Andrea Marquee "Melhores Momentos" (BMG, 2002)








Dercio Marques - see artist profile


<! Doroty Marques - "folk" artist >

Doroty Marques "Erva Cidreira" (Discos Marcos Pereira, 1980) (LP)

Doroty Marques "Semente" (Discos Marcos Pereira) (LP)


Jayme Marques "Brasil Pop" (RCA-Spain, 1975)


A Brazilian guitarist who initially took his cues from the Baden Powell/Luiz Bonfa school, Marques was a Mato Grosso native who toured Europe in the early '60s, and is credited with introducing bossa-jazz to European audiences. He later recorded several albums in Spain during the 1970s, becoming a significant exponent of bossa-soul fusion. This early album starts off with fairly standard material -- a jazzed-up version of "Berimbau," followed by several guitar-centered tunes. Breezy keyboards come in midway, and his jazz-fusion tendedncies become even clearer with the inclusion of a couple of Marcos Valle tunes. This is pretty lightweight, muzak-y stuff, a little stiff sounding, but not unpleasant (other than his atrocious soul vocals!) This will probably float your boat if you're into the whole lounge/acid jazz sound.
Jayme Marques "Jayme Marques" (RCA-Spain, 1976)


Jayme Marques "So Much Feeling" (RCA-Spain, 1977)


This has a more deliberate (and more accomplished) jazz-fusion feel... Sleek LA Transfer-style keyboards, flute and bossa rhythms predominate, and while this is decidedly cheesy, easy listening, it's also nice in parts. There are a couple of original tunes on here, along with several well-chosen covers, including a Caetano Veloso's "Irene", and a meandering twelve-minute long(!) version of Milton Nascimento's "Vera Cruz." I'd be a little embarrassed playing this on the radio or listening to it casually at home, but I suppose it's worth checking out.


<! http://quimsy.blogspot.com/2006/10/jayme-marques.html http://www.redcasting.com/biografias/detalle.php?id_contenido=2209 > <! http://es.wikipedia.org/wiki/Jayme_Marques (Spanish!) * Jayme Marques (Guitarra y orquesta)(1976) * Brasil Pop (1976) * Us (Big band)(1977) * So Much Feeling(1977) * Stop (1978) * Jayme Marques en Directo(1979) (Doble disco) * Sabor Tropical (1981) * Usted Abusó * A Felicidade * Que Coisa Mais Linda * Sol de Verano * Felinos * BSO El SeĖor de los Llanos (1987) * Lo Mejor de Jayme Marques 25 Aniversario (Doble) * The London Connection (1995) * Happy Baby Vols. I & II (Música para bebés) * Into Something (Compartido) (Alemania) * En Concierto * Spanish Groove (Compartido) * Improvisto (Compartido) * 50 AĖos de Bossa Nova (2009) >

Jayme Marques "En Directo" (RCA-Spain, 1979)

Jayme Marques "The London Connection"

Moacyr Marques "Jazz & Bossa Nova" (Tiger, 1961) <! date?? >
(Produced by Norival Reis)
Saxophonist Moacyr Marques was a longtime member of the TV-studio orchestra of Rede Globo, and also worked in Brazilian jazz ensembles led by Radames Gnattali, Zaccarias and Copinha, as well as with North American bandleaders such as Ray Conniff, Henry Mancini and Nelson Riddle. He recorded a handful of albums under his own name, including this unassuming set of pure easy-listening dance music, leading a small combo that also featured a pianist named Zequinha. I suppose this is vaguely in Stan Getz or Dave Brubeck territory, and okay for folks who like soft/cool jazz of that era... The album is divided in half: Side One covers standards like "Lullaby Of Birdland," "My Funny Valentine" and "Taking A Chance On Love," while Side Two has a bunch of perky, light-jazz renditions of Brazilian sambas and newer bossa numbers. It's a very conservative album, though at the very end, on the last few tracks they branch out a little and try some more ambitious stuff, and take a few longer, more soulful solos. The best song was an original -- "Real Conclusao," written by the band's bassist Artur Barbosa -- this along with the last track, Ribamar's "Ideas Erradas" was where the band's heart was really at. Not dazzling, but performed well and very much of its time.


<! Integrante e fundador da Orquestra da Rede Globo de Televis"o, durante os seus 23 anos de existÍncia. Como integrante da Orquestra da Rede Globo de TV se apresentou em todos os ď Festivais Internacionais da CanÁ"o Popular ( FIC ), produzidos pela emissora nos anos 60/70, onde teve a oportunidade de ser o solista da mķsica ď Pantera Cor de Rosa Ē regida e composta pelo průprio Henry Mancini. Diretor de Orquestra, gravou com seu conjunto ( Mķsica de Moacyr Marques ) os seguintes LP: Samba 40 Graus, No BalanÁo do Samba, Samba Gelťia, Novo Sabor, Jazz e Bossa Nova. Foi integrante de conjuntos de Guio de Moraes, Severino Filho, Copinha, Zaccarias, dentre outros. Trabalhou sob a regÍncia dos maestros: Radamťs Gnatalli, Leo Peracchi, Alceu Bocchino, Mario Tavares, Lyrio Panicalli, Henry Mancini, Don Costa, Nelson Ridlle, Ray Coniff, Eleazar de Carvalho, dentre outros. >

Paulo Marquez "Orgia Em Samba" (Columbia, 1958)





Paulo Marquez "Doutor Em Samba" (Columbia, 1959)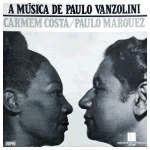 Paulo Marquez & Carmen Costa "Musica De Paulo Vanzolini" (Discos Marcus Pereira, 1974)


A tribute album to Sao Paulo samba songwriter Paulo Vanzolini, with some duets as well as solo performances by both samba diva Carmen Costa and the less well-known Marquez. His vocals are much stronger, and in the second half of the album he gets into some really sweet acoustic sambas, replete with flute and cavaquinho. Most of the record, though, is of lush MPB arrangements, which are mostly fine though on occasion a rather goofy, cheap-sounding electric keyboard chimes in, sounding at odds with the rest of the classy orchestrations. Nice stuff overall, though: Vanzolini was a very robust and hearty composer, and these are strong renditions of his work, particularly the solo stuff by Marquez.


<! Paulo Marquez Paulo Marquez é um nome pouco lembrado (ou pouco falado?). Mineiro de Uberaba, este cantor comećou sua carreira no final da década de 40 em sua cidade natal. Seu nome verdadeiro era José Marquez. Em Belo Horizonte, trabalhando na Rádio Guarani, adotou por sugestčo do radialista Rômulo Paes o nome de Paulo Marquez. Sai do José e caí no Paulo, vai entender…? Seja como for, o cara acabou fazendo-se ouvir para além das montanhas de Minas. E como todo bom artista, acabou indo parar no Rio. Foi por lá, em 1956 que Paulo Marquez gravou seu primeiro disco, um bolachčo de 78. Em 1958 grava o primeiro lp pela Columbia "Orgia de Samba", acompanhado pelo Regional do Canhoto. O disco foi muito bem recebido pelo público e pela crítica. No ano seguinte gravou novamente pela Columbia este que foi o seu segundo e mais importante disco. Nčo é preciso dizer muito, basta ler na capa e já podemos ter idéia do nível deste trabalho. Composićões de Billy Blanco com arranjos e orquestraćčo de Radamés Gnattali. Paulo Marquez "Orgia Em Samba" (Columbia, 1958) Paulo Marquez "Doutor Em Samba" (Columbia, 1959) Paulo Marquez/Various Artists "festival universitario da musica popular brasileira" (Philips) Gal Costa, etc >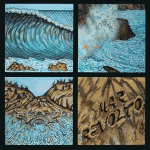 Mar Revolto "Mar Revolto" (Musiquim, 1979)
(Produced by Chelito & Silvio Palmeira)
An eclectic, acoustic-y rock album which ranges from semi-new wave and funky fusion to bland choral folk-pop reminiscent of It's A Beautiful Day (or in a more Brazilian comparison, perhaps to Boca Livre?). There's also a steady undercurrent of frevo bandolim-guitar duetting that brings Moraes Moreira and Novos Baianos to mind, though by and large I didn't find this album all that compelling. Well, maybe I take that back: the second half of the album is much more interesting than the first half... It almost feels like they were working it out as they went along, but whatever the creative process might have been, they loosen up and get pretty funky towards the end, particularly on the driving tempo of "Chaxaxado," which is a pretty groovy fusion tune, and should appeal to fans of Mores Moreira. I started out skeptical, but was kind of getting into it by the end. Go figure. Anyway, if you're looking for obscuro, marginal Brazilian rock, this is a good record to track down.


<! Formaćčo: Luis Brasil (Voz, Guitarra, Craviola de 6 e 12), Geo Benjamin (Guitarra, Ovation, Flauta), Octávio Américo (Contrabaixo), Raul Carlos Gomes (Bateria, Percussčo, Voz), Jorge Brasil (Bateria, Percussčo, Voz), Vicente dos Santos (Percussčo), Silvio Palmeira (letras) Participaćões: Silva Torres e Virgínia Carvalho (Voz, Vocal), Armandinho Macedo (Guitarra Baiana, Bandolim), Tomaz Improta (Piano acústico e elétrico), Beto Saroldi (Sax tenor e soprano), Cassia Noronha (Cello) e Zé Eduardo, Kleber Vogel, Śngelo e Henrique (Violinos) Ficha técnica: Produćčo: Chelito Direćčo de Produćčo: Silvio Palmeira Arranjos: Mar Revolto Arranjos de Cordas: Geraldo Benjamin e Luiz Brasil Arranjo Vocal: Luiz Brasil Gravaćčo: Toninho Barbosa Mixagem: Toninho Barbosa e Mar Revolto Estúdio: Sonoviso (8 canais) Corte: Tapecar Capa e arte-final: Léa Beatriz Fotos: Leonardo Vasconcelos Gravado durante o mźs de Julho/79 - RJ >


Mike Marshall - see artist discography



Martinha "Serie Bis: Jovem Guarda" (EMI, 2007)

Martinha "Como Antigamente" (Warner, 1974)





<! 01.como antigamente 02.erros e defeitos 03.eu era vocź 04.Sebastiana da sSlva 05.un our un enfant 06.suas maneiras 07.minha casa 08.ą noite combinamos 09.eu quero 10.sua foto na parede do meu quarto 11.dream alittle dream of me 12.elementar >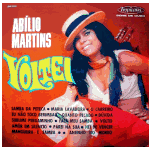 Abilio Martins "Voltei" (Tropicana, 1970)
A popular Carnaval float puxador (someone who leads the crowds in singing the new samba songs), Abilio Martins had a deep, gruff voice, and a plainspoken style that was nonetheless expressive and inviting. The musical backing is what's most unusual on this modest samba set: along with a small, keening female chorus, there's a Walter Wanderley-style organ lacing through the songs, dit-dit-doot-dooting alongside Martins' robust vocals. Not an immortal record, but a nice one, with an unusual feel that makes it a bit of a curio.


<! If you are in the mood of Samba and want to hear a very beautiful record as Samba used to be in the past, this is tailored for you. Abilio Martins is, how can I explain this, "puxador de Samba", which is the one who sings on Carnaval parade. Each Escola de Samba has a puxador of their choice and although not famous as Jamelao, Roberto Ribeiro and others, Abilio Martins is a legend among Samba fans. 01 - Parei na Sua 02 - Dúvida 03 - Anjinho no Morro 04 - Quanto Pecado 05 - Voltei 06 - Maria Lavadeira 07 - Eu Nčo Toco Berimbau 08 - Mangueira É Samba 09 - Hei de Vencer 10 - Sublime Pergaminho 11 - Amor Em Silźncio 12 - Samba da Peteca 13 - O Carreiro 14 - Fala Meu Samba NOTE: available image is X >
Herivelto Martins "Carnaval De Rua De Herivelto Martins" (Mocambo, 1957)


Herivelto Martins/Various Artists "Jubileu Herivelto" (RCA Victor, 1957)


This is a tribute album released in 1957, honoring the career of Brazilian pop songwriter Herivelto Martins. Martins doesn't actually perform on the record, but the artists who do -- Nelson Goncalves, Dircinha & Linda Batista, Ivon Curi, Carlos Galhardo, Trio De Ouro, etc. -- represent the creme-de-la-creme of the pre-bossa "radio singers" era. If you like old-fashioned nostalgic music, this is a wonderful collection. Nice instrumental choro/jazz turns from Jacob Do Bandolim and Zaccarias, as well!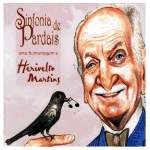 Herivelto Martins/Various Artists "SINFONIA DE PARDAIS: UMA HOMAGEM A HERVIELTO MARTINS" (Som Livre, 1999)


A lovely, luminous version of "Pensando Em Ti," crooned to perfection by Caetano Veloso, kicks off this tribute to samba-cancao composer Herivelto Martins. Numerous other MPB elders are in on the project, including Leny Andrade, Maria Bethania, Baby Do Brasil, Beth Carvalho, Moraes Moreira, Ney Matogrosso, et. al. None of the other songs reach the height of Veloso's contribution, though: this is a very glossy, modern, often cluttered affair that leaves behind the antique beauty of Martins' songs, or the charm of his work as a member of Trio De Ouro. Nice liner notes, though -- great way to learn more about his life, even if the music is a little iffy.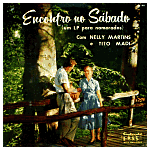 Nelly Martins & Tito Madi "Encontro No Sabado -- Um LP Para Namorados" (Continental, 1959)
An appealing album of duets made with Nelly Martins, a sweet, Patti Page-ish, plain-jane vocalist from the radio-singer era, and singer Tito Madi, one of the major stars of the pre-bossa era. The two sound really nice together, and the arrangements, though fairly light, have a nice little bounce to them. Madi also sings solo on several songs, which is less fun, but still quite pleasant. Good stuff.
Nelly Martins & Radames Gnattali "Piano Duo" (1967)



<! Nelly Martins recorded only two LPs: One with Tito Madi called Encontro no Sábado from 1959, a beautiful recording where she unfortunately sings only four solo tracks. Four tracks are duets with Tito and four are Tito's solos. This album can be found on Loronix and I am highly recommending it. The other LP has been recorded in 1967 together with Radamés Gnattali her husband at the time, Piano Duo, where she plays the other piano, but If I have understood right, it is an instrumental recording… Why Radamés has chosen to let her play another piano instead of singing accompanied by him is a mystery to me, especially as I am the proud owner of one of his solo piano recitals and could not force myself to listen to it more then once… Nelly has recorded six 78 rpms (one is part of the Encontro no Sábado LP), >


Mart'nalia - see artist profile




Ana Martins "Futuro Amantes" (Rip Curl, 2000)


Ana Martins "Linda" (Rip Curl, 2001)


A pleasant, if underwhelming, second album by singer Ana Martins, daughter of Nelson Angelo and braz-jazz guitarist Joyce. The modest bossa arrangements and her relaxed vocals are reminiscent of '60s-era chanteuses Nara Leao and Astrud Gilberto. Overall, I'd have to say Martins lacks spark -- this disc, sprinkled with guest performers and contributions by both her parents, travels familiar ground, and while it's nice enough, it's a bit on the slack side. Worth checking out, though.
Ana Martins "Samba Sincopado" (Video Arts, 2004)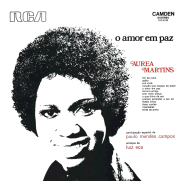 Aurea Martins "O Amor Em Paz" (RCA Camden, 1972) (LP)
(Produced by Rildo Hora; arrangements by Luiz Eca)
The first album by this Rio-area singer, though her only full-length release for nearly two decades until she returned to the studio in the early 1990s. A challenging and at times uneven record, with a moody undertone that's compelling, though plenty of irritating qualities as well. Martins was one of those brusque, declarative Brazilian singers, in the tradition of Elizete Cardoso, Maysa or Maria Bethania, whose forceful, arty presentation may be difficult for listeners in search of more mellow, readily accessible material. She also doesn't always sing in tune, which can be problematic: I suspect not much time was spent on the recording and remixing of this record, as it has a sort of fly-by-the-seat-of-your-pants feel to it. Most irritating, though, is the softly chaotic piano playing, which has an intrusive, note-heavy improvisational quality, and is frequently distracting. The rest of the musicians sound unrehearsed as well, and while this has the trappings of classic early-'70s experimental MPB, it's more a window into the genre's less-structured side. Luiz Eca is credited as the album's arranger, but this has little of the tightly-sculpted semi-classical feel of his own work of this era, and more of a jazz improv vibe. Minas Gerais poet Paulo Mendes Campos intones on several tracks, doing sort of a Vinicius Moraes imitation, which comes off as yet another distraction on a far-flung, oddly structured album. This is interesting, to be sure, though mostly in a time-capsule way... Not a record I personally could see coming back to very often. But fans of the early-'70s MPB divas will want to check this one out.


<! maybe kind of an Abbey Lincoln vibe? > <! Includes older composers as well as modern - some Francis Hime, Jobim, Vinicius, Garoto, Luiz Eca > <! Aurea Martins "O Amor Em Paz" (RCA, 1972) Aurea Martins "Bordoes" (Top Voice, 1990) Aurea Martins "Aurea Martins" (Independente, 2003) B00018CYPK MS Music label(?) Aurea Martins "Outros Ventos" (Independente, 2003) Aurea Martins "Ate Sangrar" (Biscoito Fino, 2007) B0018088AK B001LYLJOA Aurea Martins "Orquestra Lunar" (Radio MEC, 2007) Aurea Martins "Depontacabeca" (Biscoito Fino, 2010) B005IE7CJU B009BKTZKG - a tribute to Herminio Bello De Carvalho? -- originally 2006? Aurea Martins "Iluminante" (Biscoito Fino, 2012) B0090SCJY8 >

Edinho Marundele & Onias Comenda "Eu, Bahia" (Philips/Fontana, 1972) (LP)


An interesting album of berimbau and Orixa-related percussion by two players I've never heard of before. Each artist takes one side of the LP -- Marundele (whose real name was apparently Edson Emerete de Sant'Anna) is the drummer, and his side is dynamic and intense, running through rhythms from Angola and their Brazilian permutations. Similarly, berimbau master Onias Camardelli plays capoeira music from Angola and Bahia, as well as improvisations of his own creation. Some of it is spooky and haunting, some of it seems kind of static and same-y. I don't think the average fan of Brazilian pop would get much out of this, but for cultural scholars and capoeira students, this album would be a goldmine.
Patricia Marx - see artist profile
---
Brazilian Music - More Letter "M"
---



Main Brazil Index
World Music Index

---