<! MP3 10/07/08, 01/25/10, 05/16/12 > <! pix 11/27/09, 05/16/12 > <! ALLBM 00/00/00 > <! icons 02/15/11 > <! UPDATES: 01/25/10 - created Ney Matogrosso discography 05/16/12 - updated existing except Nilson Matta - posted Jorge Mautner, Ruy Maurity (needs bio) -- gathered data for Germano Mathias, could do a page -- also: more Yo-Yo Ma 05/22/12 - added Germano Mathias, Yo-Yo Ma albums - NEED TO ADD GERMANO BIO >
---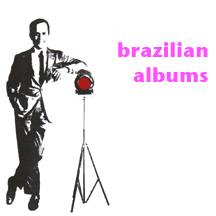 This is the third page of a listing of miscellaneous albums and artists under the letter "M"

If an artist or album you like is not reviewed here, please feel free
to contact me and make a suggestion.




---
A | B | C | D | E | F | G | H | I | J | K | L | M-1 / 2 / 3 / 4 / 5 / 6 / 7 | N | O | P | Q | R | S | T | U | V | W | X | Y | Z | Compilations
Brazilian Styles | 30 Recommended Records | Portuguese-language pop | Brazilian Links | Slipcue.Com
---



Carminha Mascarenhas "A Noite E Carminha" (Copacabana, 1961) (LP)



<! B004122100 - ?? > <! tracks by Joao Roberto Kelly (x3), Cipo, Carlos Imperial (x2), Chico Feitoso >


Germano Mathias - see artist discography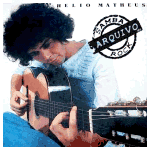 Helio Matheus "Helio Matheus" (RCA-Victor, 1975) (LP)


Easygoing '70s pop with funky, fusion-y roots -- sort of like what Michael Franks might sound like, if he grew up in Rio. Helio Matheus is the vocalist, but the ensemble backing him includes all the key members of the jazz band Azymuth, including keyboardist Jose Roberto Bertrami. Matheus can be considered part of the groovy-smooth "samba rock" sound of the '70s, and this disc has a pleasantly eclectic vibe -- I'm not a huge Azymuth fan, but compared to their other albums, it's a gem. Light, sweet pop that crosses over with the bossa and Rio funk scenes... For folks who are more into fusion-pop than I am, this would certainly be an album to track down. The second half of the album settles -- surprisingly -- into a folkie sort of vibe, even reminding me at times of Glen Campbell which, strangely enough, I mean as a compliment. The biggest surprise on this album was his cover of "Mi Secreto," a gorgeous romantic ballad that I know from Dominican singer Leonardo Paniagua, here translated as "Meu Segredo." What a trip!


<! Meu Segredo was covered by Antonio Marcos in 1973, credited to Matheus - did he really write it??? > <! This is a perfect example of how Loronixers add value. A friend from Germany said to look for records from an unknown Brazilian singer from the 70's called Helio Matheus. Here is the outcome, meet Helio Matheus with his 1975 self titled LP, a breathtaking set supported by this 5 star Brazilian artists: Helio Matheus (vocal, acoustic guitar), Ary Piassarolo (electric + acoustic guitars), Alexandre Malheiros (bass), Mamao (drums), Jose Roberto Bertrami (keyboards), Jose Claudio (12 strings guitars), Hermes, Ariovaldo and Chacal (rhythm, percussion) and several musicians at the brass section: Marcio Montarroyos, Ed Maciel, Oberdan Magalhaes among others. I think that this LP can be easily considered an Azymuth record – all Azymuth is on the set - with Helio Matheus singing. 01 - Marraio 02 - Mais Kriola 03 - Cidadezinha 04 - Meu Diario 05 - Comunicacao Camisa 19 06 - Briguenta 07 - Meu Mundo de Monstros e Fantasia 08 - Voce se Foi 09 - Meu Segredo - cover tune? sounds Glen Campbell-y - cover of CUBAN? song "Odio..." 10 - Ausencia >


Ney Matogrosso - see artist discography




Nilson Matta & Hendrik Meurkens "Encontros" (Malandro, 2000)

Nilson Matta/Ze Luis/Paulo Braga "Green Heart" (New Orbita, 2007)


Nilson Matta & Brazilian Trio "Forests" (Zoho, 2008)






<! Brazilian Trio = Helio Alves, Nilson Matta & Duduka Da Fonseca >

Nilson Matta "Copacabana" (Zoho, 2010)



A Brazilian-born jazz bassist with roots in the New York music scene, Matta plays several original compositions here, as well as some standards such as "Asa Branca" and "Aquarela Do Brasil."


<! Some other albums, more straight jazz than Braz? > <! PEDRINHO MATTAR 10/12: a BUNCH of albums on AM >
Pedrinho Mattar "Pedrinho Mattar Trio #3" (Farroupilha, 1965) (LP)


(Produced by Os Farroupilhas)
An excellent, serious jazz album, certainly one of the best of the era, with fluid, swinging leads by pianist Pedrinho Mattar and an equally deft, adventurous drummer backing him up, as well as a solid, smooth bass player. This supple, loose-limbed, improv-heavy performance stands in marked contrast to the stiff, hyper rigidity of most of the "bossa trios" of the era. If you're looking for decent early Brazilian jazz, you'll definitely want to check this out, particularly if you like contemporaries such as Manfredo Fest or Antonio Adolfo -- frankly, I thought this album was more genuinely fun to listen to than most of their stuff as well.


<! Pedrinho Mattar Trio "No 3" (Farroupilha, 1965) A trio with Pedrinho Mattar (piano), Antônio Pinheiro Filho (drums) and Jočo Soto Aguilar (bass) 01 – Neurótico (J. B. Meirelles) 02 – Nanč (Moacir Santos / Mário Telles) 03 – Zero Hora (Adilson Godoy) 04 – Inútil Paisagem (Tom Jobim / Aloysio de Oliveira) 05 – Samba de Verčo (Marcos Valle / Paulo Sergio Valle) 06 – Quem É Homem Nčo Chora (Geraldo Vandré / Vera Brasil) 07 – A Morte de Um Deus de Sal (Roberto Menescal / Ronaldo Bôscoli) 08 – Balansamba (Roberto Menescal / Ronaldo Bôscoli) 09 – Vocź (Roberto Menescal / Ronaldo Bôscoli) 10 – Preciso Aprender a Ser Só (Marcos Valle / Paulo Sergio Valle) 11 – Pinkt (Maurício Einhorn) 12 – Balaiubá Xangô (Tuca) >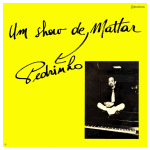 Pedrinho Mattar "Um Show De Mattar" (Copacabana, 1971) (LP)


(Produced by Moacyr Silva)
A sometimes perky, sometimes slushy set of jazzy and orchestral soft-pop instrumentals. The small-combo stuff is okay, but the more ornate material is pretty painful -- '70s easy listening in the extreme. Pianist Pedrinho Mattar leads the ensemble, with harmonica player Mauricio Einhorn popping up on several tunes. The material is a mix of Brazilian stuff and lounge-y standards by folks such as Francis Lai, Michel Legrand and Henry Mancini... I'm sure there are lounge music devotees who will get a lot out of this one, but it ain't for me.


<! featuring Mauricio Einhorn (harmonica), Tita (vocal on track 03), Coral de Joab, Pedrinho Mattar (piano) and Moacyr Silva as producer and coordinator. Um Show de Mattar is a transitional album between the Samba Jazz works from the 60's and the piano virtuoso years, it is easy to identify both phases throughout the tracks. Mauricio Einhorn delivers a solid harmonica playing, especially on track 02 - Conversa de Botequim. 01 - Darling Lili (J. Mercer / Henry Mancini) 02 - Conversa de Botequim (Noel Rosa / Vadico) 03 - Nirvana (Tita) with TITA 04 - Tu Mi Delirio (C. Portillo de La Luz) 05 - Sex-appeal (Fred Falcčo / Arnoldo Medeiros) 06 - What Are You Doing The Rest Of Your Life (Michel Legrand / A. Bergman / M. Bergman) 07 - Tenebroso (Ernesto Nazareth) 08 - Anônimo Veneziano (S. Cipriani) 09 - Depois do Carnaval (Marilena Amaral / Sebastičo Tapajós) 10 - Theme From Love Story (F. Lai / C. Sigman) 11 - Lúcia Esparadrapo (Antônio Carlos Marques / Jocafi / I. Tavares) 12 - Vim (Eduardo Souto Neto / Sergio Bittencourt) >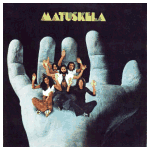 Matuskela "Matuskela" (Chantecler, 1973)
One of those weird, wonderful gems from the hippie era, an eclectic folk-prog set packed with acoustic and electric guitars, bongo drums, odd, primitive synthesizer riffs and urgent, yearning, earnest vocals. Although a few regional instruments creep in around the margins, this record lives mostly in a non-Brazilian sphere, a straight-up acid-rock set with echoes of Van Morrison, Santana, The Beatles and Iron Butterfly intertwined in a clunky but charming progadelic vibe. There's a lot of stylistic variety, bound together by a spacey, noodly experimentalism -- if you enjoy Alceu Valenca or Ze Ramalho's earliest albums, you might want to check these guys out as well.

Matuto "Matuto" (Self-released, 2011)



(Produced by Scott Kettner & Rob Curto)
One of the boldest, most exuberant world music crossover albums in recent years... Clay Ross is a jazz guitarist originally from South Carolina, who in his youth rejected the bluegrass and mountain music that he saw as redneck-y and reactionary but came back to it after years of musical exploration in other genres. Here he seamlessly melds modern jazz (including some '70s-style fusion) with regional Brazilian music, mainly choro, forro and baiao, with a touch of twang swirled into the margins. This is an updated version of an album Ross first released in 2009, with several new tracks that place heavier emphasis on the Brazilian vibe, giving a lot of the spotlight to accordionist Rob Curto, who plays some absolutely blistering riffs that will thrill fans of Braz-jazz old-timers such as Sivuca, Hermeto Pascoal and forro legend Luiz Gonzaga. On the country side of things, there's also a nice version of Norman Blake's "Church Street Blues," underscoring the relationship that Ross discovered between Brazilian and Appalachian melodies... A catchy, dynamic and very adventurous album... though also a bit on the challenging side.


<! old ed. B002JOV0DQ >


Ruy Maurity - see artist discography




Jose Mauro "Obnoxious" (Quartin, 1970)


One of the rare records championed by the European acid-jazz scene which actually lives up to the hype. This lovely album ranges from lovely acoustic balladry to lush (but subtle) orchestral pop. A couple of tracks are mildly irritating, but overall this is a winner. The spacey, melodic numbers prefigure some of Gilberto Gil's calmer moments. Musicians include Paulo Moura and Wilson Das Neves, with arrangements by Maestro Gaya. Recommended!


<! old ed. B00004UJ75 >


Jorge Mautner - see artist discography




Yo-Yo Ma "Obrigado Brazil" (Sony Classics, 2003)



Cellist Yo-Yo Ma, possibly the most celebrated classical musician alive, has understandably fallen for the allure of Brazilian bossa nova, having previously explored Appalachian mountain music and the Argentine tango. Yet, like the countless American and European jazz players that precede him, it's difficult to tell in Ma's luso-classical crossover where the subtlety of samba ends and the glass-clinking simplicity of dinner jazz begins. In the baroque world, emotionally resonant, romantic passages are Ma's forte, but the precision and exactitude of Ma's classical background work against him when approaching the odd, interstitial nuances of Brazilian popular music. Backed by Brazilian virtuosi such as percussionists Paulo Braga and Cyro Baptista, Ma excels when playing the fast-paced, Dixieland-ish instrumentals written by choro pioneer Pixinguinha, though on slower, harmonically indefinite material such as the Antonio Carlos Jobim songbook, Ma sounds stiff and stilted, perhaps a little too perfect. Classical fans will doubtless find this album to be an enriching musical journey, while Brazilians may raise a wary eyebrow of amusement. Lovely performances, but they don't completely hit the mark.
Yo-Yo Ma/Various Artists "Obrigado Brazil: Live In Concert" (Sony Classics, 2004) (CD & DVD)


Yo-Yo Ma & Viva Brazil "Live EP" (Sony Classics, 2012)





<! Yo-Yo Ma, Kathryn Stott, Sergio & Odair Assad & Joseph Gramley >

Rose Max "Atlantico" (Cinq Etoiles, 2003)
An adequate singer amid slick, somewhat generic slick-soul MPB arrangements. Didn't do much for me, but might be fun for folks who like singers such as Patricia Marx or Luciano Mello.


<! Rose Max - some EPs on "Deep Touch" records >


Maysa - see artist discography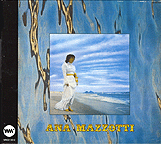 Ana Mazzotti "Ana Mazzotti" (Top Tape/Whatmusic, 1974/2002)


A mellow MPB pop/jazz fusion album from the mid-1970s that features pleasant, if underwhelming, vocals by Ana Mazzotti and musical backing from members of the well-known Brazilian jazz band, Azymuth. This has been hailed by devotees as a lost classic of Brazilian fusion, and I suppose it is, although I wouldn't get too worked up about it. Mazzotti has a refreshingly cool approach to the music, much like Tania Maria but far less frantic, and the arrangements are similarly cool and relaxed. This features "Roda Mundo," a Mazzotti original that has been covered several times since, notably by the singer Salome De Bahia. This is a nice record, worth checking out, but not earth-shattering by any means.




Ana Mazzotti "Ao Vivo -- Festival Do Verao Do Guaruja: 1982" (FIF, 1982)



<! Ana Mazzotti - Ana Mazzotti ao Vivo (1982), for an independent label, recorded live during Festival de Verao do Guaruja, Sao Paulo, 1982. Everybody calls this record as Ao Vivo no Guaruja, this is the third and last Ana Mazzotti album, a celebrated artist that left us tragically and early. I'm sure when Ana Mazzotti has passed away and I need to check later when my Internet connection comes back to work as normal. I also want to remember a request from our Loronix friend Telmo Mylius, Telmo is looking for a unlisted Ana Mazzotti LP called Ana Mazzotti e Conjunto Desenvolvimento >

Ze Luiz Mazziotti "Cancoes De Chico Buarque" (Dabliu, 2002)



A good, standard-issue MPB homage to master songwriter Chico Buarque... Mazziotti's voice is rich, velvety and confident... The arrangements are fairly restrained, although on the whole this disc may drift into milkier modes than some listeners might like. If you enjoy the elegant, smooth-jazz side of the MPB scene, though, this album is definitely worth checking out.
Jose Luiz Mazziotti "Jose Luiz Mazziotti" (2004)

Sylvio Mazzucca "Isto E Samba" (Continental)

Sylvio Mazzucca "Os Grandes Sucessos" (Tropicana)

Sylvio Mazzucca "Baile Do Samba" (Columbia)

Sylvio Mazzucca "Baile Do Sucessos" (Columbia) (LP)


MC Buchecha "MC Buchecha" (Universal-Mercury, 2003)


Super-perky, lightweight pop, with a token veneer of hip-hoppish production. Not much to write home about, really. Apparently this is his only solo album, though he's also contributed to a few compilations and other hip-hop projects, as well as the duo of Claudinho & Buchecha.
---
Brazilian Music - More Letter "M"
---



Main Brazil Index
World Music Index

---