<! MP3 10/07/08 > <! pix 11/27/09 > <! ALLBM 00/00/00 > <! icons 02/14/11 > <! ME > <! UPDATES: 05/17/12 - posted Elton Medeiros, Marilia Medalha pages 06/01/12 - added JT Meirelles, mapped out Pascoal Meirelles page - - CAN'T FIND a good Fernando Mendes discography online; some albums on AM, but nothing systematic ~~~~~ more Mestre Marcal to add? break Caio Mesquita out? 09/28/14 - added Martha Mendonca > <! MEDIDA CERTA "Sabendo Usar Nao Vai Faltar" (xxxxxxx, 1975) - novelty? - <! Renato Mendes "Electronicus" (xxxxx, 1974) - Moog music >
---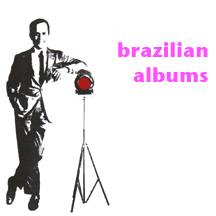 This is Page 4 of a listing of miscellaneous albums and artists under the letter "M"
If an artist or album you like is not reviewed here, please feel free
to contact me and make a suggestion.
---
A | B | C | D | E | F | G | H | I | J | K | L | M-1 / 2 / 3 / 4 / 5 / 6 / 7 | N | O | P | Q | R | S | T | U | V | W | X | Y | Z | Compilations
Brazilian Styles | 30 Recommended Records | Portuguese-language pop | Brazilian Links | Slipcue.Com
---
Marilia Medalha - see artist discography

Arnoldo Medeiros "O Homen, O Poeta" (RCA, 1975)
(Produced by Helcio Milito; arrangements by Luiz Eca)
An appealing album by a successful young MPB composer of the 1970s, backed here by Luiz Eca and the Tamba Trio, as well as a bright chorus made up of members of Trio Esperanca and The Golden Boys. The sound is mostly a soft version of the mellow, summery "samba rock" style, with a disco-y/fusion-y tinge to the production. However, this is one of those pleasant instances where the material and the performances transcend the limitations of cheesy pop production -- indeed, the album is inviting enough that the kitschy '70s sounds are pleasantly nostalgic. I'm not sure if Medeiros made many other records, but this one's really nice, especially with Trio Esperanca singing throughout. Worth checking out!
Elton Medeiros - see artist discography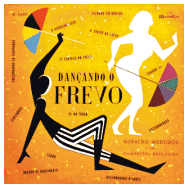 Geraldo Medeiros & Orquestra Brasileira De Ritmos "Dancando O Frevo" (Musidisc, 1956)
Trumpeter and saxophonist Geraldo Medeiros was an integral member of Severino Araujo's Orquestra Tabajara... On this "solo" set, he digs into the frevo style the Tabajara crew excelled at... This set has a rougher, slightly wilder edge, without quite the same sleek panache as the Tabajara albums, and a smaller ensemble as well. (Not sure who the other musicians were, but I assume they were also drawn from Araujo's big band... Sounds like about an eight-piece band, perhaps?) Admittedly, I find the manic pace and static arrangements of the frevo style to be a bit monotonous -- a little goes a long way -- but you're a devoted gafieria fan, you'll want to check this out.

Os Megatons "Os Megatons " (Philips, 1964)
Twangy, jangly surfin' rock instrumentals, also with a Shadows-esque tone. To be honest, the lead guitarist(s?) weren't really all that good, but even if they lacked finesse, the band still sounded cute, and they were competent rockers. Like many Brazilian rock bands of the era, I wish they had sung in Portuguese... But I felt the same way about the Shadows as well...

Helena Meirelles "Raiz Pantaneira" (Eldorado, 1998)


An unusual, but uncompelling, record from the Brazilian back-country. Meirelles is a little old lady who plays a shiny, metallic guitar that looks like a dobro. Her musical style is atypical: it sounds a lot like Mexican corridos, but is also rather static and monotonous. I'm sure it's super-authentic, but I couldn't get into it...


<! 130 x 130 >

Helena Meirelles "Flor Da Guavira" (Eldorado, 1999)

Helena Meirelles "Grande Dama Da Viola" (Eldorado, 1999)








J.T. Meirelles - see artist discography


<! Pascoal Meirelles: 06/01/12: page mapped out > <! Guto Graa Melo Trilhas para Filmes * 2009 High School Musical: O Desafio * 2007 Caixa Dois * 2006 Irma Vap - O Retorno * 2006 Se Eu Fosse Voc * 2005 O Casamento de Romeu e Julieta * 2004 Cazuza - O Tempo N‹o P‡ra * 1987 Sonhos de Menina Moa * 1983 O Cangaceiro Trapalh‹o * 1982 Menino do Rio * 1982 Rio Babil™nia * 1972 Roleta Russa * 1972 Miss‹o: Matar * 1973 O Descarte * 1975 O Casal * 1979 Amor Bandido * 1981 O Beijo No Asfalto [editar] Trilhas para Televis‹o * 1987 Turbilh‹o de Emo›es * 1985 Tenda dos Milagres * 1984 A M‡fia no Brasil * 1984 Pirlimpimpim 2 * 1983 Eu Prometo * 1983 A Turma do Perer * 1982 Pirlimpimpim * 1982 Para'so * 1980 Cora‹o Alado * 1980 Grandes Nomes (Epis—dio: Elis Regina Carvalho Costa) * 1979 Pai Her—i * 1978 Ciranda, Cirandinha * 1978 Sinal de Alerta * 1976 Saramandaia * 1975 Pecado Capital * 1973 Fant‡stico (aberturas do programa) >

Joao Mello "Apresentando Joao Mello Em Ritmos Do Brasil" (Sinter, 1959)





Joao Mello "A Bossa Do Balanco" (Philips, 1963)


(Produced by Luiz Eca)
A delicious set of classy, restrained bossa nova songs from Joao Mello, a prolific composer who also went on to become one of the major session producers of the classic bossa nova and MPB years. Here he is backed by pianist Luiz Eca and the Tamba Trio, in one of their most crisp and understated performances. There's a sweet lilt and danceable bounce to this album, also a pleasant air of imperfection and imprecision -- this could have easily been an overproduced, over-orchestrated pop set, instead, it's a lovely record of small-scale, small-ensemble bossa, a model of economy. Nice to hear such a famous studio producer performing as a frontman for once: sounds great. Features several songs written by Mello, as well as by Tito Madi, Chico Feitosa, Rildo Hora and others.


<! 01 - Gostoso ƒ Sambar (Jo‹o Mello) 02 - Est‡ Nascendo Um Samba (Tito Madi / Romeo Nunes) 03 - Um Sonho Para Dois (Rildo Hora / Cl—vis Mello) 04 - Jogado Fora (Jo‹o Mello) 05 - Cravo Vermelho (Pernambuco / Sergio Malta) 06 - Hist—ria (Nilo Sergio) 07 - Faz de Conta (Orlann Divo / Roberto Jorge) 08 - Voc Vai (Chico Feitosa / Marcos Vasconcellos) 09 - Distante do Amor (Edgardo Luis / çlvaro Franco) 10 - Vai Sofrer Vai Chorar (Jo‹o Mello) 11 - Amor e Paz (Tito Madi) 12 - O Maior "N‹o" (Hianto de Almeida / Macedo Neto) >

Joao Mello "Coracao So Faz Bater" (Som Livre, 2000) <! date? >





<! 01- Sambou, Sambou 02- Depois Do Natal 03- D—i... D—i... D—i 04- Tim Dom Dom 05- Jo‹o Ventura 06- Resolu‹o 07- Sergipinho 08- Parece 09- Cora‹o S— Faz Bater 10- Velhas Serenatas 11- Pour Pablito 12- Deusa Do AribŽ Arranjador: Carlinhos Menezes & Jo‹o Mello > <! JOAO MELLO DISCOGRAPHY: I‡ I‡ da Bahia chegou/Xim-xim de galinha - 78 rpm Sinter - 1958 Apresentando Jo‹o Mello em Ritmos do Brasil - LP Sinter - 1959 Or—s precisa de n—s/O chamado do mar - 78 rpm Sinter - 1960 Raio de sol/Amor de ver‹o - 78 rpm Philips - 1961 Bloco do gari/Nero e a mulata - 78 rpm Philips - 1961 Sai dessa onda/O pregador de conversa - 78 rpm Philips - 1962 Me contaram diferente - 78 rpm Philips - 1962 A bossa do balano - LP Philips - 1963 >

Jorge Mello "Besta Fera" (Crazy, 1976) (LP)





<! several other albums


Luciana Mello - see artist discography





Luiz Melodia - see artist discography




Fernando Mendes "Fernando Mendes" (EMI, 1974)


(Produced by Maestro Gaya & Milton Miranda, arrangements by Clelio Ribeiro)
Soporific, ephemeral soft-pop with occasional glimmers of life... Mendes seems to have been ready to take up the Roberto Carlos's long-discarded mantle as a Brazilian teen heartthrob, but boy, is this snoozy. There's one song, "Nao Vou Me Entregar," that has some mildly wild electric guitars on it, but for the most part the arrangements are rather static and slow. You're not missing anything here, trust me.

Fernando Mendes "Fernando Mendes" (EMI, 1975)
(Produced by Miguel Plopschi, arrangements by Clelio Ribeiro)
There's a lot more stylistic variety from his previous album -- maybe a touch of Santana-esque guitars to spice things up -- but it's still pretty dull material. Leif Garrett and Shawn Cassidy seem like pimpin' mackdaddies compared to this wuss!
Fernando Mendes "Fernando Mendes" (EMI, 1978)

Fernando Mendes "Selecao De Ouro" (EMI, 1998)



A best-of set...


<! Fernando Mendes "Fernando Mendes" (EMI, 1973) Fernando Mendes "Fernando Mendes" (EMI, 1978) Fernando Mendes "Fernando Mendes" (EMI, 1978) Fernando Mendes "Fernando Mendes" (EMI, 1978) Fernando Mendes "Fernando Mendes" (EMI, 1978) Fernando Mendes "Fernando Mendes" (EMI, 1978) Fernando Mendes "Fernando Mendes" (EMI, 1978) Fernando Mendes "Fernando Mendes" (EMI, 1978) Fernando Mendes "Fernando Mendes" (EMI, 1978) Fernando Mendes "Fernando Mendes" (EMI, 1978) Fernando Mendes "Fernando Mendes" (EMI, 1978) Fernando Mendes "Fernando Mendes" (EMI, 1978) Fernando Mendes "Fernando Mendes" (EMI, 1978) Fernando Mendes "Fernando Mendes" (EMI, 1978) Fernando Mendes "Fernando Mendes" (EMI, 1978) Fernando Mendes "Fernando Mendes" (EMI, 1978) Fernando Mendes "Fernando Mendes" (EMI, 1978) Fernando Mendes "Fernando Mendes" (EMI, 1978) Fernando Mendes "Fernando Mendes" (EMI, 1978) Fernando Mendes "Fernando Mendes" (EMI, 1978) >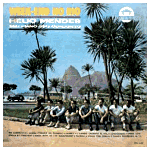 Helio Mendes "Weekend No Rio" (Musiplay, 1963)
Unremarkable, third-tier bossa-era nightclub instrumentals... I suspect Helio was banking on folks confusing him with the then-rising Sergio Mendes, a theory which is borne out by his cover (on his other album) of Jorge Ben's "Mais Que Nada," which had been a huge hit for Sergio. Regardless, this is hardly memorable material: the piano work is okay, everything else -- saxophone, accordion, percussion -- is leaden and bland. A cheesy tourist album with, as far as I can tell, no real historical significance.




Helio Mendes & Seu Trio Vagalume "Na Bossa" (Musiplay, 1963)



<! HŽlio Mendes: Piano Maur'cio de Oliveira: Guitarra Betinho: Bateria Ed'lio: Contrabaixo >

Renato Mendes "Electronicus" (RGE, 1974)
Some sort of electronic music project, with keyboardist Mendes playing on the Moog synthesizer. I haven't heard this one myself, just caught wind of it through the grapevine...




Roberto Mendes "Flama" (Nosso Som, 1988)





Roberto Mendes "Matriz" (Casa Da Musica, 1992)





Roberto Mendes "Roberto Mendes & Baianos Luz" (Velas, 1994)

Roberto Mendes "Roberto Mendes" (Velas, 1994)

Roberto Mendes "Voz Guia" (Velas, 1996)

Roberto Mendes "Minha Historia" (Velas, 1999)


Roberto Mendes "Traducao" (Atracao, 2002)



(Produced by Ana Maria T. Mendez) <! ? >
A super-groovy, funky-freeform, acoustic-samba-MPB groovefest... Bahian singer-songwriter Mendes readily brings to mind Gilberto Gil's exuberant improvisational work of the early 1970s -- the driving, hypnotic fervor is there, as is the light vocal tone. This affinity is borne out in a duet with Gil's old buddy, Caetano Veloso, who adds his elegant touch to "Namorar, Vem Namorar," one of the numerous Mendes originals on this delightful album. Margareth Menezes and Jussara Silveira also chime in, although it's Mendes's fervent, high-energy performance that really makes this album click. If you're a fan of Jorge Ben or Gilberto Gil's classic samba-funk grooves, you'll want to check this disc out as well! (Thanks to the folks at Cana Brava Records, in Salvador, for sending a copy our way...! )
Roberto Mendes "No Embalo Da Seresta" (2002)

Roberto Mendes "Tempos Quase Modernos" (Atracao, 2006)


Roberto Mendes "Cidade E Rio" (Biscoito Fino, 2008)








Sergio Mendes - see artist discography





Martha Mendonca - see artist discography





Roberto Menescal - see artist discography




Jose Menezes "Dedos Privilegiados" (Sinter, 1954)



<! 10" LP > <! With a number of Jose Menezes compositions, including "Um, Dois, Tres" and "Encabulado", and some co-written with Luis Bittencourt (Joao do Bandolim, right?) >

Jose Menezes "A Voz Do Violao" (Sinter, 1957)



<! 10" LP > <! guitar solos in a variety of styles - choro, maxixe, samba-cancao >

Jose Menezes "Ritmos Em Alta Fidelidade" (Sinter, 1957)
A jazzy 6-song set from this prolific guitarist... Menezes was a session player for countless recordings in the 1950s, notably with maestro Radames Gnattali, but also led his own combo on a number of records before forming the parodic bossa-era band, Os Velhinhos Transviados. This is a nice EP with Menezes playing electric guitar in a variety of styles, playing samba and regional Brazilian music with a North American jazz-guitar sensibility. His medley of baiao classics, "Nao Interessa Nao/Repinica Raimundo/Xaxado" is particularly noteworthy, giving this sometimes-inaccessible style a sweet, light tone. Nice stuff!




Orq. De Frevo Jose Menezes "Os Maiores Sucessos Do Frevo" (PolyGram, 1983)
I'm not exactly sure I could describe to you what the style of music known as frevo is all about -- according to the modest liner notes on this album, it was first noted as an offshoot of the capoeira bouts, as early as the 1850s... So it's a rhythm or style of music that predates the maxixe and samba by several decades... But I still don't know enough about it to fairly describe its characteristics or significance. In this incarnation, as played by Jose Menezes's band, it's a fairly glitzty, hyperactive marching band music: if your local college brass band was really, really, really creative, they might come up with something like this.


<! 06/12: could NOT find gif: do I still have this album? >


Margareth Menezes - see artist discography




Os Meninos Do Deus "Aperte...Nao Sacuda!" (1974)
Rock and psychedelic-tinged gospel music from the tropicalia era of Brazilian pop. A modest gospel chorus melds well with Bowie-esque guitar, folk-rock and '70s-style pop; there's a clear debt to Hair and other hippiesque gospel-pop of the time. Overall, this is quite nice, a good mix of perky, earnest innocence and musical accomplishment. Like Communidade S8 (another Brazilian religious group that put out records around the same time) Meninos Do Deus were a musical band affiliated with a larger religious organization, in this case, the Children of God, a creepy, hippie-ish evangelical group from America that had cultish, apocalyptic overtones and was notorious for various sexual practices, including "flirty fishing" (having young women sexually seduce new converts, and find financial "donors" for the cause) as well as allegations of child abuse. If the evangelical angle (and the other stuff) doesn't bother you too much, there are some nice poppy songs on here, although the history behind the music is pretty disturbing. I don't know how much these particular Brazilian musicians were involved in the politics or lifestyle choices of the international organization, although you can read more about them in this post on the Brazilian Nuggets website
Os Meninos Do Deus "Amor Nunca Falha -- Capitulo 2 " (Polydor, 1975)

Os Meninos Do Rio "Os Meninos Do Rio" (Sony/Carioca Discos, 2000)


(Produced by Paulinho Albuquerque)
An absolutely gorgeous set of old-school acoustic pagode samba, honoring the work of composers such as Ivone Lara, Jair Do Cavaquinho, Elton Medeiros and Nelson Sargento. A bunch of these old-timers are pictured and named on the front cover, and make guest appearances thoughout, although the album is anchored by a group of younger musicians who, I assume, go by the name of Os Meninos Do Rio. At any rate, this is a super-lovely record. Fans of Beth Carvalho or the Velha Guarda Da Portela owe it to themselves to track this one down.
Daniela Mercury - see artist discography
Alex Mesquita "Curva Do Tempo" (Rara Records, 2009)

Caio Mesquita "Jovem Brazilidade" (EMI Brazil, 2006)


Caio Mesquita "Ao Vivo" (EMI Brazil, 2006)


A live performance by saxophonist Caio Mesquita, with guest performer Ivan Lins...
Caio Mesquita "Natal" (Luar, 2006)


Caio Mesquita "Jovem Brazilidade, v.2" (EMI Brazil, 2007)


Caio Mesquita "Um Feliz Natal"

Caio Mesquita "Sertanejo" (Universal, 2009)

Custodio Mesquita "Prazer Em Conhece-lo" (Atracao, 1998)

Ronald Mesquita "Bresil '72" (Barclay, 1972)


The drummer for the late-1960s bossa-jazz band Rio 3, Ronald Mesquita briefly led this Sergio Mendes-ish bossa-pop outfit... The record came out in France; I'm not sure if the group was based there as well.


<! old ASIN - B0000677LM >

Suely Mesquita "Sexo Puro" (Tratore, 2007)


Suely Mesquita "Microswing" (Tratore, 2008)


Messias - see artist discography

Mestre Ambrosio "Mestre Ambrosio" (Tratore, 1997)





<! loaded 144 x 144 >

Mestre Ambrosio "Fua Na Casa De Cabral" (Sony/Chaos, 1999)


Challenging modern music from this youthful mangue beat band out of Recife. A truly weird, psychedelic, distorted take on the street samba sound, mixing spacy electric guitars with clattering percussion and other non-rock instruments, such as pife flutes, an accordeon and a violin, and a wild mix of rock, forro, maracatu and other styles. It's kind of like hearing the Quinteto Violado on acid. (I bet they're amazing live.)


<! 130 x 130 >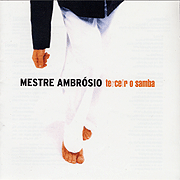 Mestre Ambrosio "O Terceiro Samba" (Sony, 2001)


(Produced by Beto Villares)
Their third album... another odd, compelling offering from this eclectic regional band... This time around their sound is much more stripped down, in some ways even static, yet the combination of a modern sensibility with antiquated regional styles such as coco and maracatu makes this album sound unique and fresh... The instruments are all acoustic, with a scratchy violin at the center of many songs, and a bit of accordion and forro-style percussion... You can tell instantly that this is a modern band, but their approach is so unlike their rock and samba-oriented contemporaries that it's really quite delightful... Highly recommended!
Mestre Bimba "Curso De Capoeira Regional" (JS Discos, 1969)





<! R > <! also has a DVD >

Mestre Caicara "Academia De Capoeira De Angola Sao Jorge Dos Irmaos Unidos Do Mestre Caicara" (EMI-Copacabana, 1973)


Stark-sounding capoeira of the "Angola" school, which is slower and less flashy than "regional" capoeira. This band was led by Antonio Carlos Moraes, aka Mestre Caicara, a Recife native who delved into the African roots of Brazilian capoeira, and was one of the first artists to record the Angola style. The rhythm is a slow, heavy beat, spanked out on a tambourine, with the berimbau leading the melody and pushing the movement. The vocals are also slow and deliberate, but also passionate and intense. Recommended, particularly for students of the art...


<! no producer listed >
Mestre Marcal "...Interpreta Bide E Marcal" (EMI-Odeon, 1978) (LP)


(Produced by Renato Correa)
Nilton Delfino Marcal, better known as Mestre Marcal, was one of the most highly regarded percussionists of the 1970s, working with some of the decade's top samba stars, as well as recording several albums of his own, highlighting his mastery of batucada drumming. This record is an homage to his father, Armando Vieira Marcal, who sang and played percussion on Radio Nacional in the 1930s and '40s, and Marcal's musical partner Alcebiades Maia Barcelos, aka Bide, a cavaquinho prodigy who also performed on Radio Nacional and composed several early popular samba-cancao hits, including "A Malandragrem," which was first recorded by Chico Alves in 1927. Bide and Marcal backed numerous stars of the 1930s, and were particularly known for their work with legendary choro/samba-cancao flautist Benedito Lacerda (a download-only collection of these classic recordings is available online...)


<! Dino 7 Cordas - violao de 7 cordas Meira - violao Canhoto - cavaco Wilson Das Neves - bateria Luna - tamborim Elizeu - tamborim Marçal - cuíca Gordinho - surdo Jorginho - pandeiro Geraldo Bongô - tumba Luizão - baixo Beterlau - agogo Genaro - reco-reco Bezerra - ganzá Abel Ferreira - clarinete, sax alto Nelsinho - trombone Emilio - sax alto Zé Bodega - sax tenor Genaldo - sax barítono Maurilio - trumpete João Luiz - trombone Coro: Chico Buarque, Clara Nunes, Cristina, Dona Ivone Lara, Elton Medeiros, Gisa Nogueira, Gonzaga Jr., João Nogueira, Martinho da Vila, Milton Nascimento, Miucha, Paulinho da Viola, Paulo Cesar Pinheiro, Roberto Ribeiro, Nosso Samba. INFO: Filho do percussionista, sambista e fundador da escola de samba Estácio Armando Vieira Marçal e pai do também percussionista Marçalzinho, Mestre Marçal foi um dos mais consagrados mestres de bateria e percussão da música brasileira, uma quase unanimidade entre os músicos. Começou tocando tamborim na escola Recreio de Ramos, em seguida foi para a Unidos da Capela, Império Serrano e Portela, onde ficou por mais de 20 anos mas saiu em 1980, depois de desentendimentos com o presidente da escola. Passou alguns meses na Viradouro e desfilou pela Mangueira. Fora do universo das escolas de samba, foi presença constante em estúdios de gravação. Participou de todos os discos de Beth Carvalho, tocou com Chico Buarque, Alcione e praticamente todos os grandes nomes da MPB. Gravou oito discos individuais, onde, além de percussionista e compositor, atuava também como cantor, emprestando à voz suas habilidades rítmicas por meio de inusitadas e criativas divisões. Mestre Marçal gravou sambas como "A Primeira Vez", "Meu Primeiro Amor", "Que Bate-fundo É Esse?", "Meu Sofrer", "Agora É Cinza" (da dupla Bide/ Marcal, o pai). Ganhou o título de Cidadão Samba em 1982. >

Mestre Marcal "A Incrivel Bateria Do Mestre Marcal" (Polydor, 1987) (LP)


(Produced by Durival Ferreira)
A groovy collection of samba enredo Carnaval percussion, culled from various parade albums from the '70s and '80s. Drummer Nilton Defino Marcal, who died in 1994, apparently worked with several different samba schools, including Portela and Mangueira, with invariably great results. This disc should make batucada fans quite happy. The CD version includes liner notes that explain the role of all the various instruments in the bateria. Nice stuff.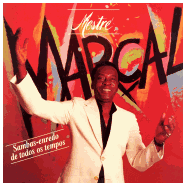 Mestre Marcal "Samba Enredo De Todos Os Tempos" (Velas, 1993)



(Produced by J.C. Botezelli-Pelao & Argemiro Ferreira)
Percussionist Mestre Marcal takes on the role of a Carnaval puxador, singing lead in a sweeping and celebratory survey of popular Carnaval themes, originally performed between 1949-1988 by several samba schools that he has worked with over the decades. The performance style here is closer to 'Seventies samba-raiz, with the unstoppable rhythm section supporting a large vocal chorus, punctuated by cavaquinho and 7-string guitar, in contrast to Marcal's older, more stripped-down batucada recordings that mainly emphasized the drumming. Among the musicians, drummer Wilson das Neves is perhaps the most notable... Admittedly, it does all start to sound a lot alike, but it's great stuff nonetheless.
Mestre Marcal "Serie Aplauso" (BMG-Brasil, 1997)

Meta Meta "MetaL MetaL" (Mais Um Discos, 2014)






<! Over a squalling mess of improvised guitar and sax, a twisted, almost broken female vocal cries out to Exu, the gatekeeper of the Afro-Brazilian religion CandomblŽ. This is the ÔAfro-punkÕ sound of Met‡ Met‡ - Vocalist Juara Maral, saxophonist Thiago Frana and guitarist Kiko Dinucci Ð a trio of Sao PauloÕs most sought after musicians, struggling to survive the 21st century sonic schizophrenia of their home city Sao Paulo. Met‡ Met‡Õs sophomore album and debut for Mais Um Discos MetaL MetaL launches itself from the ancient chants of the orix‡s into a dirty brew of psychedelic samba, distorted jazz and Afro-punk. The band are all followers of candomblŽ yet Thiago is eager to point out that they are not using the orix‡s to preach certain beliefs but to provide a framework within which they tell their stories. On MetaL MetaL they mix these spiritual and rhythmic foundations with influences ranging from Afrobeat to Afrosambas, punk rock to be-bop to create chaotic, life-affirming music that explodes with the rage of The Stooges and Sonic Youth, the spirituality of John Coltrane and Sun Ra and the wild, avant-garde instrumentation of contemporary experimental-psychedelic outfits such as Melt Yourself Down and Goat. ThiagoÕs sax-playing has some serious experimental traction, one moment somersaulting countermelodies over KikoÕs guitar, the next diving low to provide the brassy bass to JuaraÕs commanding vocals. Kiko is influenced by the intricacies of African music and never plays chords, allowing for wonderful melodic interplays between himself and Thiago. On Oya, the guitar confidently strides in on a funk-driven riff, challenging the saxophone, whose immediate riposte oozes sophistication to match and elegantly paves the way for Juara. ÒThis,Ó claims Thiago, Òadds drama to the songs, as you never know where the melody is going to take you. If the guitar opens with a chord, the harmonic structure has been laid out, and the listener already knows whatÕs coming next.Ó All the band members are integral cogs of the S‹o Paulo arts scene; Thiago with his improv-led trio, MarginalS and African rooted solo outfit, Sambanzo was also in CrioloÕs touring band for two years. It was during his stint with Criolo that he met Tony Allen, which led to the two collaborations with him on the album. Juara is a member of a cappella group (Vesper Vocal), experimental theatre company (Companhia Coral) and professor of singing at Sao PauloÕs University Anhembi Morumbi. Kiko plays with Passo Torto a Ôsamba string quartetÕ and is a widely respected visual artist - he created the wood carving for the MetaL MetaL logo. >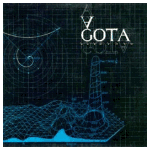 Metro "A Gota Suspensa" (Underground, 1983) (LP)


The independently-released debut album by this '80s new wave group originally came out under the band name A Gota Suspensa, but they changed to Metro after signing with a major label, and the album got retitled retroactively... The original lineup included lead singer Virginie, who quit the band a few years later when they started to change their sound.
Metro "Olhar" (CBS, 1985)


This was Metro's big hit album, and it's a pretty good -- at least better than average -- slice of genuine, uptempo Brazilian new wave. It's a strong showcase for Virginie's lead vocals, giving the record a real Romeo Void/Human League feel -- more keyboard-y than synthy, poppy and propulsive, but not brooding or fey. In a scene that was so derivative and less accomplished than their US or UK peers, this is an album that stands out for its vigor and pop appeal. Definitely worth checking out if you're interested in exploring this wing of Brazilian pop.


<! Toni Basil/Erasure/ >

Metro "A Mao De Mao" (CBS, 1987)


I think this was the album that came out after group's original lead singer split off to form her own band, Virginie & O Fruto Proibido... Haven't heard it, though.
Metro "Deja-Vu" (Trama, 2002)


On this reunion album (which I don't think included their singer-gone solo artist Virginie) the remnants of Metro are joined and celebrated by younger artists such as Preta Gil and Otto, as well as old-timers like Jorge Mautner...


<! 01 - Mensagem de amor 02 - Achei bonito 03 - Que nega Ž essa (part. esp. Preta Gil) 04 - Cora‹o vagabundo 05 - Aquarela do Brasil (part. esp. Preta Gil) 06 - Johnny love 07 - Resemblances 08 - Missing you 09 - Rapaz da moda 10 - Everyone is wrong but me 11 - Beat acelerado 12 - S‰ndalo de D‰ndi 13 - Leva meu samba (part. esp. Jorge Mautner e Nelson Jacobina) 14 - Silence 15 - DŽjˆ vu (part. esp. Otto) 16 - Cora‹o vagabundo (Remix) 17 - Beat acelerado (Remix) 18 - Achei bonito (remix) 19 - DŽjˆ-vu (remix) http://cliquemusic.uol.com.br/artistas/ver/metro Metro "A Gota Suspensa" (1983) (LP) B0085PPYC6 - band originally named A Gota Suspensa Metro "Olhar" (CBS, 1985) B0084CBL4A - MP3 Metro "A Mao De Mao" (CBS, 1987) B0084CEO6M - MP3 Metro "Deja-Vu" (Trama, 2002) B000085CGK >

Hendrik Meurkens "Samba Importado" (L & R, 1989)



Hendrik Meurkens "Amazon River" (Blue Toucan, 2005)


A slew of heavyweight Brazilian jazz players -- including guitarist Dori Caymmi, percussionist Duduka Fonseca and album co-producer Oscar Castro-Neves -- back German-born harmonicat Hendrik Meurkens on this sometimes-lively exploration of Brazilian themes... Naturally, comparisons to two other Braz-oriented harmonica virtuosi come to the fore: like Toots Thielemans and Rildo Hora, Meurkens gets pretty mellow, but he also plays it fast, and in both cases comes up against the limitations of his instrument... (Slow sounds gooey, fast a bit goofy...) Nonetheless there are some elegant numbers, generally the vocal tracks, where the harp fades from the lead and becomes more of an accent, and these are pretty nice. Overall, this style of jazz is way too soft for me, but Meurkens does a fine job exploring various aspects of the Brazilian sound, and works in a wide range of styles... Smooth jazz fans will find this album quite lovely.
Hendrik Meurkens "Sambatropolis" (Zoho, 2008)

Hendrik Meurkens "Samba To Go" (Zoho, 2009)


---
Brazilian Music - More Letter "M"
---



Main Brazil Index
World Music Index

---