<! MP3 10/04/08 > <! pix 11/28/09 > <! ALLBM 00/00/00 > <! icons 02/15/11 > <! MIA - MIZ > <! UPDATES: 10/04/08 06/01/12 - new pages for Sidney Miller, Miltinho, Marlui Miranda, Wilson Miranda 06/24/12 - changed URL for Carmen Miranda page > <! Milena "Sorriso Aberto" (Odeon, 1975) (LP) B00414TP0M Milena "Milena" (CBS, 1979) (LP) B00C45PUY0 Samba? Includes songs by Ivone Lara, Luiz Gonzaga >
---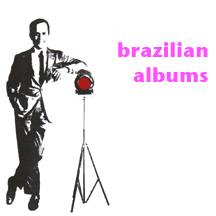 This is Page 5 of a listing of miscellaneous albums and artists under the letter "M"
If an artist or album you like is not reviewed here, please feel free
to contact me and make a suggestion.
---
A | B | C | D | E | F | G | H | I | J | K | L | M-1 / 2 / 3 / 4 / 5 / 6 / 7 | N | O | P | Q | R | S | T | U | V | W | X | Y | Z | Compilations
Brazilian Styles | 30 Recommended Records | Portuguese-language pop | Brazilian Links | Slipcue.Com
---
Osmar Milito "... Deixa O Relogio Andar!" (Som Livre, 1971)

Osmar Milito "Nem Paleto, Nem Gravata" (Atco, 1973)





<! new reissue 2014? >

Osmar Milito "Uma Rosa Com Amor" (Som Livre) (LP)

Osmar Milito "Viagem" (Continental)

Osmar Milito "Aos Amigos Tudo" (2006) <! label? year? >








Sidney Miller - see artist discography




Vange Milliet "Vange Milliet" (1995)



<! Primeiro disco de Vange, onde ela apresenta diversos compositores e artistas atˇ ent‹o desconhecidos. O disco tem Chico Cˇsar como parte da banda, tocando viol›es e fazendo backing-vocal. Renato Braz tambˇm integrava a banda como backing-vocal. Tambˇm tem Zeca Baleiro, Rita Ribeiro, Tata Fernandes, Itamar Assump¨‹o, Jards Macalˇ e Lanny Gordin. >

Vange Milliet "Arrepio" (1998)





<! Segundo disco da cantora, traz parcerias com Chico Cˇsar e Itamar Assump¨‹o. Participa¨›es especiais de Lenine, Edgard Scandurra, Zeca Baleiro, Suzana Salles, Toninho Ferragutti, Simone Soul e Bocato. >

Vange Milliet "Tudo Em Mim Anda A Mil" (Tratore, 2006)






<! Produzido por Zeca Baleiro e Paulo Lepetit, traz parcerias com Zeca, Paulo Leminski e Lepetit e participa¨›es especiais do baterista alem‹o Marlon Klein, de Scandurra, de Jo‹o Parahyba e Benjamim Taubkin. >


Miltinho - see artist discography




Miltinho "New Malemolencia" (1986)


A solo album by Milton Lima dos Santos Filho, aka Miltinho of the vocal group MPB-4 -- not to be confused with the radio singer Miltinho (above)...


<! Disco do Miltinho tem participa¨›es do MPB-4, Leila Pinheiro, Kledir Ramil e Zˇ Renato >


Carmen Miranda - see artist discography




Luperce Miranda "Luperce Miranda Interpreta Luperce Miranda" (MIS, 1978)
A sweet set of choro bandolim instrumentals, with a slight regional flair. Apparently Miranda was an old-timer in his seventies when this was recorded; indeed, he passed away not long after its release... But his age was certainly no impediment to his talent -- this is a great record. Anyone who's into the mandolin will want to track this one down, particularly for dazzling, inventive runs on songs such as "Moto Continuo," but also for the sweeter, more lyrical tunes. Fans of Jacob Do Bandolim and Joel Nascimento owe it to themselves to check this album out. Highly recommended.


<! B0043U6BMO LP?? >


Marlui Miranda - see artist discography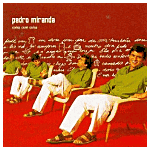 Pedro Miranda "Coisa Com Coisa" (Deckdisc, 2006)



(Produced by Joao Augusto & Pedro 7 Cordas)
Traditionalist acoustic samba from a (former) member of Teresa Cristina's highly-regarded Grupo Semente, gone solo with her blessing (and a nice guest appearance on one of the best tracks on this album...) This is nice stuff, and he hits all the right marks: fans of Paulinho da Viola, Martinho da Vila and like-minded preservationists will enjoy this set. I have to confess this album didn't totally wow me; Miranda's vocals aren't the most expressive and the music, while pleasant, seems a little too controlled and contained overall. Nonetheless, it's all very high quality, and several tracks have made it into long-term rotation at Casa da Slipcue. Definitely worth checking out.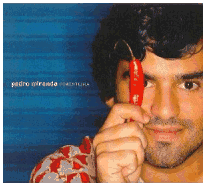 Pedro Miranda "Pimenteira" (Tratore, 2009)



Beautiful! On this disc, Miranda really comes into his own... He seems like a more confident, relaxed performer, more willing to project his own personality and warmth into the music, and the sonic palette is wider and more textured, bringing in a sleek, big-bandy undercurrent than echoes jazzy, 1950s-era gafieira and the urban-based samba do asfalto of the '60s, but not in a way that detracts from the music's rich samba base. It's one of the nicest blends of modern/poppy and acoustic/old-school that I've heard in a while. A rich, sweet, very pleasant record, definitely one to track down. Highly recommended!


<! AM sez 2005, his own site says 2009 > <! Cordao do Boitata? zabumba? > <! grupos: Grupo Semente, Anjos Da Lua, Rancho Flor Do Serano, Garafieira & Samba De Fato, Cordao do Boitata >


Wilson Miranda - see artist discography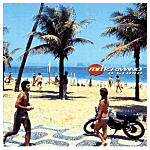 Mr. Hermano "O Globo" (Disorient/Mr Bongo, 1999)



A British-based band that fuses electronic-ambient groove with Brazilian bossa-jazz and samba... Apparently Brazilian percussionist Dom Um Romao is involved as well... A nice project if you're looking for mellow chill-out music.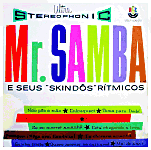 Mr. Samba "Mr. Samba E Seus Skindos Ritmicos" (RGE, 1962)
Swinging, big-bandy samba tunes, with a little more blaring brass than I would prefer, but also some swell percussion, pleasant group and solo vocals, and some creative arrangements, including a dash of Cuban-style salsa. The horn section often gets in the way, but this is still a pretty fun record. The album art proudly proclaims this as an album recorded for tourists, and songs such as Pedro Caetano's "Onde Estao Os Tamborins" tip their hat that these guys may have been connected to the Mangueira samba school... Who knows? Mostly this is just for shaking your cute little booty!


<! do not miss Carnaval RCA (1963) a few posts ago and do not stay away from Mr. Samba - Mr. Samba e Seus "Skindos" Ritmicos (1962), for RGE. Mr. Samba is an obscure group that released two LPs for RGE in the early 60's with great swinging, arrangements and an unknown personnel listing. The first release is their second LP, >

Mr. Samba "This Is Bossa Nova" (RGE, 1963)



<! I don't know who is Mr. Samba and His Rhythmic Skindos, but this name is just hilarious for those who understand Portuguese. Mr. Samba released two LPs for RGE and this is the second. The cover shows Brasilia City for a not known reason. Rubens Perez "Pocho" arranged this LP and I bet my cents that he is the mysterious Mr. Samba. Tracks include: >

Dom Mita "O Som Do Black Rio" (Transmita/Whatmusic, 2001)


A Black Rio revivalist album, this features soul singer and percussionist Dom Mita along with a slew of his old pals, including members of Banda Black Rio and vocalist Carlos Dafe (who guests on one song). The album is dedicated to the late Brazilian funk pioneer Tim Maia, and is definitely true to his spirit. There's an odd, familiar mix of disco-ish production and legitimately funky rhythms -- this modern disc is well-produced and tightly arranged. It might not be your bag, but if it is, I'm sure you'll be pretty happy with it.
Miucha - see artist discography

Jun Miyake "Innocent Bossa In The Mirror" (Tropical Music, 2002)



(Produced by Jun Miyake & Arto Lindsay)
A sparse, entirely beautiful novo bossa nova album from an "outsider" with cross-cultural leanings. Japanese art-song multi-instrumentalist Jun Miyake had never tackled Brazilian music before this album, but with the help of modernists Arto Lindsay and Vinicius Cantuaria, Miyake casts a delicate spell that recalls the magical glory days of Joao Gilberto, Carlos Lyra and the other early greats. As on his own albums, Lindsay wrote and sings original Portuguese lyrics, while Cantuaria provides the gentlest, most compelling guitar accompaniment imaginable. Miyake's piano work recalls the haunting echo-iness of Erik Satie, and while each track tends towards a prolonged exploration of a single theme -- a song with odd percussion, another with flugelhorn as a bossa nova lead instrument -- the overall effect is magical and serene. Recommended!


<! 131 x 130 >

---
Brazilian Music - More Letter "M"
---



Main Brazil Index
World Music Index

---