<! MP3 10/04/08, 06/25/12 > <! pix 11/28/09 > <! ALLBM 00/00/00 > <! icons 02/15/11 > <! UPDATES: 10/04/08 06/25/12 - added Monarco, Oswaldo Montenegro, Zeze Motta, Paulinho Moska pages, some updates 10/11/12 - changed Moraes Moreira URL - need to update elsewhere? > <! LP - DOMENICO MODUGNO "A SENSAāŐO MUNDIAL DA ATUALIDADE!" (Sinter/Fonit, xxxxxx) - 60s(?) an Italian artist - looks like an import to Brazil(??) >
---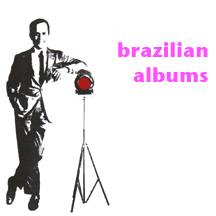 This is Page 6 of a listing of miscellaneous albums and artists under the letter "M"
If an artist or album you like is not reviewed here, please feel free
to contact me and make a suggestion.
---
A | B | C | D | E | F | G | H | I | J | K | L | M-1 / 2 / 3 / 4 / 5 / 6 / 7 | N | O | P | Q | R | S | T | U | V | W | X | Y | Z | Compilations
Brazilian Styles | 30 Recommended Records | Portuguese-language pop | Brazilian Links | Slipcue.Com
---




Mocada Do Samba "Canta E Liberte" (Scala, 197--)

(Produced by Cassio VIsconti, Jr.)


<! 1970s samba - no date(?) on album >

Mocidade Independente De Padre Miguel "Bateria Nota 10" (Top Tape, 1975)


Originally an outgrowth of a popular soccer team, this samba escola became one of the most popular and successful Carnaval bands, starting in the late 1950s, and continuing on through the present day. Tracks by the band frequently appear on compliation albums of batucada percussion, and their own albums pop up from time to time. The band's signature instrumentation and breakneck pacing seldom vary, so they may best be taken in small doses.


<! 144 x 144 >

Mocidade Independente De Padre Miguel "Batucada - Percussions Du Bresil" (Iris Musique, 1990)


As with other albums by this popular escola, this features plenty of high-power, infectious percussion, delivered at an unvaried breakneck clatter. Again, there's not a lot of stylistic breadth here, but the performances are pretty stunning. This collection has since been superceded by a double disc set, also on the same French label (reviewed below).


<! producer not listed >

Mocidade Independente De Padre Miguel "Batucada Brasileira" (Iris Musique, 2002)


This time around, the Iris label has put together a full 2-CD set, expanding on the album listed above, and apparently all drawn from records of the late 1970s. Again, not a lot of stylistic variation, but top-flight, rapid-fire percussion from a world class outfit.
Mocidade Independente De Padre Miguel "Fantastica Batucada - Percussions Du Bresil" (Iris Musique, 2005)



More of the same -- great batucada percussion, repackaged once again. But still great stuff.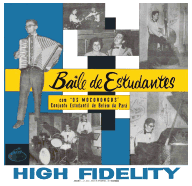 Os Mocorongos "Baile De Estudiantes" (Mocambo, 1961) <! 1960-something >
A charming and charmingly amateurish recording by a group of students from Belem do Para, performing a repertoire that is remarkably free of bossa nova or even samba influences, but rather toned-down American rock (a slow rock rendition of "Blue Moon," for example) and pop standards, along with a couple of Brazilian ballads from Tito Madi and Dolores Duran... It sounds very much like a college-student album of the 1950s or '60s should sound like, sincere but a bit stilted, and maybe a little stuffy and square. There were some notable contributors, here, though: a 17-year old Sebastiao Pena Marciao (aka Sebastiao Tapajos) plays guitar -- possibly his first recording session! -- and singer Celia Reis is listed as the "lady crooner," more of a minor leaguer as far as her subsequent career went, but still noteworthy. This isn't an earthshaking album, but it is quaint and quite listenable. Worth a spin, but probably most interesting as a historical curio for Tapajos fans.


<! LP-40046 - year?? >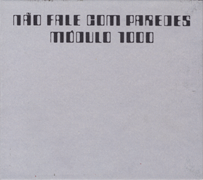 Modulo 1000 "Nao Fale Com Paredes" (Top Tape, 1970)



I have a somewhat suspicious mind, so when I finally got around to checking out this "legendary lost album" from the early 1970s, I immediately wondered if it was a hoax... I mean, here was a wild-sounding psych-prog/heavy rock group from the tropicalia era that, for all its clumsiness, kind of blows the big name artists such as Os Mutantes and Caetano Veloso out of the water, at least in terms of being a real, live cutting-edge, contemporary hard rock band. The crude, cutting, wailing, electric lead guitar, the sludgy, Sabbath-esque proto-metal riffs, the gutteral, faux-liturgical vocals and the deep plunges into tranq-rock territory are so blazingly authentic and so completely divorced from what 99% of the rest of Brazil was into, it's really quite remarkable. This Rio-based band was in touch with elements of the American-British hard rock scene that loftier artistes such as Veloso and Gilberto Gil had little interest in. Crunchy, grungy, sloppy bands such as Steppenwolf and Iron Butterfly seem as much a part of their palatte as do Hendrix and krautrockers like Can -- I'm not saying this is great music, or that I'd really want to listen to it on a rainy day at home, but it's got a lot of historical heft, in terms of it's hipness, relative to what was happening elsewhere in the world. If you're into freaky acid rock from the 'Sixties and 'Seventies, you'll want to check this one out. (PS - oh yeah, by the way, it's not a hoax. For more info, contact the reissue label, World In Sound.)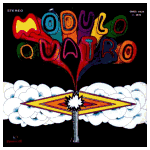 Modulo Quatro "Bossa Carrossel Brasileiro" (Chantecler, 1970)
Perky easy listening instrumentals, with jaunty organ playing that might appeal to fans of Walter Wanderley. It's not really my cup of tea, although there are some pleasant grooves. The cuica-like playing (are those vocals?) on "Voce Voltou" is a hoot!


<! 150 x 150 > <! Little is known about Modulo Quatro, it seems this is their first and only album. Carlos Nóbrega (piano) Mário Augusto (bass) Joni Soto (guitar) Toni Marcilio (drums) 01 - Cantiga Para Meu Amor (Carlos Nóbrega) 02 - Modulo 4 (Mário Augusto / Joni Soto / Toni Marcílio / Carlos Nóbrega) 03 - Viagem (Joni Soto) 04 - Ao Cair da Tarde (Carlos Nóbrega) 05 - Alegre Passeio (Carlos Nóbrega) 06 - Genipapo (Joni Soto) 07 - Salpicando (Carlos Nóbrega / Toni Marcílio / Joni Soto / Mário Augusto) 08 - Bossa Norte (Carlos Nóbrega) 09 - Passeando Em Recife (Carlos Nóbrega) 10 - Rememorando (Carlos Nóbrega) 11 - Pingo nos Is (Carlos Nóbrega) 12 - Vocź Voltou (Carlos Nóbrega) >

Tony Mola "Bragada" (Blue Jackel, 1996)



In the 1990s, Bahia-born drummer Tony Mola was a pioneer of the Brazilian pop-samba-Caribbean fusion known as axe music. This album is a strong, poppy blend of forro and axe pop, smoothly incorporating galloping, clattering Afro-Brasilian percussion as well as Caribbean-flavored soca arrangements. The drumming may be a little too muted in the mix, but still this is a pleasant, listenable album, with warm lead and bright chorus vocals.


<! 130 X 130 >

Tony Mola & Bragada "Quebra Mola" (Blue Jackel, 1998)



(Produced by Tuta Aquino)
A sharp, punchy mix of forro, soca-tinged pop, and rapid-fire bloco afro style percussion. The album starts on a sour note (bad rock guitars), and about half the tracks on here don't do much for me. The other half are irresistible, though, with infectious melodies and seductive rhythm. Recommended.


<! 144 x 144 >

Tony Mola "Samba + Samba" (Blue Jackel, 2006)



(Produced by Tony Mola)
Sweet, understated samba with soft, compelling, bossa-influenced vocals, a gentle croon set to willowy mandolins and insistent, yet muted, Afro-Brazilian drumming. This time around Mola has altogether dropped the pop/axe elements of his earlier albums, presenting an elegant, mature work that harkens back to the 1970s-era pagode style... Very pretty and very listenable. Recommended!


<! 144 x 144 >


(Grupo) Molejo - see artist discography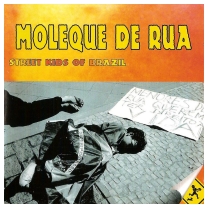 Moleque De Rua "Moleque De Rua/Street Kids Of Brazil" (Sony Brasil, 1992)


There are a couple of good tunes on this intriguing but awkward mix of samba and slick rock-pop. The gimmick is that this band features several poor street kids, straight from the Sao Paulo favelas, banging away on percussive instruments made from tin cans, trash can lids and other scrap metal. THAT sounds interesting, but the pop music draped around it is too pervasive, and you never get to hear the kids get sloppy, mean and gritty. Worth checking out, though.


<! 130 x 130 >

Moleque De Rua "Pimenta Malagueta" (2002)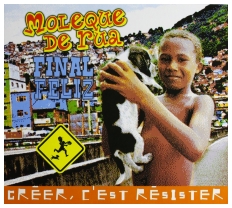 Moleque De Rua "Final Feliz" (Naive, 2007)


Momento Quatro "Momento Quatro" (Philips, 1968)
(Arrangements by Rogerio Duprat)
Wow. Really. This is a cool sunshine-pop album with group vocals by a quartet featuring Ze Rodrix and Ricardo Sa (aka Ricardo Villa) along with Mauricio Mendonca and David Tygel (who later co-founded the pop band Boca Livre...) It's a lively set with perky, pleasantly orchestrated arrangements courtesy of tropicalia maestro, Rogerio Duprat. Duprat doesn't spend a lot of time trying to be clever of trip us all out; he just provides a fun set of orchestrations that give a fun, sympathetic backing to the group's lovely songs. It's kind of like The Association meets Tom Jobim... Recommended!


<! 144 x 144 > <! This is a nice and rare 1968 LP from the vocal group Momento Quatro, a quartet formed by Ze Rodrix, Ricardo Sa, Mauricio Mendonća and David Tygel. This is the only LP ever recorded by this vocal group, all these four artists were later renowned by further activities, Ze Rodrix was later the main member of Som Imaginario and then of Sa, Rodrix and Guarabyra, Ricardo Sa is known today as Ricardo Villas, Mauricio Mendonća (now, Mauricio Maestro) and David Tygel formed later the successful Boca Livre. Orchestral arrangements are from Rogerio Duprat. Momento Quatro is also noted to backed up Edu Lobo and Marilia Medalia at Festival da Record in 1967. Tracks include: 01 - Passa Ontem 02 - Tres Pontas 03 - Festa 04 - Dos Caminhos Longoestranhos até Chegar Junto Dela 05 - No Brilho da Faca 06 - Classe Dominante 07 - Elfa Falva Nisso Todo Dia 08 - De Luzia 09 - Ana e Maria 10 - Irmao de Fe 11 - Veleiro 12 - Proton, Eletron e Neutron 13 - Litoral >

Momo "A Estetica Do Rebisco" (Dubas, 2007)



(Produced by Marcelo Frota)
An unusual and totally atypical Brazilian rock album, drawing heavily on the space-rock and soft-prog sounds of the early 1970s. Bowie, Syd Barrett, the gentler side of Pink Floyd and a gazillion less well-remembered psychedelic strummers of that era are evoked in this gentle, diffuse album, a collection of spaced-out songs that is unlike any other Brazilian record I've ever heard. (Perhaps Otto's trip-hoppy electronica comes closest...) Singer/keyboardist Marcelo Frota is the main creative force, although several of the songs are co-written with others (anyone know if co-composer Alvinho Lancellotti is related to Domenico Lancellotti, of the Moreno Veloso/+2 crew? Just wondering.) It's nice stuff: folks who dig Davendra Banhart and his brand of freak-folk might also get a kick out of this odd, dreamy disc. Worth checking out!


<! 144 x 144 >


Monarco - see artist discography




Monobloco "Monobloco 2002" (Universal, 2002)


A lively batucada percussion-oriented offshoot of Pedro Luis E A Parede... This popular Rio band mixes soul-samba, rap and rock influences, all woven into a drum-heavy mix. Where Olodum's pop crossovers seem anchored in the 1980s, Monobloco are way more modern. Definitely worth checking out.


<! 144 x 144 >
Monobloco "Ao Vivo" (Som Livre, 2006)

Monobloco "Ao Vivo" (DVD) (Som Livre, 2006)


A video version of the live album from 2006... Includes opening and closing numbers that are not on the CD.

Monokini "Mondo Topless" (Bizarre, 1998)


(Produced by Paulo Beto Na Lobo)
Yay...! A Sao Paulo rock band with some nice, uncomplicated hipsterrific indie-pop, which ranges from bouncy, brainless power-pop to Bacharach-tinged Stereolabbiness... Very much in keeping with all the twee stuff that was going on in the UK and US around the same time. If you like artists such as Stereo Total, April March or Die Moulinettes, then this disc is for you. Extra points for keeping the lyrics (when there are lyrics) in Portuguese... Much appreciated!

Monsueto/Various Artists "Musica Popular Brasileira -- Grandes Autores" (RCA-Camden, 1973)


A tribute to samba/pop songwriter Monsueto Menezes, released just after his death in 1973, with classic 1950s "radio singers" recordings from some of the older, original interpreters of his music, such as Linda Batista, Angela Maria and Marlene, as well as one track featuring Monsueto himself, and an opening track from Maria Bethania, who at the time was perhaps the biggest star in Brazil. This collection probably felt pretty antiquated and anachronistic even when it came out, but it stands up to the test of time, and is a fitting tribute to this prolific composer.


<! producer not clearly listed? >

Monsueto/Various Artists "Serie Raizes Do Samba" (EMI, 2000)








Marisa Monte - see artist discography


<! Carlos Monteiro SEE: Carlos Monteiro DE SOUZA >


Cyro Monteiro - see artist discography





Doris Monteiro - see artist discography





Oswaldo Montenegro - see artist discography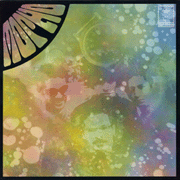 Mopho "Mopho" (Baratos Afins, 2000)
Cool stuff! Definitely off the beaten track as far as Brazilian pop goes... indiepop isn't really big in Brazil, and the hometown bands are incredibly hard to track down, even down there. This is fairly trippy, psychedelia-tinged power-pop that seems to take its cues from old George Harrison and Badfinger albums, with a touch of "heavier" rock ala Rod Argent and the like. Although this Sao Paulo band has its limitations, it's still pretty fun to hear these old '70s boogie rock and lush, Beatles-y pop riffs fronted by Portuguese vocals. Several songs are catchy and stand up on their merit -- lighthearted, dreamy, and definitely worth checking out either as an indie fan or as a Brazilian rock buff. (NOTE: the Baratos Afins record store, which put this album out, is probably the only place you're likely to find this album. Check out their website from the link above for mailorder info, as well as info on other Brazilian indie bands. Mopho is also profiled in an online article in the Brazilian e-zine PopBook.)
Katia Moraes "Ten Feet And The Sun" (1997)


Katia Moraes & Sambaguru "Ginga" (Sugarcane, 1999)


First-rate jazz-MPB vocals in the style of Elis Regina and Gal Costa. Moraes has a sweet, clear voice and sharp phrasing, and is obviously well-versed in Brazilian musical history (the album opens with an homage to various musicians). Likewise, her band, Sambaguru, play tightly and with feeling, covering a wide variety of styles including jazz, samba, axe, and even a bit of Indian classical. It has a few predictable pop foibles, but compared to much of the '70s MPB this is modeled on, this album is a paragon of restraint. Hopefully being based in LA, rather than Rio, won't count against these folks -- they sound great, and deserve a wide audience. For more info, visit their website at: http://www.katiamoraes.com.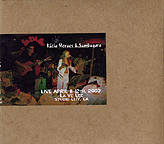 Katia Moraes & Sambaguru "Live: April 11-12th, 2003" (Kufala, 2003)



A fine live set, recorded in a Studio City, CA nightclub, under what must have been ideal conditions. The sound quality of these recordings is remarkably good, and is matched by the enthusiasm of Moraes and her band. Her similarity to Clara Nunes becomes even more apparent, although there's also a strong jazz element at play here. Most of the songs here are originals, co-written with pianist Bill Brendle, and are of a par with the cover tunes they choose, material by the likes of Joao Bosco, Djavan, Sivuca and Hermeto Pascoal... there's even a tune here by modern rocker Lenine! Two CDs worth of fine material, released on CDR, but still well worth checking out.
Katia Moraes & Sambaguru "Navegar Ao Sol" (Moondo, 2005)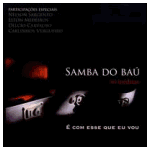 Pedro Moraes "Samba Do Bau -- E Com Esse Que Eu Vou" (Brazilmusica, 2008)


Sleek, mellow sambas with a slick, modern production style, in the tradition of artists such as Martinho Da Vila and Paulinho Da Viola. Apparently this album features a number of songs composed by several samba masters -- Cartola, Da Viola, Nelson Sargento, and others -- that had been previously unrecorded by any other artist. It's rootsy and sweet, but also with enough of a pop gloss that it may feel too controlled at times, although it's defintely on the less-popped out side of the spectrum. Depends on your mood, I suppose, but it's definitely worth checking out.

Pedro Moraes "Claroescuro" (Independent, 2010)



On his second album, Moraes dives deeper into the world of ornate pop crossovers familiar to fans of the MPB of the 1970s and '80s; although there's still a samba vibe underlying the album, a glossier, more boldly fusion-oriented sound pervades, with a strong debt to jazz-oriented MPB-ers such as Milton Nascimento. Pat Metheny-ish guitars and air electric bass mixes with heavy, electronica-tinged backbeats -- I recoiled at the first few notes, but then found myself drawn in. If you enjoy funky pop-samba crossover stars like Carlinhos Brown or Seu Jorge, you might really dig this as well.

Marcos Moran & Samba Som 7 "Transamba" (Caravelle, 1973) <! '78? >
A nice set of poppy '70s samba, featuring male vocals by Moran and female vocals -- both in a bright, chirpy chorus and Rita Lee-esque solo vox -- from a duet called Silvia & Sandra. The repertoire is heavy on songs by Antonio Carlos & Jocafi, with additional samba songs by Chico Buarque, Paulinho da Viola and the guys from Novos Baianos, as well as several tracks by more obscure roots-samba composers. The record starts off sounding like more of a pop record than it turns out to be: most of the album has a stripped-down acoustic pagode sound, and sounds quite nice. Maybe it's not as earthy or thunderous as some of the heavy-hitters on the pagode scene (Clara Nunes, et. al.) but it's still quite groovy. Worth tracking down... (even if the Little Black Sambo cover art is a little scary...)


<! Marcos Moran e Samba Som Sete - Transamba (1973), for Caravelle, with the participation of Silvia e Sandra (probably a duet) and Jadir de Castro. This is a perfect Samba record from the early 70's, such like the ones made by Antonio Carlos & Jocafi, Tom & Dito and others. Samba Som Sete makes the accompaniment, resulting in what people use to call a "groovy" record. 01 - Partido Alto (Chico Buarque) 02 - Uma Rosa Com Amor (Antônio Carlos Marques / Jocafi) 03 - Minhas Razões (Antônio Carlos Marques / Jocafi) 04 - Capoeira (Batista da Mangueira) 05 - Bate Barriga (Antônio Carlos Marques / Jocafi) 06 - Quero Ver Minha Escola Passar (David Correia) 07 - Besta É Tu (Pepeu Gomes / Moraes Moreira / Galvčo) 08 - Quem Lhe Disse Que Eu Chorei (Antônio Grande) 09 - Do Lado Direito da Rua Direita (Luis Carlos / Chiquinho) 10 - Cafuné (Zuzuca) 11 - Esquindin-din (Lucas da Tijuca) 12 - Pagode do Vavá (Paulinho da Viola) >

Marcos Moran "Brasileirissimas" (Polydor)





Marcos Moran "Brasileirissimas, v.2" (Polydor, 1978) (LP)

Juarez Moreira "Nuvens Dourados"
A tribute to Tom Jobim...
Juarez Moreira "Aquarelas"
A tribute to composer Ary Barroso, with saxophonist Nivaldo Ornelas and the Chamber Orchestra Sesiminas.
Juarez Moreira "Bom Dia" (Malandro, 1998)

Juarez Moreira & Badi Assad "Instrumental No CCBB" (Azul, 2002)


A liver performance at the Centro Cultural Banco do Brasil...
Moraes Moreira - see artist discography
Wilson Moreira & Nei Lopes "A Arte Negra De..." (EMI, 1997)

Wilson Moreira "Okolofe" (Rob Digital, 2000)

Wilson Moreira "Entidades, v.1" (Radio MEC, 2002)

Wilson Moreira "Peso Na Balanca" (Atracao, 2007)





<! One of the most important samba composers alive, Wilson Moreira's partnership with Nei Lopes proved to be one of the most creative of the history of samba with gems like the Clara Nunes' hit "Coisa da Antiga," "Goiabada Cascčo," "Gostoso Veneno" (recorded by Alcione in 1978 on her eponymous LP, later transformed into the theme of a nationwide TV Globo soap opera), and "Senhora Liberdade" (which became an anthem in the campaign for the direct vote after the end of the military dictatorship in 1989). They also recorded two fundamental samba albums, A Arte Negra de Wilson Moreira e Nei Lopes and O Partido Muito Alto de Wilson Moreira e Nei Lopes. Moreira also had other songs recorded by Clara Nunes ("Mulata do Balaio" and "Deixa Clarear," both with Lopes), Beth Carvalho ("Morrendo de Saudade" with Lopes, "Peso na Balanća"), Zeca Pagodinho ("Judia de Mim," "Quintal do Céu," "Alô Gatinha," "Canćčo da Esperanća"), Jovelina Pérola Negra ("Banho de Felicidade" with Adalto Magalha), Alcione ("Mironga do Mato," with Lopes), Quarteto em Branco e Preto ("Quero Viver em Teus Braćos" with Nelson Cavaquinho), Dorina ("Oloan," "Me Alucina" with Candeia). Born to a family that celebrated the jongo and the caxambu (black folkloric musics and dances), Moreira frequented the samba schools of the Realengo borough (Rio de Janeiro), where he lived since he was a teenager. A tamborim player at the Água Branca samba school, he took the surdo when it merged with Mocidade Independente de Padre Miguel. In this samba school, he also became a passista (stylistic dancer) and founded four alas (wings), including the composers' one, in which he remained until 1958. From 1968 to 1970, Moreira studied music with conductor/composer Guerra Peixe. In 1956, Leny Andrade recorded his first song, "Antes Assim." The Mocidade chose his samba-enredo "Brasil no Campo Cultural" (with Da Volta/Jurandir CČndido/Arsźnio Isaías) to parade in the Carnaval of 1962, and his "As Minas Gerais" (with Da Volta/Jurandir CČndido/Arsźnio Isaías) for the next year. In 1965, he started to perform commercially as a singer at TV Continental. In 1967, he recorded the first double single with "Acossante," "Lamento de Preto Velho," "Cantando Pro Morro," and "Até Breve." In the next year, he was invited to join the Ala dos Compositores (Composers' Wing) of Portela and, with Zuzuca do Salgueiro and Jair Do Cavaquinho, he formed the Os Cinco Só, which in 1969 was renamed A Turma do Ganzá with the same members; also in 1969, he recorded the highly successful LP Partido em 5 with Casquinha, Candeia, Jočozinho da Pecadora, and Velha, so successful that it yielded two other volumes. With his career gaining momentum, Moreira also had success in that period with two of his compositions with Candeia, "Mel e Mamčo com Aćúcar" and "Nčo Tem Veneno." In the decade of 1970, disagreeing with the crescent commercialism of the samba schools, he founded the Quilombo samba school with Candeia and Nei Lopes, dedicated to celebrate the black roots and traditions. In 1975, he had his "Leonel/Leonor" (with Neizinho) recorded by Roberto Ribeiro, who also later recorded "Tristeza Postića" (with Sérgio Fonseca). In 1976, Beth Carvalho recorded his "Te Segura" (with Neizinho) on her LP Mundo Melhor and in the next year, Carvalho recorded with enormous success "Goiabada Cascčo" (with Nei Lopes) on her LP De Pé No Chčo. In 1986, Moreira launched his first individual album, Peso na Balanća, and two years later he interpreted two creations of his in duo with Candeia on the LP Candeia. The second individual album, Okolofé (1990), was launched only in Japan, having been released in the Brazilian market only ten years later. The launching in the Espírito do Chopp bar in the Humaitá borough (Rio) gathered weighty guests such as Nei Lopes, Nelson Sargento, Monarco, Délcio Carvalho, Walter Alfaite, Noca da Portela, and Mauro Diniz. In 1997, Moreira had a stroke and the show organized in his benefit was realized by Paulinho da Viola, Dona Ivone Lara, Nei Lopes, Zeca Pagodinho, Zé Kéti, Nelson Sargento, and many others. ~ Alvaro Neder, All Music Guide >


Jacques Morelenbaum - see artist discography




Paula Morelenbaum "Berimbaum" (Universal/Mirante, 2004)



(Produced by Paula Morelenbaum, Antonio Pinto, Leo Gandelman & Outros)

Paula Morelenbaum "Telecoteco" (Universal, 2008)


Paula Morelenbaum & Ralf Schmid SWR Big Band "Bossarenova" (Skip/Obliqsound, 2009)


Paula Morelenbaum & Joao Donato "Agua" (Biscoito Fino, 2011)


Clara Moreno "Clara Moreno" (1996)

Clara Moreno "Mutante" (Timewarp, 1999)

Clara Moreno "Morena Bossa Nova" (Ybrasil?, 2002)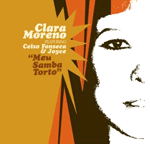 Clara Moreno "Meu Samba Torto" (Atracao/Compass, 2007)



A sweet set of classic-sounding, acoustic-based Brazilian bossa nova, with delicate but confident vocals by Clara Moreno and gorgeous accompaniment by singer-guitarist Celso Fonseca. It's a somewhat staid set -- Moreno follows a conservative, classicist's path, dipping back into the treasure trove of 1930s samba-cancao for gems by Ary Barroso, Joao de Barro, Lupicino Rodrigues, bossa-era ballads and sambas by Elton Medeiros, Durival Ferreira and Jorge Ben, along with three modern compositions from Fonseca and one tune from her mother, MPB-jazz legend, Joyce. Joyce plays guitar on two tracks (including one new song she wrote especially for this record) while and her partner, Tutty Moreno (Clara's step-father), plays drums and percussion on about half the album. Add bassist/producer Rodolfo Stroeter, into the mix, and you've got a fine album crafted by some of Brazil's best players. The album is very sweet, and while Moreno doesn't take many risks, she does make beautiful music, particularly when harmonizing with Fonseca (who is still a dead ringer for the legendary Caetano Veloso...) Definitely worth checking out.
Clara Moreno "Miss Balanco" (Far Out, 2009)






<! Daughter of Nelson Śngelo and Joyce, and sister of vocalist Ana Martins, Clara Moreno participate very early in children's choirs in recordings for Milton Nascimento, Egberto Gismonti, Ivone Lara, Gonzaguinha, Alcione, Joyce, Cazuza, Teca & Ricardo, Bloco da Palhoća, Balčo Mágico, and Astrofolias. Later, she worked as vocalist for Joyce, Nelson Śngelo, Robertinho Silva, and Aerosex. A solo artist since 1995, two years later she participated in the show Gets Bossa Nova in Tokyo, Japan, and recorded "Só Danćo Samba" on the CD 40 Anos de Bossa Nova. Having recorded three solo CDs until 1999, Moreno opened that year for the Chemical Brothers at the Metropolitan (Rio). In 1984, she participated as an actress/vocalist in the Astrofolias, with music by Antônio Adolfo/Paulinho Tapajós, at the Villa-Lobos theater. In 1989, she went to study in France, performing in a Joyce show in 1991 at the ThéČtre de La Ville. In that city, Moreno also performed solo at the Hotel Méridien and recorded her first single. Returning to Brazil in 1994, she participated on the track "Minha Gata Rita Lee" on Joyce's CD Revendo Amigos. Her first solo show was realized in 1995 at the Au Bar (Rio) in a tribute to Rita Lee. Participating in the Filhos de Peixe project the next year, she performed in several halls, among them the Ballroom (Rio). Also in 1996, she opened for Paulinho Moska at the Garota de Ipanema park (Rio) and launched her first solo CD, Clara Moreno. ~ Alvaro Neder, All Music Guide >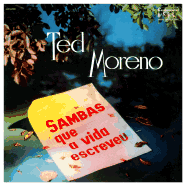 Ted Moreno "Sambas Que A Vida Escreveu" (Continental, 1960) (LP)
Suave, bossa-ish vocals in a lush, orchestral samba-pop setting with undertones of big bandish gafieira jazz... Both hip and corny, this has a pleasant feel, not quite dipping into the old-fashioned romantic bathos of boleros while also not fully part of the moderistic bossa sound. A nice middle ground. No info on the backing musicians, though I imagine the horn players and accordionist were all top talent.


<! no producer info >

Morgana "Morgana" (Copacabana, 1960)





Morgana "A Fada Loura" (Copacabana, 1962)





Morgana "Fuga Com Morgana" (Copacabana, 1962)





Morgana "A Romantica" (Copacabana, 1963)






Paulinho Moska - see artist discography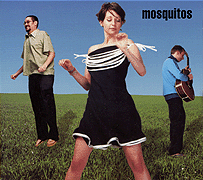 The Mosquitos "Mosquitos" (Bar None, 2003)



An absolute delight. Finding the perfect midway point between Brazilian cool and sugary indiepop twee, New York's Mosquitos feature vocals by Juju Stulbach, a Rio-born expatriate who combines the airy, insouciance of Astrud Gilberto with the flip, casual, DIY mellowness of the North American cutesy-pop crowd. There's a relaxed love of melody that suggests a debt to Yo La Tengo, as well as a simplicity and cleanness of line that brings The Bats to mind... Stulbach's Portuguese-language vocals are a highlight, with a fluidity and good-natured tone that should draw in any devotee of classic, roller-rinky Brazilian pop, as well as fans of BMX Bandits, Beat Happening and the whole Pacific Northwest lo-fi scene. Admittedly, the cutesy, naifish English-language lyrics of singer-guitarist Chris Root don't hold up as well to repeated listenings, but they put the record into the right context... In short, this is the perfect twee-pop album that native Brazilian indie bands have yet to create: it's lovely and dreamy, full of pretty sounds and foreign words... and I like it a lot!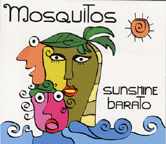 The Mosquitos "Sunshine Barato" (Bar None, 2004)



This disc continues on the much same path as the first Mosquitos set, though perhaps with more of an indiepop inclination, but the Brazilianness is still there, too. Perhaps because they are now a known quantity, this disc is a little less striking than its predecessor, but it's still pretty cute and pretty cool. A fun splash in the sun, with lots of perky melodies and catchy, playful hooks.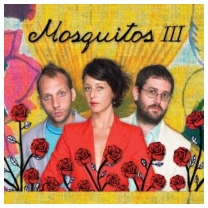 The Mosquitos "III" (Bar None, 2006)



Alas, this one fell a little flat for me... Mostly just a generic indie-rock album, with little "Brazilianness" to it, including a big tilt towards English-language lyrics. It's okay, but not as creative or as fun as their first album. Alas. Maybe another record will come out someday?
Alberto Mota "Voa Meu Samba" (Polydor) <! 195-? 196-? > (LP)
With vocals by Arnaldo Henriques ("crooner") and Maria Nazare ("lady crooner")... Not sure when this came out, but I'm guessing late '50s/early '60s... Anyone know more about these folks?

Moto Perpetuo "Moto Perpetuo" (Warner, 1974)


(Produced by Peninha Schmidt)
A noteworthy pop-rock album, featuring contributions from songwriter (and future solo artists) Guilherme Arantes and guitarist Egidio Conde (who later joined the experimental band, Som Nosso De Cada Dia).


<! 144 x 144 >

Tiao Motorista "Samba E Talento" (Copacabana, 1970)





Tiao Motorista "Meu Interior" (CBS) (LP)

Ed Motta - see artist discography
Zeze Motta - see artist discography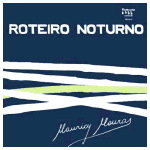 Mauricy Moura "Roteiro Noturno" (Continental, 1964)
A tremendously corny, emotive singer, with deep, throaty tones, Mauricy Moura hearkens back to the bolero-tinged romanticism of the radio singers era, although the band backing him hints at the crisp vitality of the early '60s bossa-nova scene. Perhaps this isn't so surprising, since it's Hermeto Pascoal and his band, with Pascoal providing all the arrangements and playing flute (and piano, on some tracks) along with an otherwise-anonymous "Conjunto Hermeto." In some regards, the accompaniment is sympathetic and effective, although you can sense them champing at the bit, eager to stretch out musically beyond Moura's hopelessly outdated, schmaltzy performances. Still, it was a paying gig. I don't have much info about Moura; apparently he was a regular performer on the Radio Atlantica broadcast, and died in the 1970s when he was only about fifty years old. This was his only full album, although he also released about a dozen singles over the course of his career. Fans of romantic balladeers such as Altemar Dutra or Ivon Curi would probably appreciate this too. Also nice to hear what Hermeto was up to at the time.


<! 150 x 150 > <! http://www.baudelongplaying.com/archives/1714 Hermeto fez todos os arranjos e também toca piano e flauta. Foi o primeiro disco realizado em SP. 01 - Taberna (Wilson Batista-Cícero Nunes) 02 - Homenagem (Lupicínio Rodrigues) 03 - Nos braćos de Isabel (Silvio Caldas-José Judice) 04 - Somos iguais (Evaldo Gouveia-Jair Amorim) 05 - Castigo (Dolores Duran) 06 - Arranha-céu (Silvio Caldas-Orestes Barbosa) 07 - Nunca (Lupicínio Rodrigues) 08 - Rugas (Nelson Cavaquinho-A. Garcez-Ari Monteiro) 09 - Vocź voltou (Nelson Cavaquinho-A. Garcez-Ari Monteiro) 10 - Mulata (Duda) 11 - Meus vinte anos (Wilson Batista-Silvio Caldas) 12 - Chčo de estrelas (Silvio Caldas-Orestes Barbosa) Arranged by: Hermeto Pascoal Hermeto Pascoal - piano, flute Mauricy Moura - voice, acoustic guitar Conjunto Hermeto - various (1964) Vou esquecer/Infidelidade • Chantecler • 78 (1963) Meus tempos de crianća/O segredo e a saudade • Chantecler • 78 (1962) Decisčo cruel/Que • Chantecler • 78 (1962) Coquetel da vida/Ilusčo perdida • Chantecler • 78 (1961) Vai sobrar confete • Chantecler • 78 (1961) Paciźncia/Quem me dera morena • Chantecler • 78 (1960) Mulher/Hei de amar-te até morrer • Chantecler • 78 (1958) Cartas na mesa/Madame Fulano de Tal • Odeon • 78 (1958) Faz mal pra mim/Horóscopo • Odeon • 78 (1957) Chove lá fora/Bom dia tristeza • Odeon • 78 (1956) Hino ao amor/Se Deus me desse • Polydor • 78 (1955) Caminha/Prece ą Sčo Benedito • Continental • 78 (1955) Roteiro noturno • Continental • LP (1954) Bolo do centenário • Sinter • 78 (1953) Incerteza/O anel que lhe dei • Sinter • 78 (1952) Maria da Piedade/Nčo digas nada • Sinter • 78 >


Paulo Moura - see artist discography




---
Brazilian Music - More Letter "M"
---



Main Brazil Index
World Music Index

---