<! MP3 10/04/08, 06/28/12 > <! pix 00/00/00 > <! ALLBM 00/00/00 > <! icons 02/16/11 > <! UPDATES: 10/04/08 06/28/12 - maybe need a Mundo Livre page? Definitely MPB4. 06/30/12 - posted MPB4 page > <! Mutreteiros Grilados "Volume 2" (Girasom, 1973) (Produced by Jorge M. Gambier) 1. VAMOS SACUDIR 2. SO QUERO UM XODî 3. BOI DA CARA PRETA 4. DANCA DO REIZADO "MANEIRO PAU" 5. EU BEBO SIM 6. RITMO 7. AO VELHO POETA PIXINGUINHA 8. NAO CHORA MEU AMOR 9. BAHIA BER'O DO BRASIL 10. TRISTEZA Pƒ NO CHAO 11. OH MARINHEIRO 12. RITMO MUSIKANTIGA conjunto musikantiga" (United Artists, xxxxxx) >
---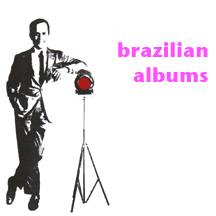 This is Page 7 of a listing of miscellaneous albums and artists under the letter "M"
If an artist or album you like is not reviewed here, please feel free
to contact me and make a suggestion.
---
A | B | C | D | E | F | G | H | I | J | K | L | M-1 / 2 / 3 / 4 / 5 / 6 / 7 | N | O | P | Q | R | S | T | U | V | W | X | Y | Z | Compilations
Brazilian Styles | 30 Recommended Records | Portuguese-language pop | Brazilian Links | Slipcue.Com
---
MPB-4 - see artist discography

Os Mugstones "Os Mugstones" (1967)
This kilt-clad combo crafted a kooky mix of frat rock, Viscounts-ish instrumental pop, and some genuine Brazilian freakbeat gems. The lackluster instrumentals outnumber the rock tunes, but they don't outweigh them: the handful of groovy rock songs definitely make this disc worth checking out.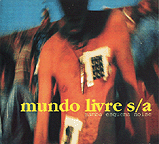 Mundo Livre s/a "Samba Esquema Noise" (Banguele, 1994)



The debut album by one of the key bands in Pernambuco's explosive 1990s manguebeat scene... This is an exuberant, uninhibited mix of styles -- funky, guitar-based indie/alt rock, electronic noise and regional Brazilian styles... The tilt towards aggressive, electric rock makes this a little on the loud side for an old geezer like me -- or at least it's not the kind of loud, aggressive rock music that I'm normally into -- but there's still an wild, vibrant creativity at work here that'll make you sit up and pay attention, as well as some quieter moments that are a nice change of page. Percussionist (and future solo performer) Otto was part of the crew in this early edition of the band. Worth checking out!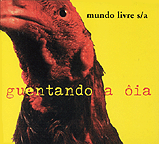 Mundo Livre s/a "Guentando A Oia" (Excelente, 1996)



Mundo Livre s/a "Carnaval Na Obra" (Abril/Excelente, 1998)



Soulful, accomplished '90s alt-rock, with a heavy, funk-drenched approach and an interesting blend of traditional influences. Airy-voiced lead singer "Zero Quatro" bears a more than passing similarity to the great Caetano Veloso, not just in his nasal-yet-suave drawl, but also in his eclectic musical approach. Sometimes the band sits on a groove a little too long, letting things grow static, but overall this is a pretty impressive effort. The use of the cavaquinho next to a heavy soul snare drum is especially nice. Definitely worth checking out, if you're curious about the more modern-sounding Brazilian bands.
Mundo Livre s/a "Por Pouco" (Abril, 2000)


Mundo Livre s/a "Bebadogroove, v.1" (Tratore, 2006)


Mundo Livre s/a "Mundo Cao" (Som Livre, 2007)


Mundo Livre s/a "Combat Samba" (DeckDisc, 2008)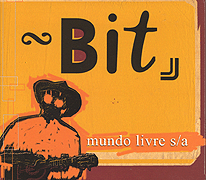 Mundo Livre s/a "Bit (Box Set)" (Deck Disc, 2004)


A 4-CD box set which includes reissues of their first four albums -- Samba Esquema Noise, Guentando A Oia, Carnaval Na Obra, and Por Pouco -- along with an added disc of video material. Unlike many Brazilian rock boxes, this isn't just a repackaging of regular jewel-box CDs, but rather a floppy fold-out cardboard thingie, with an additional booklet of liner notes and written material. Good introduction to the band!
Celso Murilo "Mr. Ritmo" (Pawal, 1961)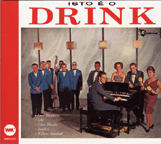 Celso Murilo "Isto E O Drink" (Remon, 1962)



Soul-samba pioneer Wilson Simonal sings on two tunes, making his debut alongside jazz organist Celso Murilo and his group, the rather zippy, upbeat house band from an old Rio nightclub known as Drink... He's one of several singers with the band, and he's definitely the best. Singing and swinging, Simonal is on top of the beat in a way that the others are not -- he's hep and full of charisma. The other singers have their charms as well, though: there are Luiz Bandeira and samba-cancao songbirds Lila and the ill-fated Sandra, who died in a car crash about the time this disc came out. Overall, it's quite a lively, enjoyable album, mixing a hefty dose of authentic samba with cheerful nightclub swing. Simonal, already under contract to Odeon, was clearly the star attraction, and devoted fans will definitely want to track this one down.
Celso Murilo "Tremendo Balanco" (EMI-Odeon, 1964)



<! Tremendo Balano has the participation of Astor Silva (trombone) and Edison Machado (drums), they really shine on this LP. The arrangements are from Lyrio Panicalli. >

Ramiro Musotto "Nostalgias" (Revivendo, 2003)

Ramiro Musotto "Sudaka" (Fast Horse, 2003)



Modern electronic remix tracks, with samples drawn from ethomusical percussion albums, candomble rituals, the afro-samba band Ile Aiye, old cinema novo films, and from field recordings made in towns inside Brazil's Mato Grosso and in rural Argentina. The mixing and production concepts seem somewhat unidimensional, but it's still very nice, and the choices of source material are pretty creative... Although he was born in Argentina, percussionist Musotto is very much in the thick of the modern Brazilian pop scene, working with heavy-hitters such as Caetano Veloso, Marisa Monte and Daniella Mercury, to name a few. There's a Sergio Ricardo credited on one track here, presumably it's the old 1960s bossa nova pioneer; yet another reason to check this disc out.
Ramiro Musotto "Civilizacao & Barbarye" (Circular Moves, 2006)


Mussum "Agua Benta" (RCA, 1978)
A serious roots-samba musician who was part of the early lineup of Os Originais Do Samba, Antonio Carlos Bernardes Gomes (aka Mussum) is now best remembered as a comedic performer and television personality, and as a member of the music/comedy group Os Trapalhoes. Unfortunately, his acting career has greatly overshadowed his musical work, and more complete discographical information is a little hard to come by... (Anyone know a good source of information? I'd also be interested in a Brazilian perspective on Mussum's acting career -- he seems to have quite cult following...) Anyway, a tune or two has made it onto various samba and samba-rock compilations, but for the most part Mussum's musical releases remain pretty elusive. Hopefully I can track a few albums down and let you know how they sound...


<! random LP ASIN - B004542AKU - not sure which LP this is, though > <! Mussum (1941-1994) Nascido no morro de Cacheirinha no Rio de Janeiro, Ant™nio Carlos estudou 9 anos em um colŽgio interno de onde saiu com o diploma de ajustador mec‰nico. N‹o bastando ele passou mais oito anos servindo as foras armadas, quando alternava seu tempo participando da Caravana Cultural de Mœsica Brasileira de Carlos Machado. Formou ent‹o com amigos a banda Os Sete Modernos, mais tarde chamada de Os Originais do Samba que obtiveram um grande sucesso, se apresentando inclusive em pa'ses do exterior. Nos anos 60 Ant™nio Carlos acabou convidado para participar de programas de televis‹o, propostas essas que foram recusadas pelo figura com a justificativa de que pintar a cara, como era costume dos artistas da Žpoca, n‹o era coisa de homem. Mesmo assim estreou no programa Bairro Feliz e como conta a lenda foi nos bastidores do programa que Grande Otelo colocou no nosso amigo o apelido de Mussum. Em 1975 ap—s insistncia do amigo Dd Santana, Mussum entrou para a turma dos Trapalh›es. Foram 29 anos ao lado dos trapalh›es, com 27 filmes gravados e personagens insesquec'veis para muitos que acompanharam a trajet—ria dessa grande figura. Mussum se imortalizou como o cara gente boa que falava ÒcacildisÓ e que estava sempre bem acompanhado pelo ÒmŽÓ(cachaa). Ficou conhecido tambŽm por sua paix‹o pela escola de samba Esta‹o Primeira da Mangueira, sempre estando presente nos desfiles da escola, da' surgiu o apelido de ÒMumu da MangueiraÓ. Em 1994 ap—s complica›es em um transplante de cora‹o nosso Ant™nio Carlos Bernardes Gomes faleceu, deixando uma na‹o inteira orf‹ de sua irreverncia e simpatia. (texto retirado daqui!) >


Mussum "Filosofia De Quintal" (RCA, 1987)



<! Descobrimento do brasil - part esp os trapalhoes ; 2 - A vizinha ; 3 - Um amor em cada coracao - part esp marcia ; 4 - O saudoso ; 5 - Crianca louca ; 6 - Teatro brasileiro - part esp martinho da vila ; 7 - Nega besta ; 8 - Terra de jo ; 9 - Tempo bom faz tempo - part esp bidi ; 10 - Papagaio ; 11 - Eu sou assim > <! DL http://finodabossa.blogspot.com/2009/09/homenagem-ao-mussum-3-albuns-para.html > <! Ant™nio Carlos Bernardes Gomes (Rio de Janeiro, April 7, 1941 - S‹o Paulo, July 29, 1994), known artistically as Mussum was a famous Brazilian actor and musician, notable for being a member of the comedic group Os Trapalh›es. He was also member of the musical group Os Originais do Samba (The Originals of Samba). >


Os Mutantes - see artist discography




Os Mutreteiros Grilados "Coisas Nossas" (Girasom)



<! cover songs - including several by Jorge Ben > <! band & title switched? >

---
Brazilian Music - Letter "N"
---



Main Brazil Index
World Music Index

---