<! MP3 10/04/08 > <! pix 11/30/09 > <! ALLBM 00/00/00 > <! icons 02/14/11 > <! UPDATES: 10/04/08 07/07/12 - need to add Luiza Possi 07/22/13 - split P2 off as "Pe," P3 is Pi, P4 is PL onward > <! Pedro E Paulo "Pedro E Paulo" (Veleiro, 1981) Fernando Pellon "Cadaver Pega Fogo Durante O Velorio" (Vento De Raio, 1983) with Cristina Buarque, Nadinho Da Ilha, Paulinho Lemos and Synval Silva - rock or samba??? > <! Andre Penazzi "Orgao Samba Percussao, v.4" (LP) (Som Maior) > <! Pocho (Perez) - maybe needs a separate page w/ links from PO- and PE- (??) >
---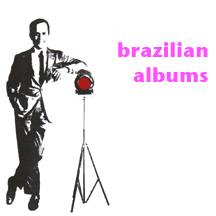 This is the second page of miscellaneous albums and artists under the letter "P"
If an artist or album you like is not reviewed here, please feel free
to contact me and make a suggestion.
---
A | B | C | D | E | F | G | H | I | J | K | L | M | N | O | P-1 / 2 / 3 / 4 | Q | R | S | T | U | V | W | X | Y | Z | Compilations
Brazilian Styles | 30 Recommended Records | Portuguese-language pop | Brazilian Links | Slipcue.Com
---

Pe De Boi "Power Samba Band" (Arkadia, 1998)


The lone album by this long-lived New York City samba-jazz band, formed in 1980 by percussionist Guilherme Franco, a veteran of the McCoy Tyner band... Plenty of guest performers on here, notably Cyro Baptista, Jorge Dalto, and a whole slew of Franco's friends in New York's Brazilian expatriate community. A skillful, well-realized and substantive mix of samba, modern jazz fusion, and a dash of NY-style salsa... It's too far into the "jazz" camp for my tastes, but I can definitely recognize that it's a high-quality performance, and that Franco didn't really sacrifice anything from any of the elements he's drawn on: the composition and playing is solid throughout.
Cauby Peixoto - see artist discography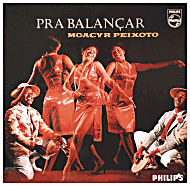 Moacyr Peixoto "Pra Balancar" (Philips, 1964)
(Produced by Alberto Borba & Rogerio Gauss)
Swinging easy-listening bossa-nova featuring pianist Moacyr Peixoto with a lively, expressive backing band, including an occasional vocal chorus. Peixoto, who was apparently Cauby Peixoto's brother, fits nicely into the spectrum of Brazilian nightclub pianists: his style is generally bouncy and upbeat, less sly than Fats Elpidio, less self-mocking than Leal Brito, less aggressive than most of the "bossa trio" jazz players. The album starts off with a sleek vocal tune, "Amor E Paz," which features a bright chorus along the line of early MPB-4, but this turns out to be misleading, as the rest of the record is mainly all-instrumental, and may lapse into tedium, depending on your affinity for the style. The performances are pretty engaging, though -- they weren't just going through the motions, and the repertoire includes material by up-and-coming composers such as Ronaldo Boscoli, Ed Lincoln, Durival Ferreira, and Syvio Cezar, along with some oldies by Caymmi, et.al. Definitely worth a spin.
Moacyr Peixoto "Um Piano Dentro Da Noite" (Eldorado)








Diana Pequeno - see artist discography


<! unreviewed 10/12 >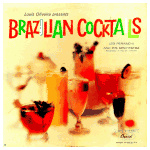 Leo Peracchi E Sua Orquestra "Brazilian Cocktails" (Capitol, 1958)
An amazingly over-the-top pop-orchestral album with a funny "concept": the songs are named after fictitious cocktail drinks like the "Dry Copacabana" or "Latin Manhattan," or they have punny, lil' drinkie-winkie related names like "Souse America." This includes a few early Tom Jobim compositions that weren't folded into his standard canon (listen to this record, and you'll probably see why...) as well as a number of other little-known tunes by other top-flight composers such as Luiz Bonfa, Vadico, Joao da Bahiana and Lindolfo Gaya. The orchestrations are insanely baroque and overly assertive, with dancing pizzicato strings, velvet brass and gooey piano and then -- BANG!! -- tons of rhythmic punch. It's a very ridiculous record, more North American "hi-fi" than Brazilian semi-samba, but lounge fans who go for the really silly stuff will love it.


<! ALTERNATE: An over-the-top pop orchestral set with a goofy novelty theme: all the songs are titled after fancifully named cocktail drinks -- the "Old Fashioned Bahia," "Latin Manhatan," "Dry Copacabana," etc. and of course, the "Souse American." The songs are credited to several top-flight composers: Luiz Bonfa, Vadico, Joao da Bahiana, Lindolfo Gaya, as well as three early tunes by Tom Jobim. I think Peracchi took a few liberties with his brassy, bombastic arrangements, but it's still fun in a kitschy kind of way. 01 - Batida de Maracujá (Luciano Perrone) 02 - Carnaval Cocktails (Bobby Black) 03 - "Souse" American (Lindolfo Gaya) 04 - Macumba Cocktail (Jočo da Bahiana) 05 - Moonlight Daiquiri (Tom Jobim) 06 - Old Fashioned Bahia (Luis Bonfá) 07 - Tico-tico Bombie (Aloysio de Oliveira) 08 - Latin Manhatan (Tom Jobim) 09 - Brasilian Hangover (Bobby Black) 10 - Coffee Delight (Tom Jobim / Dolores Duran) 11 - Dry Copacabana (Vadico) 12 - Rio Martini (Aloysio de Oliveira) >

Marco Pereira & Cristovao Bastos "Bons Encontros" (Caju/Milestone, 1992)


Guitarist Pereira and pianist Bastos dance through a nice set of instrumental duets, exploring the compositions of Dorival Caymmi and Noel Rosa. It's a little on the lite-jazz side, but basically it's pretty engaging. Good for the genre, at any rate. They have light accompaniment on a few tunes, but mostly this is just the two of them together and they seem to have a lot of chemistry in their playing. Worth checking out.
Marco Pereira "Elegia: Virtuoso Guitar Music From Brasil" (Channel Classics, 1994)


Marco Pereira "Cameristico" (Biscoito Fino, 2007)






<! numerous other CDs listed 10/08 >


Nazare Pereira - see artist discography




Osvaldo Pereira "Ohla Ze" (Rob Digital, 2001)

Osvaldo Pereira "As Arvores" (Dubas, 2005)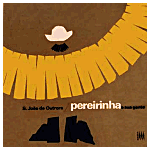 Pereirinha E Sua Gente "Sao Joao De Outrora" (Equipe, 1967)
A doubtless authentic, yet sort of underwhelming, set of accordion-based music with a bit more of the old-school polka in it than, say a baiao or forro set by Luiz Gonzaga, et. al. This disc starts out with a little bit of band chatter, guys going hoo, hayy, haah and "sarava!"-ing up a storm. But the bonhomie feels forced and awkward, and when they settle down and just play their music, it gets kind of monotonous. For diehard students of regional northeastern dance music, this might be a find... But for the average listener? Maybe not so much.


<! candomble connection? > <! Pocho (Perez) >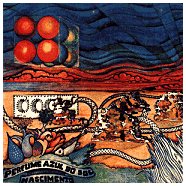 Perfume Azul Do Sol "Nascimento" (Chantecler, 1974)
Psychedelic heavy/hippie rock straight from the tropicalia playbook: fans of Novos Baianos or Gal Costa's rock records of 1969-71 will get a kick out of this Sao Paulo-based band which featured a female vocalist named Ana, as well as a couple of prog-psych vets from bands such as Som Nosso Cada Dia and Os Incriveis... It's a decent record which seems thrilling when it starts out, but falls a little flat after a few tunes; they're authentic and up to date, doing the same stuff as the other bands, but they don't quite have the propulsive spark to make this the kind of record that'll really wow you. Still, students of Brazilian rock will definitely want to check this out.
Perla "...Canta ABBA E Outros Hits" (Sony, 2002)


Perla "Grandes Sucessos" (Sony, 2003)



Perla "Maxximum" (Sony, 2005)


Absolutely dreadful romantic ballads in the Latin American bolero tradition, sung in both Portuguese and Spanish. This best-of set opens with a translated version of ABBA's "Fernando," and gets worse from there. Dunno much about this Paraguayan-born, Brazil-raised artist, but I kinda feel like I don't have to.


<! Wiki includes extensive discography, going back to 1975 >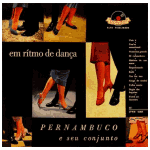 Pernambuco & Seu Conjunto "Em Ritmo De Danca" (Polydor, 1957)
Not to be confused with '50s samba percussionist Pernambuco Do Pandeiro, jazz trumpeter Ayres da Costa Pessoa (aka Pernambuco) was apparently the brother of pianist Fats Elpidio and accompanied him into the jazz/gafieria field. This is a jovial, pre-bossa dance album featuring lively percussion, piano and flute -- some songs are a little cloying or lethargic, but others are fun, in a decidedly kitschy kind of way. If you enjoy similar artists of this era -- Elpidio, Zaccharias, Trio Surdina -- this is worth checking out as well.
Pernambuco & Seu Conjunto "Conversando Com O Piston" (Polydor, 1959)



<! Ayres da Costa Pessoa, o Pernambuco, era irmčo do pianista Fats Elpídio. Jazzista de primeira, possuía incontáveis dotes musicais. Tocava piano, órgčo e até mesmo essas flautinhas de brinquedo que se encontram nas lojas de R$ 1,99 mas o trompete era o seu predileto. Neste disco, o primeiro ą frente de uma grande orquestra e com o repertório que a Polydor escolheu, poucos se arriscariam ousar algo diferente. Pudera, composto por "standards" americanos, mambos e baiões muito em voga na época, quase nada havia mesmo a ser feito. Todavia, Pernambuco sempre achava uma brecha para expor seu virtuosismo. Numa música como Asa Branca, por exemplo, suas improvisaćões sčo puxadas para o jazz, dando uma "entortada" na melodia causando efeito imprevisto. Aliás, as improvisaćões salvam o disco - os arranjos para orquestra sčo nada além que convencionais e o coro de vozes desconhecidas, involuntariamente, "tenta" estragar tudo - mas as faixas instrumentais sčo ótimas. "Conversando com o piston" vale pelo disco inteiro com Pernambuco fazendo uma homenagem a Louis Armstrong e Elza Soares. Confiram! Polydor LPNG 4046 (1959) Lado A: 1 - Conversando com o piston (Pernambuco) 2 - All the way (Cahn - Van Heusen) 3 - Babalú (Lecuona) 4 - Asa Branca (L Gonzaga - H Teixeira) 5 - As time goes by (Hupfeld) 6 - Sarambá (J Thomaz - Duque) Lado B: 1 - Dorme (Pernambuco - Ricardo Galeno) 2 - An affair to remember (Adamson - Warren) 3 - Casinha pequenina (estranhamente creditada a Pernambuco, trata-se de autor ainda desconhecido) 4 - Sun Sun Babaź (Rogelio Martinez) 5 - Ai Mouraria (Frederico - Amadeu do Vale) 6 - Vem morena (L Gonzaga - Zé Dantas) >


Jovelina Perola Negra - see artist discography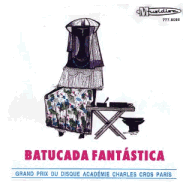 Luciano Perrone "Batucada Fantastica" (Musidisc, 1963)


Drummer Luciano Perrone (1908-2001) is famous for being the first recording artist to use snare drums for samba music -- his legacy goes way, way, way back into the roots of Brazilian popular music -- in the 1930s, he was in a trio with pianist Radames Gnattali, with whom he collaborated for many years; throughout the '40s and '50s he played in countless sessions and bands, and beginning in the '60s he recorded three albums of batucada drumming that have attained legendary status among fans of the style.


<! legit pressing? B00006LWKI ? > <! 1967? ABM says '63 >

Luciano Perrone "Batucada Fantastica, v.2" (Musidisc, 1967) <! date? label? >





Luciano Perrone "Batucada Fantastica, v.3" (Musidisc, 1972)






<! Luciano Perrone is considered by many as the father of Brazilian drumming. He was the first to record a samba on the snare drums, and helped his longtime collaborator, Radamés Gnattali, to renovate the Brazilian orchestrating style by using more space for the drums. The son of conductor Luís Perrone and pianist Noźmia Franklin Batista Perrone, he started to take music lessons very early with his father, and, at seven, as a choir soloist, performed with Enrico Caruso and Gilda Dallarizza in the opera Lodoletta. At 14, he started to play professionally at the Cinema Odeon. Soon, he was working with consecrated names like Simon Boutman, Rafael Romano, Chamek, and, ten years later, Osvaldo Cardoso de Meneses; he performed regularly in the best cinemas, casinos, and theaters, and with the best orchestras and jazz bands. In 1927, he began to record at Odeon (followed two years later by Victor and Columbia), when he introduced the samba beat to the snare drum while recording. In 1929, he met Radamés Gnattali, with whom he would develop an important collaboration in the decades to come. In this collaboration, orchestration was innovated through the liberation of drums for embellishments through the percussive use of the orchestra. Gnattali dedicated to him "The Samba em Trźs Andamentos" and "Bate-Papo a Trźs Vozes," in which Perrone was highlighted as soloist. In 1931, he backed Sílvio Caldas in the Brasil do Amor revue, and three years later became part of the cast of the Rádio Cajuti as an orchestral member, followed by an appearance on Rádio Transmissora. He was hired by Rádio Nacional at the time of their foundation in 1936, working in virtually all formations until 1961. In 1938, he wrote "Ritmo de Samba na Cidade" for percussion and orchestra, and, in the next year, participated in the historic recording of "Aquarela do Brasil" (Ary Barroso), interpreted by Francisco Alves with arrangements by Gnattali. In 1941, he performed at the Radio Mundial (Buenos Aires, Argentina). Nine years later he was elected by popular vote in a contest for the best drummer of the year, repeating the deed in 1951 and 1952. In 1960, with Radamés and his sister, Aída Gnattali; Edu da Gaita; Chiquinho do Acordeon; José Menezes; Vidal; and Luís Bandeira, he toured Portugal, France, England, and Italy in the 3rd Caravana Oficial da Música Popular Brasileira. In Lisbon, Portugal, he performed with the local symphony and appeared on Portuguese TV. In Paris, France, he performed at the UNESCO, at the Sorbonne, and was on TV as well. In London, England, he performed at the University of Oxford, the Royal College of Art, Alhambra, and Wilgmore. In Rome, Italy, he played at the Antici Palace and was featured on Italian radio and TV. He worked at Rádio MEC from 1961 to 1968, when he retired. In 1963, he was hired by TV Excelsior and, in 1967, with his LP, Batucada Fantástica (Musidisc), won the Charles Cros Academy International Record Award. He commemorated 50 years of professional activity in 1972 by recording Batucada Fantástica, Vol. III. In 1994, he was paid tribute for his 70-year career when he retired definitively. >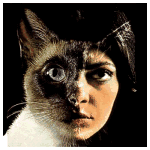 Persona "Som" (1975)
Wanky Brazilian lo-fi hippie-prog, with lots of kooky, spaced-out guitar noodling and ineffective "drumming" as the primary accompaniment. This band featured lead guitarist Luis Sergio Carlini and percussionist Franklin Paolillo, later of Rita Lee's post-Mutantes backup band, Tutti Frutti. This self-released record probably seemed a lot cooler when they were high on whatever they were high on, and I suppose it's a fascinating historical relic, etc. etc., but it's really pretty bad music. It doesn't really hold up well, no matter how rare it was.


<! Locution - Robert Campadello I sing - Carmen Flowers Guitar, Echo Play Efects and Gaita - Carlini Luis Viočo - Lee Marcucci Percussion - Franklin Paolillo Launched in Brazil in 1975, private edition, in long-play mono of 10". Obscure experimental psych band, pre-Tutti-Frutti. Interesting noise and precarious writing, seeming to have been done in a small garage, recorded with a domestic Cassette 2 track, tape mangled bliss! > <! great article: http://pt.wikipedia.org/wiki/Tutti_Frutti >
Lina Pesce "Concerto Em Ritmo" (CBS, 1963)
Lush, playfully bombastic renditions of various classical themes -- pieces by Chopin, Liszt, Rachmaninoff, Tchachovski, etc. -- with gratuitously lush piano playing from classical prodigy Lina Pesce, who submits herself to a goofy popping-up courtesy of arranger/orchestra leader Lyio Panicali. This is all very kitschy and lighthearted -- the liner notes proclaim Pesce a classical composer and performer of great note, but you'd be hard pressed to discern that from this cheesy outing. Whiff of pop, rock and a teensy bit of samba may make this noteworthy to easy listening, etc., but it didn't stick to my ribs.


<! GIF on HD >

---
Brazilian Music - More Letter "P"
---



Main Brazil Index
World Music Index

---