<! Pi > <! MP3 10/04/08 > <! pix 11/30/09 > <! ALLBM 00/00/00 > <! icons 02/14/11 > <! UPDATES: 10/04/08 07/07/12 - need to add Luiza Possi 07/22/13 - split P2 off as "Pe," P3 is Pi, P4 is PL onward > <! Os Primitivos "Os Primitivos Do Ie-Ie-Ie" (Polydor, 1968) single? > <! CARLOS PIPER see below > <! Portinho "O Melhor Do Brasil" (Beverly, 1969) Portinho "Samba Bem" (RCA, 1970) - several Jorge Ben covers, Helio Matheus Portinho "Samba O Melhor Do Brasil" (Beverly, 1973) - same album? 1. Onde o Ceu Azul e Mais Azul 2. Na Baixa do Sapateiro 3. Brasil Moreno 4. Bahia com H 5. Os Quindins de Yaya 6. Canta Brasil FACE B: 1. No Tabuliero 2. Rio de Janeiro 3. Aquarela do Brasil 4. Exalta cao a Bahia 5. Isso e Brasil 6. Brasil >
---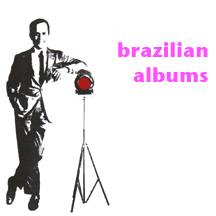 This is the third page of miscellaneous albums and artists under the letter "P"
If an artist or album you like is not reviewed here, please feel free
to contact me and make a suggestion.
---
A | B | C | D | E | F | G | H | I | J | K | L | M | N | O | P-1 / 2 / 3 / 4 | Q | R | S | T | U | V | W | X | Y | Z | Compilations
Brazilian Styles | 30 Recommended Records | Portuguese-language pop | Brazilian Links | Slipcue.Com
---
Pierre "2 + 2" (Chantecler, 1965)
Nice record: very mellow bossa nova guitar with gentle flute, drums and bass, and an almost imperceptible piano in the background. Guitarist Orlando Pierre is an unknown to me, though I do wonder if the "Laercio" credited on piano could be Laercio de Freitas, who emerged as a soul-jazz composer in the '70s. Anyone know more about these folks? No? Oh, well. It's still a sweet set of classic-sounding bossa instrumentals.


<! GIF >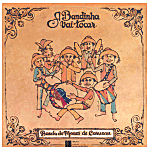 Pifanos De Caruaru "A Bandinha Vai Tocar" (Discos Marcus Pereira, 1980)


One of the more striking, unique sounds of the Brazilian northwest... the combination of clattering tinny percussion and the arresting sound of the native flutes, known as "flautas de taboca" (or "pifes") should turn your head. Beautifully recorded and fascinating, even if the tracks all start to sound the same after a while. Gilberto Gil recorded with this group in the early '70s.


<! also on Sonopress >

Pifanos De Caruaru "Isso Tudo E Sao Joao" (Trama, 2002)

Pifanos De Caruaru "No Seculo XXI, No Patio Do Forro" (Trama, 2004)



Os Pilantrocratas "Pilantrocracia" (Equipe, 1969)



Jazzmen Paulo Moura, Wagner Tiso, J. T. Meirelles and others collaborate on this sprightly, groove-laden, hippie-era EZ freakout album, recalling some of the bright, perky bounciness of Brazilian soul-pop pioneer Wilson Simonal. The psychedelic art collage and glowing liner notes (both from the original release and the modern reissue) seek to link the Pilantocratas (Portuguese for "pirates") to the ethos of cultural "cannibalism" extolled by the rock-oriented tropicalia movement. However, this goofy, lighthearted set is hardly as challenging or "out there" as the artwork implies. In fact, the album's breezy melodic motifs will seem pretty familiar to aficianados of West Coast "sunshine pop" and instrumental easy listening, albiet with a slightly stronger jazz foundation. But for easy listening/loungecore fans, this disc is definitely a real find. Also of note is the presence of saxophonist Oderdan Margalhes, later a founding member of the disco-y Banda Black Rio, one of the best-known bands in the "Black Rio" soul scene.

Pinduca "20 Super Sucessos" (Polydisc, 1999)


I'm afraid that this disc -- late-edition rerecordings of earlier hits -- is a poor representation of Pinduca's music... The leading exponent of the "carimbo," a manic regional style that incorporated Carribean rhythms into Brazilian dance music, Pinduca started his career in the 1950s, but didn't start recording until the early 1970s. As the style's progenitor, he had a considerable impact on regional pop in Salvador and elsewhere. He is widely considered the creator of the lambada, a popular dance style that peaked in the 1980s, albeit in a rather mindless, glossy pop form. The prefab monotony of that scene is echoed here, with cheesy, uninspired synth riffs and a female chorus that makes every song sounds the same. Although Pinduca can eventually win you over with his sheer exuberance, I have a feeling his older recordings are much more interesting. This is okay, but not great.
Pinduca "Raizes Nordestinas" (Polydisc, 1999)

Andrea Pinheiro "Fiz Da Vida Uma Cancao" (2001)
An homage to songwriter Waldemar Henrique, the first solo album from the lead singer of the Amazonia Jazz Band...
Andrea Pinheiro & Galo Preto "Diz Que Fui Por Ai" (2004)

Leila Pinheiro - see artist discography
Paulo Cesar Pinheiro - see artist discography
Tiago Pinheiro "Tiago Pinheiro" (Dabliu, 1999)



Classic jazz-tinged MPB after the style of Edu Lobo, Chico Buarque, Aldir Blanc and the '70s generation of bossa-pop ballad singers. Vocalist Pinheiro threads his way through MPB tunes by Moraes Moreira, Milton Nascimento and Caetano Veloso, alongside several older songs in the public domain, as well as an oldie from Luiz Gonzaga. Pinheiro seems primarily to be a jazz-ish song stylist, although he does contibute one original composition, "Ceu." Marlui Miranda joins Pinheiro on a duet of Elomar's "O Violeiro.." If you like old-style MPB, you might really dig this disc.
Irany Pinto/Jose Menezes/Moacyr Silva/Sivuca "4 Azes Em Hi-Fi" (Copacabana, 1959) (LP)


A sampler of four Brazilian easy-listening/jazz/instrumental artists of the 1950s, including saxophonist Moacyr Silva and violinist and bandleader Irany Pinto... Presumably a sampler of other releases on the Copacabana label...
Irany Pinto "Meus Amores..." (Copacabana)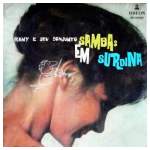 Irany Pinto "Sambas Em Surdina" (EMI-Odeon, 1959)
Fairly sedate, cheesy instrumental recordings, featuring violinist Irany Pinto, playing in a romantic style with a decidedly European/Romany flavor. Not really my cup of tea; the repertoire includes classic samba-cancao songs by Noel Rosa, Herivelto Martins and others -- there's also a glimmer of more modern composers, with a track each from Tom Jobim and Maysa Matarosso. All the songs more or less sound the same, though, transmuted into the same syrupy, overripe melodicism. Perhaps of interest to the easy listening crowd? (By the way, anyone know if Irany was related to jovem guarda rock'n'roll songwriter Rossini Pinto? Seems likely, but I can't say for sure...)


<! This is Irany Pinto e Seu Conjunto Ð Sambas em Surdina (1959), for Odeon, featuring the Brazilian violinist Irany Pinto, a true legend, such as Fafa Lemos. Irany Pinto was active on recordings, releasing more than 20 LPs between the late 50Õs until the 70Õs. Musicians in this session were not credited by Odeon. >

Irany Pinto "Toca Blues Em Surdina, v.1" (EMI-Odeon, 1960)



<! Here we go on another album discovered in the last raining days in Rio de Janeiro. I have to admit this one was excluded for lack of attention. Irany Pinto was renowned violinist with a recording career that spans decades, including a sequel recorded for Odeon with 12 albums titled Boleros em Surdina, being the first released in 1957 and the last in 1969 as Boleros em Surdina Nr. 12, which is also the last Irany Pinto Career LP. Let's see. This is Irany Pinto - Irany Toca Blues em Surdina (1960), for Odeon, perhaps a variation of the Boleros sequel with Irany Pinto performing a repertoire based on American standards by Cole Porter, Irving Berlin, George Gershwin and others. Irany Toca Blues em Surdina features arrangements by Maestro Oswaldo Borba conduced by Maestro Orlando Silveira with everything under direction of the renowned Aloysio de Oliveira. Unfortunately, Odeon did not credit musicians in this session. Pinto was member of the legendary Turma do Sereno, a group created by Paulo Tapajos with best of breed Brazilian musicians. Irany Pinto recorded more than 40 albums including 78rpms and LPs. >

Irany Pinto "Boleros Em Surdina, v.1" (EMI-Odeon, 1957)





Irany Pinto "Boleros Em Surdina, v.2" (EMI-Odeon)





Irany Pinto "Boleros Em Surdina, v.3" (EMI-Odeon)





Irany Pinto "Boleros Em Surdina, v.4" (EMI-Odeon)





Irany Pinto "Boleros Em Surdina, v.5" (EMI-Odeon)





Irany Pinto "Boleros Em Surdina, v.6" (EMI-Odeon, 1963)





Irany Pinto "Boleros Em Surdina, v.7" (EMI-Odeon)





Irany Pinto "Boleros Em Surdina, v.8" (EMI-Odeon)





Irany Pinto "Boleros Em Surdina, v.9" (EMI-Odeon)





Irany Pinto "Boleros Em Surdina, v.10" (EMI-Odeon)





Irany Pinto "Boleros Em Surdina, v.11" (EMI-Odeon)





Irany Pinto "Boleros Em Surdina, v.12" (EMI-Odeon, 1969)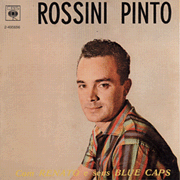 Rossini Pinto "Rossini Pinto" (CBS, 1964)


Pop composer Rossini Pinto was one of the major players in the teen-oriented 1960s jovem guarda pop-rock boom; as a songwriter, producer and lyric translator, his imprint was all over the work of all the other artists in the scene, with versions recorded by Jerry Adriani, Roberto Carlos, The Fevers and The Golden Boys, to name a few. I don't think he really got a fair shake as a performer, though, as this was his only solo album in a decades-long career. Having come to this album after hearing dozens of drab and perfunctory JG rock runthroughs, I have to say I was really impressed. Backing Rossini up here were Renato E Seus Blue-Caps, one of the best-known JG bands, and they give one of their liveliest, jangliest performances -- what I really like, though, are Rossini's vocals. He has an imperfect voice and an offhand delivery that I find quite appealing; there's an imperceptible roughness that's almost like American hillbilly music, a lack of polish that makes him sound refreshingly human. Plus, what a swell set of tunes! Although the JG scene was awash with saccharine, slurpy pop ballads, Pinto tilted towards bouncy, upbeat material. There are a couple of cover tunes on here -- most notably "His Latest Flame," which kicks the album off -- but most of the songs are Rossini originals, and most of them are pretty fun. For my money, this album is way cooler than many of the better-known jovem guarda discs -- it's got more grit and more pep to it than most. Definitely worth checking out!


<! no producer listed >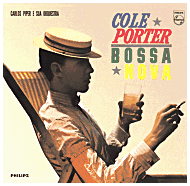 Carlos Piper "Cole Porter Bossa Nova" (Philips, 1963)
An early album by easy instrumentalist Carlos Piper... This is -- as the album title implies -- a mellow set of Cole Porter classics done up bossa nova style. It's kind of standard issue stuff, competent but uninspired, pretty much what you would have got from a not-too-swinging nightclub band of the early '60s era. This is okay, but not something you have to knock yourself out to track down, in my humble opinion.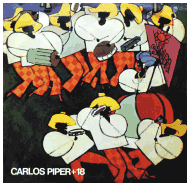 Carlos Piper "+18" (Chantacler, 1973)
Although the album art makes this look like one of those super-killer early-'70s partido alto samba records, this is mostly just more brassy pop-orchestral cheese. Yes, there are some serious percussionists and sambistas playing in the background, but they're overshadowed by the piercing, bombastic horn section, the same sort of faux-hip, big-bland instrumental ensembles that were around in Europe and America at the same time -- Doc Severinsen and whatnot. Doesn't do much for me, and the samba elements never assert themselves enough to make this work. It's all very crowded and overly-forceful... Oh, well.


<! CARLOS PIPER - trumpet player - EZ(?) (ever rootsy? ) Carlos Piper "12 Sucessos Em Ritmo Bolero" (Philips, 1963) Carlos Piper "Cole Porter Bossa Nova" (Philips, 1963) DL Carlos Piper "Na Brasa Samba" (Fermata, 1964) - most tracks written by Denis Brean (?) Carlos Piper "O Som Espetacular" (Continental, 1965) (LP) B0040Z2VAS Carlos Piper "E Otimo: Dancar E Ouvir Carlos Piper E Sua Orquestra" (Continental, 1966) Carlos Piper "A Nova Geracao" (Artista Unidos, 1967) (LP) B00410ENZS Carlos Piper "+18" (Chantacler, 1973) DL Carlos Piper "Trombone Carinhoso" (Philips, 1964) - PR mentions a Renato do Trombone, but the album art says Carlos Piper related: Los Sonadores "Cantam Boleros" (Philips, 1963) trio backed by Piper's band Papudinho & Carlos Piper "Um Piston Bossa Nova" (Philips, 1963) >

Piraja Esquina Carioca "Uma Noite Com A Raiz Do Samba 0 Ao Vivo" (Dabliu, 2000)


(Produced by Moacyr Luz)
A gorgeous live samba album! It wouldn't be unfair to compare this fab acoustic ensemble to Cuba's much-beloved Buena Vista Social Club -- although this particular group of sambistas, including Beth Carvalho, Joao Nogueira and Dona Ivone Lara never found their fame eclipsed in the same way that the Cuban old-timers did, and they didn't need Ry Cooder to gather their forces together. Still, this is a loving, lively tribute to the old days, and it's done by a bunch of veteran performers who really know their stuff. Every time Carvalho gives a little shout-out to encourage the band, she sounds so joyful that you can't help but smile. Great stuff. Highly recommended!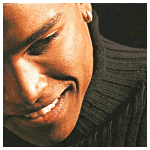 Alexandre Pires "Alexandre Pires" (BMG/RCA, 2001)


Dreadful, N'Sync-ish boy-band pop from a former member of So Pra Contrar, cast here as a Brazilian Ricky Martin. Plus, he's singing en espanol... Boo, hiss. Icky.


<! several other albums on Amazon 10/08, including MP3 >

Djalma Pires "Os Sucessos" (Beverly, 1971) (LP)

Djalma Pires "Sucesso Tranquilo" (RGE, 1971) (LP)


(Produced by Luiz Mocarazel)

Djalma Pires "O Tempo Passa... O Samba Fica" (RGE, 1973) (LP)

Djalma Pires "Djalma Pires" (Chantecler, 1979) (LP)

Djalma Pires "Greve De Amor" (JWC, 1991) (LP)

Ernesto Pires "Novos Quilombos" (Rob Digital, 2000)





<! samba >

Mylene Pires "Mylene" (Fast Horse, 2003)


(Produced by Ramiro Musotto)
A beautiful album, merging modern Brazilian electronica with sumptuous, soft pop balladry... Anyone who's impatient waiting for Bebel Gilberto to come out with a new album owes it to themselves to check this disc out. Pires shares a similarly eclectic, modern approach, and may even have a more nuanced, far-reaching (if less overtly dynamic) sound than the widely-renowned Bebel G. Percussionist Ramiro Musotto mans the board as producer, and compliments Mylene's laidback style with wispy samples and snippets that don't seem intrusive or cliched... The only weak moment is on a cover of the Beatles tune, "Eleanor Rigby," which pulls us out of the trancy vibe set by the rest of the record... But as musical sins go, this is a pretty minor misstep. All in all, this is a lovely release, well worth checking out.
Mylene Pires "O Que E Que Ha?" (MCD, 2005)



Piri "Voces Querem Mate?" (Quartin 1970)
One of the scant few releases on Roberto Quartin's short-lived indie jazz label. Breezy, jaunty, amorphous free-jazz, with light percussion, piano, a goofy, scatting vocal chorus, and a lot of flute. It's fairly slight stuff, in my estimation, but ripe for discovery by the loungecore-ish among us. Similar in spirit and feel to early Egberto Gismonti... On board are Danilo Caymmi, a young Paulo Jobim, Wilson Das Neves on drums, and other sundry jazz players. Not mindblowing, but nice and innocent.


<! Again, a crack troop has been assembled here. Accompanying Piri's guitar and gentle vocals are Danilo Caymmi and Paulinho Jobim on flute, Jorge Marinho on bass, the ubiquitous Wilson Das Neves on drums and Juquinha on percussion. Tita also adds guest vocals. > <! is "Piri" a person??? "...with guitarist Piri backed by..." >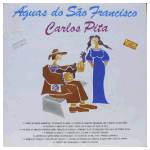 Carlos Pita "Aguas Do Sao Francisco" (Chantacler, 1979) (LP)


(Produced by Luiz Mocarzel) <! and Waldyr Santos? >
Groovy, unusual deep-folk, mixing regional music and acoustic-guitar singer-songwriter material with a trippy, spiritual vibe... This album has a distinctive, mysterious feel that elevates it out of standard-issue freak-folk tropes, and makes it more alluring than many records of similar vintage. Apparently the backing band was the psychedelic-tropicalia group Bendego; another striking presence is female singer Roze, who also recorded a couple of albums of her own, and has a plaintive, keening style here that really stands out. An arresting album that will delight fans of spacey, freaky international folk music. Worth checking out!
Carlos Pita "Coracao De Indio" (Continental, 1981) (LP)

Carlos Pita & Myriam Fraga "A Lenda Do Passaro Que Roubou O Fogo" (LP) <! label ? >

Carlos Pita "Brisa" (Estudio Invenes, 1983) (LP) <! ORC label ? >

Carlos Pita "Feliz" (1986) (LP)

Marcus Pitter - see artist discography
Booker Pittman - see artist discography
Eliana Pittman - see artist discography
Pitty "Admiravel Chip Novo" (Deckdisc, 2003)


Pitty "Anacronico" (Deckdisc, 2005)


Pitty "(Des)Concerto Ao Vivo" (Deckdisc, 2007)


Pitty "Chiaroscuro" (HPI, 2009)

Pitty "A Trupe Delirante No Circo Voador" (2011)






<! Pitty "Admiravel Chip Novo" (Deckdisc, 2003) B00068OD1I B000S9CFVU Pitty "Anacronico" (Deckdisc, 2005) B000B6TRZM B000S9C6B4 Pitty "(Des)Concerto Ao Vivo" (Deckdisc, 2007) B000WFF9S6 B005M91RCY Pitty "10 Anos" (HPI, 2008) B005NEH3SU - mp3 Pitty "Chiaroscuro" (HPI, 2009) B002OVEC5C Pitty "A Trupe Delirante No Circo Voador" (2011) B0057BSK0O B005BLN69A >


Pixinguinha - see artist discography




---
Brazilian Music - More Letter "P"
---



Main Brazil Index
World Music Index

---