<! MP3 10/02/08, 06/24/12 > <! pix 11/30/09 > <! ALLBM 00/00/00 > <! icons 02/14/11 > <! RIA - RZ > <! UPDATES: 05/30/12 - Roberto Ribeiro added, needs bio 06/24/12 - added Renato Russo; need Ze Rodrix, Maria Rita pages - others? 07/07/12 - Angela Ro Ro posted, no bio >
---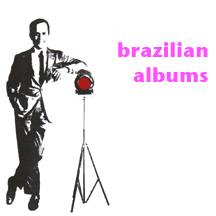 This is the second page of miscellaneous albums and artists under the letter "R"
If an artist or album you like is not reviewed here, please feel free
to contact me and make a suggestion.
---
A | B | C | D | E | F | G | H | I | J | K | L | M | N | O | P | Q | R-1 / 2 / S | T | U | V | W | X | Y | Z | Compilations
Brazilian Styles | 30 Recommended Records | Portuguese-language pop | Brazilian Links | Slipcue.Com
---
Deo Rian - see artist discography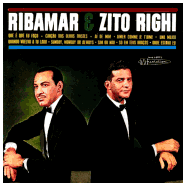 Ribamar & Zito Righi "Ribamar E Zito Righi" (Musidisc, 1963)


There are about a bazillion albums by or featuring pianist Ribamar -- he was one of those ubiquitous musicians on the Brazilian scene of the late '50s and early '60s. Here he's playing with saxophonist Zito Righi, as wella as Ubirijara Siqueira on trumpet and singer Tony Vestane on one song. "Ai De Mim," which is an album highlight. This is a pleasant though largely unchallenging set of upbeat, most instrumental dance tunes -- light jazz/orchestral stuff but with a little bit of a mod-samba bounce. The tunes pretty quickly all start to sound alike, though I did like the perky vocal track. Didn't really hold my attention, but folks more into instrumental dance music might dig it.


<! Ribamar later backed Waleska in the 1970s >


Marku Ribas - see artist discography





Pery Ribeiro - see artist discography



Rita Ribeiro "Perolas Aos Povos" (Putumayo/MZA, 2000)



Blessed with a warm, comforting voice reminiscent of the great Clara Nunes, Ribeiro is one of the new crop of so-called "neo-tropicalistas," blending bouncy pop-rock and reggae into an MPB style that is a bit milder (and less jittery) than the contemporary axe style from Bahia. Ribeiro excels when sticks to simpler arrangements (like on this album's opening track, "Banho Cheiroso," or the calypso-tinged "Mana Chica"), projecting a smiley, exuberant vocal vibe that recalls Nazarene Pereira's best work. However, leter this album strays into more belabored musical terrain -- for the most part it sounds just fine, but you feel such deliberate, cerebral, effort on the part of producer Mazzola that it's difficult to get as swept away by this album as you'd like. The underlying effect is more mechanical than rapturous... which is a pity, since Ribeiro really is a very appealing performer.
Rita Ribeiro "Rita Ribeiro" (Caravelas, 1997)


Rita Ribeiro "Comigo" (MZA, 2001)


Rita Ribeiro "Deixo-Me Ir Atras Do Fado" (Zona Musica, 2003)


Rita Ribeiro "Tecnomacumba" (Biscoito Fino, 2007)






<! http://cliquemusic.uol.com.br/artistas/rita-ribeiro.asp >


Roberto Ribeiro - see artist discography




Jose Ricardo "Serenata Suburbana" (Revivendo, 1998)

Sergio Ricardo - see artist profile

Rio 3 "Valley Samba" (Whatmusic, 2004)


An accomplished jazz album, at least by the standards of mid-1960s Brazil. The opening numbers are bouncy and richly rounded, sounding much like Vince Guaraldi's poppy, melodic jazz work; midway through the band gets more aggressive and closer to the clattersome "trio" sound of the bossa-era jazz scene, then the album rounds out with some smoother material, closer in feel to the post-bop studio jazz up North. This short-lived group came out of the remnants of pianist Luiz Carlos Vinhas' Bossa Tres, and its larger incarnation, Gemini V, both popular cabaret acts. When Vinhas left the group, however, they had to come up with a new name, and opted for Rio 3, after recruiting Osmar Milito to fill in as pianist. After gathering some steam on the club scene, they were scooped up by the USA-bound Sergio Mendes, who incoprorated the trio into his band, Bossa Rio. Apparently these tapes, which were made in 1968, lingered in the vaults for three decades, until this belated reissue. It's okay material, more enjoyable than a lot of the bossa trio work that preceded it, though not as substantive as the North American jazz it often emulates. Worth checking out, if you're into the style.
Rio 65 Trio "Rio 65 Trio" (Philips, 1965)

Brazilian-style jazz with pianist Dom Salvador, drummer Edison Machado and bassist Sergio Barroso...


<! Rio 65 Trio "Rio 65 Trio" (Philips, 1965) w/ Edison Machado P 632.749 L 1 Meu fraco é café forte (Don Salvador) 2 Preciso aprender a ser só (Paulo Sergio Valle, Marcos Valle) 3 Farjuto (Don Salvador) 4 Desafinado (Newton Mendonća, Tom Jobim) 5 Blues em samba (Sonny Rollins) 6 Espera de vocź (José Luiz de Oliveira, Don Salvador) 7 Mau, mau (Art Farmer) 8 Tem dó (Baden Powell, Vinicius de Moraes) 9 Azul contente (Walter Santos) 10 Manhč de carnaval (Antônio Maria, Luiz Bonfá) 11 Aruanda (Carlos Lyra, Geraldo Vandré) 12 A minha namorada (Carlos Lyra, Vinicius de Moraes) http://loronix.blogspot.com/2007_09_23_archive.html >

Maria Rita "Maria Rita" (Warner-Brasil, 2004)


Maria Rita "Maria Rita" (DVD) (Warner-Brasil, 2004)

Maria Rita "Segundo" (Warner-Brasil, 2005)


Maria Rita "Segundo Ao Vivo" (DVD) (Warner-Brasil, 2006)

Maria Rita "Fora De Orbita" (Tratore, 2006)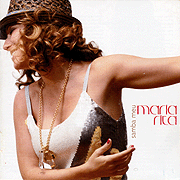 Maria Rita "Meu Samba" (Universal, 2007)



(Produced by Leandro Sapucahy & Maria Rita)
Brazilian singer Maria Rita is the daughter of two celebrated musicians from the 1960s/1970s "MPB" era, pianist Cesar Camargo Mariano and jazz diva Elis Regina. Hailed as one of Brazil's hot new song stylists, Rita is one of a remarkably talented wave of "second generation" artists whose parents were musical trailblazers a few decades ago... I have to confess that I haven't been a big fan of her work up until now, although this is a lovely album. The focus here is on samba or samba-derived songs, and working in this sensual, classic form, Rita sheds the stylistic affectations and cool reserve of her earlier work -- her performances here are vibrant and joyful, and the songs themselves are seductive and sweet. The repertoire draws heavily on the work of samba revivalist Arlindo Cruz (a veteran member of Grupo Fundo Do Quintal), with songs from MPB composer Gonzaguinha, Edu Kreiger, and a slew of lesser-known songwriters. It's a lovely set, reminiscent of the work of samba-pop stars such as Martinho Da Vila and, of course, Rita's mother, who was known to sing a fine samba tune or two herself. For non-jazz fans who want to hear Rita at her best, this disc is a fine place to start.
Ritchie - see artist discography

Os Ritmistas "Os Ritmistas" (Dubas, 2007)



(Produced by Dany Roland)
In this permutation of Brazil's innovative +2 collective, drummer Domenico Lancellotti teams up with electronicists Dany Roland and Stephane San Juan (along with other +2 usual suspect pals, such as vocalist Thalma De Freitas, bassist Kassin and guitarist Pedro Sa) This is one of the odder, darker outings in the group's ouvre: it starts out sweetly enough, with some understated updates of the classic Brazilian bossa nova sound and a few hints of the salsa-lounge leanings of De Freitas and Kassin's sometimes-goofy Orquestra Imperial. But midway through the tone becomes more sombre, the arrangements harden and the songs begin to get weirder and deliberately more challenging, entering into the "difficult listening" territory that is an offshoot of the ambient music scene. Which is not to say this isn't a rewarding album, in its own way, but it might not be quite what you expect if you've been tuned into the carefree retro-Latin poptronics of the previous +2-related albums. It's an unusual album, and not just for Brazil. Worth checking out.

Ritmos E Vozes & Jose Briamonte "Agora E Samba" (EMI-Odeon, 1973) (LP)


A big change of pace for arranger/bandleader Jose Briamonte, who'd mainly recorded goofy instrumental albums before... Here, he dives into the '70s samba revival, with a lively set of rootsy pagode-style tunes. Vocals are provided by a perky mixed chorale named Ritmo E Vozes, a group with both male and female voices and a cheerful tone. They're not unlike Quarteto Em Cy and MPB4, but a bit more restrained and less flashy than those poppy ensembles. There's plenty of roots-samba records from this era that are cooler or more magical, but this is still a pretty good record. Definitely worth checking out.

Jose Roberto "...E Seus Sucessos" (Epic, 1968)


Fairly lightweight, late vintage jovem guarda teenpop. Taking his cues from scene leader Roberto Carlos, Jose Roberto sings soft, emotive, midtempo love songs, though unlike many of his JG contemporaries he seldom varies the tempo or his own vocal approach, and -- more remarkably -- none of the songs in his repertoire were covers of American or British pop tunes. The backing is generally lackluster, with lazy, Carlos-ian electric organ balanced by rhythm and guitars that only occasionally hint at a brighter, more psychedelic '60s pop sound. That being said, Roberto's music isn't offensive or offputting... it's perfectly fine for what it is, it just isn't very exciting.


<! producer not listed >

Jose Roberto "...E Seus Sucessos, v.2" (Epic, 1969)

Luiz Roberto "Velha Guarda Em Bossa Nova" (Continental, 1960)


A delightfully corny "bossa nova" set from an erstwhile member of Os Cariocas... This is actually mostly a collection of samba-cancao classics, given a bossa-esque twist (some nice acoustic guitar) as well as plenty of goofy but fun orchestrations. At first this seemed a bit glib, but it grew on me -- it's all pretty fun!


<! from Os Cariocas? 01 - A Tua Vida É Um Segredo (Lamartine Babo) 02 - Vou Partir (Jočo de Barro) 03 - Isaura (Herivelto Martins / Roberto Roberti) 04 - Maria (Ary Barroso / Luis Peixoto) 05 - Aos Pés da Cruz (Marino Pinto / Zé da Zilda) 06 - Emília (Wilson Batista / Haroldo Lobo) 07 - Ai Que Saudades da Amélia (Ataulfo Alves / Mário Lago) 08 - Favela (Hekel Tavares / Juraci Camargo) 09 - Cordiais Saudaćões (Noel Rosa) 10 - Até Amanhč (Noel Rosa) 11 - Só Pra Chatear (Príncipe Pretinho) 12 - Se Vocź Jurar (Francisco Alves / Ismael Silva / Nilton Bastos) 06/12: FBN MP3? >

Paula Robison "Brasileirinho" (Omega, 1993)


Classical flautist Paula Robison does a great job with choro oldies by Pixinguinha and Jacob Do Bandolim, as well as some Luiz Bonfa tunes and a couple of brief passages of Bach. Beautiful, deft, flowery melodic flourishes match the musical acrobatics of the original Brazilian recordings of the 1920s and '30s. Along with her are guitarists Romero Lubambo and Tiberio Nascimento, as well as Sergio Brandao on cavaquinho and percussionist Cyro Baptista. The best tracks are the openers, bouncy renditions of "1 X 0" and other choro standards; when Robison plays unaccompanied, the album loses some steam, despite her beautiful tone and restrained lyrical style. For a beautiful, clean sounding update of the old choro style, this is a pretty good record, worthy of comparision to Paul Moura's well-known Pixinguinha album.

Paula Robison "Rio Days Rio Nights" (Arabesque, 1998)



A more modern take on the Brazilian sound, with accompaniment by percussionist Cyro Baptista and guitarist Romero Lubambo...
Arnaud Rodrigues - see artist discography
Jair Rodrigues - see artist discography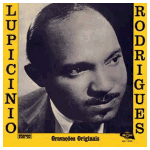 Lupicinio Rodrigues "Gravacoes Originais" (Copacabana, 1974) (LP)
A sweet set of original recordings from one of the great samba-cancao songwriters of the pre-bossa nova era... Rodrigues was a popular composer among the '70s MPB elite -- here you have the chance to listen to his own recordings of classics such as "Felicidade", from back in the 1940s. This material has since been reissued on CD, but this LP was certainly a tasty, timely historical set when it came out!


<! 01 - Felicidade (Lupicinio Rodrigues) 02 - Se acaso vocź chegasse (Lupicinio Rodrigues, Felisberto Martins) 03 - Aves daninhas (Lupicinio Rodrigues) 04 - Os beijos dela (Lupicinio Rodrigues) 05 - Nunca (Lupicinio Rodrigues) 06 - Jardim da saudade (Lupicinio Rodrigues) 07 - Vinganća (Lupicinio Rodrigues) 08 - Namorados (Lupicinio Rodrigues) 09 - Inah (Lupicinio Rodrigues) 10 - Nčo sou de reclamar (Lupicinio Rodrigues) 11 - Nossa Senhora das Graćas (Lupicinio Rodrigues) 12 - Amor é um só (Lupicinio Rodrigues) >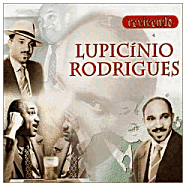 Lupicinio Rodrigues "Lupicinio Rodrigues" (Revivendo, 2003)


A 4-CD box set with vintage performances of classic Lupicinio Rodrigues compositions, sung by samba-cancao stars of yesteryear such as Atualfo Alves, Gilberto Alves, Angela Maria, Cyro Monteiro, Carlos Galhardo, Nelson Goncalves, and many others, including some very obscure artists. I haven't heard this one yet, but I am certainly curious!


<! Tracks: (Disc 1) 1 - Nervos de aco - francisco alves ; 2 - Briga de amor - cyro monteiro ; 3 - Domino - angela maria ; 4 - Juca - luiz gonzaga ; 5 - Taberna - gilberto alves ; 6 - Boneca de doce - paulo ricardo ; 7 - Dona divergencia - linda batista ; 8 - Nossa senhora das gracas - nelson goncalves ; 9 - Sempre eu - os pinguins ; 10 - Basta - orlando silva ; 11 - Se e verdade - marlene ; 12 - Castigo - gilberto milfont ; 13 - Caixa de odio - jamelao ; 14 - Dois tristonhos - nora ney ; 15 - Eu e o meu coracao - francisco carlos ; 16 - Os oculos do vovo - leo romano ; 17 - Ex-filha de maria - roberto silva ; 18 - Calunia - lenda batista ; 19 - Pra sao joao decidir - francisco alves ; 20 - Vou brigar com ela - carlos jose ; 21 - Boca fechada - trio de ouro ; 22 - O morro esta de luto - lupicinio rodrigues ; (Disc 2) 1 - Quem ha de dizer - francisco alves ; 2 - Que baixo - caco velho ; 3 - Volta - linda batista ; 4 - Feiticeira - homero marques ; 5 - Torre de babel - jamelao ; 6 - Aquele molambo - clovis de lima ; 7 - Amigo ciume - angela maria ; 8 - Quando eu for bem velhinho - newton teixeira ; 9 - Brasa - orlando silva ; 10 - Contando os dias - marco antonio ; 11 - Voce nao sabe - maria helena andrade ; 12 - Se acaso voce chegasse - cyro monteiro ; 13 - Minha historia - carlos galhardo ; 14 - Meu pecado - moreira da silva ; 15 - Eu nao sou louco - isaura garcia ; 16 - Divorcio - joao dias ; 17 - Vinganca - trio de ouro ; 18 - Conto das lagrimas - francisco carlos ; 19 - Ponta-de-lanca - dircinha batista ; 20 - Triste historia - alcides goncalves ; 21 - Homenagem - silvio caldas ; 22 - Sombras - lupicinio rodrigues ; (Disc 3) 1 - Esses mocos (pobres mocos) - francisco alves ; 2 - Sozinha - jamelao ; 3 - Foi assim - linda batista ; 4 - Namorados - leo romano ; 5 - Paciencia (vou brigar com ela) - mauricy moura ; 6 - Pergunta a meus tamancos - alcides goncalves ; 7 - Cevando o amargo - carmelia alves ; 8 - Nao sou de reclamar - francisco carlos ; 9 - Trabalho - ataulfo >
Pedrinho Rodrigues "Brasil... Sambe Ou Se Mande" (Equipe, 1972)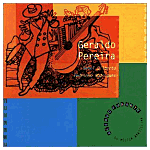 Pedrinho Rodrigues & Bebel Gilberto "Geraldo Pereira" (Funarte, 1983)


Bebel Gilberto, early in her career, singing in tribute to writer Geraldo Pereira, an early samba cancao star who Joao Gilberto admired and emulated. Haven't heard this one yet, but I look forward to tracking it down someday.


<! Pedrinho Rodrigues "Silencio" (Karmim, 2003) B000WMFWMW not sure if this is the same guy... this is a religious album >

Virginia Rodrigues "Sol Negro" (Rykodisc, 1998)


(Produced by Celso Fonseca & Caetano Veloso)
One of Brazil's brightest stars in the late 1990s and a darling of the US-European "world music" scene, Virginia Rodrigues is blessed with an exceptional, distictive voice, showing a touch of Maria Bethania's lower range, along with a somewhat operatic twist at the edges. I have heard criticisms that Ryko's version of this album undoes the careful sequencing of the original Brazilian release... Not having heard the import, I do have to concede that the pacing here seems a little choppy. Still, this features some lovely arrangements by Caetano Veloso, and even though her voice is a bit overripe and florid, the disc is certainly worth giving a listen. Fans of Cesaria Evora may be particularly pleased.

Virginia Rodrigues "Nos" (Natasha/Hannibal, 2000)


While it is true that Virginia Rodrigues represents something quite new on contemporary Brazilian pop -- a unique voice and an unusually low-key approach to the Afro-Brazilian percussion -- I have to admit that I found my attention wandering on this one. Even with input and guidance from my hero, Caetano Veloso, this album sounds rather stuffy and ponderous. While on one level it's nice that Rodrigues shies away from the now-stereoypical vocal expansiveness that defined the work of divas such as Clara Nunes and Elis Regina, her quietude and restrained approach feel too static, and perhaps suggest a talent which is capable of more than it's producing. Then again, this is a layered and delicate production, and you may find that with repeated listenings it may continually reveal new surprises. It just didn't really grab me.

Virginia Rodrigues "Mares Profundos" (Deutsche Gramophone, 2003)



(Produced by Luiz Brasil & Caetano Veloso)
Rodrigues reinterprets the famed Afro-Sambas album, recorded in 1966 by poet Vinicius De Moraes and guitarist Baden Powell... This had more depth and texture than her previous albums, but I still am not fond of her songbird-ish voice, and there seems to be a tendency to match the gooeyness of her vocals with equally florid orchestrations. This is certainly worth checking out, although I can't say it really moved me that much. Caetano Veloso duets on "Labareda," and also helped sculpt the album... Apparently, the legendary Joe Boyd had a hand in it as well.
Ze Rodrix - see artist discography
Familia Roitman "O Samba Nas Regras Da Arte" (Melodie, 1994)





<! Formed in Rio de Janeiro in the '90s, the Família Roitman had their first album released in 1995, O Samba Nas Regras da Arte, also released in Europe, U.S., and Japan (Buda). The album revealed the intention of young musicians to pay tribute to samba with humor and musical competence. Two years later, the trio toured Brazil with the Pixinguinha project, together with Nelson Sargento. Their second release, Coisa da Antiga, continues to affectionately regard the samba genre through compositions by masters such as Elton Medeiros, Délcio Carvalho, Maurício Carrilho, Paulo César Pinheiro, Paulinho da Viola, Chico Buarque, and Noel Rosa. ~ Alvaro Neder, All Music Guide >

Familia Roitman "Coise De Antigua" (Rob Digital, 2001)






<! big band-y, modern >


Dom Um Romao - see artist discography




Ronie & Central Do Brasil "Ronie & Central Do Brasil" (Tapecar, 1975)


This was the second "solo" album by bandleader Ronie Mesquita, who returned from exile in the mid-1970s and fir right in with the breezy pop style of the times...


<! Ronie Mesquita is most known for his stint as the replacement drummer of Bossa Tres, the group led by the great Luis Carlos Vinhas. Tempted by the lures of the bossa nova boom in America, and partly to escape the newly installed, US funded military regime, he along with many of his contemporaries went abroad to ply their trade. Playing in groups such as Gemini 5 & Bossa Rio (Sergio Mendes' b group), he toured religiously covering the US, Mexico and Japan. Returning home in the early 70's, he was at a crossroad. The demand for trios were at an all time low, safe dinner music was out. The underground was bubbling, with Tropicalia amongst the hottest of topics with his fellow musicians. The extensive travel partaken by said musicians had opened their eyes to many genres of music, and in turn seeped into their creative output. Feeling ready to step out from the shadows of a decade long sideman, he returned home to assemble a crew of rotating musicans called Central Do Brasil. This lp being the 2nd release of his frontman career. It has elements of his samba jazz drumming roots, but peppered with a contemporary hint of soul. I'm an absolute sucker for the vocal arrangements, assisted by Octavio & Sonia Burnier of Burnier & Cartier fame (their catalogue is also celebrated by moi). Tracks of note include "Remelexo" (DJ Nuts – Cultura Copia), "Atoa, Atoa", and "Madeira De Lei" >


Angela Ro Ro - see artist discography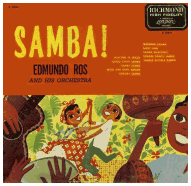 Edmundo Ros "Samba!" (London/Richmond, 1960)


Trinidad-born Latin-pop bandleader Edmundo Ros dabbled in sambas from the start of his career (along with practically every other kind of Latin American dance style...) but this was his first album exclusively devoted to the style. It's okay, but not great... Don't get me wrong: I actually like Ros's kitschy, popped-up, cartoonish style, but these mid-1950's recordings don't have as much sparkle and energy as his earlier work in the '40s, and while these are cute and perky, they aren't as genuinely charming as the older stuff. Also, he has a tendency to slip into a calypso vocal style, and never really gets into the slippery rhythms and timing of genuine Brazilian music. On the other hand, this isn't as bland as his later work, when the bounciness gave way to easy-listening torpor, so relatively speaking this is kind of lively. Worth a spin, I suppose, though there's definitely better Edmundo Ros material to explore, and way better classic samba-cancao from Brazil.
Noel Rosa - see artist discography
Sonia Rosa "Samba Amour" (Sony, 1992)





<! 1979 ? >

Sonia Rosa "A Bossa De Sonia Rosa" (Bomba)

Sonia Rosa & Yuji Ohno "Brisa Brasileira: Spiced With Brazil" (Sony, 2001)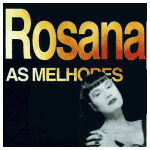 Rosana "As Melhores" (Sony-Brasil, 2001)


A 14-song best-of featuring plenty of tacky, mainstream '80s pop from this marginal singer. She covers Al Green's "Let's Get Together" (yowling her way through it) and an old Minnie Ripperton song... The old-school soul is balanced by songs by some influential Brazilian rock artists (Rita Lee, Lenine, Marcos Valle and others) but nothing that didn't make me cringe in horror. Not my style.

Rosanna & Zelia "Passagem" (Peregrina, 1997)



Pleasant, but lightweight, bossa nova-flavored MPB, issued on a German label. There are echoes of Joyce and Marisa Monte, though this duo doesn't have as much spark to their vocals as either of those big stars. Some creative arrangements -- particularly the Astor Piazzolla-like accordion that snakes through many of the tracks -- but overall this lacks bite, and seems a bit tamely produced.
Rosanna & Zelia "Aguas - Iguais" (Enja, 2004)


Rosemary "Rosemary" (RCA Victor, 1967)





<! Nčo baixe este segundo LP da Rosemary, lanćado em 1967 pela RCA Victor, se vocź é do tipo de ouvinte que faz questčo de áudio com excelente qualidade. Mas se vocź quer conhecer o disco, inédito em CD, vale a pena tź-lo na colećčo, apesar do áudio extraído do meu exemplar, literalmente "usado" e "abusado" pelo antigo dono. Foi um presente de saudoso amigo que o comprou pra minha colećčo numa feirinha de bugigangas nos anos 1980 em Sčo Caetano do Sul, onde morava. Fiz o possível pra reduzir os ruídos do áudio, mas o resultado final nčo é muito animador, apesar de substituir as faixas 3, 7 e 9 por versões remasterizadas. Pra compensar, dei uma caprichada nas ilustraćões, e deixei na pasta duas općões pra contracapa. A općčo é sua. Rosemary lanćou o primeiro disco em agosto de 1961 – um 78 RPM da Chantecler com as músicas "Fala coraćčo" (Jorge Duarte - Norival Reis) e "Também sou mulher (O.Jaber - Neuza Teixeira). Sčo as gravaćões mais raras da sua discografia, e infelizmente nčo as tenho. Foi a partir de versões do repertório da Rita Pavone que ela comećou a se destacar a partir de 1963, como "Que me importa o mundo" (Che m'importa del mondo), "Igual a ti nčo há ninguém" (Come te non cé nessuno), "A danća dos brotos" (Il ballo del mattone) e outras. Ganhou projećčo nacional no período da Jovem Guarda e ficou conhecida como "Fada Loura", chegando a se aventurar no cinema, assim como vários artistas da época. Participou dos filmes "Adorável Trapalhčo", "Jovens pra frente" (ao lado de Oscarito), "Os reis do iź-iź-iź" e "Som, amor e curtićčo" com Antonio Marcos no elenco. A cantora, após o movimento Jovem Guarda, passou a se dedicar ą MPB, cantando clássicos do repertório da Carmen Miranda, sem deixar de lado as romČnticas. Fez muito sucesso com "Quero ser sua" (Odair José), Joia (Roberto Carlos – Erasmo Carlos), "Um caso meu" (Mauro Motta - Robson Jorge) e outras. Na TV, foi estrela de grandes musicais da TV Globo e participou das novelas "Ti-Ti-Ti", "Cambalacho" e "Barriga de Aluguel". A cantora também fez show no exterior e se apresentou na Casa Branca, durante o governo de Jimmy Carter. Foi uma das artistas que defendeu a revitalizaćčo do Museu Carmen Miranda. Em 2008, regravou "Separaćčo" - outro sucesso do repertório - em participaćčo especial no disco e DVD do cantor Amado Batista, e lanćou o CD e DVD "Mulheres da Mangueira", uma homenagem ą sua escola de samba, onde é uma das mais antigas participantes. Curiosamente, Rosemary omite seu passado de cantora da Jovem Guarda, e nem faz questčo que disco como este seja relanćado. Confira: 01 – Nčo amor (Jorge Smera) 02 – Tiquinho vocź (Dora Lopes – José Hélio) 03 – Nčo te quero mais (Dayse Justo) 04 – Pode acontecer amanhč (Puė accadere domani) (Nisa De Ponti – vs: Romeo Nunes) 05 – Um coraćčo (Jorge Smera – Paulo Gesta) 06 – O que tem vocź (Hamilton e Eduardo Alberto Di Giorgio) 07 – Feitićo de broto (Carlos Imperial) 08 – Nada eu seria sem vocź (Hélio Justo – Dayse Justo) 09 – Canćčo desafinada (Dora Lopes – José Helio) 10 – Teu olhar (Carlos Imperial – Eduardo Araújo) 11 – Amor feliz (Moacyr Vieira) 12 – Só nčo pode me faltar vocź (Klecius Caldas – Rutinaldo) >

Reginaldo Rossi "O Quente" (Chantecler, 1968)

Roupa Nova - see artist discography
Alberto Rosenbilt & Mario Adnet "Alberto Rosenbilt & Mario Adnet" (Meia Noite, 1979)



<! with Eveline Hecker >
Roze "Acorde" (Chantecler, 1979) (LP) <! Chantecler? >


The debut album by Brazilian folk singer Roze, who had previously recorded with Gereba and his band, Bendego, and perhaps most prominently with Carlos Pita on his spacy 1979 album, Aguas De Sao Francisco. I haven't heard this one yet, but I am quite curious about it.


<! B0063YGM5Y ??? >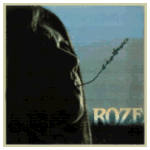 Roze "Roze" (1981)
Unique-sounding pastoral folk, with a strong northeastern Brazilian regional flavor... Roze has a rather distinctive voice, with one of those shrill, sharp sertanejo accents, which has an interesting impact in a more stripped-down, folkie-acoustic setting. This is a bit much for me, but fans of cosmic Brazilian folkies such as Diana Pequena, Carlos Pita, et. al., might want to check this out as well.


<! 01. Dazibčo 02. Xote da Pipira 03. Fulô da Alegria 04. Testamento do Velho Índio 05. Passagem 06. Incelenća prá Terra que o Sol Matou 07. O Pedido 08. Acaru 09. Aboio Apaixonado 10. Coraćčo Candombá 11. A Estaćčo 12. Canudos, 1897 >

Roze "Roze" (1984)



<! Among other interesting tracks, she covers "Canudos," an old poem??? by composer??? Euclides Da Cunha > <! http://lourimarborges.blogspot.com/2012/05/roze-volta-da-asa-branca.html > <! Cantora, (cantadora, cantadeira...) baiana de Tucano, Sertčo de Canudos, possuidora de um estilo próprio no ato de interpretar as canćões que lhe tocam a alma, declara-se guiada por uma voz afinadíssima que vara o silźncio de seu interior catingueiro, impulsionando-a a cantar: "O meu canto é uterino. A minha garganta apenas permite a passagem daquela voz que grita, lamenta e canta dentro de mim. Eu canto mesmo é pelo umbigo". Arquiteta pela Faculdade de Arquitetura da Universidade Federal da Bahia, Roze iniciou suas apresentaćões públicas ao lado de Gereba no início da década de 70. Após várias participa-ćões em eventos no circuito universitário local e em teatros, estreou em disco participando do LP de Carlos Pita. "Águas de Sčo Francisco", em 1979. Naquele ano, a convite da mesma gravadora, lanćou o seu primeiro LP solo, o "Acorde", trazendo basicamente compositores inéditos baianos. Este LP teve seus destaques reproduzidos no compacto duplo "ROZE" em 1980, ano em que teve suas músicas incluídas no LP de Rolando Boldrim "Som Brasil", devido sua marcante presenća no programa homônimo de rede nacional de televisčo, e no LP da gravadora "Essas Mulheres", que reúne o melhor do "cast" feminino que por ela já passara. Tornou-se independente por vontade própria e produziu na Bahia o seu segundo LP solo "ROZE", lanćado em 1981. Roze tem ainda participado de outros Lps tais como o de Fábio Paes, "Pensando na Alegria" (1985), de Adelmo Oliveira e Augusto Vasconcelos, "Vertentes" (1988), de Jočo Bá, "Carrancas" (1990) e no "CD" de Gereba, "Gereba Convida" (1993), gravou juntamente com outras intérpretes femininas do melhor da MPB. Roze tem sido também presenća marcante em eventos culturais a exemplo dos promovidos anualmente pelo Movimento Popular e Histórico de Canudos, no sertčo baiano. >

RPM "Revolucoes Por Minuto" (CBS-Epic, 1985)



(Produced by Luiz Carlos Maluly)
The debut album by new wave rock band RPM, who were one of Brazil's more credible commercial rock bands of the early '80s. Lead singer Paulo Ricardo went on to a successful solo career (which is kind of ironic, since his bellowing vocals are one of the least attractive things about this record...) The guitars are cool, though: jittery New Wave staccato with teeny hints of punky origins... Worth checking out if you're mining deep into Brazilian rock history -- I'd place this mostly as a curio, though; I couldn't really get into it as an album I'd want to listen to recreationally.
RPM "Radio Pirata Ao Vivo" (CBS-Epic, 1986)


RPM "Os Quatros Coiotes" (CBS-Epic, 1988) (LP)

RPM "MTV RPM 2002" (Universal, 2002)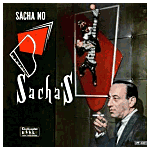 Sacha Rubin "Sacha No Sacha's" (Continental, 1958) <! 1959? >
Super-schmaltzy, fairly pedestrian lounge music -- and I mean real lounge music, presumably from Mr. Rubin's own nightclub, judging from the album title. This is pretty bland material, mostly snoozy covers of non-Bazilian standards ("My Fair Lady," "Old Devil Moon," et. al) with a couple of local tunes thrown in for good measure. I think if I had a choice, I'd head for a different club.




Sacha Rubin "Seven To Seven" (RCA Victor, 1960)



<! Maurílio (Piston) Cipó (Saxofone) Dom Um Romčo (Bateria) Luis Marinho (Contrabaixo) Gilberto (Pandeiro) Rubens (Agogô) Barčo (Percussčo) >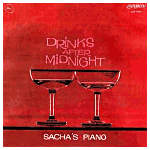 Sacha Rubin "Drinks After Midnight: Sacha's Piano" (London, 1965)
Oh, yeah: there it is. Good old Internet. Apparently Rubin was a European transplant who came to Rio right after the War, in 1948, and was in an early gafieria-jazz band with saxophonist Moacyr Silva... He opened his club in '54 and was known for his preference for American pop songs. Possibly there are other recordings of his that are more vigorous than these... Possibly not. I'll let you know if I ever find out. But still, if I had my 'druthers, I'd still pick a different nightclub. This stuff doesn't do much for me.




Sacha Rubin "No Bailao" (London, 1967)





Sacha Rubin "No Bailao, v.2: Gravado Ao Vivo" (London, 1969)



<! Comecei a ouvi-los por curiosidade em razčo da história do músico. Sacha foi um pianista Austríaco que chegou ao Rio em 1948. Em 1954 abriu seu bar no Leme (RJ) – o Sachaęs. A pinta do malandro – de acordo com as capas dos discos - é de um Humphrey Bogart, o galč Rick do filme Casablanca (no filme Bogart interpreta um americano, dono de um bar - Rickęs - no Marrocos da 2Ľ Guerra Mundial). Por aqui, o bar era freqüentado pela elite política e cultural do Rio. Sacha, segundo diziam, tinha hábitos excźntricos (talvez nem tanto...): gostava de whisky de primeira; café e cigarro americano - tocava por até 12 horas, sempre saudando a chegada dos habitués com a canćčo preferida de cada um... No repertório, o cancioneiro americano (principalmente influenciado pelos filmes da moda), francźs e brasileiro. As trźs capas sčo espetaculares e já seriam o suficiente para simpatizar com o sujeito, mas a música ainda consegue ser superior! O meu destaque é para o LP "No Balaio" de 1967, gravado ao vivo no próprio bar. Impossível nčo associar a vibe da música com o bar do filme "Casablanca". > <! (Grupo) Rumo - with Na Ozetti and Luiz Tatit tapped into the Paulista scene Rumo "Rumo" (Rumo, 1981) B00029CPJ8 Rumo "Rumo Aos Antigos" (Rumo, 1982) B00029CSLS Rumo "Diletantismo" (Continental/Lira Paulistana, 1983) B00029CPIY Rumo "Caprichoso" (Independente, 1985) B00029CPIO Rumo "Quero Passear" (Palavra Cantada, 1988) B000ANH24Y Rumo "Rumo Ao Vivo" (Cameratti, 1992) B00029CPJI >


Renato Russo - see artist discography




Mac Rybell "Mac Rybell" (Beverly, 1974)
Portuguese-language soft-psych sunshine pop tunes alternate with English-language songs of a similar calibre. I prefer the stuff in Portuguese, but it's all okay. A cute-sounding soft-pop record, on the fringes of the commercial brega pop sound -- a little gooey and lightweight, but overall pretty nice... Some songs are duds while others are sweet.
---
Brazilian Music - Letter "S"
---



Main Brazil Index
World Music Index

---