<! MP3 00/00/00 > <! update 00/00/00 > <! pix 11/01/09 > <! ALLBM 00/00/00 > <! icons 00/00/00 >
---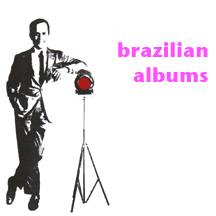 This is Page 3 of a listing of miscellaneous albums and artists under the letter "S"
If an artist or album you like is not reviewed here, please feel free
to contact me and make a suggestion.
---
A | B | C | D | E | F | G | H | I | J | K | L | M | N | O | P | Q | R | S-1 / 2 / 3 / 4 / 5 | T | U | V | W | X | Y | Z | Compilations
Brazilian Styles | 30 Recommended Records | Portuguese-language pop | Brazilian Links | Slipcue.Com
---
Beto Scala "Beto Scala" (RGE, 1976) (LP)







Beto Scala "Arrepia My Brother" (Alif Arts, 1995)



<! Beto Scala - others? - >

Lalo Schifrin "Brazilian Jazz" (Aleph, 2000)


Argentinian jazz pianist Lalo Schifrin goes bossa-delic on this zippy little album, originally recorded in 1962, with a few sidemen from Dizzy Gillespie's band, and a pair of Latin American percussionists in tow. Honestly, this has nowhere near the deftness or subtlety of the bossa nova albums it sought to emulate -- by comparison this sounds downright cluttered and rushed. It also doesn't exemplify the best of Schifrin's swingin' hipster sound -- it's a bit too hurried and perky. But it does stand up as a period piece, and it's certainly not unpleasant to the ears. Worth a spin!
Chico Science - see artist discography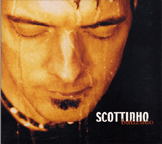 Scottinho "Batizado" (Homen De Ouro, 2003)



Although "Scottinho" is really a North American -- guitarist Scott Anderson, originally hailing from the American Midwest -- he still gets honorable mention for the thoroughness with which he has absorbed the Brazilian MPB-Jazz style. The first half of this disc is steeped in the sleek, cosmopolitan fusions of the Brazilian jazz giants of the 1970s and '80s, in particular Milton Nascimento and Toninho Horta, each of whom have a song on this album dedicated to them. If you don't like the slick, sometimes indulgent feel of that era of Brazilian jazz-fusion, then this might not be the right album for you; but if you do like the style, then Scottinho's mastery of it is impressive. He traveled to Brazil to record much of this album, even recording one tune with his idol, Toninho Horta. The album starts to drift apart midway, however, and loses the tight focus of the first few tracks. Anderson's decision to sing (and write) in English on a couple of songs turns out to be a distraction as well... But taken song by song, the initial half dozen tracks are quite noteworthy.





Secos & Molhados - see artist discography





Raul Seixas - see artist discography




Os Selvagens "Os Selvagens" (Caravelle) (LP)



<! same as Epic album below? GIF shows Caravelle >

Os Selvagens "Os Selvagens" (Epic) (LP)







Os Selvagens "Don't Leave Me Now" (Epic, 1971)





Os Selvagens "O Menino Da Porteira" (Epic, 1974)



<! Quarto ‡lbum de Os Selvagens pela Epic teve dire¨‹o art'stica do Rossini Pinto >

William Senna "O Homem Do Madeiro" (Carmo, 1985) (LP)


Guitar instrumentals, with sort of a John Fahey/Leo Kottke/Windham Hill "new acoustic" feel, and some slight processing on the sound mix. Good for the genre, though it didn't really stand out much for me...


<! only album? > <! 10/12: GIF on file >


Sepultura - see artist discography




Paulo Sergio "Serie Bis - Jovem Guarda" (EMI, 2000)



A well-chosen 2-CD set of material from this latter-day jovem guarda singer. Sergio was an unabashed imitator of JG superstar Roberto Carlos, but whereas TV host Carlos dipped liberally into romantic schmaltz, Sergio seemed to prefer more upbeat material, with the organ-guitar combo that made some of Carlos's rock-oriented work sound so fun. This collection spans 1972-83, with material from the Copacabana label that is surprisingly consistent and listenable. I mean, it's not the greatest Brazilian rock music ever, but it sure ain't the worst. Even the later tracks, which are predictably softer and slicker, are still pretty decent... There's very little on here that'd actually make you cringe, and plenty of songs that are fun enough, in a kitschy, retro way. It also includes his biggest hit, "Ultimo Cancao," from 1969.
Paulo Sergio "Selecao De Ouro" (EMI, 1998)


Paulo Sergio "Paulo Sergio 1" (Caravelle, 1968)





<! also B00068O3YU >

Paulo Sergio "Paulo Sergio 2" (Caravelle, 1968)

Paulo Sergio "Paulo Sergio 3" (Caravelle, 1969)

Paulo Sergio "Paulo Sergio 4" (Caravelle, 1970)

Paulo Sergio "Paulo Sergio 5" (Caravelle, 1971)





<! this series continues through 1980 or so - to v13? >


Bola Sete - see artist discography





Seu Jorge - see artist discography



Severino Filho "Viva Sao Jorge" (Columbia, 1956)
A curious album from Severino Filho of the vocal group Os Cariocas, here leading a perky orchestra and chirpy vocal chorus in a tribute to the dragon-slaying Sao Jorge (Saint George) the patron saint of Rio de Janeiro. What's odd is that Sao Jorge is also a "lua," an important figure in Brazilian candomble, or Orixa, the syncretic religion that blends west African animism with Spanish Catholicism. The confluence of this underground spirituality and the Brazil's mainstream record industry is a fascinating phenomenon, and this album is a fine example: several songs, such as "Salve Ogum" and "Ogum Sao Jorge" are unquestionably Orixa songs, and yet the perky, samba-tinged big band arrangements seem miles away from the percussion-heavy performances usually associated with Orixa music. Maybe more of a curio for devotees of candomble, but fun nonetheless.


<! Orq. Coral >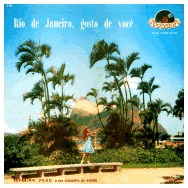 Severino Filho "Rio De Janeiro, Gosto De Voce" (Polydor, 1958)
A solo album, of sorts, by Severino Filho, leader of the vocal group Os Cariocas. The ensemble sings on a couple of tracks, but this is mostly an instrumental outing, with big-bandy versions of samba-cancao standards. Some of the arrangements are a little too kitschy, especially the parts with the vibraphone as lead. But there are also some serious gafieira musicians playing on here as well -- not sure who they were, since there are no credits, but some of the solos are hot. Overall, though, this isn't the most vigorous Brazilian orchestral albums, but it's okay for a nostalgia kick.


<! no producer credit >
Severino Filho "Metais E Vozes Em Festival" (Polydor)





<! Orq. Coral >
Severino Filho "The Orchestra Of Severino Filho: Recordings 1958" (Black Round Records, 2009)


This digital-only release is a straight-up reissue of the 1958 Rio de Janeiro album listed above, mysteriously given a different, vaguer title. Same groovy music, though.


<! Sex Beatles "Automobilia" (Rock It, 1994) B0080R5DRU Sex Beatles "Mondo Passionale" (Rock It, 1995) >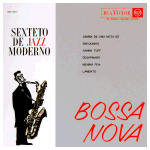 Sexteto De Jazz Moderno "Bossa Nova" (RCA Victor, 1963) (LP)


An unusually sharp jazz set from Brazil -- half-cool, half bebop -- featuring excellent saxophone work by alto Jorginho and tenor Aurino, guitar by fabled session player Jose ("Ze") Menezes and piano from Fats Elpidio. The songs are mostly standards such as "One Note Samba," given room to breathe in longer jam sessions (with actual improv) and are a pleasant break from the fast, aggressive style of the bossa trios of the time. Definitely worth checking out.


<! 01 - Samba de Uma Nota S— (Tom Jobim / Newton Mendon¨a) 02 - Barquinho (Ronaldo B™scoli / Roberto Menescal) 03 - Samba Toff (Orlandivo / Roberto Jorge) 04 - Desafinado (Tom Jobim / Newton Mendon¨a) 05 - Menina Feia (Oscar Castro Neves / Luvercy Fiorini) 06 - Lamento (Djalma Ferreira / Luiz Antonio) > <! Sexteto Guanabara "Sorvete Dancante, v.2" (Musiplay, 1963) Sexteto Guanabara released three LPs in the beginning of the 60s decade, personnel is not identified and we have probably well-known musicians making some extra income at Musiplay. A very young Oscar Castro Neves, credited as Oscar A. Neves at the back cover, produces Sorvete Dancante Vol. 2. >

---
Brazilian Music - More Letter "S"
---



Main Brazil Index
World Music Index

---