<! MP3 01/24/10 > <! update 00/00/00 > <! pix 11/01/09 > <! ALLBM 00/00/00 > <! icons 02/16/11 > <! Soweto "Serie Bis" (EMI) B000CQO27O 2-CD set WALDIK SORIANO http://en.wikipedia.org/wiki/Waldick_Soriano Quem és tu?/Só vocź Chantecler 1960 Ninguém é de ninguém Chantecler 1960 Dona do meu coraćčo/Mais uma desventura Chantecler 1961 Perdčo pela minha dor/Amor de Vźnus Chantecler 1961 Sede de amor/Renúncia Chantecler 1961 Waldick Soriano Chantecler 1961 Fujo de ti/Tortura de amor Chantecler 1962 Ciúmes/Desuničo Chantecler 1962 Homenagem a Recife/Amor numa serenata Sertanejo 1962 Cantor apaixonado Chantecler 1962 Quem é vocź?/Vestida de branco Chantecler 1963 Foi Deus/Errei Senhor Chantecler 1963 Pobre do pobre/Se eu morresse amanhč Chantecler 1963 Motivos banais/É melhor eu ir embora Chantecler 1963 A justića de Deus/Tu és meu mundo Chantecler 1963 Manaus, meu paraíso/Pisa no calo dele Sertanejo 1963 Enfim vocź voltou/Pensei que estava sonhando Chantecler 1964 Eu vou ao casamento dela/A maior injustića do mundo Chantecler 1964 O elegante Waldick Soriano Chantecler 1964 Como vocź mudou pra mim Chantecler 1965 Waldick sempre Waldick Copacabana 1967 Boleros para ouvir, amar e sonhar Copacabana 1967 Waldick Continental 1968 No coraćčo do povo Continental 1970 Eu também sou gente RCA 1972 Ele também precisa de carinho RCA 1972 Segue o teu caminho RCA 1974 Quero ser teu escravo RCA 1978 >
---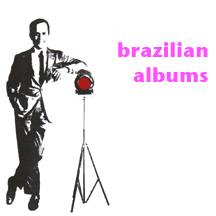 This is Page 4 of a listing of miscellaneous albums and artists under the letter "S"
If an artist or album you like is not reviewed here, please feel free
to contact me and make a suggestion.
---
A | B | C | D | E | F | G | H | I | J | K | L | M | N | O | P | Q | R | S-1 / 2 / 3 / 4 / 5 | T | U | V | W | X | Y | Z | Compilations
Brazilian Styles | 30 Recommended Records | Portuguese-language pop | Brazilian Links | Slipcue.Com
---
Bud Shank - see Bossa Nova Jazz
George Shearing "Bossa Nova" (Capitol, 1963)



(Produced by Tom Morgan)
With arrangements by Clare Fischer...


<! possibly with Laurindo Almeida on guitar? he wrote some original material for the album >

Wayne Shorter "Native Dancer" (Columbia, 1975)



A fairly solid commercial jazz album, from the height of the fusion days, this is the first of many collaborations between soprano sax player Shorter and the dreamy-spacy Milton Nascimento. This album had a profound impact on the '70s jazz scene, introducing a more modern, non-bossa nova Brazilian sound into the experimentation of the time. Nascimento performs on and contributes several songs, and although Shorter takes some interesting chances with the material (particularly on the melodically-deflated version of "Lilia"), ultimately he seems to have lacked the compositional strength that would have made this a truly great album. As it is, it's a little goopy, and many of the songs lack true resonance.
Siba E A Fuloresta "Fuloresta Do Samba" (Terreiro, 2002)





<! 1. Fuloresta Do Samba 2. Bringa 3. Caluanda 4. Trincheira Da Fuloresta 5. Suina 6. Soldado De Aldeia / Barra Do Dia 7. Bonina 8. Meu Rio De Samba 9. Maria, Minha Maria 10. Sete Estrelo 11. Vale Do Juca 12. Poeta Sambador 13. Tempo 14. Terra De Reis >
Siba E A Fuloresta "Toda Fez Que Eu Dou Um Passo O Mundo Sai Do Lugar" (Outros Discos/Ambulante Discos, 2007)


A kooky, postmodernist set from this Pernambuco-based artist/band. A graduate of Mestre Ambrosio's samba school, Siba seems tapped into the whole neotropicalia scene that includes Moreno Veloso and his +1 comrades, with Beto Villares and vocalist Ceu adding ther voices to this record. What makes this album so distinctive is the use of the tuba as a lead instrument, laced with brass band accompaniment and crazy guitar-and-keyboard rock touches, underpinned by samba and marching tempos. Indeed, there's a crazy Brazil-meets-New Orleans feel that might make it hard to decide which festival to attend, Carnival or Mardis Gras... Not necessarily a record I'd want on for relaxation, but a cool, unusual mix of styles.


<! Born in the cosmopolitan city of Recife, but from a family until this day linked to its rural origins, Siba began a long history of learning and collaboration with the traditions of the Mata Norte of Pernambuco state, exercising through the years the fundamentals of the art of rythmic poetry, becoming on the main masters of the new generation of ciranda and maracatu nowadays. At the same time, as a member of Mestre Ambrosio's group, he developed an innovative and personal musical language, where the dialogue between traditional and cosmopolitan, past and present, street and stage are an unmistakable brand. In 2002 after seven years living in the city of Sao Paulo, Siba decided to return to Pernambuco state to reunite the Fuloresta band, formed by traditional musicians from Nazare da Mata, a small town of 30000 inhabitants located 60km from Recife. In 2003, in a mobile studio in the rural zone in Nazare, Siba e a Fuloresta recorded their first CD , that also was released in Europe by the French label, Outros Discos. The band played in different venues in Brazil and also did three tours in Europe from 2004 to 2006, in countries like France, Holland, Germany and Belgium, developing a unique adaptation of the music from long duration street parties to the condensed stage format. "We never experience our past or tradition as a cage. On the contrary, our tradition offers us a vast vocabulary, and we do our best to use all of it every day and especially all night long. It is impossible to reproduce the way we involve the whole community in poetry and collective dancing during the whole night, although the hour or 90 minutes that a festival can offer us will provide a very good opportunity to catch a glimpse of our actual musical impact." as Siba explains. In live performances, the Fuloresta anywhere in the world, evokes its roots and offers the spectator a hedonist evening that people from the Zona-da-Mata know how to do : crazy and unexpected, full of beautiful images and free improvisation from the depths of the soul. Now, in 2007, Siba is working on the second CD with Fuloresta: "Toda vez que eu dou um passo/O mundo sai do lugar" ("Every step I take the world changes place.), in partnership with "Ambulante Discos", a label owned by producer Beto Villares, who is also Siba's partner in "Fuloresta do Samba". >

Siba E A Fuloresta "Canoa Furada" (2009)





Siba "Avante" (Mais Um Discos, 2013)






<! Praised by The Guardian as "one of the mavericks of the Brazilian music scene", Siba is set to release his latest album on 14th October 2013. Mixing Northeastern Brazilian rhythms, rock 'n' roll and romantic Brazilian 'brega' music with African influences such as 70s Senegalese guitar music and Congotronics, Siba is a man who joins the dots between his life, his culture and the rest of the world. He was a pioneer in the manguebeat revolution of the late 90s that took Chico Science and Siba's own band, Mestre Ambrosio – previously signed to Sony Music Brazil - across the globe; he's lived the life of a struggling Maracatu poet singing improvised verses long into the night in the harsh Brazilian interior of Zona da mata; he's redefined contemporary Brazilian roots music with his folk orchestra Siba e a Fuloresta, and now, he turns a new page as a tropical rocker with a collection of songs hailed by Brazilian critics as one of the Brazilian albums of 2013. >

Wilsom Sideral "1" (Mercury, 1999)


A somewhat disappointing, funk-laced modern rock album from the tattoo-bearing younger set. Sideral has rock-star good looks, but not a rock-star great voice. On the plus side, most of his songs are original material, although on the whole the arrangements tend to be a bit cluttered. Some interesting rock music is percolating up in the mix, but there are still some rough patches.
Wilsom Sideral "Lancado Al Mar" (Universal, 2004)


Wilsom Sideral "Na Paz" (Universal, 2007)





<! data ok? >

Silva "Janeiro" (EP) (Six Degrees, 2014)


Anisio Silva "Serie Bis" (EMI, 2000)


A nice 2-CD set gathering some of the finest Brazilian versions of the musical trends popular elsewhere on the continent, namely the tango and the lush, lachrymose bolero. Anisio Silva was a Sao Paulo native who signed to Odeon in the late 1950s, at the tail end of the pre-bossa nova "radio singers" era, and he specialized in grand, weepy, romantic songs, many of which he wrote, and some that were adapted from the work of Spanish-language composers such as Ernesto Lecuona. While the material is pretty slushy, you have to admit Silva had a really nice voice, and these tunes have a warm nostalgic charm. The production on these old recordings was clear and forthright, matching the declarative melodrama of Silva's vocals... This best-of collection ranges from his first hit from 1956, "Tudo Foi Ilusao," through material recorded as late as 1965, when he career had long since peaked. It's wonderfully corny music, some of the best of its kind. (Note: this collection is pretty much interchangable with the earlier Meus Momentos discs that came out in the 1990s... Both versions are out of print, but worth looking for...)

Anisio Silva "2-Em-1: Alguem Me Disse/Dois Milhoes De Discos Vendidos" (EMI, 2003)


This twofer disc reissues a pair of Silva's later albums, Alguem Me Disse, from 1960, and Dois Milhoes De Discos Vendidos, a best-of LP that came out in '61. All of the hits on the second album, and some of the material from the first are included on the Serie Bis double CD listed above; either collection will give you a pretty full picture of Silva's career. It's pure corn, and kinda nice.
Anisio Silva "Alguem Me Disse" (EMI, 1960)


The full album is also available as its own CD... and it's pretty good! Pure corny romantic schmaltz -- solidly produced and easy on the ears. Recommended.




Carmen Silva "Disco De Ouro" (CBS, 1977)
I don't know much about this late-1970s singer, but this best-of LP wasn't too distinctive. She had a big old 'fro, but doesn't seem to have been much of a soul singer. There's one upbeat samba-rock number; the rest of the album is made up of fairly tepid MPB ballads. Anyone know more about her... and albums to suggest?


<! several CDs on Amazon 09/08 >

Ismael Silva "Se Voce Jurar" (RCA, 1973)



(Produced by Waldyr Santos)
An old-timer from the 1930s heyday of samba cancao, vocalist Ismael Silva (1905-1978) had been out of the public eye for a couple of decades when he recorded this warm, playful set, mostly made up of classic songs that he wrote or cowrote (along with artists such as Francisco Alves and Noel Rosa) back in the "radio singer" era. While revival albums like this often feature older artists who have a hard time summoning the power to match their early work, Ismael is in full command of this project. His voice is only slightly less supple than it once was, while his phrasing is confident and concise. Framed by modern acoustic pagode arrangements, and paired with a small female chorus, Silva knocks out one of the finer sets of old-school samba the '70s -- it's a really nice record. Recommended!

Mara Silva "Sucessos Em Teleco-Teco" (Copacabana, 1962)
(Produced by Moacyr Silva)
A charming set of latter-day samba-cancao, with perky orchestral arrangements and a throaty female singer in the style of Dolores Duran and Elizeth Cardoso. This was apparently Mara Silva's only full-length album; I'm not sure what relation, if any, she was to bandleader Moacyr Silva, who backs her on these sessions. A nice bit of nostalgia -- not a stunning album, but pleasant and solidly produced.


<!, for. Little is known about this new singer. Mara Silva recorded several 78RPMs from the early 50's, until this first and only LP for Copacabana. She was also a composer, performing her own compositions on several 78RPMs. This is a lovely Samba album with Moacyr Silva in charge of production and performing with Sua Orquestra e Conjunto, Maestro Diogo Pacheco -- Pachequinho -- is in charge of all arrangements. > <! MOACYR SILVA - sax player Bob Fleming / a.k.a. Moacyr Silva "O Melhor Da Bossa" (Masterpiece, 1965) >

Nerinho Silva "Nerinho Silva" (Beverly, 1974)
(Produced by Talmo Scaranari & Decio Fonsi)



<! Produced by Talmo Scaranari & Decio Fonsi Arrangements by Waldemiro Lemke 08/2014 - no ASIN >


Orlando Silva - see artist discography



Osny Silva "Bandolins Ao Luar" (Revivendo)


Remarkably corny pop vocals from the 1950s and early '60s, heavy on tangos and waltzes, and slow, syrupy vocals. Even for me, this is a bit much... Not, of course, to be confused with Orlando Silva, the great crooner whose heyday was a decade or two earlier.

Patapio Silva "Flauta Imortal" (Revivendo, 1996)


An international star at the turn of the Twentieth Century, Patapio Silva is the big granddaddy of modern Brazilian flautists... Benedito Lacerda, Altamiro Carrilho, all owe a stylistic debt to this showy, inventive player, whose nimble musicianship and puckishness radiate from these ancient recordings. Silva was one of the great popular composers of the Belle Epoque and began recording at the dawn of the Brazilian record industry. This disc includes all the recordings he made for the fledgling Odeon label in 1901(!) including classical tunes by Schubert and Chopin, various Brazilian composers, and nine of his own compositions, which have all passed down into the national repertoire. Silva was a true prodigy, a working-class kid who earned a spot in a prestigious musical academy and broke open social boundaries in Brazilian popular and classical music... Most of all, he was a dazzling performer and although these tracks are not formally considered choro music, fans of that style will want to check this album out: Silva's virtuoso runs are both rugged and masterful, soulful and technically dazzling. The recordings themselves are rough; you can barely hear the accompaniment of piano and other instruments, but really you don't need to... The heady, intoxicating flute is the main attraction, and this collection is pure gold. (Here's a link to the Revivendo label's website, for more info: www.revivendomusicas.com.br

Robertinho Silva "Perigo De Goal (Shot On Goal)" (Fantasy-Milestone, 1995)


Although there's a wealth of "real" Brazilianness underlying this album, the soft, brisk jazz-lite feel is a turnoff for me. Still, it's a top-flight session for the Rio jazz scene. Most of this material was recorded in 1991, but released later up here in the States a few years later.


<! a couple of other albums listed 09/08 > <! Roberto Silva "O Principe Do Samba" (Copacabana) >

Roberto Silva "Descendo O Morro" (EMI/Copacabana, 1958)


Bright, melodic acoustic sambas, with folkish, Belafonte-esque vocals -- very similar to Dorival Caymmi or Paulinho Da Viola, but less expressive vocally. Originally recorded in the late 1950s, these songs are wonderful, but the arrangements are rather static and monochromatic, and tend to blend together after a few tracks.
Roberto Silva "Descendo O Morro, v. 2" (EMI/Copacabana, 1959)


More roots samba, recorded just as the bossa era was taking off, and the pop sounds of the 'Fifties were still holding on. Silva's sound has a traditionalist core, sometimes at odds with the stiff orchestrations, but overall it's evocative and deep. Worth checking out!
Roberto Silva "Descendo O Morro, v. 3" (EMI/Copacabana, 1960)


Another nice album... Silva's late-vintage samba cancao has a staid, almost folk-ish feel to it, similar to Dorival Caymmi's albums from the same era. The third Morro album is pretty much like the first two -- where you should sit up and take notice is on the fourth album, where perkier instrumentation kicks in, notably the sound of the plaintive cavaquinho. Moving away from chugga-chugga pop arrangements into a more acoustic sound, Silva paved the way for the pagode revolution of the early 1970s. Those 1961 recordings are really quite sweet.
Roberto Silva "Descendo O Morro, v. 4" (EMI/Copacabana, 1961)


Here's where you should sit up and take notice -- perkier instrumentation kicks in, notably the sound of the plaintive cavaquinho. Moving away from '50s-era chugga-chugga pop arrangements into a more acoustic sound, Silva paved the way for the pagode revolution of the early 1970s. These 1961 recordings are really quite sweet.
Roberto Silva "Roberto Silva" (EMI/Copacabana, 1964)


Roberto Silva "Subindo O Morro" (EMI/Copacabana, 1965)

Coming out of the Descendo O Morro series, Silva delved even deeper onto the buoyant samba sound that would later become identified with '70s artists such as Alcione and Clara Nunes. Another nice 2-in-1 reissue!
Roberto Silva "Volta Por Cima" (Universal, 2007)


Roberto Silva "Serie Bis - Cantores Do Radio" (EMI/Copacabana, 2000)


This tasty 2-CD set picks up where the Descendo O Morro series leaves off, with Silva developing the classic pagode sound, of catchy acoustic sambas, filled with ringing, melodic cavaquinhos and upbeat vocal choruses. Fans of Martinho da Vila's work will delight in Silva's pioneering early '60s recordings, although this collection also stretches into the mid-'70s, when pagode was at its full-scale peak. Nice collection -- recommended!
Roberto Silva "Raizes Do Samba" (EMI, 1999)

Roberto Silva "Eu Sou O Samba" (EMI, 2005)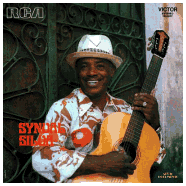 Synval Silva "Synval Silva" (EMI, 1973)


(Produced by Luiz De Franca; Arrangements by Nelsinho & Peruzzi)
A 1930's samba-cancao old-timer whose songs were recorded by Carmen Miranda and Cyro Monteiro, 61-year old Synval Silva reemerged during the 1970's samba revival to record this lively, often whimsical album, which I believe was the only full LP of his career. His voice is in pretty fine shape, especially when compared to his velha guarda contemporaries such as Cartola, et.al. -- he still sounds supple and playful, and capable of keeping up with the somewhat busy, glitzy modern arrangements. The album is rooted in old samba rhythms, but given a 70s-style makeover, with hints of soul/disco and a Vegas-y big-band boost on top of the standard cavaquinho-and-chorus formula of the pagode scene. Parts of it feel a little overly-baroque, but overall, this disc is a delight, a strong effort from an old pro, and an interesting crossgenerational re-realization of the old 1930s samba orchestrations. Recommended!


<! 1911-1994 >

Ubirajara Silveira & Seus Ambaixadores De Copacabana "Solovox Do Ouro" (RGE, 1963)



<! SILVANA Silvana "A Versatil" (Beverly, 1962) - first album Silvana "Internacional" (Copacabana, 1974) - last >

Jussara Silveira "Jussara Silveira" (Dubas, 1997)

Jussara Silveira "Cancoes De Caymmi" (Dubas, 1998)


Jussara Silveira "Jussara" (Maianga, 2002)



(Produced by Chico Neves & Mauricio Pacheco)
Mellow, soul-and electronica-tinged mangue beat alt-rock, recorded with producer Chico Neves, with assist from other younger, innovative artists such as Paulo Jobim, Lucas Santtana and bandolim wizard Armandinho... The approach is very similar to that of Ana Carolina or Marisa Monte, though not quite as commerical and bland as the one, nor as resonant and arresting as the other. All in all, though, this is quite nice. Definitely worth checking out!
Jussara Silveira & Luiz Brasil "Nobreza" (Maianga, 2006)


Jussara Silveira "Entre O Amor E O Mar" (Maianga, 2007)


Orlando Silveira & Carolina Cardoso De Menezes "Honeymoon In Rio" (Capitol, 1956)
Although this is a pretty kitschy, lightweight easy-pop album, with plunky piano and stolid percussion, I suspect there are a number of real talents lined up in the backing band, particularly when you hear the Sivuca-esque forro accordion and the Bola Sete-styled electric guitar. This is okay material from the pre-bossa nightclub era, but it didn't do that much for me.

Orlando Silveira & SOS "Band It" (Parlophone, 1974)
A kitschy disco-era novelty album, with instrumental numbers that range from jittery disco-funk to over-the-top cheesy-orchestral, along with some English-language vocal tunes. It's all very sound-libraryish and ripe for adulation by irony-addicted retro-ologists. Sorry, folks -- I just can't take music like this seriously, or spend the time to enjoy it as a joke. Apparently Orlando Silveira was a popular bandleader with a long career that stretched back into more traditional, substantive work than this... But his SOS ("Som Orlando Silveira") is really just a joke band, and can be treated as such.
Ricardo Silveira "Musician" (WEA, 1987)
A negligible set of soft-jazz instrumentals by this studio guitarist, who had done some work with Gilberto Gil, Milton Nascimento and others. Lifeless pop that could just as easily have been produced by David Sanborn or Kenny G.

Ricardo Silveira "Amazon Secrets" (Polygram, 1990)






<! several other CD albums 09/08 >

Ricardo Silveira "Noite Clara" (Adventure Music, 2003)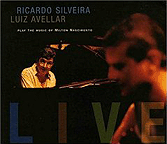 Ricardo Silveira & Luiz Avellar "Play The Music Of Milton Nascimento - Live" (Adventure Music, 2004)



Verrrry, verrry mellow instrumental guitar and piano versions of ten classic Milton Nascimento compositions, including several of his more tuneful numbers, such as "Para Lennon E McCartney," "Cravo E Canela" and "Maria, Maria." This is EZ jazz to the Nth degree, not my cup of tea, although it does have the advantage that Nascimento himself isn't on the album, providing some measure of relief from the ululation and spaciness that has become his trademark. Also, it's an interesting take on this older, well-know material; Silveira and Avellar do give their own spin to many of these well-known tunes. Robertinho Silva adds percussion on several tunes.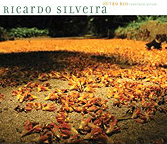 Ricardo Silveira "Outro Rio" (Adventure Music, 2007)


A very sweet, very mellow set of acoustic guitar instrumentals by Brazilian guitarist Ricardo Silveira, with light percussion-bass backup... The relatively sparse, low-key production i a real plus as far as I'm concerned -- the simpler, the better, and with the exception of a few tunes, Silveira keeps it pretty simple on here. Several guest appearances as well: Joao Donato adds some lovely, understated piano on "O Sol Na Janela," cellist Jaques Morelenbaum plays on "Moonlight In Rangiroa" and Maria Rita sings on "A Medida Do Meu Coracao." It's the trio work, with bassist Andres Rodrigues and drummer Renato Massa, that really stands out, though, and best highlights Silveira's strengths as a melodic composer. Folks who dig mellow, relaxing "smooth jazz" will definitely want to check this out... it's a very strong record for the style!
Ricardo Silveira & Roberto Taufic "Atlanticos" (Adventure Music, 2013)


Super-mellow acoustic guitar duets... A little too noodly for me, and not particularly "Brazilian," but very easy on the ears.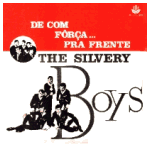 The Silvery Boys "De Com Forca... Pra Frente" (RGE, 1967) (LP)


I first saw this band listed as part of a series of cheapo "samba-rock" collections -- a style that I like, but those particular comps were so cheesy-looking I just couldn't bring myself to pick them up. So I can't tell you (yet) it the Silvery Boys' samba-rock bona fides are based on these 'Sixties tracks, or on later, funkier stuff. Regardless, these guys had dynamism and a solid groove... You can certainly hear the seeds of any future funkiness in these frat-rockish Summer of Love recordings, which rely on a bouncy backbeat and lots of horn riffs and organ fills. For the Brazilian jovem guarda scene, this was pretty tight, although admittedly still a little goofy. Definitely worth a spin.


<! FERNANDO SOARES (GUITARR) PAULINHO (PISTOM) PAULO CÉSAR (BAIXO) SÉRGIO (BATERIA) JOSÉ CARLOS (TROMBONE) It does look as if MPB/jazz saxophonist Ze Carlos was in the band (true? anyone know?) >

The Silvery Boys "The Silvery Boys" (RGE, 1968) <! date? >



<! Rare LP, includes the super clubby 'Voce balanca meu coracao' >


Silvinha - see artist discography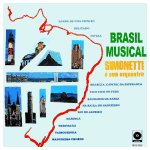 Simonetti & Orquestra RGE "Brasil Musical" (RGE, 1960) (LP)


Posh, tony, over-the-top orchestral dance versions of old samba-cancao classics, with sort of an overwrought MGM musical vibe, courtesy of Italian expatriate bandleader Enrico Simonetti, who ran the RGE house band for a few years in the late '50s/early '60s... There are traditional instruments mixed in -- a snippet of cavaquinho, etc. -- but mostly it's big brass and strings. Best on the uptempo tunes, such as Ary Barroso's "Rio De Janeiro"; the slow songs are kinda sappy. Too corny for me, with little of the big bandish tones of the gafieria orchestras of the same era. But if you're into "lounge music," this might be kinda fun. I did enjoy the buoyancy of "Brasilia A Capital Da Esperanca," a Mancini-flavored tune that's one of the highlight tracks. There's also a super-kitschy gem that starts the album off, "Fantasia Brasilia," a propagandistic marching song sung in praise of the fabled futuristic capital city, Brasilia. Now there's a great song!
Simonetti & Orquestra RGE "Brasil A Jato" (EP) (RGE, 1960)







Simonetti & Sua Orquestra "Dance Com Simonetti" (RGE, 1961)



<! Born in Italy, came to Brazil in 1949 >

Simonetti & Orquestra RGE "Samba 990" (RGE/Fermata, 1962)





Enrico Simonetti & His Orquestra "Bravissimo" (20th Century Fox)






Wilson Simonal - see artist discography




Wilson Simoninha "Volume 2" (Trama, 2000)


Wilson Simoninha "Sambaland Club" (Trama, 2002)



One of Wilson Simonal's two musicimaking sons (the other being Max De Castro), Simoninha travels the same roads as his dad, with a diverse mix of danceable soul, disco-y cabaret funk, slower pop tunes and the like. It's a lot like a Portuguese-language of Earth Wind & Fire... Simoninha has a nice voice (reminiscent of his dad, but with more fluid phrasing) but the music doesn't do much for me. Folks who are more into mainstream, modern R&B and soul might like this, though -- it's certainly worth checking out if you are on the clubby tip. Highights include a moody cover of his father's song, "Tributo A Martin Luther King" and a ten-minute long spoken word interview with Miele, about the good old days in the Brazilian nightclub scene. Seu Jorge guests on the bouncy, horn-based opening track, "Seja Bem Vindo."

Wilson Simoninha "Introducing Wilson Simoninha: Live Session At Trama Studios" (Trama, 2003)



A retrospective set that includes re-recordings of work from various albums, and some new material as well. Guest artist Cesar Camargo Mariano plays keyboards on an amped-up version of "Tributo A Martin Luther King" and Simoninha's band, S de Samba, chugs away on a lively set of funk-soul-samba tunes. Simoninha's fusion side comes out a bit more here, as well as a slinky debt to Jorge Ben Jor, and a hint of Joao Bosco, in his mellower moments. Still not anything I'd want to listen to for fun, but I can see where others might really dig it.
Wilson Simoninha "Melhor" (2008)

Simone - see artist discography

Sinho/Various Artists "Volume 1: O Pe De Anjo" (Revivendo, 1998)


The first of several extraordinary volumes collecting the recorded work of one of the earliest samba cancao composers, Jose Barbosa de Silva, best known by the nom de plume Sinho. These are rather antique recordings, dating from 1920-1930, and include some of the earliest work by legendary singers such as Francisco Alves and Carmen Miranda. It's musically antique as well, with numerous songs that are built on the rickety hulls of old waltzes, and German oompah rhythms. But it grows on you... oh my, how it grows on you!
Sinho "Alivia Estes Olhos" (Revivendo, 1998)

Sinho "Fala Meu Louro" (Revivendo, 1998)

Roberto Sion & Nelson Ayres "E A Musica De..." (Eldorado, 1977) (LP)





<! S/D but catalog # is 77.83.0421 (1979?) Jobim, Nascimento, Buarque, Caymmi E Venturini, Vadico >

Roberto Sion "Happy Hour" (Eldorado, 1986)

Roberto Sion "Sion & Companhia" (2007)


With Rogerio Boccato, Fernando Correa, and Alberto Lucca...


<! ROBERTO SION http://musicosdobrasil.com.br/roberto-sion http://www.burnbrigade.nl/robertosion.html >

Sirlan "Profissao De Fe" (Continental, 1979) (LP)





<! 1979 brazil lp, guests: toninho horta [guitar], helvius vilela [piano], robertinho silva [drums], wagner tiso [piano], mauricio einhorn [harmonica], mpb4 and more... O mineiro Antonio de Jesus, o Sirlan, surgiu no Festival da Canćčo de 1972, com a música Viva Zapátria", gravada pelo MPB 4 no disco "Cicatrizes". Um trocadilho com o filme Viva Zapata, a história do líder guerrilheiro mexicano Emiliano Zapata. Ele tentou gravar um disco, foi contratado por uma grande gravadora, mas teve todas as músicas censuradas. 'O Sirlan era o caso mais absurdo de censura. Inviabilizaram, acabaram com a carreira dele. Era impossível um compositor levar cinco anos para conseguir aprovar dez músicas e gravar um disco', lembra Fernando Brant. Uma década se passou para que ele finalmente conseguisse gravar pela Continental este disco, que realmente foi de fé. Sirlan desistiu de enfrentar a censura e passou a compor jingles. Acho que ele ainda continua na publicidade e propaganda. Toque este aí... 1-Profissčo de Fé (Sirlan-Fernando Brant) 2-Povo da Monstanha (Sirlan - Fernando Brant) 3-Se vocź quiser chorar (sirlan-Humberto Carreiro) 4-Vivazapátria (Sirlan-Murilo Antunes) 5-Lumiar (Sirlan-Murilo Antunes) 6-Bom de Sela (Sirlan-Fernando Brant) 7-Bela Criatura (Sirlan-Murilo Antunes) 8-Nove Anos (Sirlan-Fernando Brant) 9-Viagem ąs Origens (Sirlan Fernando Brant) 10-Bailarina (Sirlan - Murilo Antunes) 11-De viver (Sirlan) >


Sivuca - see artist discography




---
Brazilian Music - More Letter "S"
---



Main Brazil Index
World Music Index

---