<! Thelma Soares "...Interpreta Nelson Cavaquinho" (xxxxxxxx, 1966) > <! MP3 01/24/10, 11/14/12 > <! pix 11/01/09, 11/14/12 > <! ALLBM 00/00/00 > <! icons 02/16/11, 11/14/12 > <! UPDATES: 11/14/12 - added links to Skank, Claudette Soares, Guga Stroeter, So Pra Contrariar, Som Imaginario >
---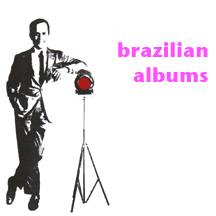 This is Page 5 of a listing of miscellaneous albums and artists under the letter "S"
If an artist or album you like is not reviewed here, please feel free
to contact me and make a suggestion.
---
A | B | C | D | E | F | G | H | I | J | K | L | M | N | O | P | Q | R | S-1 / 2 / 3 / 4 / 5 | T | U | V | W | X | Y | Z | Compilations
Brazilian Styles | 30 Recommended Records | Portuguese-language pop | Brazilian Links | Slipcue.Com
---
Skank - see artist discography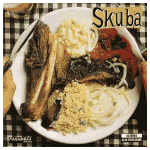 Skuba "Churraskada" (Paradoxx, 1997)
(Produced by Sergio Soffiatti)
Solid modern ska from a cheerful young band from Parana... If you like modern ska, and would like to hear some sung in Portuguese (and occasionally in English...) this is a fine album for you to check out.
Skuba "A Moda Antiga" (1998)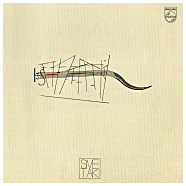 Anton Walter Smetak "Smetak" (Philips, 1974) (LP)


(Produced by Roberto Santana & Caetano Veloso)
Purposefully inaccessible, irritating, artsy improv/electronic noodlings that derive from the post-John Cage school of difficult listening. Apparently some high-powered musicians took part in these sessions, including Gilberto Gil and Djalma Correa, but the album is inherently aimless and unengaging, at least from my point of view. Smetak's producer and patron, Caetano Veloso, made a similar (but stronger) album a couple of years earlier, called Araca Azul, and while this project shows his continuing interest in experimental music, you're better off checking out Caetano's own work. For diehards only.


<! Continuando en la línea experimental de Araćá Azul, Caetano produjo junto con Roberto Santana el primer disco de Anton Walter Smetak (1913-1984), músico nacido en Zurich, Suiza, que llegó a Brasil en 1937 y se estableció en Bahia en 1957. En las improvisaciones participaron varios músicos: Gilberto Gil, Tuzé de Abreu, Gereba, Djalma Corrźa y en el diseĖo de tapa el artista gráfico Rogério Duarte. REISSUED ON CD > <! Anton Walter Smetak - 1974 album produced by Caetano Veloso http://caetanoendetalle.blogspot.com/2011_11_01_archive.html >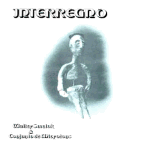 Anton Walter Smetak & Conjunto De Microtons "Interregno" (FCEBA, 1980) <! date? >


Another wanky difficult-listening extravaganza, taxing although better, I would say, than the Smetak album reviewed above. A more pronounced electronic component, for one thing. But still not my cup of tea.

Smokey & Miho "Smokey & Miho" (Afro-Sambas, 2002)


Smokey & Miho "Tempo De Amor" (Afro-Sambas, 2002)


The smooth, versatile rock guitarist Smokey Hormel (known for his work with Tom Waits, Beck, and others) and vocalist Miho Hatori (of Cibo Matto fame) teamed up out of their mutual appreciation for Baden Powell and Vinicius De Moraes' 1966 album, Os Afro Sambas, a bossa classic that remains mysteriously hard to find, even in this golden age of collector reissues. The Smokey & Miho band formed in 2001 to recreate the entire album in a series of live performances; their first 5-song EP, Smokey & Miho, built on the mellow, lounge-y bossa vibe (but was mostly made up of original Hatori-Hormel material, along with a cover of an obscure Angolan pop song by Euclides F. Pereira). On their follow-up EP, they stick to the old stuff, covering four songs off the original Afro Sambas album, as well as a fifth vintage Powell/De Moraes composition, "Consolacao." The entire Tempo De Amor EP is a delight -- Hatori's vocals recapture the feel of the original harmonies by the all-female Quarteto Em Cy, while Hormel's fluid guitar work is able to build apon Powell's haunting music, bringing a new modern warmth to the spooky source material. Fans of classic Brazilian bossa nova should love this affectionate homage. Highly recommended!


<! 130 x 130 >
Smokey & Miho "The Two EPs" (Afro-Sambas, 2003)



Both EPs, Smokey & Miho and Tempo De Amor, gathered together on one standard CD. Groovy!
Carolina Soares "Musicas De Capoeira" (Paradoxx, 2003)

Carolina Soares "Os 15 Maiores Sucessos Na Capoeira" (HPI, 2008) <! also CD-R reissue? >


Claudette Soares - see artist discography
Elza Soares - see artist discography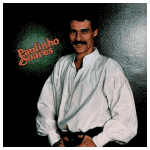 Paulinho Soares "Paulinho Soares" (Continental, 1978) (LP)


Despite kicking off with a goofy, disco-tinged samba-rock novelty song ("O Patrao Mandou") this quickly settles into a steady flow of classic, classy '70s-style MPB... Indeed, Soares sounds like a dead ringer for Chico Buarque, both vocally and stylistically. And that ain't a bad thing. Definitely worth a whirl!


<! Thelma Soares "...Interpreta Nelson Cavaquinho" (xxxxxxxx, 1966) >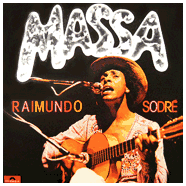 Raimundo Sodre "A Massa" (Polygram, 1980) (LP)


The debut album by this Bahian samba-pop singer, whose first single, "A Massa," was a big hit after being featured in a nationwide MPB festival. That success led to three major-label albums, but Sodre's career was sidelined (some say due to political pressure when he fell afoul of a member of the then-powerful military junta...) and he spent several years abroad before returing to Bahia. Sodre's work mixes dynamic pop styles with Afro-Brazilian rhythms taken from traditional samba de roda (samba circles) and the candomble ceremonies he grew up with... It's pretty cool stuff! (By the way, anyone have a copy of these Polydor albums, or know how I can track them down? I'd love to check them out.)


<! 1979?? Arranged by Raimundo Sodré Raimundo Sodré - acoustic guitar, 12 strings viola, zabumba, vocal Luizčo Maia - electric bass Luiz Alves - acoustic bass Mamčo (Ivan Conti) - drums Oswaldinho do Acordeon - accordion Elena dos Santos - flutes Djalma Correa - percussion Roberto Mendes - 10 strings viola (5,6,8) >

Raimundo Sodre "Coisa De Nego" (Polygram, 1981) (LP)

Raimundo Sodre "Beijo Moreno" (Polygram, 1983) (LP)

Raimundo Sodre "Real" (Tropical Music, 1994)



Raimundo Sodre "Dengo" (Self-Released) (2005)


(Produced by Raimundo Sodre & Andrea Caldas)
A great album, filled with lively, life-affirming, booty-shaking, acoustic-based rhythms... The most obvious comparison is to Gilberto Gil's best work from the mid-1970s, but even with the strong similarities, Sodre is very much is own man, and gives a special, unique twist to each of these songs. He really digs deep into the groove, and knows how to glide along the top, dancing with his voice and exploring with his guitar. There's not a bad or boring track on here: if you get this record, you'll love it. (This album is hard to find, but try the Bahia-Online website, which links to the Cana Brava record store, in Salvador... they may be able to hook you up.)
Pedro Sol "Saudade De Laguna" (Revivendo, 2002)


Modern recordings from the Revivendo label? Well, sure, when they're from the nephew of crooner Billy Blanco...! Haven't heard this one yet, but I am curious.




Sombrinha "Sombrinha" (RGE, 1992)



<! see also: Arlindo Cruz >

Sombrinha "Roda De Samba Com Sombrinha" (2006)

Som Imaginario - see artist discography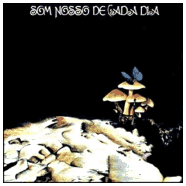 Som Nosso De Cada Dia "SNEGS" (Continental, 1974) (LP)


(Produced by Julio Nagib & Peninha Schmidt)
The debut album by one of the best Brazilian rock (and funk) bands of the 1970s... Legendary, and -- naturally -- out of print for years. Part of the band came from the remnants of the popular psychedelic/jovem guarda group, Os Incriveis... This is the only album with the band's co-founder, keyboardist/multi-instrumentalist Manito, of Os Incriveis... Haven't heard it yet, but I'm looking forward to the day when it gets reissued, so I can check it out...

Som Nosso De Cada Dia "A Procura Da Essencia: Ao Vivo 1975-1976" (Editio Princeps, 2004)


(Produced by Marcelo Spindola Bacha)
A 2-CD set of live recordings by Som Nosso De Cada Dia, one of the best and most forceful Brazilian prog-rock bands. Moogs and guitars aplenty ride atop a driving, at times brutal, beat... While contemporaries such as Os Mutantes and O Terco slid into a more pop-oriented sound, Som Nosso were far more hard-edged, keeping pace with genre founders such as Return To Forever and Chick Corea, although with an experimental bent that also suggests the work of Can and the krautrock scene, as well as some boogie rock and old-school, Sabbath-y heavy metal. This challenging collection, culled from archival tapes kept by guitarist Egidio Conde, is packed with leviathan jams, ten minutes or longer and a rough-and-rugged feel that's really quite different that practically anything else coming out of Brazil at the time. Not what I'd put on for casual listening, but of immense historical value. (For more information, check out the Editio Princeps website...) (Note: Egidio Conde was formerly in the band Moto Perpetuo...)

Som Nosso De Cada Dia "Som Nosso" (Columbia, 1977)



(Produced by Tony Bizarro)
One of the best, most challenging, most satisfying of the classic Brazilian soul/funk albums... But that's only half the story! Apparently this album is a patchwork effort, made up of an earlier album (Amazonia) that was shelved by their old label, and new material (the funk stuff) that CBS thought would be more salable... After laying down some groovy, innovative, multi-textured funk, the Som Nosso band shift gears on the second side of the album and get into some spacy, noodly, occasionally shrill prog-rock... Like their funk music, though, the prog material is rather accomplished, and stands up quite well next to the krautrock or what-have-you that was going on elsewhere at the time. Only one track is outright irritating: "Agua Limpa" gets a little longwinded and facile, sounding less like Can and more like Yes or Emerson, Lake & Palmer... Otherwise, this disc is a real find for '70s-aholic music geeks. Definitely worth tracking down!
Som Nosso De Cada Dia "Ao Vivo No Aquarius" (Museo Do Disco, 20111976)


A live album, recorded in 1976 at the Teatro Aquarius, this went unreleased until 2011...


<! - Pedrčo Baldanza - Bass & Voice - Pedrinho Batera - Drums & Voice - Rangel - Percussion & Voice - Edydio Conde* - Electric Guitar & Effects - Dino Vicente - Teclados > <! SOM TRES >

Sonantes "Sonantes" (Six Degrees, 2008)



A Brazilian pop/electronica album unlike any you've heard before, infused with the slinky, cross-cultural feel of international soundtrack music, tinged with rock, funk, blues and dub. Vocalist CeU resurfaces in the company of numerous pop innovators from Sao Paulo, notably members of Nacao Zumbi, Rica Amabis of the band Instituto and several guest performers such as Mestre Ambrosio's Siba, and electronic-popster Apollo Nove. CeU shines throughout, but particularly while riding atop the buoyant, ecstatic "Quilombo Te Espera," a song that leaps out at listeners midway through the album, and pulls them in with its radiant cheerfulness. Other standout tracks include the surf-flavored instrumental, "Looks Like To Kill," and "Defenestrando," a sly, slinky jazz-funk workout with a slithering guitar line worthy of the Talking Heads in their art-funk heyday. On "Miopia," CeU shares the limelight with Mestre Ambrosio's Siba, who contributes haunting vocals that evoke the arid feel of Brazil's northeastern provinces. The album darkens towards the end, particularly on the spooky, ethereal "Itapeva," but closes on a sleek, blith bit of retro-tropical pop, "Frevo De Saudade," which nonetheless has a kooky rhythmic undercurrent that again shows the skillful eclelcticism of this surprising ensemble. Highly recommended!
So Pra Contrariar - see artist discography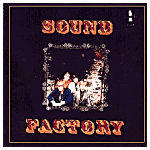 Sound Factory "Sound Factory" (Castelinho, 1970)


(Produced by Raimundo Bittencourt)
An intensely irritating psychedelic/hard rock band which, despite dripping with hippie-era authenticity, is pretty hard to listen to, lo, these decades later. The band included a couple of North Americans, but was mostly the baby of singers Antonio Ricardo Canizio Sampaio (who played bass) and drummer Trajano Luis Lemos Junior, both of whom lamentably chose to sing in English, a decision that only underscored their whiniest vocal qualities. I suppose, even with the piercing guitars and thudding drums, that I might have enjoyed this better if they had covered the work of Traffic, Cream, Blind Faith and Jefferson Airplane (along with a few others) in Portuguese -- that might have added a layer of mystery to the recordings... But as it is, this album radiates the band's huge enthusiasm for English and American rock (and their good taste, given the era this was made) but also throws into sharp relief their musical limitations. This is considered a landmark in Brazilian rock, but I found it pretty rough going. More notably, perhaps, are two original songs written by guitarist Kevin Valentine Peter Brennan, "Restless Time" and the dynamic "Let's Go," which is perhaps the best performance on here.
Luciana Souza "An Answer To Your Silence" (NYC Music, 1999)



Luciana Souza "The Poems Of Elizabeth Bishop And Other Songs" (Sunnyside, 2000)



Singing in English, Brazilian-born vocalist Luciana Souza leads this jazz-soaked tribute to American poet Elizabeth Bishop, who lived as an expatriate in Brazil for nearly two decades in the 1950s and '60s, and was a figure of considerable controversy in Brazilian literary circles. On some of these tracks, Souza's amorphous, scatting approach may obscure the lyrics, although on other songs, particularly the slower ballads, Bishop's verses lend themselves admirably to musical interpretation. In addition to the adapted poems, this disc also features several straight jazz instrumentals, generally of a free-form, exploratory nature. An interesting project, and one which may help draw new attention to this contemplative, notoriously unprolific, and somewhat tragic writer.

Luciana Souza "Brazilian Duets" (Sunnyside, 2001)



A beautiful acoustic album which draws songs from sources as varied as Luiz Gonzaga, Edu Lobo, Dorival Caymmi and Jacob do Bandolim, a fine mix of jazz and traditional Brazilian sensibilities. The duets are between Paulista singer Luciana Souza and the guitars of Romero Lubambo, Marco Pereira and Souza's father, composer Walter Santos. Souza is a striking vocalist whose clarity of tone brings to mind Joyce and Clara Nunes, although with a clarity of purpose that makes this album all her own. Each guitarist in his turn proves a sympathetic foil to Ms. Souza's honied voice... A lovely, wonderfully controlled and expressive setof songs -- highly recommended! Visit her website for more information.
Luciana Souza "North And South" (Sunnyside, 2003)


Luciana Souza "Neruda" (Sunnyside, 2004)


Luciana Souza "Duos II" (Sunnyside, 2005)



Spectrum "Geracao Bendita" (Todamerica, 1971)


(Produced by A. Schneider & Luiz Carlos)
If nothing else, this psychedelic relic has a very colorful back story... The group Spectrum were one of many bands drawn into the orbit of Brazil's coastal hippie colony Nova Friburgia, Rio's version of the Dutch alternative lifestyle enclave of Christiania. What distinguished Spectrum was that they were chosen to provide the soundtrack to Carlos Bini's documentary film, Geracao Bendita, which captured the chaotic idealism of the experimental commune. The music itself is pretty good, with loudly aggressive acid rock guitars, more in line with the hard rock and proto-metal of Iron Butterfly and Led Zeppelin than with the Beatles-y tendencies of the MPB-bound tropicalistas. At any rate, this disc is worth tracking down, as very few Brazilian bands hit such heavy, fuzzed-out psychedelic heights. Fans of Os Mutantes, etc., will definitely want to check this out.


<! reissued on http://www.normal-records.com Shadoks/Normal >

Michael Spiro & Mark Lamson "Bata Ketu" (Bembe, 1996)



A skillful, melodic intertwining of Afro-Cuban and Afro-Brazilian Yoruba percussion, featuring guest vocals by Bobi Cespedes, of the Bay Area ensemble, Conjunto Cespedes. The project is slanted towards the Cuban side, but the group introduces Brazilian elements (berimbau, proto-samba percussive meters) with such subtlety that it is often surprising to realize that the transition or synthesis has been made. I am not usually that into percussion-based albums, but this one is a real treat. Recommended!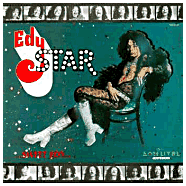 Edy Star "Sweet Edy" (Som Livre, 1974)


Brazilian glam... to the umpteenth degree! Edivaldo Souza, aka Edy Star, was a Bahian actor and dancer who starred in the first Brazilian stage production of "The Rocky Horror Picture Show" and was a participant in the group of crazies who made Raul Seixas's fabled first album, Sociedade Da Gra-Ordem Kavernista Apresenta Sessao Das 10, the one that got Seixas fired from his day job at CBS records. Anyway, Edy Star was a Bowie-esque persona adopted in the early '70s both for this album, and for subsequent work onstage. (Reissued on Tratore records.)


<! 01 - Claustrofobia (Roberto Carlos - Erasmo Carlos) 02 - Edith Cooper (Gilberto Gil) 03 - O conteúdo (Caetano Veloso) 04 - Superestrela (Leno) 05 - Esses moćos [Pobres moćos] (Lupicínio Rodrigues) 06 - Boogie woogie do rato (Denis Brean) 07 - Sweet Edy (Renato Piau - Sergio Natureza) 08 - Briguei com ela (Edy Star) 09 - Olhos de raposa (Jorge Mautner) 10 - Coraćčo embalsamado (Getúlio Cortes) 11 - Para o que der na telha (Moraes Moreira - Galvčo) 12 - Bem entendido (Renato Piau - Sergio Natureza) 13 - Eu sou Edy Star (Edy Star) > <! 11/12: ASIN not good >


Guga Stroeter - see artist discography




Rodolfo Stroeter "Mundo" (Continental) (LP)

Rodolfo Stroeter/Diego Figueiredo/Robertinho Silva "Dadaio" (Stunt Records, 2009)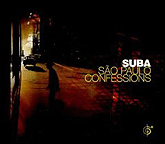 Suba "Sao Paulo Confessions" (Ziriguiboom/Six Degrees, 2000)



Soft-soul electronica with wispy female vox. The mixer, Yugoslavian expatriate Mikar Subotic (aka Suba), died in an apartment fire in Brazil during the winter of '99, and this album is his recorded legacy. One wonders though, comparing the strength of the first few tracks with the album's somewhat formless second half, if all these tracks got all the attention they deserved before his untimely death. On the best vocal cuts, this seems like a logical '90s extension of the old Astrud Gilberto sound, with silken, synthetic sound beds in place of sax and strings. The instrumental numbers, on the other hand, tend to be a bit flat, as does a version of "A Felicidade" which somehow manages to denude the Jobim standard of its melody. Art rocker Arnaldo Antunes pitches in on one track, with his patented Beat Happening-croaky voice. Trip-hoppers may go for this more than I did, though I do think there are some lovely moments to be heard here.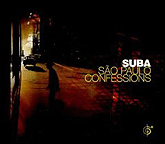 Suba "Felicidade Remixes (EP)" (Ziriguiboom/Six Degrees, 2000)



Remixes. Of "Felicidade."
Suba/Various Artists "Tributo" (Ziriguiboom/Six Degrees, 2002)


Super Som T. A. "T.A." (RGE-Premier, 1974) (LP)

Super Som T. A. "Danca Que Eu Quero Ver" (RGE-Premier, 1991) (LP)


The Supersonics "Serie Bis" (EMI, 1999)


A fun, dumb 2-CD set devoted to The Supersonics, a jovem guarda instrumental/covers band, which apparently was really The Fevers playing incognito... Plenty of standards, both from the American/British rock scene, and the Brazilian ie ie ie canon... They sing sometimes, too, and that's where some of the biggest missed moments come -- for example, a cover of "Dizzy" sung in English (and not in Portuguese! d'oh!) Still, if you've been bitten by the JG bug, you'll want to check this out.


<! Although they start out with great promise - energetically covering Beatles tunes galore, along with "Wooly Bully" and the inevitable JG version of "Road Hog", the Supersonics overstayed their welcome in the late '60s, with endless elevator music instrumentals. The second CD in this double disc set is just plain muzak, and pretty forgettable. >

Joao Supplicy "Musiqueiro" (ST2, 1999)


Good-natured, tropicalia-tinged rock'n'reggae from Sao Paulo... There's a wide range of styles on here, from bouncy alt-pop and ska to funky spy-jazz retro (particularly on "Vozes," one of the album's highlights...) This gets a little goofy in places, but mostly it's pretty solid, with nice, dubby production. If you want to sample some of the new indie-oriented rock coming out of Brazil, this record is worth checking out.
Joao Supplicy "Cafezinho" (Tratore, 2004)


Joao Supplicy "Caseiro" (Tratore, 2005)


Joao Supplicy "Elvis In Bossa: Love Me Tender" (Universal, 2006)


Supula "Bossa Furiosa" (ST2, 2003)

Tia Surica "Surica" (Rob Digital, 2004)


(Produced by Paulo Sete Cordas)
An elder of the Portela samba school, Iranette Ferreira Barcellos (aka Tia Surica) has been singing in Carnaval shows since the 1940s; this is the latest of her solo works, in a recording career that stretches back to the '50s.


<! Debut album by one of Portela's major samba singers, produced by Paulao Sete Cordas. 14 tracks. > <! Having dedicated her whole life to the Portela samba school, Tia Surica, pastora of the Velha Guarda da Portela, continues to commemorate the tradition of her school by regularly promoting a roda de samba (samba get-together) where the biggest artists of the genre celebrate this music. Along with her solo discography, Tia Surica also has recorded as a special guest of Marisa Monte, Zeca Pagodinho, Zélia Ducan, Alcione, Beth Carvalho, and Paulinho da Viola. Born to a family deeply involved with Portela, Iranette Ferreira Barcellos, later known as Tia Surica, paraded for the first time in the children's wing of the baianas in 1944, at age four. In 1957, she recorded the LP A Vitoriosa Escola de Samba da Portela. In the Carnaval of 1966, Surica was the puxadora (the official interpreter of the samba-enredo chosen by the samba school for the annual parade) of the Portela, singing the only samba-enredo written by Paulinho da Viola for Portela, "Memórias de um Sargento de Milícias." Since 1980, Tia Surica is a pastora of the Velha Guarda da Portela and recorded "Velha Guarda da Portela/Grandes Sambistas" in 1986 (reissued on CD as Doce Recordaćčo). She also was praised for her subsequent works Homenagem a Paulo da Portela (1988) and Tudo Azul (produced by Marisa Monte in 1999). ~ Alvaro Neder, All Music Guide >

Sururu E Tal "Situacao" (2007)


Not sure, but I think this is a Brazilian reggae album...


<! GIF available, shows reggae colors, lion >

Sururu Na Roda "Sururu Na Roda" (Rob Digital, 2004)






<! VERY nice. >

Sururu Na Roda "Arco Da Velha" (Futura, 2005)

Sururu Na Roda "Que Samba Bom -- Ao Vivo" (Universal, 2008)


Clara Sverner & Paulo Moura "Interpretam Pixinguinha" (CBS, 1988)


Wow! A beautiful, very striking set of piano-clarinet duets which slyly interweaves Pixinguinha oldies with North American Tin Pan Alley standards. Clara Sverner has a brisk, decisive, Gershwinesque flair, and she and Moura are clearly very much in synch. Delightfully playful, lively takes on these old, familiar themes. Certainly one of the most enjoyable choro albums I've ever heard, neither saccharine nor severe. Highly recommended.
Clara Sverner "Mitos & Musicas" (1996)

Clara Sverner "Alma Brasileira" (Sony Classics, 1999)



Sverner plays the music of Heitor Villa-Lobos...

Clara Sverner "Chiquinha Gonzaga Por Clara Sverner" (Ergo/Abril, 1999)


Classical pianist Clara Sverner, who has explored the work of Pixinguinha in a series of collaborations with Paulo Moura, here turns her hand towards the work of another legendary, foundational figure in the evolution of Brazilian popular music. In her day, composer Chiquinha Gonzaga fused indigenous themes with the dominant European forms -- the waltz, the polka, etc. -- helping to create the modern styles that Brazilian pop is built apon: the samba, the maxixe and choro. These tunes were originally composed between 1877-1902, a time when Brazilian music was undergoing tremendous subterranean shifts, yet before the advent of the record industry. Sverner's interpretations are beautiful, though a bit prim; you may be reminded of Max Morath's famous renditions of Scott Joplin's ragtime ouvre... I liked this album, although I felt it tilted more towards the classical end of the spectrum... You might also like to check out the magnificent Gonzaga retrospective that the Revivendo label put out a few years ago...
---
Brazilian Music - Letter "T"
---



Main Brazil Index
World Music Index

---