<! MP3 09/26/08 > <! update 09/26/08; 10/06/10 - broke off V-1 & V-2 > <! pix 11/25/09 > <! ALLBM 09/26/08 > <! icons 04/09/12 >
---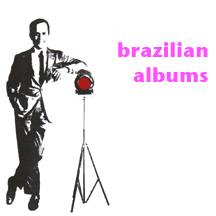 This is the second page of miscellaneous albums and artists under the letter "V"
If an artist or album you like is not reviewed here, please feel free
to contact me and make a suggestion.
---
A | B | C | D | E | F | G | H | I | J | K | L | M | N | O | P | Q | R | S | T | U | V-1 | V-2 | W | X | Y | Z | Compilations
Brazilian Styles | 30 Recommended Records | Portuguese-language pop | Brazilian Links | Slipcue.Com
---

Veiga & Salazar "Original" (ST2/Trama, 2000)


Poppy, bouncy hip-hop from Sao Paulo, featuring sharp turntabulism, decent beats and live, funky saxophone. These guys have flow, although I admit I found my attention wandering midway through the album... Andres Salazar's sax work is a little weak in places; not bad, just not as soulful as it might have been, although his Spanish-language rapping easily matches Gustavo Veiga's Portuguese tounge-twisting toasting talents. Keep in mind, these kids are pretty young, and this is a pretty strong debut. Worth checking out if you're into the whole global hip-hop trip.
Veiga & Salazar "Os Bridoes De Ouro" (Atracao, 2003)

Veiga & Salazar "Ontem Ja Era" (ST2/Trama, 2004)

Veiga & Salazar "Original" (2007)

Edith Veiga "Faz-Me Rir" (Revivendo, 2004)


Jorge Veiga "O Caricaturista Do Samba" (RCA/BMG, 1971)


Old-school samba with a topical/comical bent. Although this was recorded at the height of the tropicalia era, the style is a throwback to the perky samba-cancao of 1930s stars such as Cyro Monteiro and Moreira da Silva. Nice stuff, although not dazzlingly unique. Includes the '60s anthem, "Brigite Bardot," written in honor of the great French sex symbol.
Jorge Veiga "Serie Raizes Do Samba" (EMI, 1999)

Jorge Veiga "O Melhor De Jorge Veiga" (Movieplay, 2005)





<! 1. Acertei No Milhar 2. Conversa de Botequim 3. Perdeu-Se uma Valise 4. Baile de Choro 5. Aguentando O Velho Galho 6. Baile Da Piedade 7. Noivada Gafieira 8. Nega Zura 9. Pernambuco Voce E Meu 10. Mulher Malandra 11. Quem Sou Eu 12. Garota de Copacabana >

Luiz Vieira "Retalhos Do Nordeste" (Copacabana, 1958)



<! pic > <! O acompanhamento, no lado A, (faixas de 01 a 05), com Conjunto regional e no lado B (faixas de 06 a 10) com Orquestra sob a direćčo de Moacir Santos. 01. Meus canarin (Luiz Vieira / Timóteo Martins) 02. Na asa do vento (Luiz Vieira / Jočo do Vale) 03. O coco é meu (Luiz Vieira) 04. Maria Filó (O Danado do Trem) (Luiz Vieira / Jočo do Vale) 05. Embolada mudou (Luiz Vieira) 06. Menino de Braćanč (Luiz Vieira / Arnaldo Passos) 07. O vaqueiro (Luiz Vieira) Participaćčo: Trio Guaraní 08. Os olhinhos do menino (Luiz Vieira) 09. Cantiga da lembranća (Luiz Vieira / Epaminonas Souza) 10. Bicha coirčna (Luiz Vieira) >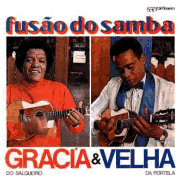 Velha Da Portela & Gracia Do Salgueiro "Fusao Do Samba" (Tamborim, 1975) (LP)


A groovy set of '70s samba from two bandolim players from different samba schools -- Portela and Salueiro -- on the same album, thought not, as far as I can tell, playing together. While the "fusion" of the album title doesn't refer to the two musicians collaborating with each other, the musical end is pretty cool, mixing standard early '70s samba raiz with some unusual non-samba touches: Gracia swings along with some fun string arrangements, while Velha Da Portela's tracks often include horns that would sound more at home on Mexican mariachi records -- an interesting choice for a samba set! This is pretty fun, definitely worth a spin!

Velha Guarda Da Portela "Homanagem Ao Paulo Da Portela" (Nikita Music, 1989/2000)


(Produced by Katsunori Tanaka & Henrique Cazes)
The old-timers of the Portela samba school, circa 1989, band together for a tribute to songwriter Paulo Benjamin De Oliveira, who was one of the key samba cancao composers of the 1920s and '30s. This set is pleasant enough, though perhaps a bit perfunctory -- cavaquinho, percussion, a buoyant vocal chorus, all the hallmarks of the acoustic samba style, though performed with a little less magic and mystery than, say, the Tudo Azul album, listed below. It's still pretty swell, though: Monarco, Argemiro and Henrique Cazes are among the musicians featured here.

Velha Guarda Da Portela "Tudo Azul" (Phonomotor, 2000)


An absolutely gorgeous acoustic samba album. Relaxed, lyrical, affectionate takes on old samba cancao themes, featuring various members of the Portela samba school, including several influental old-timers. This disc was bankrolled by Marisa Monte, whose dad was an escola member in the '60s and who is now one of the escola's younger members... A beautiful album, frequently and deservedly compared to the Cuban Buena Vista Social Club... HIGHLY recommended!


<! B00160ZFN0 same album? >

Os Velhinhos Transviados "Na Brasa Viva" (RCA Victor, 1966)
Instrumental pop from a studio band that was apparently led by legendary session guitarist Ze Menezes... Most of these tracks are lively but undistinctive covers of non-Brazilian rock and pop hits, stuff like "What's New Pussycat" and "A Taste Of Honey," as well as contemporary hits by the Beatles and the Stones. There are a few Brazilian-minted songs as well, but rather than the band giving the Northern rock songs a Brazilian twist, they instead compacted the Brazilian songs into a kitschy American-style template. Apparently the band's name translates to something roughly like "the old weirdos," though, sadly, they aren't really all that weird on this particular album.




Os Velhinhos Transviados "Na Paquera" (RCA Victor, 1967)



<! w/ pic > <! with Chiquinho do Acordeon? Os Velhinhos Transviados "Dance Com Os Velhinhos Transviados" (RCA Victor, 1968) (LP) - CALB 5151 Os Velhinhos Transviados "Barbaros!" (RCA Victor, xxxxxxx) (LP) - BBL 1279 Os Velhinhos Transviados "Em Orbita" (RCA Victor, xxxxxxxx) (LP) - BSP/BBL 1343 Os Velhinhos Transviados "Embalados" (RCA Victor, xxxxxxx) (LP) - BBL 1319 Os Velhinhos Transviados "Tropicalissimos!" (RCA Victor, 1968) (LP) - BBL 1442 >


Belo Velloso - see artist discography





Caetano Veloso - see artist discography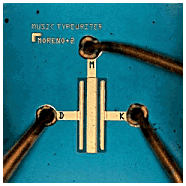 Moreno Veloso +2 "Maquina De Escever/Music Typewriter" (Natasha/Hannibal, 2001)


First things first: Moreno Veloso does bear a striking vocal and stylistic likeness to his father, the patron saint of tropicalia. Playing ping-pong balls and toy pianos on some tracks, Moreno shows a playful, adventurous streak that is also very similar, although the younger Veloso brings a subtle modernism to bear on these recordings, using electronica production with perhaps greater panache than his well-known dad. In this regard he's closer in creative temprament to art-rocker Arto Lindsay than to Caetano, who in the past has let the glitziness of new technology get the better of him. Accompanied on a few tracks by bossa progeny Daniel Jobim, and on others by his pals Kassin and Domenico ("+2"), Moreno casts his net softly, recalling his father's calmest albums from the mid-1970s. With production assist by Chico Neves, one of the most prominent alternative rockers in Brazil, Veloso creates the kind of "world music" that isn't meant to be pumped out of the speakers at the local Starbuck's -- instead, it should be savored slowly at home. (See also: the Plus Two collective.)

Moreno Veloso +2/Various Artists "Maquina De Escever: Musica Remix" (Natasha, 2001)


The original Typewriter album was so perfectly sculpted and richly rewarding, and already incorporated so many of the tonal concepts of modern electronica that a remix album seems on the face of it to be a rather superfluous and dubious venture. Then again, you never know. Well, the first couple of tracks are clearly disappointing -- simplistic, note-by-note, stuttering chop-ups of "Enquanto Isso" and "Sertao," tracks that seems like mere masturbatory technical exercises (at least to my untrained ears...) Yeah, sure, you can do that in a studio, but what's the point? Sometimes song deconstructions can take on a life of their own and offer radical, eye-opening reinterpretations of the original music; I really don't think this was one of those great events. However, on the second half of the disc some subtlety slips in, several later tracks have a honied, sensual appeal to them, and a couple even sound completely unlike the source material. No one needs to frantically rush out and track down this album -- I think the +2ers really said all that needed to be said on the original record, and they said it quite well -- but there are some nice moments and a few pleasant surprises, and those of an ambient-electronic inclination will probably enjoy this disc just fine.

Flavio Venturini "Meus Momentos" (EMI, 1994)


Simply awful, synthesizer-drenched sorta-rock, framing the whiny vocals of former Bis 14 bandeader Flavio Venturini. He may have been a key player in Brazil's early New Wave scene, but this best-of collection did not leave me looking for more of his music... It's similar in some ways to the spacy ramblings of Lo Borges, but with less oddball appeal. It's just plain bad.
Flavio Venturini "Serie Bis" (EMI, 2000)


2-CD set.
Flavio Venturini "The Essential Flavio Venturini" (EMI, 2004)

Flavio Venturini "Para Sempre" (EMI, 2006)

Flavio Venturini "Identidade" (EMI, 2007)






<! these are only best-ofs; many albums are included in CD listings > <! http://pt.wikipedia.org/wiki/Flavio_Venturini Clube da Esquina Clube da Esquina 2 1978 O Terćo 1974 - Criaturas da Noite (Underground/Copacabana) 1975 - Casa Encantada (Underground/Copacabana) 2007 - O Terćo Ao Vivo (Som Livre) 14 Bis 1979 - 14 Bis 1980 - 14 Bis II 1981 - Espelho das Águas 1982 - Além Paraíso 1983 - A Idade da Luz 1985 - A Nave Vai 1987 - Sete 1987 - Ao Vivo Nota: todos os álbuns do 14 Bis ainda com a participaćčo de Flávio Venturini foram lanćados pela EMI-Odeon. Solo 1982 - Nascente (EMI/Odeon) 1984 - O Andarilho (EMI/Odeon) 1990 - Cidade Veloz (Chorus/Som Livre) 1992 - Ao Vivo (Som Livre) 1994 - Noites com Sol (Velas) 1996 - Beija-Flor (Velas) 1997 - Flavio Venturini e Toninho Horta no Circo Voador (Dubas) 1998 - Trem Azul (EMI/Odeon) 1999 - Linda Juventude (Som Livre) (lanćado em CD e DVD) 2003 - Porque Nčo Tinhamos Bicicletas (Trilhos) 2005 - Luz Viva (Trilhos) 2005 - Aquela Estrela (Trilhos) 2006 - Canćčo Sem Fim (Trilhos) 2009 - Nčo Se Apague Esta Noite (Trilhos/Som Livre) (lanćado em CD e DVD) >


Carlinhos Vergueiro - see artist discography




Guilherme Vergueiro "Naturalmente" (Whatmusic, 1980) (LP)


A jazz-fusion set from pianist Guilherme Vergueiro, this was originally self-released, with contributions from artists such as Nana Vasconcelos, Jose Neto and vocalist Amado Maita. A bit smooth for my tastes, but if you enjoy music from the Chick Corea/Flora Purim wing of '70s jazz, you might like this, too. Reissued by Whatmusic.




Noel Vernon E Seu Conjunto "Sequencia De Ouro" (Musicolor, 1961)



<! GIF > <! Instrumental renditions of classic Bossa Nova tunes and America standards performed with bass, drums, piano, guitar, flute and percussion. I hope someone brings more clarification on this artist that released also another record for Copacabana, which is Noel Vernon e Seu Conjunto – Cha-Cha-Cha & Twist no Jirau. I do not have a single piece of information on Noel Vernon, except he played on Jiral nightclub in Rio de Janeiro. >

Os Versateis "Uma Noite No Urso Branco" (United Artists, 1968) <! date? >
A surfy jovem guarda band...


<! GIF >

Arthur Verocai "Arthur Verocai" (Luv N Haight, 1972)

Arthur Verocai "Saudades Demais" (Rice, 2005)

Arthur Verocai "Encore" (Far Out, 2007)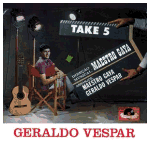 Geraldo Vespar "Take 5" (Polydor, 1964)
(Produced by Joao Mello; arranged by Maestro Gaya)
Guitarist Geraldo Vespar covers a wide variety of styles here, from swinging, jazzy bossa-bop to bright, perky pop-bossa that should appeal to fans of the classic Sergio Mendes sound... It's brisk, cheerful material, a nice picture of its time, with a hefty dose of bossa nova tunes by Vinicius de Moraes, Carlos Lyra and Roberto Menescal, as well as some originals by Vespar, including a couple co-written with Maria Helena Toledo. Definitely worth a spin!


<! 01 - Lamento de Peneira (Geraldo Vespar / Maria Helena Toledo) 02 - Samba Em Prelúdio (Baden Powell / Vinicius de Moraes) 03 - Garota de Charme (Luis Bonfá / Maria Helena Toledo) 04 - Amanhecendo (Roberto Menescal / Luis Fernando Freire) 05 - Batida Diferente (Durval Ferreira / Maurício Einhorn) 06 - Canćčo Que Morre no Ar (Carlos Lyra / Ronaldo Bôscoli) 07 - O Vale da Manhč (Maria Helena Toledo / Geraldo Vespar) 08 - Take 5 (Paul Desmond) 09 - Lamento Samba (Geraldo Vespar) 10 - O Amor Em Paz (Tom Jobim / Vinicius de Moraes) 11 - Deixa (Baden Powell / Vinicius de Moraes) 12 - Serenata do Adeus (Vinicius de Moraes) >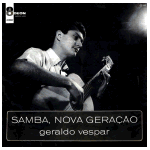 Geraldo Vespar "Samba Nova Geracao" (Odeon, 1965)


(Produced by Milton Miranda; arranged by Geraldo Vespar)
Flashy acoustic guitar, with modest small-ensemble accompaniment. Vespar takes most of these tunes at a gallop, reflecting the style of the jazz-oriented bossa trios of the time, an approach I think lacks subtlety. In contrast, the slower songs have slightly gooey orchestrations, also typical of Odeon at the time. Still, this'll grow on you -- fine playing even it the tempo is a bit too hot.


<! Geraldo Vespar e Seu Violao – Samba Nova Geracao (1965), for Odeon, featuring Geraldo Vespar violao and arrangements in all tracks performing a nice repertoire of Brazilian standards, including one Geraldo Vespar composition, 08 – Ceu Sem Sol. The Maestro has the accompaniment of a traditional bass, guitar, drums conjunto, orchestra and also performs solo in some tracks. Samba Nova Geracao was awarded as the best new artist's album in 1965. I only regret that Odeon has not given proper credits to Geraldo Vespar co-workers in this session. Tracks include: 01 - Deus Brasileiro (Marcos Valle / Paulo Sergio Valle) 02 - Estamos Aí (Maurício Einhorn / Durval Ferreira / Regina Werneck) 03 - Arrastčo (Edu Lobo / Vinicius de Moraes) 04 - Preciso Aprender a Ser Só (Marcos Valle / Paulo Sergio Valle) 05 - Sambou Sambou (Jočo Mello / Jočo Donato) 06 - Chuva (Durval Ferreira / Pedro Camargo) 07 - Negro (Roberto Menescal / Ronaldo Bôscoli) 08 - Céu Sem Sol (Geraldo Vespar) 09 - Gente (Marcos Valle / Paulo Sergio Valle) 10 - Dindi (Tom Jobim / Aloysio de Oliveira) 11 - E Vem o Sol (Marcos Valle / Paulo Sergio Valle) 12 - Samba Novo (Durval Ferreira / Newton Chaves) >

Geraldo Vespar "Eu E O Violao" (Parlophone, 1968) (LP)


Skillful yet sugary guitar showpieces from picker (and erstwhile MPB producer) Geraldo Vespar... He's very talented, although this album is a little too slick and syrupy around the edges. Basically a solo guitar album, although there is light accompaniment on many tracks. Mostly first- and second-wave bossa standards by Chico Buarque, Tom Jobim, Marcos Valle, et. al. It's also interesting to hear small bluesy leads on some of the tracks, with bent notes and blues scales that are (or were) uncommon in Brazilian pop. A tune or two (like "Lapinha") are more vigorous than the others; his version of Jobim's "Corcovado" is also nice.


<! 01 - Sá Marina (Antônio Adolfo / Tibério Gaspar) 02 - Eu e a Brisa (Johnny Alf) 03 - Desencontro (Chico Buarque) 04 - Feitićo da Vila (Noel Rosa / Vadico) 05 - Viola Enluarada (Marcos Valle / Paulo Sergio Valle) 06 - Por Que (Geraldo Vespar / Mário Telles) -- Bourrź (Geraldo Vandré) 07 - Corcovado (Tom Jobim) 08 - Até Segunda Feira (Chico Buarque) 09 - No Brilho da Faca (Wagner Tiso / Novelli / Paulo Sergio Valle) 10 - Mancada (Gilberto Gil) 11 - Olź Olá (Chico Buarque) 12 - Lapinha (Baden Powell / Paulo César Pinheiro) >

Geraldo Vespar "New Breeze From Brazil" (Capitol, 1968) (LP) <! date? >


One of the rare North American-released albums to come out of Brazil in the '60s... I haven't seen the track listings for this one, so I don't know if it overlaps with any of the Brazilian-issue albums: it seems likely that it overlaps with the Eu E O Violao album, since Parlophone and Capitol were related companies. Anyone know for sure?

Marcelo Vianna "Teu Nome, Pixinguinha" (Biscoito Fino, 2002)


An unusual update on the music of choro pioneer Pixinguinha... The old master's spritely instrumental tunes are given new lyrics, written by the likes of Gastao Vianna, Paulo Cesar Pinheiro and Vinicius De Moraes; some of the lyrics are of an earlier vintage, collaborations between Pixinguinha and contemporaries like Joao de Barro and Cicero de Almeida. Youthful vocalist Vianna approaches collection of tunes through the filter of slick, modern MPB, turning the old bouncy choroes into ornate pop ballads. Some tracks retain the upbeat feel of the originals, but others are much slower and more reflective. Definitely a different take on this old material, but fans along both sides of the spectrum will probably be won over by this disc.
Marcelo Vianna "Cai Dentro" (Lua, 2007)





<! Sylvio Vianna e Seu Conjunto - Rio a Noite (1963), for RCA http://loronix.blogspot.com/2006_11_26_archive.html > <! Victor & Leo "Nada Es Normal" (Sony, 2008) B001GN3ZJS B001QCZS5S Brega, also en espanol >

Vila Isabel "Berco Do Samba" (Top Tape, 1975) (LP)


A rootsy samba set featuring members of the mid-'70s membership of the Vila Isabel samba school, including four vocalists: Paulinho da Vila, Vincente Gil, Antonio Grande, and someone just identified as "Moacyr." Haven't heard it yet, but I bet it's pretty tasty.
Ari Vilela "O Rei Do Breque" (CBS, 1966)



<! producer not listed > <! Ari Vilela later appeared on B000O75IK6 >

Ari Vilela/Various Artists "DISCOS ODEON - AO VIVO" (Odeon, 1973)


A live showcase for some of the lesser-known artists on the Odeon label, including singer Ari Vilela, along with Marcia, Simone and jazz vocalist Leny Andrade...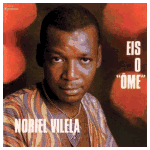 Noriel Vilela "Eis O Ome" (Copacabana, 1968)


(Produced by Ismael Correia; Arrangements by Maestro Carioca)
A strong, sweet, swinging set by deep-toned, deeply funky singer Noriel Vilela, who originally came from Nilo Amaro's band, Cantores De Ebanos, and is considered one of the core artists of the "samba rock" sound... Apparently this was his only full album before his premature death -- a pity, since he was really fun artist. If you like Wilson Simonal's perky early albums, then this one is a must-hear as well. Great, groovy arrangements -- this one really swings! The original album didn't include his best-known song, "16 Toneladas," the super-funky sambadelic remake of Tennessee Ernie Ford's "Sixteen Tons" and neither did the 2002 or 2012 CD reissue: would have made a great bonus track. Oh well, maybe next time...


<! http://pt.wikipedia.org/wiki/Noriel_Vilela a very useful clarification about Samba Rock. "Samba Rock is not a musical genre, it is only a way of dancing any kind of music with swing (Balanco). period. On top of this, Refer gave me a very useful link for anyone who might be interested on understanding a little bit more about Samba Rock, the website of Clube do Balanco at http://clubedobalanco.uol.com.br. There is an English version that you should try. Take a look at the video section and watch a Samba Rock documentary and a nice dancing tutorial. This is the only record released by one of the Brazilian Samba Rock legends, Noriel Vilela - Eis o Ome (1968). Noriel was member of the Samba vocal group Cantores de Ebano. After releasing this record, Noriel has passed away... Tracks include: 01 - Promessado (Carlos Pedro) 02 - Saravando Xangô (Avarese / Edenal Rodrigues) 03 - Só o Ôme (Edenal Rodrigues) 04 - Meu Caboclo Nčo Deixa (Avarese / Edenal Rodrigues) 05 - Pra Iemanjá Levar (Delcio Carvalho) 06 - Samba das Águas (Josan de Mattos) 07 - Eu Tá Vendo no Copo (Avarese / Edenal Rodrigues) 08 - Acredito Sim (Avarese / Edenal Rodrigues) 09 - Pećo Licenća (Avarese) 10 - Cacundź Cacundá (José de Souza / Orlando) 11 - Acocha Malungo (Sydney Martins) 12 - Saudosa Bahia (Noriel Vilela / Sydney Martins) >
Beto Villares "Beto Villares" (Six Degrees, 2008)



(Produced by Beto Villares)
Brazilian pop guitarist/producer Beto Villares, best known for his work with the Sao Paulo-based vocalist called CeU, makes his own solo debut with an utterly charming, deliciously relaxed set of eclectic rock-electronica-folk-samba crossovers... While it's a virtuoso performance, it's the creative tone that is most appealing -- Villares projects the same playful, casual ease of goofball "lo-fi" indie artists up North; he's making beautiful music, but not taking himself too seriously. Along for the ride is his posse of younger Brazilian popsters, talented musicians who seem to have absorbed the mangue beat movement's taste for musical diversity while feeling little need to "rock hard" or, really, be musically aggressive in any way whatsoever. Gone are the manic funk and alt-rock elements, replaced by a groovy, unhurried blend of regional Brazilian styles and chill-room 'tronica. If you're looking for a cool, hip record that you can listen to time and time again (and find new facets to every time), this is a mighty fine option. In addition to Villares' vocals (which I find quite nice), he is joined by his protege and pal, CeU, as well as Fernanda Takai (from the esteemed, Mutantes-esque alt-rock band Pato Fu), Zelia Duncan (another Brazilian '90s indierock pioneer), dub singer Valnei Aine, and numerous rappers and indie scenesters who will be unfamiliar to Yanqui zines, but welcome to our ears. This is a really pleasant record, well worth tracking down! (By the way, this was originally released in Brazil under the title Excelentes Lugares Bonitos, back in 2004... Glad it finally made it up here!)
Claudia Villela "Supernova: Brazilian Jazz" (Jazzheads, 1998)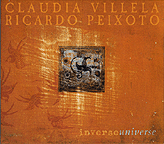 Claudia Villela & Ricardo Peixoto "Inverse Universe" (Adventure Music, 2003)



Vocalist Claudia Villela scats and croons her way through a fine set of glossy, '70s-fusion tinged tunes, very reminiscent of Flora Purim's work with Airto Moreira and their modern jazz clique. Multi-instrumentalist Ricardo Peixoto guides an able, retro-oriented band. Jazz elder Toots Thielemans plays his harmonica on a couple of tunes, lending an air of utter authenticity to the proceedings. This style isn't for everyone (I'm not fond of it), although the musicianship is of a high calibre; Villela is most striking on more focused, conventional melodies, although her uptempo scatting produces several dazzling passages, with lightning-fast phrasing that puts her at the top of the game. Several tunes are a bit meandering and tinny, but others have real lyrical depth. Fans of old-school fusion will be dazzled to hear the music alive and well in the new century; other listeners may want to tread more lightly. (For more information on these San Francisco-based Brazilian expatriates, check out their websites, www.claudiavillela.com and www.ricardopeixoto.com.)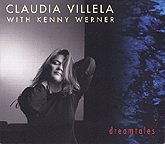 Claudia Villela & Kenny Werner "Dreamtales" (Adventure Music, 2004)



A strong set of rather challenging jazz vocal-piano duets, suffused with varying degrees of Brazilian-ness. It's a remarkably uncommercial set, with Brazilian expatriate going through some wide-ranging, wildly dynamic vocal explorations... It's certainly not for everyone, but for those who like their jazz hard, I imagine this is a set worth checking out.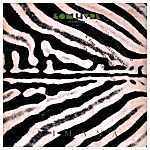 Vimana "Zebra" (Som Livre, 1977)
A prog-rock band with a very interesting story (although I doubt I'd really like the record...) Vimana was a short-lived band that had as its members a very high concentration of influential rock stars... The original core of the band came from a collaboration between guitarist Lulu Santos and keyboardist Luiz Paulo Simas and drummer Candinho, both from the wild psych-prog band Modulo 1000. In 1975, Candinho left and two new members joined: rocker Lobao, who would go on to form the band Blitz and then become a huge success as a solo artist, and the British-born Richard David Court (aka Ritchie) who became one of Brazil's best-known new wave artists of the early '80s. They recorded two albums; one was released and the other was shelved, and everything was fine until they hooked up with Euro-progster Patrick Moraz, who had played keyboards with Yes for a couple of years, and who decided to take over Vimana and make it his own band. He kicked Santos out and that was the beginning of the end. Like I say, I dunno if I'd really give two hoots about this particular record, but man, what what a story.


<! Vímana -- mid-1970s rock band that included Lobao (later of Blitz), Lulu Santos, Ritchie, Luis Paulo e Fernando Gama... They recorded one single (or album?) before breaking up >


Luis Carlos Vinhas - see artist discography





Vinicius (de Moraes) - see artist discography




Marcus Vinicius "Dedalus" (Continental, 1974) (LP)





<! 1980 Marcus Pereira - reissued??? > <! 1 - Dédalus (Marcus Vinicius) 02 - Plug (Marcus Vinicius) 03 - Se for com dez pés lá vai (Marcus Vinicius) 04 - Santo sacrifício (Marcus Vinicius) 05 - Gares (Marcus Vinicius) 06 - Presentidade (Marcus Vinicius) 07 - Recife 40 graus (Marcus Vinicius) 08 - Falido transatlČntico (Marcus Vinicius) 09 - Ventos (Marcus Vinicius) 10 - Sčo Saruź (Marcus Vinicius) 11 - O mato é maior (Marcus Vinicius) 12 - Mister X (Marcus Vinicius) 13 - Palhaćo lunar (Marcus Vinicius) Special Participation: Anah (2,4,7,8,11) female singer > <! 06/12: Unable to find WP disco; these are on AM: Marcus Pereira "Nordestino" (Discos Marcus Pereira, xxxxxxxx) (LP) B00410DNXG Marcus Pereira "Trem Dos Condenados" (MPA, xxxxxxxx) (LP) B00410G70W Marcus Pereira "O Verbo" (Som Livre, 2005) B0008057JQ different (younger?) artist? 1. Menos Seguro 2. Titanic 3. Me Abraca E Me Beija 4. Sem Janeiro 5. O Verbo 6. Tempo Rei 7. Negras Perucas 8. Bege 9. Encarte 10. Pro Meu Futuro 11. Luana >

Os Vips "Os Vips" (Continental, 1965)

Os Vips "Os Vips" (Continental, 1966)

Os Vips "Os Vips" (Continental, 1967)

Virginie & O Fruto Proibido "Crime Perfeito" (Epic, 1988) (LP)


A solo album from the original lead singer of the Sao Paulo-based new wave band, Metro...

Vitto "Ritual Carioca" (Erato Detour, 2000)


Vitto Meirelles' homage to Brazilian classical composer Heitor Villa-Lobos features sleek modern pop, modeled after the styles of Caetano Veloso and Gilberto Gil... A little cluttered and manic, but not icky. Worth checking out.
Vitto Meirelles "Da Fonte" (Nocturne, 2005)



Viva Voz "Viva Voz" (EMI-Odeon, 1979)
(Arrangements by Oscar Castro-Neves)
Old-school traditional samba, given an spiffy, ultra-modern update. Viva Voz were a short-lived vocal group with a remarkably bright sound -- high, airy, with tight six-part harmonies and tinny orchestrations that accentuated their high pitch. It's a really distinctive, if irritating, sonic mix -- stylistically, I suppose you could peg this as the Brazilian samba equivalent of what Manhattan Transfer had done for American swing. There are a ton of high-level Brazilian jazz players guest-starring on here -- Antonio Adolfo, Djavan, Ivan Lins, Joyce, Wagner Tiso and others -- with Oscar Castro Neves providing arrangements, along with the group's leader, Ary Sperling. This album probably isn't for everyone, but there is something oddly compelling about it, at least when taken in small doses


<! Viva Voz is a vocal group, active from 1979 until 1984. They started as a sextet leaded by Ary Sperling, having several different formations during their five years of activity. I don't know their second album, but this first is really above the average. Oscar Castro Neves (arrangements) guests: Joyce Ivan Lins Marcio Montarroyos Ed Maciel Djavan Mauricio Tapajos Wagner Tiso Antonio Adolfo Wilson das Neves >

Volkana "First" (Eldorado, 1990)
An all-gal thrash-metal band from Brasilia... According to Wikipedia, they made just two albums, broke up and re-formed in the early 2000s under the name Flammea, making one more album. I think the self-titled album below (on Celluloid Records) is the same as this one.




Volkana "Volkana" (Celluloid-Moving Target, 1990)


(Produced by Carlos Eduardo Miranda)

Volkana "Mindtrips" (Eldorado, 1994)

Ronnie Von "Ronnie Von" (Polydor, 1966)





<! more than half the songs are Beatles covers; there's also one Stones tune -- "As Tears Go By" >

Ronnie Von "Ronnie Von" (Polydor, 1967)



<! more original material including some stuff by Carlos Imperial. Also some wimpy choices for cover tunes -- "Winchester Cathedral," "If I Were A Carpenter" "Walk Away Renee" >

Ronnie Von "Ronnie Von, No. 3" (Polydor, 1967)



<! includes a hint of tropicalia -- a song by Caetano Veloso, one by Victor Martins >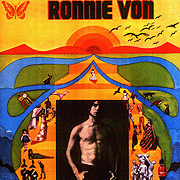 Ronnie Von "Ronnie Von" (Polydor/Discos Mariposas, 1969/2006)


A goofy set of jovem guarda rock, gone sorta-psychedelic... There are those who will try and convince you that this is a lost acid-rock gem, really it's more like Herman's Hermits or Sonny Bono trying to keep up with the Beatles. Von worked with powerhouse backing bands, including Os Mutantes, folks who could play really wild electric freakout riffs, and this disc is peppered with psychedelic motifs, ranging from fuzzy guitars, spoken word interludes and plucked piano strings run through an echo chamber... But it's all completely derivative and without any internal, inherent creative spark, just a different kind of teensploitation album from his earlier albums. Indeed, the most fun stuff on the 2006 CD reissue is the handful of a half-dozen bonus tracks from '67, where he's still doing Portuguese-language covers of pop songs such as "Winchester Cathedral" and "If I Were A Carpenter..." The contrast with the would-be freakbeat stuff is interesting, and the songs are actually kinda fun. This is worth checking out, but only as a historical curio, not as a tropicalia Holy Grail.


<! no producer listed on reissue :-/ >

Ronnie Von "A Misteriosa Luta Do Reino De Parassempre Contra O Imperio De Nuncamais" (Polydor, 1969)





Ronnie Von "Minha Maquina Voadora" (Polydor, 1970)


Ronnie Von "Grandes Sucessos" (BMG, 2000)


Yeesh. Rocker and TV personality Ronnie Von cut a moderate swath into the "jovem guarda" teenie-bopper pop scene of the 1960s, but this disc is a tepid set of his florid soft-pop recordings from 1977-78, full of overripe string arrangements, muskrat-loveish keyboards and ill-advised saxophone fills... Oh, and of course, some declarative, romantic, cheesoid vocals, too. It's pretty torturous and yucky. You can skip this and not miss much.
Voninho "O Rei Da Sanfona" (2002) <! Laser label? >





<! several albums >

Andy Votel/Various Artists "Brazilika" (Far Out, 2008)






<! mixes of classic tropicalia and tropicalia-era rock and samba-pop >

Vox Populi "Vox Populi" (Musidisc, 1969)


Cool stuff! Swinging samba-pop, very much in the same mode as Sergio Mendes and his various bands. And the connection isn't just stylistic: Vox Populi's female singer Gracinho Leporace, who used to be in Grupo Manifesto, later married Mendes, and lived with him in the States. This is bouncy, giddy, goofy, and pretty enjoyable pop, with big, bright vocal choruses and sweeping, lush melodies. Loungecore and MPB fans alike should enjoy this album, as should prog fans interested in the career of guitarist Marco Antonio Araujo.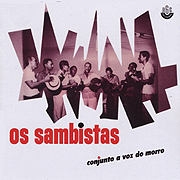 (Conjunto) A Voz Do Morro "Os Sambistas" (RGE, 1966)


Holy. Cow. If you want to talk about Brazilian music rosetta stones, check this one out. An early samba revival group featuring Jair Do Cavaquinho, Ze Keti, Elton Medeiros, Nelson Sargento and an up-and-coming Paulinho Da Viola, along with the lesser-known Anescar, Oscar Bigode and Jose Cruz... It's a ton of talent in a tightly focussed, thoroughly joyful acoustic samba set with songs sung in praise of the samba schools and slums, with bright, melodic arrangements and a richer sonic texture than many albums of similar vintage. Moreover, it's a ringing proclamation heralding the entry of Da Viola into the Brazilian pop scene... the stuff that history is made of! Snap this up if you get a chance.


<!Anescar do Salgueiro >

---
Brazilian Music - Letter "W"
---



Main Brazil Index
World Music Index

---