<! cd = 01/19/10 > <! MP3 01/19/10 > <! update 01/19/10 > <! pix 01/19/10 > <! ALLBM 00/00/00 > <! icons 02/01/11 >

---
Francisco Alves (1898-1952) was one of the most beloved singers of the golden era of samba cancao, the so-called "radio singer" years. An early recording star in the 1920s, Francisco Alves was also one of the biggest names in Brazilian radio during the 1930s and '40s, hosting his own program, and popularizing songs by writers such as Cartola and Ismael Silva. He was a marvellously schmaltzy singer, with tips of the hat towards Russ Columbo, Bing Crosby and the like... Here's a quick look at his work...
---
Discography
---

Francisco Alves "Serie Bis - Cantores Do Radio" (EMI-Brasil, 2000)


Classic material. This 2-CD set covers a wide variety of styles, from clattering, bouncy Carnaval sambas to swank, Hollywood-tinged "sweet" big band and pop vocals material, including many songs that have become MPB standards. The musicianship is top-flight throughout, as are Alves' warm, inviting, pleasantly corny vocals. An excellent collection -- highly recommended!

Francisco Alves "Francisco Alves" (Revivendo)


Another first-rate collection of early '30s crooning tunes by one of Brazil's greatest "radio singers," one of several on the Revivendo label. It's telling that this CD was chosen to be Revivendo's first release... they have their favorites, and make no effort to conceal their love of Alves' work. This first collection includes songs written by Ary Barroso and Carlos Gardel, as well as several written by Alves himself, along with his longtime collaborator Orestes Barbosa. This is music from the heart and soul of Brazil's early music industry... perfect for those who want to delve deeper into Alves' mystique. Highly recommended!
Francisco Alves "Canta Brasil" (Revivendo, 1996)


Francisco Alves "O Rei Da Voz" (Revivendo)


More stellar material from the "King Of The Voice," including several older songs from his late 1920s recordings on the Odeon label, and several tracks from the 1940s as well.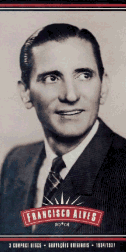 Francisco Alves "O Rei Da Voz" [Box Set] (RCA, 1997)



More super-delicious Francisco Alves material. This 3-CD box set has the advantage of being mastered off the original tapes in the BMG vaults, so the sound quality is very bright and compelling. And the music is even better! You can hear it all, the bouncy Carnaval percussion, the schmaltzy pop arrangements, Alves' gloriously suave vocals. Plus, the accompanying booklet has plenty of great old photos, etc., and info on his career. My only complaint is that it doesn't also include discographical information (particularly the recording dates) for the dozens of songs... Oh, well. That's Brazil for you. Otherwise, this collection is HIGHLY recommended... I could listen to it for days on end.
Francisco Alves "O Rei Da Voz, Na Radio Nacional, v.1" (Revivendo, 2006)


I believe this series is taken from aircheck recordings of Alves' extensive radio career... I haven't heard any of the volumes in this series yet, though, so I can't comment on the sound quality, etc. I'll let you know when I do get the chance to check them out.
Francisco Alves "O Rei Da Voz, Na Radio Nacional, v.2" (Revivendo, 2006)

Francisco Alves "O Rei Da Voz, Na Radio Nacional, v.3" (Revivendo, 2006)

Francisco Alves "O Rei Da Voz, Na Radio Nacional, v.4" (Revivendo, 2006)

Francisco Alves "O Rei Da Voz, Na Radio Nacional, v.5" (Revivendo, 2006)

Francisco Alves "O Rei Da Voz, Na Radio Nacional, v.6" (Revivendo, 2006)

Francisco Alves "O Rei Da Voz, Na Radio Nacional, v.7" (Revivendo, 2006)

Francisco Alves "O Rei Da Voz, Na Radio Nacional, v.8" (Revivendo, 2006)

---
Best-Ofs
---
Francisco Alves "In Memoriam" (BMG, 1993)

---
Links
---
---



---