<! cd = 04/23/12 > <! MP3 00/00/00 > <! pix 00/00/00 > <! ALLBM 00/00/00 > <! icons 00/00/00 > <! UPDATES: 04/25/12 >

---
Born in Belo Horizonte, guitarist and composer Nelson Angelo was an integral member of Milton Nascimento's "Clube de Esquina," a collection of younger artists asserting the new musical culture of Minas Gerais in the wake of the bossa nova revolution. Angelo performed with Nascimento and many other influential artists such as Geraldo Azevedo, Lo Borges, Nana Vasconcelos and later with bossa-jazz guitarist Joyce, with whom he also had two children, singers Clara Moreno and Ana Martins. Over the years, Angelo's work has tilted towards what could be called fusion jazz, albeit with a Brazilian MPB flair. Here's a quick look at his work...
---
Discography
---

<! Em 1971, fundou com Joyce , Naná Vasconcelos, Novelli e Toninho Horta, o grupo "A Tribo", com o qual lanćou em compacto pela Odeon, as canćões "Kyrie", "Tapinha", "Peba & Pobó" e "The man from the avenue". >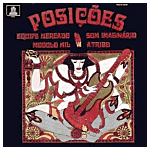 A Tribo/Various Artists "POSICOES" (Odeon, 1971)
This mercifully short compilation EP includes four excessively spaced-out experimental rock/folk freak bands: A Tribo, the short-lived supergroup that included bassist Novelli, Nelson Angelo, Joyce, Toninho Horta and Nana Vasconcelos... There are two A Tribo songs, "Kyrie" and "Peba E Pobo," from the band's lone release, a double single which also contained two other songs. Also repersented are the hard-psych rock band Modulo 1000, the fusion-y Som Imaginario and a rock band called Equipe Mercado. A holy grail for some, a really irritating record for others.


<! Lanćado pela Odeon em 1971, esta rápida coletČnea (menos de 1/2 hora) pretendia mostrar o que havia de novo no cenário musical brasileiro. Foi lanćado de uma forma tímida e quase desacreditada, sem nenhum alarde. Na verdade de todas essas bandas, a mais duradoura teria sido o Som Imaginário (que durou de 1970 até 1974). As outras bandas (com excećčo do Módulo 1000 que gravou um LP em 1972) apenas registraram compactos na história da música brasileira. Porém, o fato de nčo terem sido absorvidos pela indústria fonográfica nčo tira a primazia e beleza das composićões. A Tribo era formada por Nelson Angelo, Joyce, Novelli, Toninho Horta e Naná Vasconcelos (depois substituido pelo Nenź da bateria). Atuou no cenário artístico no início dos anos 70. Em 1970, classificou a música "Onocźonekotô" (Nelson Angelo) para a final do V Festival Internacional da Canćčo. Equipe Mercado, grupo formado por Diana (voz), Leugruber (guitarra), Ricardo Ginsburg (guitarra), Stul (violčo, baixo, piano e voz), Carlos Graća (bateria) e Ronaldo Periassu (percussčo) em 1970 na cidade do Rio de Janeiro, tendo como influźncia maior o rock psicodélico dos anos 60. Lanćou em 1971 um compacto simples com as músicas "Os campos de arroz" e "Side b rock", encerrando suas atividades no ano seguinte. Som Imaginário, grupo formado em 1970 por Wagner Tiso (teclados), Robertinho Silva (bateria), Tavito (violčo de 12 cordas), Luiz Alves (baixo), Laudir de Oliveira (percussčo) e Zé Rodrix (órgčo, percussčo, voz e flautas). Nesse ano, com a participaćčo de Nivaldo Ornelas (sax) e Toninho Horta (guitarra), dividiu o palco com Milton Nascimento, apresentando o espetáculo "Milton Nascimento, ah, e o Som Imaginário". Ainda em 1970, gravou seu primeiro disco, "Som Imaginário", destacando-se canćões como "Feira moderna" (Beto Guedes e Fernando Brant) e "Hey man" (Zé Rodrix e Tavito). Módulo 1000, formado por Daniel (guitarra e voz), Luís Paulo (órgčo), Eduardo (baixo), Candinho (bateria) na cidade do Rio de Janeiro em 1969. Conjunto de curta duraćčo, seguia a linha "hard rock" mesclada com o blues. Em 1970, participou do "V Festival Internacional da Canćčo" e lanćou pela Odeon o compacto simples com as músicas "Big mama" e "Isto nčo quer dizer nada". No ano de 1972, pela Top Tap lanćou o LP "Nčo fale com as paredes". Encerrou as suas atividades em meados da década de 1970, tinha guitarras gritantes e uma bateria pesada ao estilo Led Zeppelin. >

Luiz Eca & Sagrada Familia "Onda Nova Do Brasil" (EMI, 1971)


Here's a real find! This wild set which was recorded in Mexico with a who's-who list of younger Brazilian jazz players, is a radical departure from the straight jazz'n'bossa of Luiz Eca's Tamba Trio work, a psychedelic jazz-rock outing that blends some of the "sunshine" pop of the times with heavier acid blues riffs and punchy jazz charts, even a bit of Nuyorican-style salsa. Clearly influenced by the tropicalia scene in Brazil, it's an album that is very much of its time, a document of hippie-era musical excess which holds up well next to other classic albums that are better known. Performing with Eca are Nelson Angelo, Joyce, Claudio Roditi, Wilson Simonal, Nana Vasconcelos and numerous others, including a battery of female vocalists working in the whole Quarteto Em Cy/Brazil '66/Brazuco mode, which is mostly pretty shrill and irritating, but still evokes a nostalgic feeling. Joyce has a few softer, lyrical moments (I think that's her singing on the closing track...) and while she apparently doesn't play guitar on here, it's still a nice document of some of her earliest work.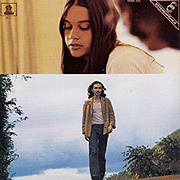 Nelson Angelo & Joyce "Nelson Angelo E Joyce" (Odeon, 1972)



A spacy, psychedelic-tinged acoustic album combining the talents of these two young guitarists... This is very similar in tone and style to Milton Nascimento's famous Clube Da Esquina album - full of drifting, open-ended improvs. It's a little too amorphous for my tastes, but holds up to a few good listens. She, of course, had a lovely voice, although the emphasis here is mainly on the instruments. Worth checking out. (For more information, also check out my Joyce discography.)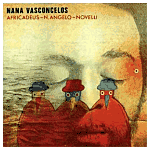 Nelson Angelo/Nana Vasconcelos/Novelli "Africadeus" (Saravah, 1972)


Nelson Angelo/Nana Vasconcelos/Novelli "Nana Vasconcelos, Nelson Angelo & Novelli" (Saravah, 1974)

Nelson Angelo "Violao E Outras Coisas" (El Dorado, 1988) (LP)


Bleh. A horrendously monotonous, lethargic album, based on repetitive guitar riffs that would be hypnotic if they weren't so wearisome. I suppose there's room to make the case that this is a new age/new acoustic outing, ala Windham Hill's Will Ackerman, or maybe even Leo Kottke's stuff, but then there's that extra layer of Milton Nascimento-ish, cerebral jazz/MPB that takes it slightly off the standard flight path. Of course, I'm notoriously crabby about this sort of thing -- take what I say with a grain of salt. Jazz fans and guitarniks might want to check this out despite my depredations. Angelo sings on one track, "Manha No Planeta," and guest performer Selma Reis sings on "Para Sempre."


<! 01 – O Caminho e a paisagem (Nelson Angelo) 02 – Harmonia da água (Nelson Angelo) 03 – Bodas (Milton Nascimento – Ruy Guerra) 04 – Para sempre (Nelson Angelo) 05 – Manhč no planeta (Nelson Śngelo - Cacaso) 06 – Mantra (Nelson Angelo) 07 – Reflexčo (Nelson Angelo) 08 – Relembrando a contradanća (Nelson Angelo) 09 – O Caminho e a solidčo (Nelson Angelo) > <! 1990?? >

Nelson Angelo "A Vida Leva" (Velas, 1994)





Nelson Angelo "Mar De Mineiro" (MCD, 2002)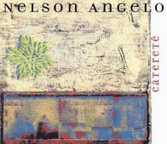 Nelson Angelo "Caterete" (Adventure Music, 2003)



Veteran '70s fusioneer Nelson Angelo stays very, very true to his roots, which is to say that this record, despite some pretty-sounding lyrical passages, is wa-a-a-a-ayyyy too noodly for me. However, if you like noodly, soft jazz with a bossa nova twist, you might really enjoy this album. It got on my nerves really quickly, though.
Nelson Angelo "Maravilhoso Mundo" (Dubas, 2008)


Nelson Angelo "Minas Em Meu Coracao" (Tratore, 2009) <! 2008? 2010? >


---
Links
---
---



---