<! cd= 11/08/09 > <! MP3 11/08/09, 03/08/12 > <! update 11/08/09 > <! pix 11/08/09 > <! ALLBM 00/00/00 > <! icons 02/01/11 >

---
Brazilian percussionist band Cyro Baptista
---
Discography
---

Cyro Baptista & Derek Bailey "Cyro" (Incus, 1982)


The first recording by Brazilian percussionist Cyro Baptista finds him paired with English avant-guitarist Derek Bailey in a brisk set of oddball, disjointedly angular free jazz/difficult listening improvisations. This kind of exploratory wanking around doesn't do much for me, personally, but in the moments where they actually slide into intuitive grooves, their musicality comes more to the fore, and there are some impressive passages. Bailey is kind of a rhythmic, physical player, so the match-up with a percussionist such as Baptista -- who comes from a country where drumming takes on a melodic hue -- is somewhat inspired. Avantniks will probably like this more than Brazilianites, but it's still worth checking out of you're a Baptista fan.

Cyro Baptista "Villa Lobos - Vira Loucos" (Avant-Japan, 1997)


(Produced by John Zorn & Kazunori Sugiyama)
A younger percussionist gets playful, artsy and loose with Nana Vasconcelos and the John Zorn crowd, on this multi-textured tribute to classic composer Hector Villa Lobos. Jazz bassist/arranger Greg Cohen participates, along with guitarist Marc Ribot, sax maniac John Zorn, classical guitarist Romero Lubambo and accordionist Chango Spasiuk -- this has its moments of brilliance, blending Brazilian folk elements along with weirdo NYC art stylings, and above all a sense of fun and whimsy. A clever mix of Brazilian regional styles and jazz-world kookiness -- definitely worth tracking down!

Cyro Baptista "Beat The Donkey" (Tzadik, 2002)



Percussionist Baptista gets funky and wild with his band, Beat The Donkey, and a slew of high-power guests, including Tzadik label founder, saxophonist John Zorn, guitarists Marc Ribot and Romero Lubambo, vocalist Luciana Souza, ex-Ambitious Lover Peter Scherer, and a host of others. On this wild, veering improvisational display, Baptista proves himself as far-reaching and restless an innovator as Brazilian jazz elder Hermeto Pascoal... Yet even with the kookiness and relentless, brisk experimentalism, this disc is also packed with plenty of zanily catchy melodies... At once challenging and good, goofy fun, this is an album that stretches the boundaries of Brazilan pop and traditional music, while giving us all something to smile about as well. Recommended!
Cyro Baptista "Beat The Donkey Beat" (OMM, 2004)


This is a lively, purposefully goofy collaboration between the East Coast-based Baptista and his band, and San Francisco's Peter Apfelbaum and some of his pals... The results are mixed. The opening tracks evoke the giddy propulsiveness of old-school Brazilian forro and baiao, while other ttracks delve into indigenous Amazonian music, much like Egberto Gismonti... But midway through the album sheds much of its charm, transforming instead into a how-fast-can-you-play beatfest, music that sounds like it was fun to play (and might be fun to see performed live), but that may leave many listeners cold. Some songs are just horrible, like the shrill, irritating "Movie Screen," or "Rio De Jamaica," with a tacky, Santana-esque guitar intro... I found my inner comparisons shifting away from forro old-timers like Luiz Gonzaga and Ary Lobo to modern-day prog-wankers such as Primus... Now, for some, that may sound like a compliment, and by all means, you are invited to check this out... But for others, folks who value subtlety and softness, you might want to skip this one.
Cyro Baptista & Richard Crandell "Mbira Magic" (Tzadik, 2004)



Cyro Baptista "Love The Donkey" (Tzadik, 2005)


Cyro Baptista & Derek Bailey "Derek" (Incus, 2006)


Cyro Baptista & Richard Crandell "Spring Steel" (Tzadik, 2007)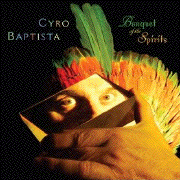 Cyro Baptista "Banquet Of The Spirits" (Tzadik, 2008)



(Produced by Cyro Baptista & Cadou Costa)
An utterly crazed, virtuoso showcase by Brazilian-born, New York-based percussionist Cyro Baptista, who has become a go-to performer on many other people's projects, but who keeps a decidedly avant edge to his own albums. This one is wild and -- literally -- all over the map, merging African, Arabic and Brazilian elements with avant-rock and difficult-listening free jazz. Some of the more lyrical passages and songs, such as "Mumakata," are beautiful, while others, such as "Macunaima" (featuring Tzadik label head and skronk-jazz legend John Zorn on saxophone) are much more challenging and chaotic. No matter where you stand on the continuum of preferences -- avant vs. alluring -- you have to admire the musical skill and depth of knowledge on display here. Collaborating with Baptista are fellow percussionist Tim Keiper, Middle Eastern oud player Shanir Elza Blumenkrantz, cellist Erik Friedlander, keyboardist Brian Marsella, and a floating cast of dozens, whose amorphous composition reflect the far-reaching musical diversity of the album itself. As ever, Tzadik (and Baptista) push the boundaries and frequently reach the sublime.
Cyro Baptista "Infinito" (Tzadik, 2009)


---
Related Records
---

<! Recordings As Guest Performer (by Artist) * Geri Allen - Eyes in the Back of your Head . Blue Note 1997 * Trey Anastasio - Bar 17. Rubber Jungle Records 2006 * Trey Anastasio - Shine. Elektra 2005 * Trey Anastasio - Plasma. Elektra 2003 * Trey Anastasio - "Alive Again. Electra 2002 * Gabriela Anders - Wanting. Warner Brothers 1998 * Laurie Anderson - Strange Angels. Warner 1994 * Laurie Anderson - Bright Red. Warner 1994 * Peter Apfelbaum and the New York Hieroglyphics - It Is Written. The ACT Company 2005 * Wilson Asfora - Journey To The Badlands. WTA 1996 * Badi Assad - Rhythms. Chesky 1995 * Susana Baca - Eco de Sombras. Luaka Bop 2000 * Derek Bailey & Cyro Baptista - Cyro. Incus 1987 * Derek Bailey & Cyro Baptista - Derek. Amulet 2006 * Gato Barbieri - Que Pasa. Sony 1997 * Daniel Barenboim - Brazilian Rhapsody. Teldec 2000 * Kathleen Battle - So Many Stars. Sony 1995 * Tony Bennett - Duets. RPM Records/Columbia 2006 * Ronnie Bird - One World. PEM 1992 * Chris Botti - First Wish. Verve 1995 * Edie Brickel - Picture Perfect Morning. Geffen 1994 * David Byrne - Rei Momo. Warner Bros. 1989 * James Carter - Chasin' the Gypsy. Atlantic 2000 * Tommy Cecil - Samba For Felix. Slider 1999 * Toni Cedras - Vision Over People. Gorilla 1994 * The Chieftains - Santiago. BMG Classics 1996 - Grammy Winner * Holly Cole - Temptations. Metro Blue 1995 * Criara - Behind The Sky. EMI 1997 * Corin Curschellas - Voices Of Romantsch. MGB 1997/1996 * Dominique Dalcan - Ostinato. Island 1998 * Dip in the Pool - The Sea Of Serenity. Epic/Sony 1993 * Electric Masada - At the Mountains of Madness. Tzadik 2005 * Electric Masada - 4. Tzadik 2004 * Manfred Fest - Oferenda. Concord 1993 * Fobia - Leche. BMG Mexico 1993 * Serge Gainsbourg - Great Jewish Music. Tzadik 1998 * Gibran - Dialogos Intestinales. Urukungolo 2001 * Janet Grice - The Muse. Optimism 1989 * Andy Haas - Arnhem Land. Avant 1997 * Herbie Hancock - Possibilities. Starbucks 2005 - Grammy Nominated * Herbie Hancock - Gershwin's World. Verve 1998 - Grammy Winner * Janis Ian - Hunger. Windham Hill 1997 * Janis Ian - Revenge. Boomerang 1995 * Javon Jackson - Good People. Blue Note 1997 * Javon Jackson - For One Who Knows. Blue Note 1995 * Bob James - Playin' Hooky. Warner 1998 * Dr. John - Duke Elegant. Blue Note 2000 * Richard Leo Johnson - Language. Blue Note 2000 * Geoff Keezer - Turn Up the Quiet. Sony 1997 * Bar Kokhba Sextet - Bar Kokhba. Tzadik 2005 * Arto Lindsay - Mundo Civilizado. Bar/None 1996 * Ivan Lins - A Love Affair. Telarc 2000 - Grammy Winner * Frank London - Science at Work. Tzadik 2002 * Lionel Loueke - Virgin Forest. ObliqSound 2007 * Romero Lubambo - Brazilian Nights. Q Records 2001 * Yo-Yo Ma - Obrigado Brazil Live in Concert. Sony 2004 - Grammy Winner * Yo-Yo Ma - Obrigado Brasil. Sony Classical 2003 * Maureen MacGovern - Out Of This World. Sterling 1996 * Chuck Mangione - The Hat's Back. Gates Music 1994 * Herbie Mann - Opalescence. Kokopelli 1994 * Billy Martin - Socket. Amulet 2005 * Billy Martin - Drop the Needle/ Illy B Eats. Amulet 2002 * Nilson Matta - Walking With My Bass. Blue Toucan Music 2006 * Bobby McFerrin - Beyond Words. Blue Note 2002 * Hendrik Meurkens - In a Sentimental Mood. A Records 1999 * Jason Miles - Miles to Miles. Narada 2005 * Jason Miles - Music Of Weather Report. Telarc 2000 * Marisa Monte - Mais. EMI 1994 * Jean-Louis Murat - Mustang. Virgin/France 1999 * New York Voices - NYV Sings Paul Simon. BMG 1997 * Ojoyo - Ojoyo Plays SafroJazz. Ojoyo 2002 * Ojoyo - Forward Motion. Ojoyo 1996 * Robert Palmer - Don't Explain. EMI 1989 * Clara Ponty - The Embrace. Phillips 1999 * Howard Prince - Double Take. Cat's Paw 1997 * Paul Rebhan - Colors. Carmel/BMG 1991 * Paula Robison - Rio Days, Rio Nights". Arabesque 1998 * Paula Robison - Brasileirinho. Omega 1993 * Gabrielle Roth - Tribe. Raven 2000 * Gabrielle Roth - Zone Unknown. Raven 1997 * Gabrielle Roth - Tongues. Raven 1995 * Philippe Saisse - Next Voyage. Verve 1997 * Peter Scherer - Cronologia. Tzadik 1996 * Peter Scherer - Very Neon Pet. Metro Blue /Capitol 1995 * Paul Shaffer - The World's Most Dangerous Party. SBK 1993 * Paul Simon - Concert in the Park. Warner 1991 * The Sisters of Glory - Good News In Hard Times. Warner 1995 * Phoebe Snow - I Can't Complain. House Of Blues 1998 * Tim Sparks - At the Rebbe's Table. Tzadik 2002 * Tim Sparks - Tanz. Tzadik 2000 * Spyro Gyra - Dreams Beyond Control. GRP 1996 * Spyro Gyra - The Deep End. Heads Up International 2004 * Richard Stoltzman - World Beat Bach. BMG - 2000 * Richard Stoltzman - Danza Latina. BMG - 1998 * Bob Telson - La Vida Segun Muriel. VCC Polygram 1998 * Bob Telson - Calling You. Warner 1993 * Trilogia - Wheels Within Wheels. TDK/Japan 1992 * Trio Da Paz - Black Orpheus. Kokopelli 1994 * Nana Vasconcelos - Fragments - Modern Tradition. Tzadik 1997 * Nana Vasconcelos - Rain Dance. Island 1989 * Grover Washington, Jr. - To Grover with Love. Atlantic 2001 * Grover Washington, Jr. - Soulful Strut. Columbia * Kazumi Watanbe - Mo' Bop III. Hybrid Records 2006 * David Watson (with Beat the Donkey) - Skirl. Avant 1999 * Mark Weinstein - Jazz World Trios. LKC 1998 * Cassandra Wilson - Belly of The Sun. Blue Note 2002 * Cassandra Wilson - New Moon Daughter. Blue Note 1995 * Cassandra Wilson - Blue Light 'Til Dawn. Blue Note 1993 - Grammy Winner * Tom Z - The Hips Of Tradition. Luaka Bop * John Zorn - Film Works XII / Three Documentaries. Tzadik 2002 * John Zorn - Cobra/ Game Pieces Vol II..Tzadik 2002 * John Zorn - The Gift. Tzadik 2001 * John Zorn - Film Works X. Tzadik 2001 * John Zorn - Taboo and Exile. Tzadik 2000 * John Zorn - Film Works IX/ Trembling Before G-d. Tzadik 2000 * John Zorn - The Circle Maker. Tzadik 1998 * John Zorn - Film Works IV/ S &M Works. Tzadik1997 * John Zorn - Film Works VII/ Cynical Hysterie Hour. Tzadik 1997 * John Zorn - Film Works II/ Walter Hill. Tzadik 1996 * John Zorn - Film Works 1986-1990. Tzadik 1996 * John Zorn - Film Works V/ Tear Of Ecstasy. Tzadik 1996 * John Zorn - Film Works VI/1996. Tzadik 1996 * John Zorn - Film Works III/ 1990-1995. Nonesuch 1992 * John Zorn - The Big Gundown. Nonesuch 1986 * John Zorn - Bar Kokhba: Masada Chamber Ensembles - Tzadik 3 CD Boxset >

---
Links
---
---



---