<! cd = 05/27/12 > <! MP3 00/00/00 > <! pix 00/00/00 > <! ALLBM 00/00/00 > <! icons 00/00/00 > <! UPDATES: 05/29/12 - posted >

---
Actor and musician Arrigo Barnabe was part of the late-1970s cultural movement known as the "Vanguarda Paulista," a multi-disciplinary push to revitalize and redefine the Sao Paulo art scene, involving experimental music, film, visual and other arts. Barnabe's debut albums were '80s rock landmarks, and his records and shows helped introduce several future stars, including Vania Bastos and Itamar Assumpcao. Here's a quick look at his work...
---
Discography
---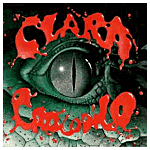 Arrigo Barnabe "Clara Crocodilo" (1980)


A weird, difficult album, equal parts, perhaps, of Frank Zappa, John Zorn, Yoko Ono, and Oscar The Grouch. Barnabe barks out half-recited lyrics while a brisk female chorus chants repetitive, irritating refrains behind him; artsy pianos plunk, saxophones squonk, synthesizers bloop. His collaborators include vocalists Vania Bastos and Eliete Negreiros, both at the starts of their careers, and both very shrieky and shrill. I guess they were trying to one-up Brazilian avantniks like Os Mutantes and Tom Ze, and if the goal is to make "challenging" music, I suppose they succeeded. I personally can't handle it, but this is a Brazilian prog/art rock/free jazz cult classic.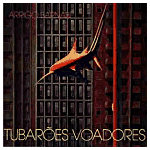 Arrigo Barnabe "Tubaroes Voadores" (Ariola, 1984) (LP) <! Polydor? >


Another difficult/artsy set, but with a much wider palette than the first album... Classical string arrangements bookend saxy squonks and plinky proto-electonica -- Zappa's still the best comparison I can make, or maybe Beefheart. The female vocals are less brittle and more expansive, sort of a mix between Kate Bush, Diamanda Galas and Rita Lee. Still irritating, but less monochromatic than the Clara Crocodilo songs... Still ain't my cup of tea, but if you like stuff that's weird just for the sake of being weird, you will want to check this out.
Arrigo Barnabe "Cidade Oculta" (Soundtrack) (Barclay, 1986) (LP)

Arrigo Barnabe "Suspeito" (3M, 1987)

Arrigo Barnabe "Facanhas" (Camerati, 1992)

Arrigo Barnabe/Various Artists "Ed Mort" (Soundtrack) (Rob Digital, 1997)

Arrigo Barnabe "Gigante Negao" (Nucleo Contemporaneo, 1998)

Arrigo Barnabe "A Saga De Clara Crocodilo" (Tranx God Records, 1999)

Arrigo Barnabe "Colet‰nea 25 Anos de Clara Crocodilo" (2004)

Arrigo Barnabe "Missa In Memoriam Arthur Bispo do Rosario" (2004)

Arrigo Barnabe "Missa In Memoriam Itamar Assumpcao" (Tratore, 2007)


Arrigo Barnabe & Paulo Braga "Ao Vivo Em Porto" (Atracao, 2008)


---
Tributes & Related Records
---
Patife Band/Arrigo Barnabe "Corredor Polones" (WEA, 1987)

Tuca Fernandes "Luar: Cancoes De Arrigo Barnabe" (Trama, 2004)






>

---
Links
---
---



---