<! cd = 01/17/10 > <! MP3 01/17/10, 03/08/12 - partial > <! update 00/00/00 > <! pix 00/00/00 > <! ALLBM 01/17/10 > <! icons 02/01/11 >

---
Following solidly in the footsteps of samba-funk master Jorge Ben, samba soulster Bebeto was a major fixture in the Rio party scene of the 1970s and '80s. Most of his early albums are out of print, but I'm sure time will solve that problem... In the meanwhile, trying to track these discs down will keep all all you kooky collectors busy...
---
Discography
---

Bebeto "Bebeto" (Copacabana, 1975)
A sweet, swaying, super-mellow debut from this "samba-rock" pioneer, a favorite among the party people of the 1970's soul scene. It's basically Jorge Ben's funky samba sound, with a little bit of the edge taken off -- total chill music, mellow and easy on the ears, but groovy enough to get your butt shaking, too. It's not as densely layered or potent as Ben's work of the same period, but it's not meant to be, really. It's all about having a nice time, and that's what you'll have with this music in the air. Recommended!


<! 01 - Pensar pra Que 02 - Muito Amor e Liberdade 03 - So Queria Saber 04 - Veja a Vida como e 05 - So quero Sambar 06 - Poderoso Thor 07 - Gabriela 08 - Segura Nega 09 - Morte da Sandalia de Couro 10 - Adao Voce Pegou o Barco Furado 11 - Esse Crioulo Por Voce se Fez P 12 - Ela Vai Mostrar >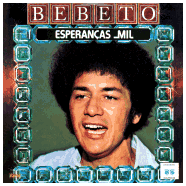 Bebeto "Esperancas Mil" (Copacabana, 1977)
(Produced by Paulo Rocco & Jorge Gambier)
An exact halfway point between the groove-oriented, mildly disco-y samba-rock of Jorge Ben and the spacier folk-tropicalia of Gilberto Gil. The uptempo stuff resonates less well for me (although I bet it was tons of fun when he played this stuff live...) but the slower, slinkier songs, such as "Salve Jorge" (a tribute to Jorge Ben) and the title track, "Esperancas Mil," have a dreamy, lazy, mystical power, much the same as Bebeto's idols. He's nakedly imitative of their work, but still cut from the same cloth, and from the same era, enough so that this qualifies as "classic" '70s samba, even if there's a little bit of a "lite" touch as well. Good stuff, though it's hard to to compare him to the originals.


<! 01 - Água, água (Theodoro - Bebeto) 02 - Princesa negra de Angola (Dhema - Bebeto) 03 - Hei, cara (Jočozinho - Bebeto) 04 - Sol de verčo (W.Santos - Bebeto) 05 - Nźga Olivia (Alexandre - Bedeu) 06 - Deus Salve Jorge (Andô - Jota Velloso) 07 - Esperanćas mil (Dhema - Bebeto) 08 - Na galha da mutamba (Lôbo - Bebeto) 09 - Vocź é paz que me acalma (Menina) (Dhema - Bebeto) 10 - Vocź nasceu pra mim (Toca - Jočozinho) 11 - Sua presenća me faz feliz (Bebeto) 12 - Estou perdido entre bemóis (Bedeu) Arranged by Waldemiro Lemke (metais), Sergio Lemke (cordas) >

Bebeto "Cheio De Razao" (Beverley, 1978)
Mellow, slightly disco-y samba-funk, still very much in the style set by Jorge Ben. This doesn't have the same dazzling punchiness as Ben's best work, but it also doesn't have the same rough spots and frenetic excesses as contemporary albums by the likes of Tim Maia, Cassiano, et al. It's poppy and light, easily accessible, but also quite nice. Recommended! (Reissued on CD along with Massagem, below.)
Bebeto "Malicia" (1980)


Bebeto "Massagem" (Copacabana, 1981)
More nice stuff from this mellow-sounding samba-funk star. Uncomplicated, and easy on the ears. Worth checking out!
Bebeto "Batalha Maravilhosa" (RCA, 1981)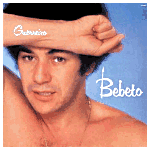 Bebeto "Guerreiro" (RCA, 1982)
(Produced by Ozmar Zan, Jobam & Tadheus)
Hate to admit it, but this one's pretty bland and disappointing. Bebeto seems like he's going through the numbers and also got a little too big a whiff of Tim Maia's style on a tune or two. Mostly it's the same old Jorge Ben-lite sound, although the music is more prefab and hard to actually enjoy. To be honest, it all seems a bit labored and uninspired. You could try this out, sure, but other albums are better.
Bebeto "Simplesmente" (RCA, 1983)

Bebeto "Magicamente" (RCA, 1984)

Bebeto "Fases" (RCA, 1985)

Bebeto "Vem Me Amar" (Polygram, 1986)

Bebeto "Sorte" (Copacabana, 1989)

Bebeto "Bebeto 20" (Copacabana, 1991)

Bebeto "Bebeto" (RGE, 1992)

Bebeto "Garra, Sangue E Raca" (1995)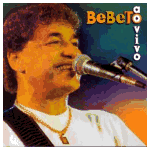 Bebeto "Ao Vivo" (Universal-MZA, 2000)


(Produced by Marco Mazzola)
A slick but solid live set, with a seasoned old pro giving a lively, appreciative audience what they want. Even with the smooth arrangements, this album has an electrifying undercurrent -- the band plays with feeling and drive, and the fans sing along in a vast, stadium-y chorus. You can tell everyone was having a good time, and it ain't hard to imagine all the sweaty, dancing, happy bodies in that crowd. I don't recognize any of the musician's names, so I'm guessing this was his own band, and not a hired-hands wrecking crew... A strong later effort with some cheesy moments, worth a spin if you're curious.
Bebeto "Swinga Brasil" (Abril, 2001)


Bebeto "Pra Balancar" (MZA, 2008)


---
Best-Ofs
---
Bebeto "Novo Millennium" (Dubas, 2005)


A 20-song set with some new songs, and oldies re-recorded in live concerts...
Bebeto "Serie Raizes Do Samba" (EMI, 1999)

Bebeto "Serie Sem Limite" (Universal, 2002)

Bebeto "E Sou O Samba" (EMI, 2005)


Another best-of set...
---
Links
---
---



---