<! cd = 04/17/12 > <! MP3 00/00/00 > <! pix 00/00/00 > <! ALLBM 00/00/00 > <! icons 00/00/00 > <! UPDATES: 00/00/00 >

---
Aldir Blanc is a legendary MPB songwriter, best known as Joao Bosco's main creative partner during the 1970s, and a favorite of Elis Regina. His style is the height of stylishness and class -- perhaps too gooey for some, revered and admired by others. Here's a quick look at his career, and some interpretations of his work -- also check out Joao Bosco's catalog for the best-known vesions of many of these songs.
---
Discography
---
Aldir Blanc & Mauricio Tapajos "Rio, Ruas E Risos" (SACI, 1969) (LP)


Aldir Blanc & Mauricio Tapajos "Aldir Blanc & Mauricio Tapajos" (SACI, 1995)


(Produced by Aldir Blanc & Mauricio Tapajos)
Swank, lushly orchestrated MPB arrangements and relaxed, playful vocals are the hallmarks of this album, which unites composer/vocalist Aldir Blanc with composer/arranger Mauricio Tapajos along with a host of slick studio players. This may be a little too sugary and baroque for many listeners, but it's solidly in the classic MPB tradition. The casual, intimate vocals make up for the gooey musical backing... Although I have to confess both of the female guest vocalists, Cristina Santos and Marilia Barbosa left me cold. Worth checking out, but be prepared for some big, goopy orchestrations. (Note: this is sometimes listed as Quarelas Do Brasil, but that's just the first song on the album, not the actual album title...)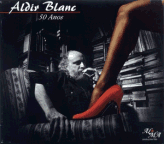 Aldir Blanc/Various Artists "50 Anos" (Alma Producoes, 1996)


A glitzy collection of Blanc's material... It's an all-star cast on this one: Blanc himself plays on about a third of the album, and is also feted by Edu Lobo, Ivan Lins, Paulinho Da Viola, Leila Pinheiro and the Caymmi kids, as well as a slew of lesser-known samba and MPB performers. The straight samba material is pretty nice; the swankier jazz-tinged material can be a bit much. It's a mixed bag, but a very nice introduction to his work.

Aldir Blanc "Vida Noturna" (Lua, 2006)



(Produced by Moacyr Luz)
A more reserved set, classy and even a bit sedate, mostly Blanc singing with Crisovao Bastos on the piano, and light accompaniment on guitar by Joao Lyra. This trio is joined by several guest performers, such as Helio Delmiro and Guinga, and Moacyr Luz sings on one highlight track, "Recreio Das Meninas II," while Blanc's old partner Joao Bosco guests on two tracks. This is very elegant, formalized MPB material, a delight for fans of the style's romantic ballads, though perhaps a little sleepy for some... It might grow on you, though!
---
Tributes
---
Francesca Ajmar & Roberto Bernardini "Gato De Suburbio: As Cancoes De Aldir Blanc" (Dodicilune, 2010)


Leila Pinheiro "Catavento E Girassol" (EMI, 1996)


A tribute to songwriters Aldir Blanc and Guinga, who both also perform on the album. The best tracks on here are bouncy, sprightly and tastefully arranged -- collaborators include Blanc and Guinga, along with Joao Augusto and guitarist Paulo Bellinati. The album starts off with some of the most compelling stuff I've heard Pinheiro do -- and her vocals easily match the concise, playful tone of the arrangements. That being said, there is an artistic arc to this album, and it leads inexorably towards Pinheiro's dreary, trademarked pop sophistication; the delicate balance of the album's first third dissolves and gives way to a style which I find a bit irritating. Still, about half this album is really quite nice. Worth a spin.
Rodrigo Zaidan "Joao Bosco E Aldir Blanc" (HPI, 2004)

Various Artists "GRANDES AUTORES: JOAO BOSCO & ALDIR BLANC" (BMG, 1998)

---
Links
---
---



---