<! cd = 03/09/12 > <! MP3 03/09/12, 04/13/12 > <! pix 04/13/12 > <! ALLBM 00/00/00 > <! icons 00/00/00 > <! UPDATES 03/09/12 - posted 04/13/12 - new review, pic >

---
Crooner-composer Billy Blanco (1924-2011) was a major force in Brazilian pop, a prolific songwriter whose career spanned both sides of the bossa nova divide. Although less well known outside of Brazil, Blanco has long been a favorite of the bossa and MPB elite, one of their touchstones as they shaped a new pop aesthetic in the 1960s and '70s, and one of Antonio Carlos Jobim's earliest collaborators in the early 1950s. Here's a quick look at his work...
---
Discography
---
Billy Blanco & Tom Jobim "Sinfonia Do Rio De Janeiro" (Continental, 1954)


A recording with tremendous historical import: this was one of the earliest recordings of the work of composer Antonio Carlos Jobim, who went on to revolutionize Brazilian music with the birth of the bossa nova. Blanco was there along with several other popular singers of the "radio singer" era -- Lucio Alves, Emilinha Borba, Os Cariocas, Nora Ney -- and maestro Radames Gnattali as well.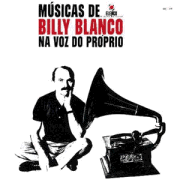 Billy Blanco "Musicas De Billy Blanco Na Voz Do Proprio" (Elenco, 1966)
Billy Blanco sings Billy Blanco, his light, playful vocals matched with sweet, classy accompaniment... At once nimble and restrained, this is a fairly perfect bossa nova album, with all the elegance and class you want from the genre, but none of the stuffiness. Great set of songs, too, all of them Blanco originals. Highly recommended!


<! 01 - Mocinho Bonito (Billy Blanco) 02 - Rio do Meu Amor (Billy Blanco) 03 - Minha Vida Com Tereza (Billy Blanco) 04 - Branca de Neve (Billy Blanco) 05 - Tio Alfredo (Billy Blanco) 06 - Secret‡ria (Billy Blanco) 07 - Domingo Azul (Billy Blanco) 08 - Tchau Mesmo (Billy Blanco) 09 - Pra¨a Mau‡ (Billy Blanco) 10 - Estrada do Nada (Billy Blanco) >

Billy Blanco & Aracy De Almeida "No Zum-Zum" (Elenco, 1966)



<! and Sergio Porto, performer? >

Billy Blanco "Paulistana: Retrato De Um Cidade" (EMI-Odeon, 1974)





Billy Blanco "Guajara: Suite Do Arco-Iris" (Warner, 1993)





Billy Blanco "O Autor E Sua Musica" (CID, 1996)





Billy Blanco & Radames Gnattali "Doutores Em Samba" (Kuarup, 1996)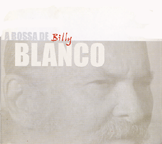 Billy Blanco/Various Artists "A Bossa Do Billy Blanco" (Biscoito Fino, 2002)


A notably low-key, lounge-y, tribute'n'duets album, with guest stars galore. Even here, in his later years, Blanco exudes a strong, bright charisma, and in some ways his relaxed, mature presence is a pleasant contrast to the work of his youth. Guest artists include Leile Pinheiro, Ney Matogrosso, Olivia Hime, Erasmo Carlos, Paulo Jobim and Blanco's son, Billy Blanco, Jr. All the songs on here were written or co-written by Blanco; he performs on about half the tracks.
---
Links
---
---



---