<! cd = 05/25/12 > <! MP3 00/00/00 > <! pix 00/00/00 > <! ALLBM 05/25/12 > <! icons 05/25/12 > <! UPDATES: 05/25/12 >

---
Songwriter Carlos Cachaca (1902-1999) was one of the founders of the Mangueira samba school, a celebrated elder of the velha guarda and a superior song stylist who recorded sparingly in his glory days, and had only one full album come out under his name, during the samba renaissance of the 1970s. Here's a quick look at his work...
---
Discography
---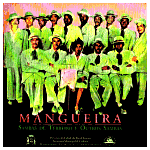 Carlos Cachaca/Various Artists "MANGUEIRA: SAMBAS DE TERREIRO E OUTROS SAMBAS" (Arquivo Geral da Cidade do Rio de Janeiro, 1999)
This 2-LP set gathers historical recordings of a number of Mangueira samba school members, including a handful of recordings Cachaca made in the 1940s and '50s. The artists include Cartola, Jacob Do Bandolim, Nelson Cavaquinho, Clementina de Jesus, Ze Keti and many others who are more obscure; the music is mostly pretty awesome.

Fala Mangueira! "Fala Mangueira!" (Odeon, 1968)


A magnificent old-school, pre-pagode samba album. It's a little difficult to know just where to file this one... "Fala Mangueira" is actually the album title, but while five of the greatest traditional samba artists of the 1960s and '70s share the stage, as it were, on this disc, they are all performing together, taking turns singing the leads on longer medley tunes. At any rate, if you want to hear Clementina, Odete Amaral, Nelson Cavaquinho, Cartola and Carlos Cachaca all busting loose on a nice set of tunes associated with (and about) Cartola's famous samba school, then check this disc out. The arrangements and performances are all first-rate, and this has a really nice, friendly feel. Recommended!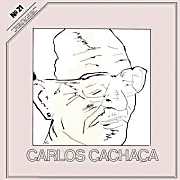 Carlos Cachaca "Carlos Cachaca (Serie Idolos MPB, v.21)" (Continental, 1976) (LP) <! LP ASIN? B0040Z3FBW >


(Arranged and conducted by Joao de Aquino)
Gentle sambas from an old master, who was well into his seventies when this recording was made. His vocals are pretty geezerly, but gracefully delivered and delightfully soulful. Compared to contemporaries such as Cartola, Cachaca has a more supple, fluid style which underscores the clever playfulness that dances at the surface of his voice. Backing him are many of the "usual suspects" of the '70s samba scene -- flautist Copinha, Canhoto on cavaquinho, trombonist Raul de Barros -- and they take it down a notch or two to accommodate the old guy... Fine by me: I like slow sambas best. Nice stuff; very classy, with all songs written or co-written by Cachaca.


<! Carlos Cachaća "Serie Idolos MPB, v.21" (Continental, 1976) 01 - Todo amor (Carlos Cachaća - Cartola) 02 - Quem me vź sorrindo (Carlos Cachaća - Cartola) 03 - Amor de carnaval (Carlos Cachaća) 04 - Crueldade (Carlos Cachaća) 05 - Se algum dia (Carlos Cachaća) 06 - Nčo me deixaste ir ao samba (Carlos Cachaća) 07 - Harmonia em Mangueira (Carlos Cachaća) 08 - As flores e os espinhos (Carlos Cachaća) 09 - Cabrocha (Carlos Cachaća) 10 - Juramento falso (Carlos Cachaća) 11 - Clotilde (Carlos Cachaća) 12 - Alvorada (Carlos Cachaća - Cartola - Hermínio Bello de Carvalho) Raul de Barros - trombone Copinha - flute Waldir de Paula - 7 strings acoustic guitar Canhoto - cavaquinho Meira - acoustic guitar Marćal, Elizeo, Jorginho, Gilson - rhythm >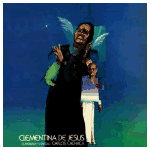 Clementina De Jesus "Convidado Especial: Carlos Cachaca" (EMI-Odeon, 1976)
Radiating good spirits and poetic depth, Cachaca sings solo on three of his songs -- "Nao Quero Mais Amar A Ninguem," "Itinerario," and "Lacrimario" -- as part of a very sweet set from samba raiz icon Clementina De Jesus. There's also a little bit of new stuff -- songs by Joao Bosco and Milton Nascimento -- several samba school classics, and a ton of traditional, folkloric chants, which are some of the most haunting and delicious tunes on here. As ever, you have to get on the right wavelength to appreciate Clementina's gravelly, husky voice, but once you do, this is a very rewarding record.
Carlos Cachaca "Mestres Da MPB" (Warner/Continental, 1996) <! date? ? >


This is a straight reissue of the Carlos Cachaca album above, with all the songs still in the same original order as the LP. Yay.
Carlos Cachaca "Enciclopedia Musical Brasileira" (WEA, 2000)


This CD reissue includes all the songs from Cachaca's solo record, as well as a couple of tracks from the Clementina de Jesus Convidado album. Sweet stuff!
---
Links
---
---



---