<! cd = 03/09/12 > <! MP3 00/00/00 > <! pix 00/00/00 > <! ALLBM 00/00/00 > <! icons 00/00/00 > <! UPDATES 03/28/12 - posted >

---
One of the great stars of the pre-bossa nova "radio singers" era, Sylvio Caldas recorded a series of great samba-cancao hits in the 1930s, and just kept on going, remaining a star in the 1950s and '60s. Here's a quick look at his career...
---
Discography
---

Sylvio Caldas "Serie Bis - Cantores Do Radio" (EMI-Brasil, 2000)



Although Caldas' career extended well into the 1950s and '60s, this set is a delight because it sticks strictly to his recordings of the 1930s, during the Depression-era golden years of Brazil's radio performers. A genteel, relaxed vocalist with the smoothness of Russ Columbo (but not the stylized panache of Bing Crosby), Caldas has a pleasant, calm delivery and all these antique-sounding classic samba cancao arrangements frame first-rate material. This is one of the gems of this series -- highly recommended!
Sylvio Caldas "Sylvio Caldas" (Revivendo, 1998)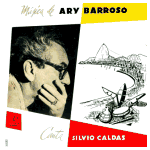 Ary Barroso & Silvio Caldas "Musica A Ary Barroso, Canta Silvio Caldas" (Radio Records, 1953)


A great set with Ary Barroso backing romantic balladeer Silvio Caldas, sometimes just Barroso on piano, and other times with a pretty swinging little orchestra. This is some of the best work of Caldas' that I've heard -- his heart is really in it... The slow numbers aren't too slushy, and the uptempo stuff is a gas. Recommended!


<! date per LX >

Sylvio Caldas "O Seresteiro" (Mocambo, 1958)


Decades after he pioneered the fledgling samba cancao style, Caldas returned to the studios for this notably toned down, milky-sounding set of slow, syrupy ballads. The orchestral backing doesn't wear well, and Caldas's voice also ain't what it used to be. This set may have some specific nostalgic or cultural resonance for an older generation of Brazilian samba fans, but for an outsider looking in, it wasn't that much fun to listen to.
Sylvio Caldas "Ary Barroso Com Sylvio Caldas" (Revivendo, 1998)

Sylvio Caldas "Serie XXI" (Sony, 2000)





<! THERE'S A BUNCH OF SILVIO CALDAS... but I just couldn't deal 11/08 >

---
Links
---
---



---