<! cd = 06/01/12 > <! MP3 00/00/00 > <! pix 00/00/00 > <! ALLBM 00/00/00 > <! icons 00/00/00 > <! UPDATES: 06/10/12 >

---
Brazilian teen idol and record producer Tony Campello was the older brother of teen idol Celly Campello. He started his career singing rock and pop on a radio show with his sister, and later retired from performing to take up a career as a record producer, working with several of Odeon's more promising jovem guarda artists (such as Desi & Dino, Os Incriveis and Sergio Reis). Here's a quick look at his work as a recording artist.
---
Discography
---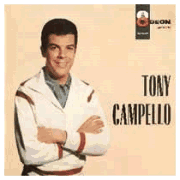 Tony Campello "Tony Campello" (Odeon, 1959)





<! 1 Pobre de mim (Poor little fool) (S.Sheeley) 2 My special angel (J.Duncan) 3 Louco amor (Crazy love) (Paul Anka) 4 Forgive me (Celeste Novaes - Mário Gennari Filho) 5 Como antes (Come prima) (Taccani - Panzeri - Di Paola) 6 Oh! baby (Ed Rossi - Mário Gennari Filho) 7 Goodbye (Ed Rossi - Mário Gennari Filho) 8 O diário (The diary) (Greenfield - Sedaka) 9 Tenha pena (Pity pity) (J.Ergus - S.Lawrence) 10 As time goes bye (H.Hupfeld) 11 Baby rock (R.C.Nisa) 12 My trudy (D.Day) > <! This was his first LP, made after he'd been playing professionally for several years. >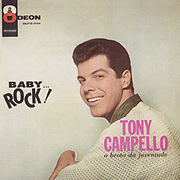 Tony Campello "Baby Rock" (Odeon, 1960)


Easygoing teenybopper rock -- early Brazilian ie-ie-ie jovem guarda pop -- with a few mildly vigorous tunes and several slower songs that seem closer in spirit to mainstream pop vocals. I guess you could characterize Campello as a Brazilian Pat Boone, though given the dearth of South American rock stars at the time, he's a little higher up the rock'n'roll foodchain than Boone was, back in the United States. This won't blow your mind, but it's better than a lot of the soft-pop JG stuff that would come later... Worth checking out.




Tony Campello "Tony Campello" (Odeon, 1961)



<! 1 Baby face (Davis - Akst) 2 Blue moon (R.Rodgers) 3 Enxutinha (Pretty baby) (E.V.Alstyne - T.Jackson) 4 My melancholy baby (Burnett - Norton) 5 Margie (Robinson - D.Conrad) 6 Yes sir, that's my baby (Kahn - Donaldson) 7 Chérie (Lowe - Appell - Mann) 8 Querida Susie (Susie darlin') (R.Luke Jr.) 9 Dreamin' (T.Ellis - B.Vorzon) 10 Escola de rock (Swingin' school) (Lowe - Appell - Mann) 11 Wild one (Lowe - Appell - Mann) 12 Broto sem igual (Good time baby) (Lowe - Appell - Mann) >

Tony Campello "Nao Te Esquecas De Mim" (Odeon, 1963)





Tony Campello "Tony Italiano" (Odeon, 1964)




Tony Campello "Serie Bis" (EMI, 2000)


A 2-CD collection.
---
Links
---
---



---