<! cd = 04/23/12 > <! MP3 00/00/00 > <! pix 00/00/00 > <! ALLBM 00/00/00 > <! icons 00/00/00 > <! UPDATES: 04/30/12 >

---
Antonio Candeia (1935-1978) was one of the great velha guarda samba traditionalists to record in the 1970s... His career originally took off in 1953, when his song "Seis Datas Magnas," won a perfect score in the Carnaval competitions, establishing Candeia as a famous composer and performer. In the 1960s, he joined the police force, but he apparently was kind of a difficult man and in 1965 a violent argument with a local prostitute led to an attempt on his life: Candeia was shot five times and lived, but was paralyzed from the waist down for the rest of his life. He continued to compose and record, and even founded a samba school in the 1970s, Escola de Samba Quilombo. His songs were widely covered by samba revivalists such as Clara Nunes and Martinho Da Vila, as well as in the annual Carnaval parades. Here's a quick look at his work...
---
Discography - Best-Ofs
---
Candeia "Mestres Da MPB" (WEA, 1992)


Candeia "Enciclopedia Musical Brasileira" (WEA, 2000)

Candeia "Filosofia Do Samba" (Ouver, 2002)

Candeia "e-Collection" (WEA, 2002)

Candeia "Warner 30 Anos" (WEA, 2006)





<! some other listings, could sort out another time >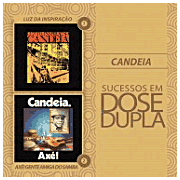 Candeia "Dose Dupla: Luz Da Inspiracao/Axe" (Warner Brasil, 2006)


A straight-up, 2-CD reissue of Candeia's last two albums, which are both reviewed below... Very cool stuff!
Candeia "Nova Serie" (WEA, 2008)

---
Discography - Albums
---
Candeia "Candeia" (Equipe, 1970)


Candeia "Seguinte... Raiz" (Equipe, 1971)


(Produced by Oswaldo Cadaxo)
An odd record with good points and bad... This seems to be a transitional album, halfway between the old-school view of samba de roda and samba de asfalto as "folk" genres and the newer, sleeker pagode style, which streamlined samba and gave it renewed vigor -- and commerical appeal --in the post-bossa nova world. Many songs have a rough, almost chaotic feel, with deep roots percussion (and some amazing polyrhythms mixed into the foreground) while Candeia's vocals are equally unruly. At time his voice and the chorus behind him seem to be going in opposite directions... But the rootsier, more rugged samba numbers all have their appeal, even if the slicker sound of the '70s hasn't quite found its footing in Candeia's work. What's less appealing are the numbers where the producers tried to push him into a crooning role -- he's terrible singing pop and ballads, with his croaking voice and roughneck vibe. But most of this record is pretty cool... Not his best record, but certainly worth checking out, particularly if you're looking for an alternative view of '70s samba in its early years. This disc does have a distinctive, unique feel.


<! 01 - Vem é lua (Candeia) 02 - Filosofia do samba (Candeia) 03 - Silźncio tamborim (Anézio - Wilson Bombeiro) 04 - Saudade (Arthur Poerne - Candeia) 05 - A hora e a vez do samba (Candeia) 06 - Saudaćčo a Toco Preto (Candeia) 07 - Vai pro lado de lá (Euclenes - Candeia) 08 - Regresso (Candeia) 09 - De qualquer maneira (Candeia) 10 - Imaginaćčo (Aldecy - Candeia) 11 - Minhas madrugadas (Candeia - Paulinho da Viola) 12 - Quarto escuro (Candeia) Arranged by Maestro José Roberto (6,10,12) Helinho - acoustic guitar >

Candeia "Samba De Roda" (Tapecar, 1975)


Groovy early-70s, acoustic Rio sambas... This traditionalist album features drumming assists by Wilson Das Neves, and a rather stark, stripped-down overall feel. Cool stuff, though. Plus, it has the Paulinho Da Viola seal of approval, so you know it's gonna be great.


<! 130 x 130 >
Quatro Grandes Do Samba "Quatro Grandes Do Samba" (RCA, 1977)



One of those dazzlingly great, deliciously understated acoustic samba albums that make us all so thankful for CD reissues... This album originally came out at the height of the MPB years, although there was also a resurgent "pagode" samba revival going on, which this disc fits into quite nicely. At any rate, the four old-timers who made up this ensemble are all impressive figures on their own: Nelson Cavaquinho, Candeia, Guilhereme de Brito and Elton Medieiros all back each other up as they trade off on vocals. It's a beautiful record, worth tracking down, especially if you enjoyed recent albums such as the Velha Guarda da Portela discs... Recommended!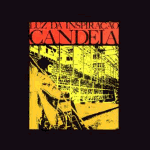 Candeia "Luz Da Inspiracao" (WEA-Atlantic, 1977)


(Arranged and conducted by Luiz Roberto)
Sweet stuff! The '70s pagode sound had coalesced by this point, and the sleek, joyful formula works wonders. Still, as a singer Candeia had some rough points that helped underscore his roots-samba background, and he has a chunk-of-coal-among-the-diamonds quality that's really kind of cool. Interesting stylistic variety here, too: there's plenty of the classic cavaquinho-and-chorus sound, but also some deep-roots African drumming, along with a little Cuban-style Latin music at the album's end. On a couple of tracks, Candeia sounds a little out of it, either bored or just tired (as on the end of the title track), but overall this is some fine samba raiz, drenched in soulfulness and authenticity. Recommended!


<! 01 - Riquezas do Brasil [Brasil poderoso] (Waldir 59 - Candeia) 02 - Maria Madalena da Portela (Aniceto) 03 - Olha o samba sinhá [Samba de roda] (Candeia) 04 - Vem menina moća (Candeia) 05 - Nova escola (Candeia) 06 - Já curei minha dor (Padeirinho) 07 - Luz da inspiraćčo (Candeia) 08 - Me alucina (Candeia - Wilson Moreira) 09 - Falso poder [Ser ou nčo ser] (Candeia) 10 - Era quase madrugada (Casquinha - Candeia) 11 - Cabocla Jurema (Candeia) 12 - Pelo nosso amor (Cartola) Arranged and conducted by Luiz Roberto Guest musician: Aniceto - voice (2) >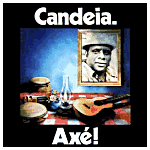 Candeia "Axe! Gente Amiga Do Samba" (WEA-Atlantic, 1978)


(Produced by Joao do Aquino & Mazola)
In contrast to Luz, this is is a more tightly focussed effort -- Candeia croons beautifully and with great soulfulness, easily matched by his numerous guests, which include here Martinho da Vila, Casquinha da Portela, Noca de Portela and others from the Portela samba school. It's all lovely music, with all the hallmarks of the '70s samba sound: graceful melodies, sweet cavaquinho and other acoustic instruments, a soulful vocal chorus and irresistible rhythms. Highly recommended!
---
Tributes
---
Graca Braga "Dia Do Graca: O Samba De Candeia" (Lua Discos, 2012) <! date? >

Cristina Buarque & Terreiro Grande "Canta Candeia" (Tratore, 2010)

Luiz Carlos Da Vila "A Luz Do Vencedor: Luiz Carlos Da Vila Canta Candeia" (UMES, 2007) <! date? >

---
Links
---
---



---