<! cd = 06/22/12 > <! MP3 06/22/12 > <! pix 00/00/00 > <! ALLBM 00/00/00 > <! icons 06/22/12 > <! UPDATES: 06/22/12 >

---
Guitar player Ronaldo Leite de Freitas, aka "Carioca" cut his teeth playing rock music, but later turned towards more avant garde and jazz-oriented music, also exploring Brazilian regional styles and incorporating these influences into his music. He might appeal to fans of erudite Brazilian jazz musicians such as Egberto Gismonti and Nana Vasconcelos, as well as choppsier non-Brazilian guitarists like Stevie Vai or John McLaughlin. Here's a quick look at his work...


<! The guitar player Ronaldo Leite de Freitas - or simply called Carioca - was born in Rio de Janeiro in 1955. He started very early with his musical education. From experiences in rock bands he passed on to study different styles of music and to master the knowledge of his instruments. In 1979/80 he finished his first album "Misterios da Amazonia". After the 80s he has been working as a music teacher, as an arranger of more than thirty independent LPs, as a composer for theatre, dance and movie. Due to constant touring in Europe, he also started to live in Switzerland. Together with Ted Barlocher he founded the "Escola de Samba do Apito". Arranging, composing, producing soundtracks, recordings for studios and television soon characterized his work which started to be known in Europe, Australia, Africa, Asia as well as in South and Central America. "Dan¨as Brasileiras" - The purpose was to translate Brasilian rhythms and dances into a happy and folkloristic version of Brasilian music. "Dan¨as Brasileiras" reveals the style of chamber music, which inspired suites and reminds of little popular pieces of dance music. Repertoire: Varia¨ois sobre um tema, V™o livre, Baiao, Maracatu, maxice, Bailado, Sambando, Forro, Fafieira, Quadrilha, Serenata. >

---
Discography
---
Carioca "Misterios Da Amazonia" (1980)


The first solo album by guitarist Ronaldo Leite de Freitas (aka "Carioca" or Carioca Freitas), a '70s rocker who shifted his focus towards acoustic guitar and more folkloric and acoustic jazz material...
Carioca "Luar Do Sertao" (LP) <! ZD? >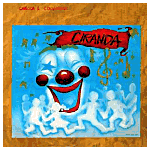 Carioca & Convidados "Ciranda" (Lira Paulistana, 1983)


The flutes, woodwinds and chamber-ensemble strings give this a flowery, classical feel, but De Freitas also gets off some blistering, jazzy riffs that wou'd make John McLaughlin proud, as well as some samba/bossa meditations straight out of the Baden Powell playbook. Among the "convidados" playmates are bassist Rodolfo Stroeter and Bebeto (of Tamba Trio fame?) on flute. Some of this is too modernist for me, in an avant-classical mode, and also not as "Brazilian" as some might like, but there is a wide stylistic breadth, so there's more tan one layer to explore this on. Worth checking out if you're into an "erudite" exploration of world folk...


<! Carioca (Ronaldo Leite de Freitas) - acoustic guitar (1,2,3,4,6), c'tara nordestina (5,7), voice (5), garrafa (6), 10 strings viola (8), 10 strings acoustic guitar (9) Rodolfo Stroeter - contrabass (1,6) Zˇ Eduardo Naz‡rio - drums (1,6) Zˇ Roberto - acoustic guitar (1,5), guitar (1,6) Bebeto - flautim (1,3), flute (1,3,5) Caio - cello (2) Ricardo Frota - violin (3,4,7) Daniel - oboˇ (5,6,8) Marcos Cazuza - talking drum (5), vaso (5), tabla (8), percussion (8), kalimba (9) Leandro Barbosa - electric bass (8) Marcos Esguleba (Marcos Alcides da Silva) - percussion (8) Jo‹o Cuca - oboˇ (9) >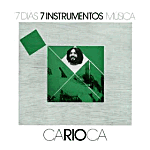 Carioca "7 Dias 7 Instrumentos Musicais" (Carmo, 1984) (LP)


A challenging album, difficult listening, really. Carioca explores several unusual instruments, such as the 8- and 10-string guitars, the 3-string bandolim, and a couple of models of the citara nordestina, an instrument he plays on many of his other albums. Personally, I find this too artsy and cerebral, but folks who are into experimental guitar work might want to check it out.
Carioca "CaRIOca"

Carioca "Danca De Caboclo"

Carioca "Meeting In The Forest"

Carioca "Dancas Brasileiras" (Tratore, 2009)


---
Links
---
---



---