<! cd = 03/12/12 > <! MP3 03/12/12 > <! pix 03/12/12 > <! ALLBM 00/00/00 > <! icons 00/00/00 > <! UPDATES 03/12/12 - posted >

---
Cassiano as one of the major stars of the 1970s Brazilian soul scene, with work that tilts more towards the Earth Wind & Fire/Lionel Richie end of the spectrum. I'm not a big fan, but if you're looking into Brazilian funk and soul, you'll want to give this guy a shot...
---
Discography - Best-Ofs
---

Cassiano "Colecao" (Universal/Dubas, 2000)


Thin, somewhat wobbly Brazilian soul ballads. Soft-soul pioneer Cassiano's made three albums in the 1970s, spread out over three different record companies, so it's a pretty neat trick how the Universal-distributed Dubas label was able to collect and reissue the material on a single CD, which draws liberally from all three records. Compiled by modern Braz-soulster Ed Motta, this best-of is a pretty good representation of Cassiano's strengths and weaknesses. I thought this was mostly cheesy material, with rather ricketty arrangements... I'm sure many people find Cassiano's fragile voice to be delicate and emotionally vulnerable, I simply thought it was thin and limited, and close enough to Lionel Richie for the hackles on my neck to bristle up. Historically important , but the material doesn't move me. Would have been cool if they'd included some of his earlier work with the poppier, perkier Os Diagonais, but maybe that's asking too much.
---
Discography - Albums
---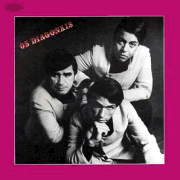 Os Diagonais "Os Diagonais" (CBS-Epic, 1969)


A fun set of Brazilian pop-soul, with a youthful, cheerful vibe. This Rio-based band featured several key players in the burgeoning "Black Rio" soul scene, notably singer-guitarist Hyldon Souza and singer-songwriter Cassiano. In the late '60s, they backed Tim Maia, who was perhaps the most influential of the Brazilian soul singers. This was the band's first full-length album, and it has kind of an Arthur Conley-ish feel... Not quite all-out funky, but close. Personally, I find this a lot more enjoyable than their later work in the 1970s (particularly Cassiano's) where the music got pretty overbaked. Here, it's still all fresh and earnest, and not too serious or syrupy. Definitely worth checking out.


<! Os Diagonais started in 1964 as Bossa Trio. They had a very short career, recoding several singles, this first LP in 1969 and the last one in 1971, making a mix of Samba and Soul music blended with nice vocal harmonies. Among several members during these years, it is very easy to highlight several names that became later renowned artists, such as: Cassiano, Luizao, Hyldon, Osmar Milito, among others. Tracks include: >

Os Diagonais "Os Diagonais (Cada Um Na Sua)" (RCA, 1971)



The album opens with some overly-bright, perky sunshine-pop, straight out of the Southern California/LA playbook; Philly-style soul and a bit of harder funk come into play later. I can't say I actually liked this record that much -- most of the songs seem a bit shrill and hyperactive -- but serious students of Brazilian funk and soul will definitely want to check it out. Several of the songs on this disc were written by Cassiano, who seems to have been the dominant performer in the band.

Cassiano "Imagem E Som" (RCA Victor, 1971)


Brazil's soul equivalent of Os Mutantes' mimickry of American and British psychedelic rock. Of the Cassiano stuff I've heard, this album seems to have the strongest material... The style echoes the Jackson Five's pop-soul bounciness, with a dash of Philly goopiness thrown in for good measure. Musically, the album falters around his weak vocals, although it's still pretty interesting... particularly in the solid, professional arrangements. Worth checking out.

Cassiano "Apresentamos Nosso Cassiano" (Odeon, 1973)


Cassiano "Cuban Soul - 18 Kilates" (Polydor, 1976)


Settling firmly into the lavish, over-the-top orchestral-pop sound of the Philly Soul scene, Cassiano's vocals are more restrained and more palatable on this album, which may be his finest effort overall. This includes "Hoje E Natal," the song chosen as the title track of a Brazilian soul collection curated by Arto Lindsay. It's one of many songs co-written with Paulo Zdanowski, who co-wrote all the material on this album. I'm not personally into this super-sugary style -- whether it's sung in English or Portuguese -- but I could easily see how fans of classic soul might want to hear this Brazilian version of the old-school sound.
Cassiano "Cedo Ou Tarde" (Sony, 2002)


Pretty slick, sappy, modern-sounding stuff... Kinda like Lionel Ritchie, rather than Prince or Bootsy. Not my cup of tea.
---
Links
---
---



---