<! cd = 09/05/04 > <! MP3 09/12/08, 01/29/11 > <! update 09/12/08 > <! pix 11/15/09 > <! icons 01/29/11 >

---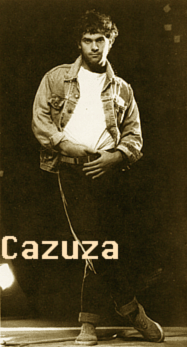 The rock star known as Cazuza (1958-1990) came from a music industry background; the son of a record producer, he spent his teenage years in England, absorbing the UK rocker vibe of the '70s. When he returned to Brazil in 1980, he co-founded the band Barao Vermelho, which was one of the most important bands in the so-called BRock scene, bringing American-style rock music into the Brazilian mainstream. From 1985-1990, Cazuza recorded as a solo artist; his disclosure in 1989 that he had HIV-related disease helped bring AIDS out into the open as a public health issue in Brazil, particularly among the younger music fans who followed his music. For most American and European rock fans, it is probably difficult to listen to Cazuza's music without feeling some level of dismissal: the drum machines and other synthetic instruments may sound tacky and dated, an example of a "Third World" artist playing catch-up with cultural trends outside his country. But his impact of Brazilian popular music was profound -- his example inspired dozens of Brazilian rock bands, and many of Cazuza songs have entered into the MPB mainstream. Here's a quick look at his work, and his legacy.
---
Discography
---

Barao Vermelho "Barao Vermelho" (Columbia/Som Livre, 1982)


Okay, I guess I kind of "get it," having tracked down the original album and given it a listen. These guys were rockers, pure and simple, and while their sound was several years out of date, at least they had their hearts in the right place. There's a slight waft of punkiness to them, but they seem to have had more in common with the countless pre-punk bands that thrashed and thumped in the night while rock wrestled to find its soul in the era that found disco and AOR ascendant. Bands like the Tubes and Head East come to mind, with clear echoes of the Stones and Johnny Thunder in there as well. In the English speaking world, five years earlier, these guys still would have been a B-list band, but they would have done alright... Their appearance in a rock-starved early-'80s Brazil wound up being fairly electrifying. It's easy for folks looking in from the outside to look down on them, but in their defense, I will say that they were energetic and sounded pretty sincere. This is worth checking out, but don't expect it to be incredible, or anything.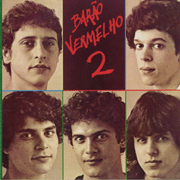 Barao Vermelho "Barao Vermelho 2" (Columbia/Som Livre, 1983)


By contrast this album, which brought them their first big hits, sounds much more forced and bland, a more watered-down, calculated, more modern, New Wave-y affair, and much more tedious musically. I suppose this is where Cazuza's reputation as a great lyricist comes into play, and if I ever get around to translating these songs for my lil' old gringo self, I'll letcha know what I think. But as far as the musical end goes, it's pretty tedious and unexciting.

Barao Vermelho "Maior Abandonado" (WEA, 1984)


Not bad, actually. There's plenty of spazoid New Wave pop, but performed at a level that at least places them on a level alongside most of the crappy British and North American synth-pop bands that were crowding the MTV playlists at the time. And bluesier, grungier numbers like "Nao Amo Ninguem" and "Por Que A Gente E Assim?" have a sleazy, Stonesy, New York Dolls-ish feel to them that's a little surprising after you've heard a bunch of their fluffier stuff. It's monotonous, but less amatuerish than a lot of their rock-oriented contemporaries. Not really all that great, but better than the Brazilian BRock average, and worth checking out.
Barao Vermelho "Ao Vivo" (WEA, 1989)


This was the last album released with Cazuza as a member; afterwards the group went on through the 1990s, with several changes in lineup.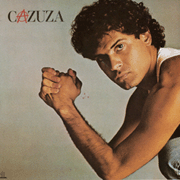 Cazuza "Exagerado " (Som Livre, 1985)


(Produced by Ezequiel Neves & Nilo Rezende)
About what you'd expect -- more synthy, New Wave-ish pop, just like what you'd hear on American MTV at the time, plus a power ballad or two... The production mix is a little less clumsy than on the Barao Vermelho albums, but not by much. Meanwhile, the vaguely punkish, hard rock edge is almost entirely gone, although there are a couple of blues tunes, ala George Thorogood, which inject a little vigor into the proceedings. For what it is, this is okay... Not my cup of tea, but I can see how some Brazilian pop fans might have eagerly turned to this style as something new....

Cazuza "So Se For A Dois " (Polygram, 1987)



(Produced by Ezequiel Neves & Jorge Guimaraes)
The same mix as before: synthy dance-pop with lots of bad '80s-style electric guitars, some power ballads and a smidge of overproduced, watered down blues... Although the musical style is still anathema to me, even I can tell the production mix is much stronger -- more confident, more competent, less clumsy. This sounds more life a real-live, bona fide rock star. Crappy music, but well produced. The album closes with a softer, more measured acoustic ballad, one of the few Cazuza tracks that kept my attention...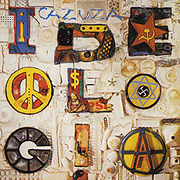 Cazuza "Ideologia" (Polygram, 1988)



(Produced by Ezequiel Neves & Nilo Romero)
For the casual (ie non-Brazilian) rock fan, this is Cazuza's best album... Indeed, it's just about the only one I could really listen to with any degree of interest... The opening songs are the best, starting with the title track, "Ideologia," which has a distinctly Brian Eno-ish flair, recalling Eno's mid-'70s rock albums and later work with Talking Heads. The Heads comparison holds true on the next song as well, which has a jagged, lancing guitar style that evokes the minimalist precision of David Byrne... Of course, these touches are largely window dressings, as Cazuza's old, clunky hard-rock/New Wave leanings lurk not far below the surface. Still, this record has some of his freshest-sounding, most innovative work on it, including several soft-toned, bossa-flavored ballads that actually are quite effective. The second half of the album slips into more formulaic production, but overall, I'd say this is the Cazuza album to try out. The others are distant runners-up.

Cazuza "O Tempo Nao Para: Cazuza Ao Vivo" (Polygram, 1989)



(Produced by Marcia Alves, Ezequiel Neves & Nilo Romero)
A decent concert album... I mean, yeah, sure, this is tacky and bombastic but it's also a strong showing for Cazuza -- at least if you were one of his fans, it would seems pretty cool. I can't stand it -- especially the saxophone and the tinkly keyboards -- but it's a good representation of his work, and his personality comes through loud and clear.
Cazuza "Burguesia" (Polygram, 1989)



(Produced by Cazuza)
Blechh. Loud, with lots of crunchy/whiny electric guitars... and sadly clumsy, ravaged vocals. It's just so desperate-sounding, trying to muster some semblance of rebelliousness or danger. But it doesn't work -- it's just bad rock'n'roll. Still, a few softer tracks do stand out: "Perto Do Fogo," "Esse Cara" and, to a lesser extent, "Bruma." Mostly, though, not my cup of tea.
Cazuza "Por Ai" (Polygram, 1991)

(Produced by Ezequiel Neves & Joao Reboucas)
Absolutely dreadful. Opens with a ZZ Top-ish rocker, slides into material that's much worse. "Hei Rei" is a little interesting: here Cazuza tries his hand, jokingly, at a bit of American-style country music. Mostly, though, this is a dismal record. He sounds tired and uninspired, and the production sounds terribly dated and repetitive. I know, I know... this was recorded less than a year before his death, and he was probably quite ill at the time, but even making allowances for that, I just don't like the music. No disrespect meant to the man, or to his fans.
---
Best-Ofs & Tributes
---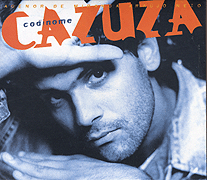 Cazuza "Agenor De Miranda Arajao Net: Codinome Cazuza" (Universal-Mercury, 2004)


A 7-CD box set which gathers all his proper albums -- Exagerado (1985), So Se For A Dois (1987), Ideologia (1988), O Tempo Nao Para (1988), Burguesia (1989) and Por Ai (1991), as well as a tribute album, Codinome Cazuza, featuring the likes of Gal Costa, Cassia Eller, Kid Abelha, Rita Lee, Marina Lima, Ney Matogrosso, Elba Ramalho and a few lesser lights... This is how I finally got to check out all of his stuff, apart from the Barao Vermelho albums, which are not included or sampled from. One thing that's nice about this collection is that it also includes his first solo album, which came out on a non-Polygram label (Som Livre), so it's more authoritative that it otherwise would have been.
Cazuza "Minha Historia" (Philips, 1993)


I'd heard a bit about how Cazuza exemplified how Brazilian rock really "came of age" in the 1980s... and maybe that's the problem with this best-of collection: it's so-o-o-o-o Eighties!. Just godawful, really. Wimpy light rock, with big drums, synths and saxes, and tender, earnest vocals... It might have held great meaning to Brazilian audiences back in the day, but hey, a lot of people up here were flocking to buy John Cougar Mellencamp albums around the same time, so what does that prove? This one, you can skip.
Cazuza "Millennium" (Mercury-PolyGram, 1998)


More of the same -- bland, mainstream pop that wants to be more hard-rockin' than it actually is... He's actually better on the slower ballads, though they do less to distinguish him from his Brazilian contemporaries; a tough artistic quandary, but fortunately not one that the rest of us have to worry about. We can just walk away from the whole mess. At 20 tracks total, this is more generous than the Minha Historia collection, and features several early songs with Cazuza fronting Barao Vermelho.
Cazuza "O Poeta Nao Morreu" (Universal, 2000)

Cazuza "Preciso Dizer Que Te Amo: Toda A Paixao Do Poeta" (Universal, 2001)


Cazuza "A Arte De" (Universal-Mercury, 2004)


A good best-of, which gives a pretty good idea of Cazuza's range, from clunky New Wave-ish hard rock to the occasionally liliting ballad. As with the original A Arte releases of the 1970s, this disc is superbly programmed, and covers his career and his styles very well. An excellent introduction.
---
Tributes
---
Cassia Eller "Veneno Antimonotonia" (Polygram, 1997)


A tribute to '80s BRock pioneer Cazuza, from singer Cassia Eller, one of the many Brazilian rockers who came ot fame in the wake of Cazuza and Barao Vermelho.
Various Artists "VIVA CAZUZA" (Polygram, 1992)

Various Artists "SOM BRAZIL CAZUZA" (Som Livre, 1995)

Cazuza/Various Artists "CAZUZA REMIXES: OS GRANDES SUCESSOS" (Globo/Polydor, 1998)

Various Artists "TRIBUTO A CAZUZA" (Som Livre, 1999)

Various Artists "CAZAS A CAZUZA" (Jam Music, 2000)


A soundtrack album.
---
Other Media
---
Various Artists "Acustico & Ao Vivo" (Som Livre, 2003)
Live clips taken, I believe, from various TV-Globo concerts. It's a chance to see a wide variety of contemporary Brazilian stars, including Cassia Eller, Daniela Mercury, soulster Ed Motta, Toni Garrido, Seu Jorge, Jota Quest, Ivete Sangalo, Skank, Samuel Rosa, Zizi Possi and Barao Vermelho, as well as biggies such as Jorge Ben and Caetano Veloso... However, the sound quality is astonishingly bad. Maybe there's some fancy new sound system that this has been encoded in that my mid-level TV can't handle, but even so, many of these clips seem mysteriously (and tragically) echoey and badly mixed. It often sounds as if the vocals were taken off an ambient microphone placed in the back of the room, rather than from a proper board mix. Also, a lot of the performers are pretty cheesy anyway... It's a good chance to see what these folks look like, but not really a great set of music. High marks go to rocker Lenine for a lovely acoustic version of Jobim's "Wave"; biggest disappointment may be Arnaldo Antunes' hurried cover of a Cazuza song, taken from a Cazuza tribute show.
---
Links
---
All Brazilian Music, as usual, has a good biographical sketch and discography... They also profile the band Barao Vermelho Recommended website! (In Portuguese and English.)
---



---