<! cd = 03/17/12 > <! MP3 03/17/12 > <! pix 03/17/12 > <! ALLBM 03/17/12 > <! icons 03/17/12 > <! UPDATES 03/17/12 - posted >

---
Gerson King Combo is an intriguing character in the world of Brazilian pop, not the least for his odd choice of stage names: a Brazilian bandleader who rechristened himself after an American jazz band, the King Curtis Combo, Mr. Combo helped lead the "Black Rio" soul scene in the 1970s. And, yes, that is his last name, "Combo," not King. Filed under the letter "C," not "K." (Unless you're from Brazil, where they file everything under the first letter, regardless, and thus under "G.") Anyway, Gerson Combo made some killer, kick-ass funk music... for a while. Then, like many of his contemporaries he focussed more narrowly on softer soul sounds, and sort of faded away. Here's a quick look at his work.


<! Nascido em Madureira (subúrbio do Rio), Gerson comećou carreira fazendo dublagem no programa Hoje é Dia de Rock, de Jair de Taumaturgo. Depois, levado pelo irmčo (Getúlio Côrtes, compositor de "Negro Gato"), comećou a danćar no Jovem Guarda, de Roberto Carlos. Com a soul music tomando seu corpo, Gerson cantou nas bandas de Wilson Simonal e Erlon Chaves e ajudou a fundar a Banda Black Rio. Mas foi em carreira solo, rebatizado de Gerson King Combo (em homenagem ą banda de soul e jazz King Curtis Combo), que ele experimentou o auge de sua popularidade, como o Rei dos Bailes Black cariocas. Os dois volumes da série de LPs "Gerson King Combo" espalharam sucessos como "Mandamentos Black", "Jingle Black" e "O Rei Morreu". Nos anos de 1990, há um bom tempo afastado do cenário musical, Gerson comećou a ser reconhecido, por causa de suas falas improvisadas sobre a base funk, como precursor do rap nacional. Chegou entčo a gravar com o grupo Artigo 288 e a participar de shows de soul music. (foto: Mariana Vitarelli) >

---
Discography
---

Gerson Combo "...E A Turma Do Soul" (Polydor, 1970)
A very cool, weird album with a fascinating mix of influences, starting off with a couple of Cuban son flavored tracks, with a cooking salsa/boogaloo sound topped off by Combo's James Brown-ian growls and groans. Things get more kaleidoscopic from there: acid rock electric guitars on a cover of an Ary Barroso oldie, a deeply funky rendition of Marcos Valle's "Dez Leis," and a version of Paulo Diniz's "Quero Voltar Pra Bahia" that's even more warped and strung-out than the original. Some of this disc is just plain nutty, a lot of it is just plain cool, and it's certainly one of the stronger freak-out albums of the era, sort of a soul equivalent of what Os Mutantes were doing in the psychedelic rock arena. Combo's later albums were briefly reissued on CD, but sadly not this one... Well, eventually I'm sure it will see the light of day again: keep your eyes peeled, 'cause it's worth looking for! And, yes: his last name is Combo, not King. (Go figure!)


<! 01 - Mulher Rendeira (Hervé Cordovil) -- Juliana (Antônio Adolfo / Tibério Gaspar) -- Fiz a Cama na Varanda (Dilú Mello / Ovídio Chaves) 02 - Aos Pés da Santa Cruz (Marino Pinto / Zé da Zilda) 03 - Quero Voltar Pra Bahia (Paulo Diniz / Odibar) 04 - Eu Sonhei Que Tu Estavas Tčo Lindaa (Lamartine Babo / Francisco Matoso) 05 - Na Baixa do Sapateiro (Ary Barroso) 06 - Demais (Tom Jobim / Aloysio de Oliveira) -- Ninguém Me Ama (Fernando Lobo / Antônio Maria) -- Ternura Antiga (Ribamar / Dolores Duran) 07 - O Xote das Meninas (Zé Dantas / Luis Gonzaga) 08 - Is That Law (Dez Leis) (Marcos Valle / Paulo Sergio Valle) 09 - Prece ao Vento (Gilvan Chaves / Alcyr Pires Vermelho / Fernando Luis) -- Nunca Mais (Dorival Caymmi) 10 - Mal-me-quer (Cristóvčo de Alencar / Newton Teixeira) -- Jardineira (Benedito Lacerda / Humberto Porto) 11 - O Teu Cabelo Nčo Nega (Lamartine Babo / Irmčos Valenća) -- Pastorinhas (Noel Rosa / Jočo de Barro) 12 - Primavera (Cassiano / Silvio Rochael) >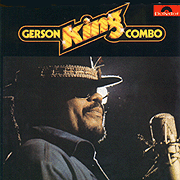 Gerson King Combo "Gerson King Combo" (Polydor, 1977)


No foolin'... This is one of the few old Brazilian funk albums that actually lives up to the hype. It's awesome. Too bad it's so damn hard to track down a copy!! Anyway, Gerson King Combo was once part of Wilson Simonal's band, and was a major force on the Rio soul scene. He had a seriously hot band, which owed a huge debt to fellow Polydor label-mate, James Brown. Up in the States, Brown's disciples such as Bootsy Collins took JB's hard-driving rhythms and transfomed them into something even more modern and funkier... which is also what Combo did, down in the steamy nightclubs of the Black Rio scene. I'm not exactly sure why he took a fade after only a few albums, but it's a shame, since this disc really was first-rate. Highly recommended.

Gerson King Combo "Gerson King Combo, Vol. II" (Polydor, 1978)


A disappointing followup to his brilliant album from '77. Here, GKC is under the spell of Barry White, rather than JB and Bootsy. But he doesn't quite have the silken sleaziness to carry off the whole "hey, babeh..." routine. The album is indulgent, but not deliriously, deliciously indulgent, as were the Parliament/Funkadelic albums that, perhaps, he was hoping to emulate. Funk fans will probably want to check this out anyway (especially since it's finally back in print), but I found it rather tedious. Oh, well.
Gerson King Combo "Mensageiro Da Paz" (WEA-Continental, 2001)


(Produced by Pedrinho Da Luz & Jairo Pires)
A truly dreadful modern soul set. Picking up where he left off in '78, Combo starts the album off in Barry White mode, then summons himself up for some uptempo numbers, which echo Earth Wind & Fire as well as Banda Black Rio. The trouble is his voice is shot and the music sounds uninspired and by-rote, even with the nonstop lyrical embrace of "black" this and "soul" that, as well as a cross-generational shout out to the Brazilian rap scene. True, devoted, hardcore fans of the Black Rio sound will want to check this out, but many others will want to avoid it. Oh, well.
---
Links
---
---



---