<! cd = 03/15/12 > <! MP3 03/15/12 > <! pix 00/00/00 > <! ALLBM 03/15/12 > <! icons 03/15/12 > <! UPDATES 03/15/12 - posted >

---
Carmen Costa (1920-2007) was soft-edged sambista whose career spans back to the late 1930s, when she worked as Francisco Alves' housekeeper and eventually found her way onto his radio programs and into a career as a solo singer in the 1940s. Costa was one of the earliest interpreters of the great forro composer, Luiz Gonzaga, whose work she first recorded in 1942. Like many early samba singers, Costa recorded prolifically in the 1940s and '50s, but did not release a full LP until late in her career, and has released only few albums altogether. Here's a quick look at her work...
---
Discography - Best-Ofs
---

Carmen Costa "Serie Bis - Cantores Do Radio" (EMI-Brasil, 2000)


The recordings on this generously-programmed 2-CD stretch back to the mid-1950s, and capture Costa's gentleness and winsome charm. I wish that more of her earlier work from the '40s was available on CD... but this is nice, too. A little slushy, but worth checking out!
Carmen Costa "Colecao As Divas" (Warner, 2007)





<! 1 - Dama do cabaret ; 2 - Janete ; 3 - Garoto de aluguel ; 4 - Eu e que nao presto ; 5 - Merilia de dirceu ; 6 - Valda do bordel ; 7 - Boneca de pano ; 8 - Vicio ; 9 - Morena ; 10 - O mundo e um moinho ; 11 - Garota do dancing ; 12 - Sob medida ; >

Carmen Costa "Nova Serie" (Warner, 2008)

Carmen Costa "Warner 30 Anos" (Warner, 2008)

---
Discography - Albums
---

<! Carmen Costa "Carmen Costa #2" (Copacabana, 1957) - ? >

Carmen Costa "Embaixatriz Do Samba" (Copacabana, 1964)


Carmen Costa "Ziriguidum No Sambao" (RCA, 1971)


By the time Costa made these zippy little recordings, the bossa scene had long since peaked, the tropicalistas had reared their heads and been scattered to the winds, and the Brazilian music scene was tilting towards the baroque arrangements of the fusion-oriented MPB scene. In Carmen's world, though, it was almost as if none of it had ever happened -- this is a collection of pop-sambas of the old-fashioned variety, songs from obscure composers, mainly dating back to the 1950s and early '60s, during the famed "radio singer" years. Costa was a relic from that era, and like many of her contemporaries, she found herself framed mainly as a nostalgia act, backed by musicians who seemed to rush the material and clatter through the songs. This is worth checking out just for the historical value, but it lacks much of the subtle touch these songs required, and that Costa clearly excelled at, back in her heyday. Nice also, for its revival of songwriters whose names were buried under the musical avalanche of the bossa nova crowd.
Carmen Costa "Trinta Anos Depois" (RCA, 1973) (LP)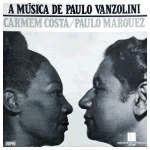 Carmen Costa & Paulo Marquez "Musica De Paulo Vanzolini" (Discos Marcus Pereira, 1974)


A tribute album to Sao Paulo samba songwriter Paulo Vanzolini, with some duets as well as solo performances by both Costa and Marquez. To be honest, she's sounding a little long in the tooth here; his vocals are much stronger, and in the second half of the album he gets into some really sweet acoustic sambas, replete with flute and cavaquinho. Most of the record, though, is of lush MPB arrangements, which are mostly fine though on occasion a rather goofy, cheap-sounding electric keyboard chimes in, sounding at odds with the rest of the classy orchestrations. Nice stuff overall, though: Vanzolini was a very robust and hearty composer, and these are strong renditions of his work, particularly the solo stuff by Marquez.


<! Carmen Costa / Paulo Marquez – A Musica de Paulo Vanzolini (1974), for Marcus Pereira, featuring compositions by the one of the most important Samba composers from Sčo Paulo state, Paulo Vanzolini. Carmen Costa shares the main performer role with Paulo Marquez, well-known by his excellent album recorded in 1959 with Billy Blanco compositions, featuring arrangements by Maestro Radames Gnattali. Personnel listing does not bring detailed information on musicians in the session, except by the participation of Maestro Portinho and Maestro Elcio Alvarez as arrangers with Regional do Jogral as the accompaniment group. Tracks include: 01 - Mulher Que Nčo Dá Samba (Paulo Vanzolini) with Paulo Marques / Carmen Costa 02 - Falta de Mim (Paulo Vanzolini) with Carmen Costa 03 - Inveja (Paulo Vanzolini) with Carmen Costa 04 - Ronda (Paulo Vanzolini) with Carmen Costa 05 - Samba Abstrato (Paulo Vanzolini) with Carmen Costa 06 - Sorrisos (Paulo Vanzolini) with Carmen Costa 07 - Teima Quem Quer (Paulo Vanzolini) with Carmen Costa / Paulo Marques 08 - Maria Que Ninguém Queria (Paulo Vanzolini) with Paulo Marques 09 - Menina o Que Foi o Baque (Paulo Vanzolini) with Paulo Marques 10 - Cara Limpa (Paulo Vanzolini) with Paulo Marques 11 - Mulher Toma Juízo (Paulo Vanzolini) with Paulo Marques 12 - Choro das Mulatas (Paulo Vanzolini) with Paulo Marques >

Carmen Costa "Carmen Costa" (Continental, 1980)





Carmen Costa & Agnaldo Timoteo "Na Galeria Do Amor" (EMI-Odeon, 1981) (LP)

Carmen Costa "Benditos, Hinos E Ladainhas" (Continental, 1983) (LP)

Carmen Costa "Tantos Caminhos" (Som Livre, 1996)

Carmen Costa "Como Fe Eu Vou" (MultiMais)

---
Links
---
---



---