<! cd = 03/18/12 > <! MP3 00/00/00 > <! pix 00/00/00 > <! ALLBM 03/18/12 > <! icons 00/00/00 > <! UPDATES 00/00/00 >

---
Singer Dalva De Oliveira (1917-1972) was a star in the pre-bossa nova "radio singer" era; she was married to songwriter Herivelto Martins, and performed with him in the popular Trio De Ouro in the 1930s and '40s. Throughout the '50s she recorded as a solo artist and had a resurgence of popularity in the bossa era. Here's a quick look at her work...
---
Discography - Best-Ofs
---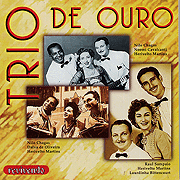 Trio De Ouro "Trio De Ouro" (Revivendo)


One of the many many vocal groups of the "radio singer" era, the Trio went through three different lineups, all led by composer Herivelto Martins. Martins was one of the great WWII-era pop composers, with many of his works associated with the Estacio samba school. This disc collects twenty-two tracks, spanning from 1941-1957, and includes versions of several of his best-known songs, such as "Negro Telefone" and "Ave-Maria No Morro," a controversial song which conflated Catholicism and contemporary politics. These tunes mostly have fairly standard arrangements, although on a few songs the female part drifts into a high-pitched, Yma Sumac-y trill which you may find a bit irritating. Mostly though, this is nice old stuff.
Dalva De Oliveira "Dalva" (EMI, 1973)


Yeesh. Near as I can figure, this disc is a collection of her solo work that originally came out not long after she had passed away in 1972, packed with boloeros and schmaltzy ballads galore... The arrangements are either too busy or two florid for me, and I can't say I'm a big fan of her voice, either. It's a bit shrill and overly melodramatic. Some of these tracks could grow on me, though... Hmmm. I'll keep you posted.
Dalva De Oliveira "A Inesquecivel Em Tangos" (Revivendo, 2001)

Dalva De Oliveira "Colecao 10 Polegadas" (Revivendo, 2006)


With backing by the Roberto Ingles orchestra.
Dalva De Oliveira "Canta Dalva" (Revivendo, 2007)





<! several other albums listed >

Dalva De Oliveira "Raizes Nordestinas" (EMI, 1999)

Dalva De Oliveira "Serie Bis" (EMI, 2001)

Dalva De Oliveira "30 Anos Depois" (Revivendo, 2002)

Dalva De Oliveira "O Talento De..." (EMI, 2004)

---
Discography - Albums
---
Dalva De Oliveira "Os Tangos Mais Famosas Na Voz De Dalva De Oliveira" (Odeon, 1957)

Dalva De Oliveira "Dalva" (Odeon, 1958)

Dalva De Oliveira "...Canta Boleros" (Odeon, 1959)

Dalva De Oliveira "Em Tudo Voce" (Odeon, 1960)

Dalva De Oliveira "Dalva De Oliveira" (Odeon, 1961)

Dalva De Oliveira "Tangos" (Odeon, 1961)

Dalva De Oliveira "O Encantamento Do Bolero" (Odeon, 1962)

Dalva De Oliveira "Tangos, v.II" (Odeon, 1963)

Dalva De Oliveira "Rancho Da Praca Onze" (Odeon, 1965)

Dalva De Oliveira "A Cantora Do Brasil" (Odeon, 1967)

Dalva De Oliveira "E Tempo De Amar" (Odeon, 1968)

Dalva De Oliveira "Bandeira Branca" (Odeon, 1970)

---
Links
---
---



---