<! cd = 02/13/10, posted 03/06/10 > <! MP3 01/29/11 - only one > <! update 00/00/00 > <! pix 00/00/00 > <! ALLBM 00/00/00 > <! icons 01/29/11 >

---
Guitarist and singer Rosinha De Valenca (1941-2004) was a popular session musician and a member in good standing of Brazil's swinging jazz scene during the bossa nova years and beyond. She performed in several influential shows and venues, including the historic "O Fino Da Bossa" revue, which was the first bossa nova show staged in Sao Paulo. For a while she was a member of the Sergio Mendes band, and pursued a successful career as a solo artist herself... Here's a quick look at her work...
---
Discography
---

Rosinha De Valenca "Apresentando" (Elenco, 1964) <! date? >





<! Rosinha de Valenća was at her peak during the '60s when she was performing at the Bottle's nightclub in Rio (one of the focal points of bossa nova). In that decade, she was celebrated by important artists like Baden Powell, Maria BethČnia, Aloysio de Oliveira (who invited her to record her first album), Sérgio Mendes (with whom she and his band, Brasil 65, performed during an eight-month American tour), Sivuca, Martinho da Vila, and others. She was forced to abandon her artistic career prematurely in 1992 due to brain damage caused by a heart attack. She left her hometown for Rio de Janeiro in 1963, sitting in several nightclubs until she became acquainted with de Oliveira, who at the time owned the Elenco recording company. At his invitation, Valenća recorded her debut album, Apresentando Rosinha de Valenća, which was followed by a very successful eight-month season at the Bottle's nightclub, at the Beco das Garrafas. The popularity she achieved in that period yielded her several invitations for participation in TV and radio shows, ultimately bringing her to the stage at the historic show O Fino da Bossa (the first bossa nova show in the city of Sčo Paulo), at the Paramount Theater. She left for her eight-month tour through the U.S. that same year, accompanying Sérgio Mendes and Brasil 65. During that tour, she participated in the recording of two live albums: Brasil '65 -- Wanda de Sah Featuring the Sergio Mendes Trio and In Person at El Matador -- Sergio Mendes & Brasil '65. In late 1965, she toured Europe, performing in 24 countries under the auspices of the Brazilian diplomatic service. In 1968, she departed for a long international season in which she performed in several countries of Africa, Europe, and Middle East, returning to Brazil in 1971. After intense activity that comprised more tours abroad, she formed a band in Brazil which counted on Jočo Donato, Miúcha, Ivone Lara, and Copinha. Along with her nine albums released in Brazil, Valenća also recorded others in Europe and the U.S. ~ Alvaro Neder, All Music Guide >

Rosinha/Joao Donato/Bud Shank "Bud Shank/Joao Donato/Rosinha" (Elenco, 1965)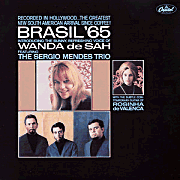 Sergio Mendes & Wanda De Sah "Brasil '65" (Capitol, 1965)


"The Greatest New South American Arrival Since Coffee!" Were they talking about Sergio Mendes, Wanda De Sa, or Ms. de Valenca? With a talent triple-threat like that, it's no surprise this album made such an impression. This was one of Mendes' big North American breakthroughs and, along with the fabled Getz/Gilberto album, one of the key records that brought bossa nova to the United States. Mendes relocated to the States to further his career, but Wanda Sa returned to Brazil and was later replaced (on the next album) by an American jazz singer, Lani Hall, who was the singer on the hit version of "Mais Que Nada." Mendes was also joined by a number of North American jazz and studio musicians, including saxophonist Bud Shank, who was a major interpreter of the bossa nova style. Commercially, this wasn't Mendes' biggest hit record, but it sure made an impression on his fans.


<! was Jorge Ben on this album?? >

Sergio Mendes & Brazil '65 "... In Person At El Matador!" (Atlantic, 1966)



A pretty nice, stripped-down live set, where Mendes credibly comes off as both a mellow jazzman and a bossa prophet. Some nice subtle moments; easy on the ears in the best kinda way.
Rosinha De Valenca "Ao Vivo" (Forma, 1966)


Rosinha De Valenca "...Apresenta Ipanema Beat" (RCA, 1970)


Kind of an odd little album, filled with electrified "beat" instrumentals that blend Booker T-style soul with muzak-y kitsch. Rosinha, who is probably best known for her stint playing guitar with Sergio Mendes (as well as jazz work with Stan Getz) adopts a remarkably grungey, fuzzed-out tone... Her guitar work is frequently overpowered by the aggressive organ playing, but she gets in plenty of mean licks. Not bad for a girl. This album didn't really float my boat, but loungecore fans might dig it, especially since she covers a Serge Gainsbourg song, as well as several '60s pop tunes. This album was recorded just before she returned to Brazil after spending most of the '60s abroad.

Rosinha De Valenca "Um Violao Em Primeiro Plano" (RCA, 1971)



Another kitschy album by guitarist De Valenca... This disc is a little exasperating in that many songs work up a genuine funky vibe, only to interrupt it with some dorky Sergio Mendes-style vocal chorus. Again and again, De Valenca sacrifices musical momentum for some sort of imposed soft-pop/novelty aesthetic, and thus the album jerks around back and forth between two extremes. Doubtless many 'Sixties pop fans find this sort of time capsule to be a real hoot, but I kinda wish De Valenca had played it "straight" more often; she was obviously capable of generating real funky grooves, but for whatever reason her soulful side gets perpetually undercut. Oh, well.
Rosinha De Valenca "Rosinha De Valenca" (Som Livre, 1973)

Rosinha De Valenca "Ao Vivo" (Odeon, 1975)


Rosinha De Valenca "Cheiro De Mato" (EMI, 1976)


(Produced by Milton Miranda & Mariozinho Rocha)
A sweet, sometimes sugary, album, with emphasis placed on her voice... It took me a while to place the likeness: she kind of sounds like Marisa Monte, though a bit rougher tonally. This is a nice record, although it does start to drag a bit and sound a lot alike from song to song. Lovely accompaniment from an all-star cast: De Valenca plays delicious Spanish guitar; Sivuca contributes some of his most restrained accordion work, and Joao Donato is in the mix as well, with piano passages that don't call attention to themselves -- indeed, this is a low-key album, with performances that are solely in service to the songs. There is an easy-listening vibe on a lot of the tracks, but even taking that into account, this is a nice little record. Certainly, if you were into De Valenca to begin with, you will want to check this one out.


<! Rosinha de Valenca (violao, voice) Perinho Albuquerque (arrangements, violao) Jamil Joanes (bass) Papao (drums) Chico Batera (percussion) Sueli Costa e Irmas De (choir) Sivuca (accordion, electric piano) Miucha (voice at Cabocla Jurema / Xango) Jorge Olmar (violao) Canelinha, Geraldo Bango, Carlinhos do Pandeiro (tumbadoras) Raul Mascarenhas, Copinha, Mauro Senise, Cacau (flute) Joao Donato (piano) Luizao (bass) Celia Vaz (arrangements) Chiquinho Braga (violao, arrangements) Francis Hime (arrangements) >

Rosinha De Valenca & Sivuca "Gravado Ao Vivo" (RCA, 1977)


(Produced by Sergio Cabral)
A famed, fabled live performance featuring Sivuca alongside jazz guitarist Rosinha De Valenca, a veteran of the Sergio Mendes stable. Delves pretty deeply into regional styles such as forro, and some similarly challenging material. Definitely worth checking out.
Rosinha De Valenca & Waltel Branco "Violao Em Dois Estilos" (Som Livre, 1980)
A split LP with guitarist Rosinha De Valenca on Side One and Waltel Branco on Side Two...


<! Side One is bossa, Side Two is classical >

---
Tributes
---
Various Artists "Gravado Ao Vivo" (Quitanda, 2004)


(Produced by Maria Bethania & Miucha)
Following a severe heart attack, De Valenca fell into a coma and was in a vegetative state for over twelve years. This tribute was recorded after her death in 2004, with contributions from Alcione, Maria Bethania, Chico Buarque, Martinho da Vila, Bebel Gilberto, Ivone Lara, Miucha, Hermeto Pascoal, Caetano Veloso, and guitarists Turibio Santos and Yamandu Costa.
---
Links
---
---



---