<! cd = 03/20/12 > <! MP3 00/00/00 > <! pix 00/00/00 > <! ALLBM 00/00/00 > <! icons 00/00/00 > <! UPDATES 00/00/00 >

---
Benito Di Paula
---
Discography
---

Benito Di Paula "Benito Di Paula" (Copacabana, 1971)



The debut album by one of Brazil's more cheeseball pop singers, a leader in the brega ("tacky") pop sound. Although not a great singer, Di Paula became the host of the "Brazil Som 75" television show, which hosted musical performances, a stroke of luck that helps explain the longevity of his career. Anyway, although he's kind of terrible, this disc was recorded when the booming tropicalia and MPB scenes were injecting new life into the Brazilian pop scene, and as a consequence this disc has more vigor to it than most of his later work. Includes songs by Chico Buarque, Ivan Lins, Tim Maia and others, as well as several originals written by Di Paula himself. One of these songs, "Eu Gosto Dela," is actually pretty fun, the other album highlight is a passable version of Vincius De Moraes & Toquinho's buoyant "Na Tonga Da Mironga Do Kabulete," which is pleasant enough, though ultimately just an unimaginative copy of the original. There are some interesting here arrangements by Jose Briamonte, but for the most part, Di Paula's weak voice and iffy phrasing sink this disc. It's way better than his later work, and worth checking out, but it's pretty tacky overall.
Benito Di Paula "Ela" (Copacabana, 1972)

Benito Di Paula "Um Novo Samba" (Copacabana, 1973)


Benito Di Paula "Ao Vivo" (Copacabana, 1974)

Benito Di Paula/Various Artists "Brazil Som 75: Benito Di Paula E Seus Convidados" (Copacabana, 1975)
Tracks recorded when Di Paula was the host of a musical variety TV show, with contributions from stars such as chanteuse Elizeth Cardoso and samba-rock funksters Wando and Bebeto... There's a surprisingly vigorous streak running through here, mostly from the funk-soul numbers, but it's balanced by plenty of cheesy pop... Still, Di Paula seems to have given a platform for artists whose music -- Brazilian soul music -- was outside the mainstream, which was dominated by the jazzy, classy MPB elite. Not much on here that I would listen to recreationally, but it's still a nice snapshot of a certain time in the Brazilian pop scene.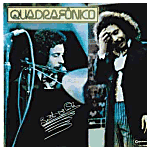 Benito Di Paula "Quadrafonico" (Copacabana, 1975)
A curious album and, I think, a labor of love on Di Paula's part, with all the songs original compositions... It opens with a pair of deliberate, downtempo tunes, with Benito crooning alongside an oddly lethargic childrens chorus. That choir, Grupo Tempero, follows Di Paula throughout the entire album, providing counterpoint as well as singing lead, but they do it in this prim, churchy, almost dispirited way, as if they were urchins recruited from a Dickens novel and needed a bit more gruel to summon the energy to really throw themselves into a song. It's mostly slower numbers here, although Di Paula does get into a few samba grooves -- but even though he projects good cheer and elan, he does so with such effortfulness and deliberation that it's hard to really get into it. He's an extraordinarily workmanlike performer -- very professional, but a bit forced. Still, after listening to this a few times, it grew on me: there's an odd quality to this album that's actually a little mysterious and compelling.


<! 01 - N‹o precisa perdoar (Benito di Paula) 02 - Coisas da vida (Benito di Paula) 03 - N‹o me importo nada (Benito di Paula) 04 - Sanfona branca (Benito di Paula) 05 - Sem tempo pra sonhar (Benito di Paula) 06 - Bandeira do samba (Benito di Paula) 07 - Modifica¨‹o (Benito di Paula) 08 - Vai ficar na saudade (Benito di Paula) 09 - Como dizia o mestre (Benito di Paula) 10 - Sempre assim (Benito di Paula) Arranged by Benito di Paula Benito de Paula - piano, cravo Special participations: Branca de Neve - surdo Grupo Tempero (Haroldo, Mario, Luiz Carlos, J.Vellozo, Wilson) >

Benito Di Paula "Benito Di Paula (1976)/Benito Di Paula (1987)" (Copacabana, 2000)


A twofer reissue of some oddly jocular, Vegas-ed out renditions of samba cancao material. Di Paula is a remarkably schmaltzy singer, but there's certainly much worse music to be found in the Brazilian sphere. His formula kind of works on the first of these albums, the second, from 1987, is just godawful, full of that icky, tinkly '80s production style. The '70s album is worth checking out, though.




Benito Di Paula "Benito Di Paula" (Copacabana, 1978)
Impassioned, utterly cheesy MPB vocals with a residual disco tinge... God, I guess reluctantly I can admit this has some validity... I mean, I can kinda get it, though I wouldn't quite class this as a "guilty pleasure," I did make my way through the whole album, and I can see where folks could get into this. A little too "brega" for me, though...


<! IN ITUNES 1 - Viva ao sol (Benito di Paula) 02 - Trinta anos de saudade (Benito di Paula) 03 - Trapˇzio (Benito di Paula) 04 - Velho, profiss‹o esperan¨a (Benito di Paula) 05 - Meu lamento (Benito di Paula) 06 - Pra ver se ela me quer (Benito di Paula) 07 - Lua, lua (Benito di Paula) 08 - Chegou Maria (Benito di Paula) 09 - Esperan¨a do cˇu (Benito di Paula) 10 - Tudo sobre a mesa (J. Velloso - And—) 11 - Ave de rapina (Benito di Paula) Arranged by: Benito de Paula, Waldemiro Lemke >

Benito Di Paula "A Vida Me Faz Viver (1986)/Benito Di Paula (1979)" (Copacabana, 2000)
More schmaltz. This twofer is drekkier than the other; the '70s disc is not as solid as his '76 LP, and the '80s stuff is really atrocious. Portuguese-language, but clearly modeled after other mainstream Latin American pop. You can skip this one.


<! BEST-OFs >

Benito Di Paula "Preferencia Nacional" (EMI, 1998)

Benito Di Paula "Raizes Do Samba" (EMI, 1999)


Benito Di Paula "Para Sempre" (EMI, 2001)

Benito Di Paula "Serie Identidade" (EMI, 2002)


Benito Di Paula "Perfil" (Som Livre, 2004)

Benito Di Paula "O Talento De..." (EMI, 2004)

Benito Di Paula "Retratos" (EMI, 2004)

Benito Di Paula "Eu Sou O Samba" (EMI, 2005)

---
Links
---
---



---