<! cd = 03/21/12 > <! MP3 03/21/12 > <! pix 00/00/00 > <! ALLBM 03/21/12 - WP > <! icons 03/21/12 > <! UPDATES 03/21/12 - posted >

---
Hotshot guitarist Robertinho Do Recife was a popular session player and record producer in the 1980s, as well as a solo artist who recorded several influential jazz- and rock-oriented albums which established him as sort of a Brazilian Stevie Vai. Here's a quick look at his work...
---
Discography
---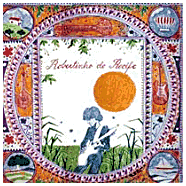 Robertinho Do Recife "Jardim Do Infancia" (CBS, 1977)
Pretty cool, actually. I worked my way backwards to this one, checking out Robertinho's later work first, and was surprised when I finally found this experimental, proggy rock-jazz-frevo outing, which is one of the best, most original Brazlian jazz albums I've heard. I mean, it's still not my cup of tea, but at least it's not another rehash of stuff that American jazz players did already, and the musicians all seem very engaged and into what they're doing. Robertinho digs deep into regional styles, mixing in a psychedelic/tropicalia/rock flair similar to early Moraes Moreira and Novos Baianos. There's also a pastoral hippie tinge, nicely balanced by a harder-edged rocker sensibility (which later took over his work) and, perhaps more importantly, some serious improvisation, as well as several highly technical yet still soulful ensemble passages. The first real head-turner on here is the instrumental "Chamada," which showcases Robertinho and saxophonist Nivaldo Ornellas delving into some ecstatic solos. You can hear how he got to the more simplified hard-rock sound of his later career, but this debut disc really is a doozy. Definitely worth tracking down.


<! Robertinho de Recife, sem sombra de dúvida, foi um dos guitarristas brasileiros mais injustićados pelo público, pela critica e principalmente pelas gravadoras. Ao longo de sua carreira já fez de tudo um pouco, acompanhou vários grandes nomes da MPB, passou por uma fase heavy, formou a "Bunda", oops, digo, banda Yahoo (com o evidente intuito de colocar uns trocados no bolso), enfim, o cara é "cascudo" e hoje é produtor musical, arranjador e ao que parece nem pensa em voltar aos palcos (lamentavelmente). Essa obra inaugural tem de tudo e muito mais e é a prova cabal dessa irremediável injustića. Robertinho consegue mesclar e impor com maestria os ritmos brasileiros ao Jazz e ao Jazz-rock, é uma verdadeira faćanha no que se refere a arranjo, composićčo e execućčo. É de uma beleza, complexidade e competźncia técnica e artística exemplar. Preste atenćčo ą música "Chamada", é magnífica a fusčo do som brasileiro com o mais genuíno jazz- rock ao estilo Mahavishnu. A perfeita integraćčo do cello, do baixo acústico, do trumpete com a guitarra e a guitarra portuguesa é obra de quem sabe das coisas. Outras que impressionam sčo "Sinais", "Idade Perigosa", "Ao Romper D'Alva" e "Agrestina". Fagner foi o produtor dessa jóia e escolheu a dedo os músicos que participam desse trabalho, que conta com: Chico Batera, Marcio Montarroyos, Sivuca, Itiberź, Jamil Joanes, Nivaldo Ornellas, Wagner Tiso dentre muitos outros. >

Robertinho Do Recife (& Hermeto Pascoal) "Robertinho No Passo" (1978) (LP)


An ambitious -- but irritating -- jazz-fusion update of the frenetic, fast-paced frevo style popular in the state of Recife. Guitarist Robertinho do Recife blazes away on noodly riffs, as avant-jazzman Hermeto Pascoal crafts an unusual, challenging soundscape, replete with Moog, keyboards and a large band behind him. I found it all rather grating and annoying, but despite myself I was slowly drawn in to their web, as I gave the disc a second chance. Anyone interested in fusion music as an actual avant-garde artform -- as opposed to a brand of muzak -- might want to check this out. The instruments themselves -- the production sound and guitar tone, etc. -- sound quite dated, but the music is quite futuristic, edging into a spazzy kind of electronica, with lots of weird tones and densely layered passages. It's not very pleasant or relaxing, but it is innovative and weird.
Robertinho Do Recife "E Agora Pra Voces... Suingues Tropicais" (1979)

Robertinho Do Recife "Satisfacao" (1981)

Robertinho Do Recife "Robertinho Do Recife E Emilinha" (1982)

Robertinho Do Recife "Ah, Robertinho Do Mundo!" (BMG-Ariola, 1983) (LP)

Robertinho Do Recife "Metal Mania" (1984)

Robertinho Do Recife "Rapsodia Rock" (1990)

Robertinho Do Recife "Brilhantes" (2007)

---
Links
---
---



---